Be successful on the keto diet by planning out your menu. This guide will show you how easy it is to plan an entire week's worth of meals that are all keto-friendly.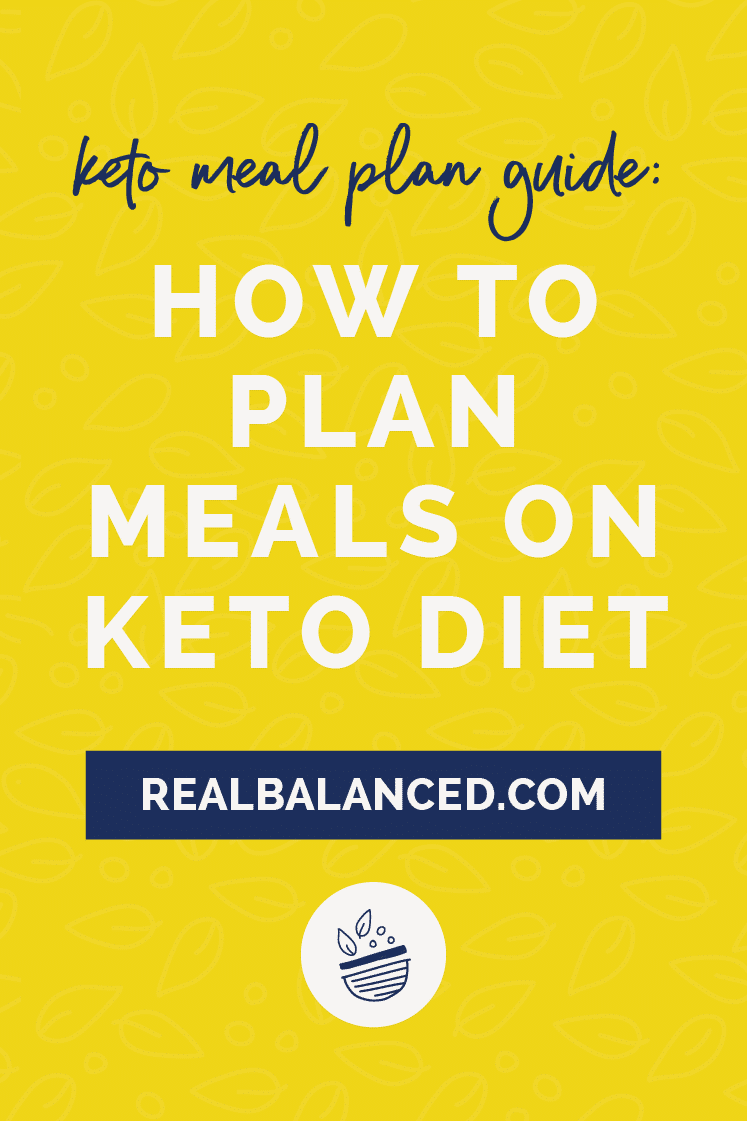 What is the Keto Diet?
Basically, the ketogenic diet is a way of eating that puts your body into a state called "ketosis." By restricting your carbohydrate intake, your body releases ketones and burns fat for energy.
YUP! It uses fat for energy – goodbye fat! – and doesn't store any more fat. That's how so many people lose weight when they follow the ketogenic diet.
If you are brand new to keto, start here. In that blog post, I outline 5 simple ways to get started.
How to Avoid Temptation on Keto
One of the most challenging things about starting keto, especially when you're transitioning from a high-carb diet, is how restricting it can feel at times. This is your body detoxing from relying on sugar and carbs for energy and it's totally normal.
But when those urges hit – and they might hit hard – you have to remain strong and stick to your plan. Thankfully, there are some things you can do to fight those cravings and stay on track.
Here are some tried-and-tested ways to avoid temptation on Keto:
Eat plenty of healthy fats. When you consume healthy fats, your brain will get a "full" signal and you won't feel as hungry. Types of healthy fats include avocado, fish, nut butters.
Don't eat out as much. Yes, you can eat low carb when dining out, but it can be tough. Research where you are going before you arrive. And if you are feeling particularly emotional or weak-willed, just eat at home.
Meal plan. When you plan ahead, you are fighting your cravings before they start. Eliminate that feeling of "I don't know what to eat" with a thorough meal plan.
How to Make a Meal Plan on Keto Diet
I know, meal planning seems like a really boring and tedious task, right? But it can be fun! Take this opportunity to try new meals and experiment with different flavors.
The best thing about making a Keto menu for the week is that you know ahead of time what there is to eat! No more wondering and excuses and feeling defeated.
Plus, when you plan out your meals, you can schedule the slow cooker meals on your busy days and your more involved meals on your days off.
If you haven't ever made a meal plan, here's how to do it in 5 easy steps!
1.) Make a List of Meals You Enjoy
First, sit down with Pinterest and start making a list of meals you enjoy. Even if you really love something that is filled with carbs chances are there is a Keto version on Pinterest.
2.) Plan all 3 Meals and Snacks
Next, don't forget to plan for all 3 meals and some snacks. Don't leave anything up to chance.
3.) Do Food Prep On One Day
After you have all your meals planned out for the week, do meal prep on your day off. Chop up all the veggies and pre-cook your meats. This will save you time during the week and remove any excuses you might have to order takeout.
4.) Separate Meals into Portable Containers
When you do your meal prep, sort everything into portable containers. Some people even put their work lunches in plastic containers so they can just grab them and go.
5.) Write it Down
Finally, write everything down. Use a calendar if you have to or print out a meal planning worksheet. Don't try to rely on your memory to recall what you are supposed to make that week.
Sample Keto Meal Plan
Are you ready to make a meal plan? Go browse and create some incredible dishes! If you still don't know where to begin, don't worry. I'm here for ya! Here is a sample meal plan to get you started.
Sunday
Monday
Tuesday
Wednesday
Thursday
Friday
Saturday
What are the best sides for Keto meals?
Keep the following convenient veggies prepped and ready to eat with any meal and you'll always have low carb side dishes to round out any meal.
Zucchini noodles
Cucumbers
Cheese chips
Avocados
Cauliflower rice
Broccoli
Free Ketogenic Diet Help for Beginners
I've been through it and I know the struggle. I'm here to help! When you are ready to start the Ketogenic diet, make sure you are prepared. Find someone that will keep you accountable.
This blog is FULL of keto and low carb recipes.
And my favorite thing of all? Keto fat bombs! I have this amazing cookbook that I made. I might be biased, but you will love all the pictures and easy recipes inside. And you'll never crave a high-carb snack again!
Subscribe to my newsletter and get a free Fat Bomb Recipes eBook. My newsletter is where I share free tips and ideas that will motivate you and keep you on track.
You got this! Weight loss is just around the corner.
Reader Interactions