These Low-Carb Glazed Orange Scones are sweet, citrusy, and a perfect weekend brunch option to pair with your morning coffee!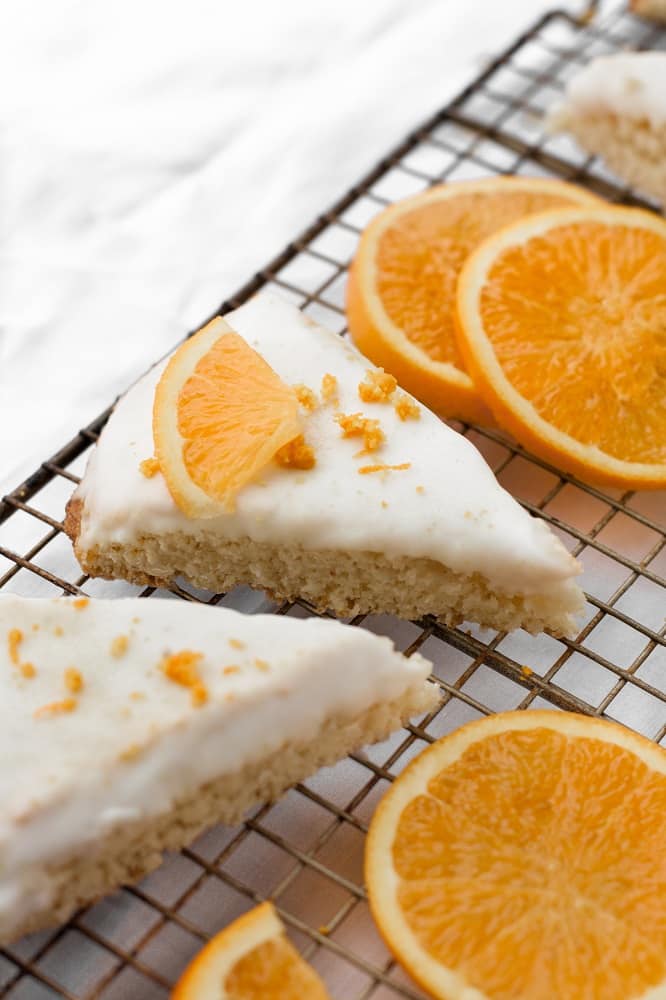 Baked goods for breakfast are never a bad idea in my book! These scones are such a treat and pair perfectly with coffee, especially a cup of my beloved cold brew!
Unlike a traditional scone, this recipe contains minimal carbs per serving and is also paleo-compliant, dairy-free, and nut-free! Hosting an event such as a bridal shower or a weekend party? Then this is the perfect party recipe!
Low-Carb and Paleo Breakfast Baked Good Glazed Orange Scones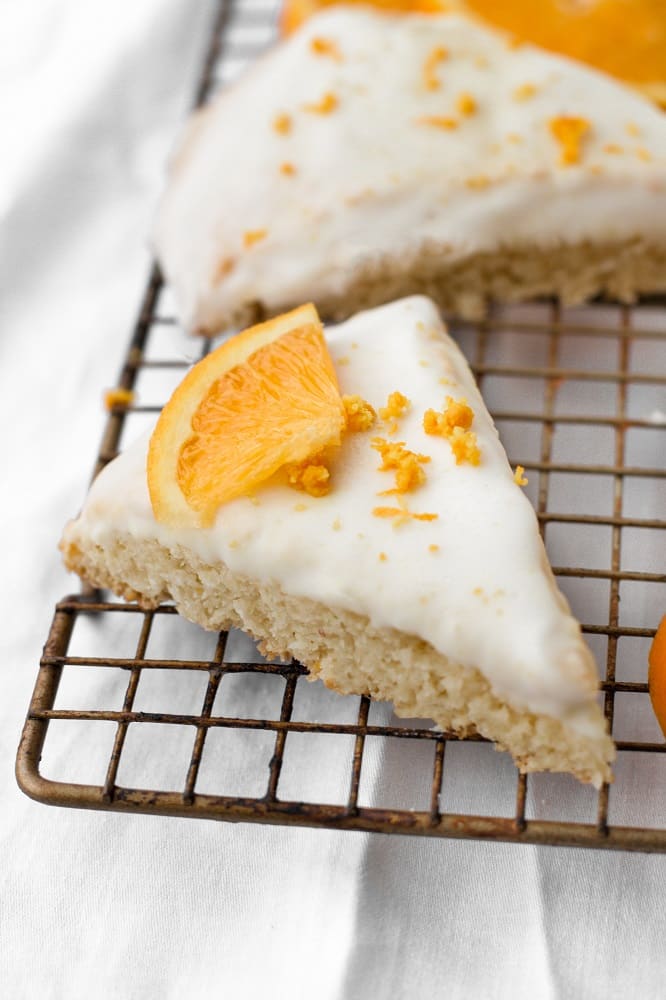 Based on feedback from readers, I have been trying to develop many more allergy-friendly, nut-free recipes!
Like my Low-Carb Chocolate Chip Muffins and Keto Lemon Poppy Seed Muffins, these scones are made with coconut flour! Which means, these are absolutely nut-allergy safe!

Low-Carb Glazed Orange Scones Sweetened With Monk Fruit Sweetener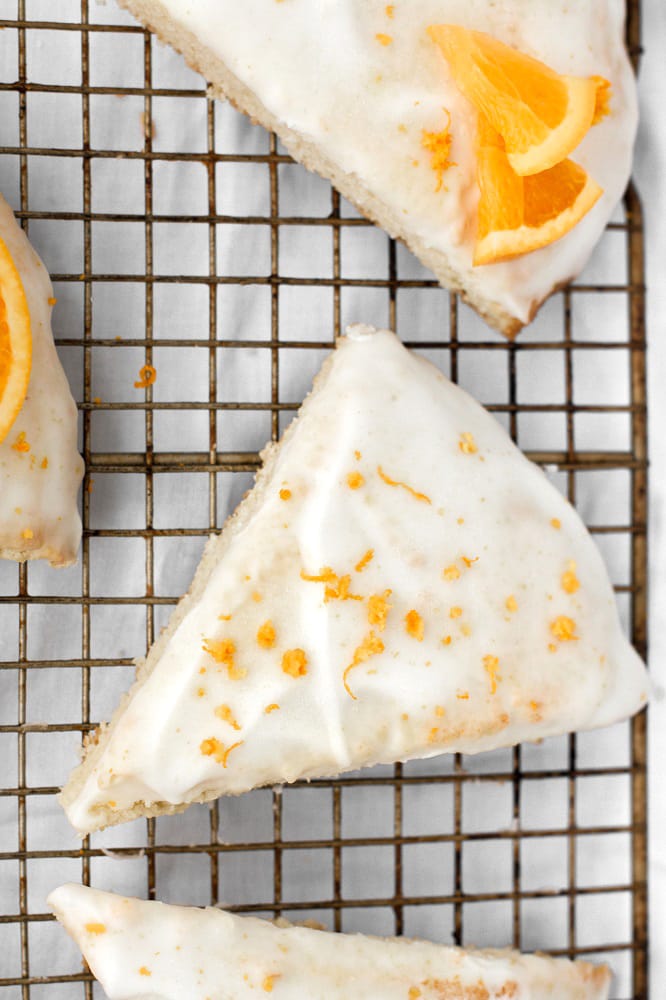 I use Lakanto Classic Monk Fruit Sweetener to sweeten these scones. Monk fruit sweetener is my favorite keto-friendly sweetener and I use it almost exclusively in all of my low-carb dessert recipes and fat bomb recipes.
Monk fruit sweetener is net-carb-free, zero calorie, and tastes just like regular sugar. You can use code "REALBALANCED" for 20% off your Lakanto order!
Looking for more keto recipes that are sweetened with monk fruit sweetener? Check out this list of 40+ Keto Monk Fruit-Sweetened Recipes!
Want to learn more about monk fruit sweetener? Check out this post here!
LAKANTO TASTE TEST BUNDLE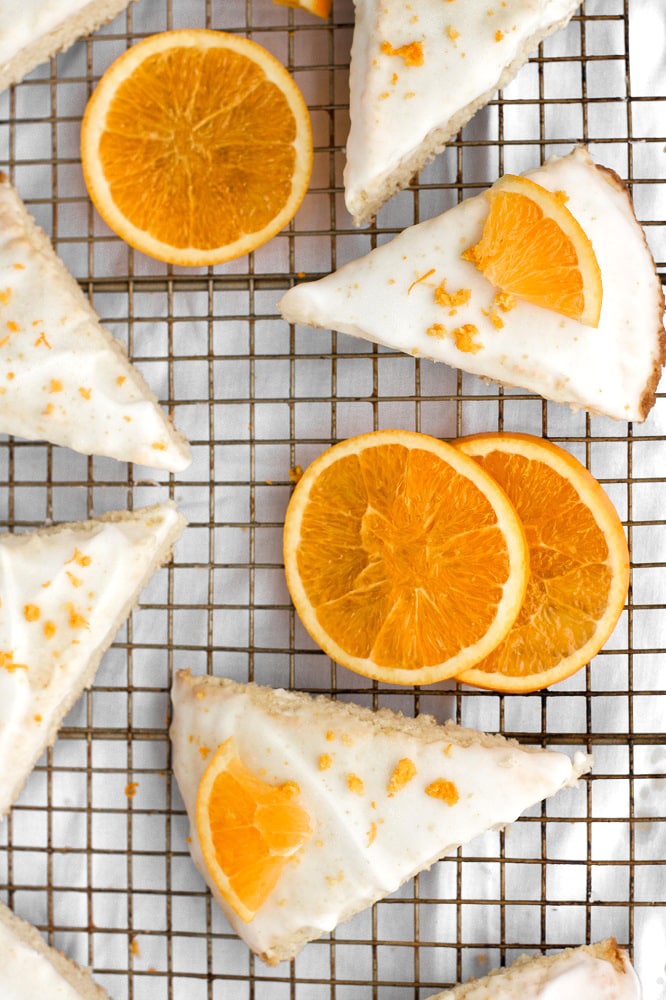 I am also excited to share that I have partnered with Lakanto to share a Taste Test Bundle with you all! If you've been waiting to try monk fruit sweetener, now is the time to order! This deal includes classic monk fruit sweetener, golden monk fruit sweetener, a recipe e-Book, and Lakanto's Taste Test Guarantee!
Glaze & How to Make Powdered Sugar For Orange Scones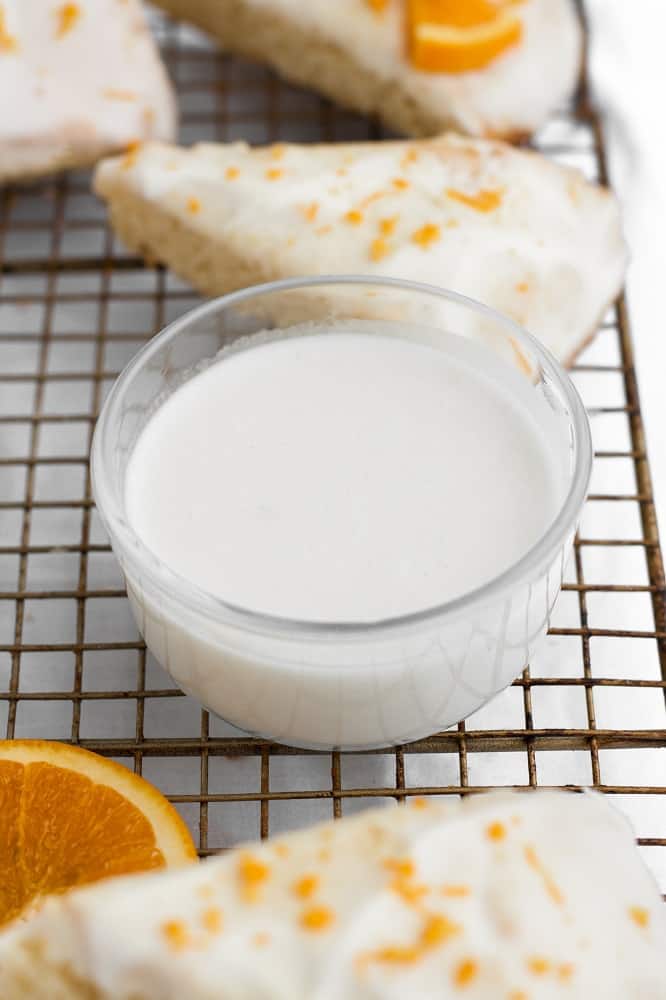 The glaze that tops these scones is SO EASY to make and is a perfect stand-alone recipe that I recommend having on-hand for any time you want to add a new depth of flavor to your low-carb baked goods!
This recipe will also show you a fun baking tip that I've learned and that I use constantly: how to instantly make powdered sugar!
Instead of having to buy a bag of both granulated low-carb sugar and a bag of low-carb powdered sugar, you can quickly turn granulated into powdered with just with a few pulses of your blender! Add the granulated monk fruit sweetener to your high-speed blender, pulse, and voilà! Powdered monk fruit sweetener is as easy as that!
Diet-Friendly and Allergy-Friendly Low-Carb Glazed Orange Scones
These Low-Carb Glazed Orange Scones are a perfect breakfast baked good recipe to have on-hand, especially when you are baking for someone who follows a low-carb, nut-free, and dairy-free diet!
Low-Carb and Keto: One scone contains only 3.1 grams of net carbs per serving.
Nut-Free: These scones contain coconut flour rather than almond flour or another nut flour, making these scones a perfect option for those who have a nut allergy or nut intolerance.
Paleo: Made without gluten, grains, soy, or dairy, this recipe is paleo-compliant.
Dairy-Free: Coconut oil and coconut milk are used in this recipe as dairy-free substitutes. If you prefer to limit your dairy intake or have a dairy allergy or dairy intolerance, this is a great recipe to have on-hand!
Gluten-Free and Grain-Free: This recipe is free from both grains and gluten and is celiac-friendly and safe for those with a wheat or gluten intolerance.
Vegetarian: This recipe is compliant with a vegetarian diet.
Refined-Sugar-Free: Sweetened with natural monk fruit sweetener, these scones do not contain any refined sugar.
Net Carbs In Glazed Orange Scones
One scone contains 3.1 grams of net carbs per serving.
LOOKING FOR MORE KETO AND NUT-FREE BAKED GOOD RECIPES?
If you're in the mood for some more keto-friendly desserts that are made without almond flour and other nut ingredients, you'll love these!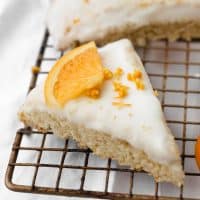 Low-Carb Glazed Orange Scones
---
Author: Sara Nelson
Prep Time: 15 minutes
Cook Time: 18 minutes
Total Time: 45 minutes
Yield: 8 scones 1x
Category: Dessert
Method: Bake
Cuisine: American
Description
These Low-Carb Glazed Orange Scones are a tart and citrusy baked good that pairs perfectly with your morning coffee! This recipe is low-carb, keto, nut-free, paleo, dairy-free, gluten-free, grain-free, vegetarian, refined-sugar-free, and contains only 3.1 grams of net carbs per serving!
---
Ingredients
Scones
Glaze
Garnish
---
Instructions
Preheat oven to 350 degrees and line baking sheet with parchment paper.
To a mixing bowl, add coconut flour, classic monk fruit sweetener, cream of tartar, baking soda, and salt. Whisk until all ingredients are fully incorporated.
To mixing bowl, add beaten eggs, coconut oil, orange extract, and vanilla extract. Mix with electric mixer until wet and dry ingredients are well-combined.
On top of prepared baking sheet, form dough into 1 1/2 inch thick circle and cut into 8 wedges. Do not disperse wedges (leave them in a circle to bake).
Bake scones for 18-20 minutes.
Remove scones from oven, slice knife through wedges again as the dough may have slightly baked together, and allow to cool.
While scones cool, for the glaze, pulse monk fruit sweetener in blender or food processor until powdered.
Melt coconut oil in microwave and, once melted, add to powdered classic monk fruit sweetener.
Pour in 2 tbsp coconut milk and pulse in blender until well-combined and a glaze forms. If glaze mixture is too dense, add additional tbsp of coconut milk.
Transfer glaze from blender to shallow dish or plate. Carefully dunk top of scones in glaze and set on cooling rack to harden.
Garnish glazed scones with orange zest and enjoy!
Keywords: keto scone recipe, orange scone, low-carb scone, nut-free scone
Reader Interactions