These Low-Carb Blueberry Cheesecake Bars are creamy, tart, and delicious!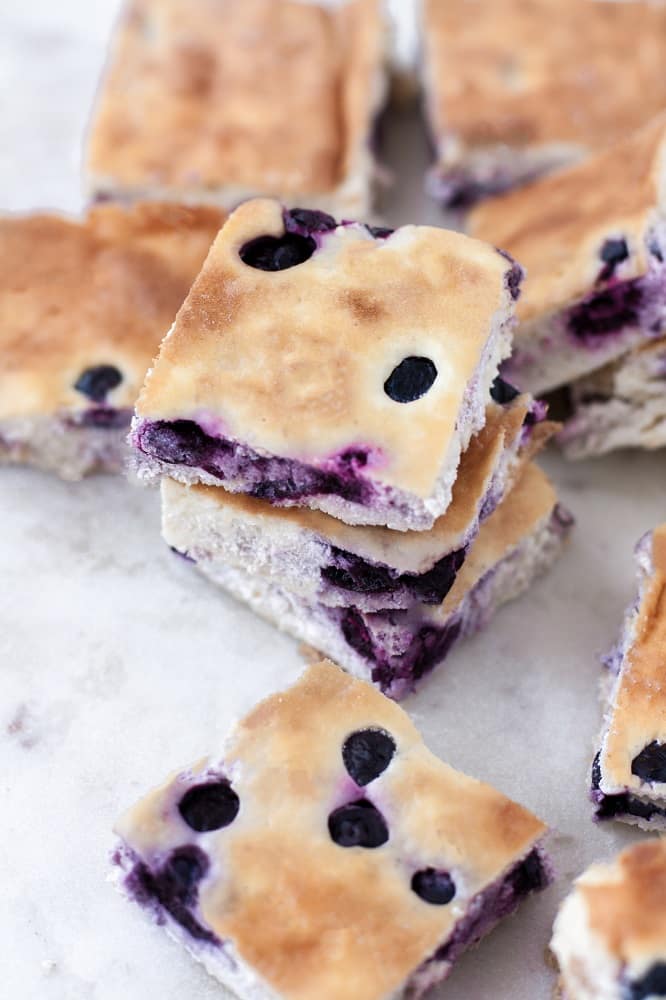 Plus, they are easy to whip together and will instantly satisfy your sweet tooth!
Easy To Make Keto Blueberry Cheesecake Treats
Between preparing the crust and the filling, most cheesecake recipes involve multiple steps. Since I know that not everyone has all day to stay in the kitchen working on a dessert recipe, I decided to develop a crustless cheesecake recipe, reducing the amount of time to prepare this dish, as well as the amount of ingredients.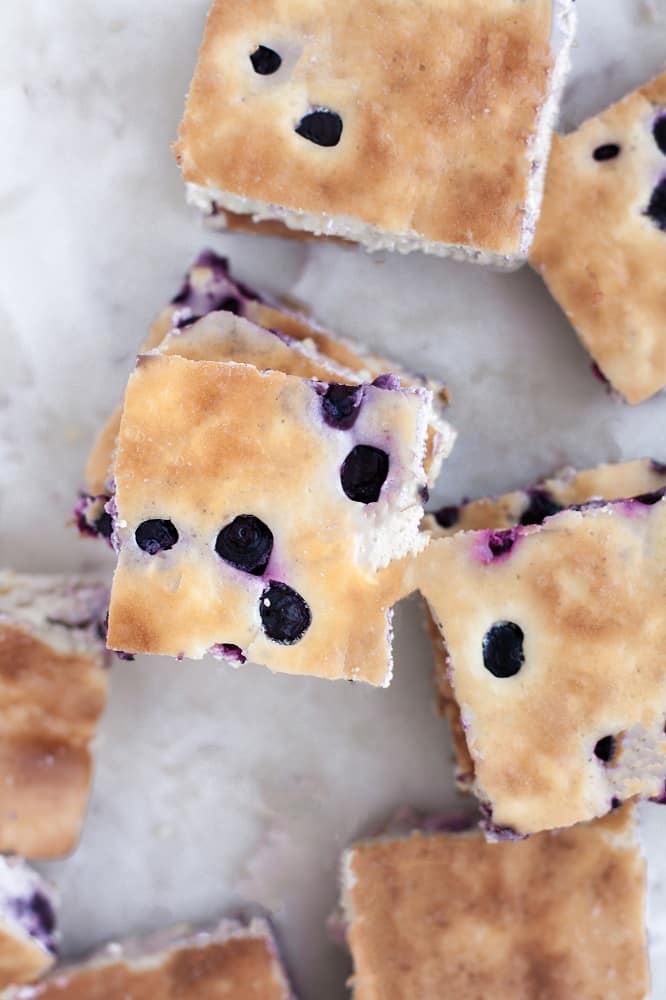 Additionally, these crustless Blueberry Cheesecake Bars, have significantly reduced carbs.
A Great Way to Use Fresh Berries In Cheesecake Bars
When I grocery shop, I typically buy several pints of a variety of berries and love using them in baked goods. This recipe uses blueberries, but it would also taste absolutely delicious with raspberries or blackberries!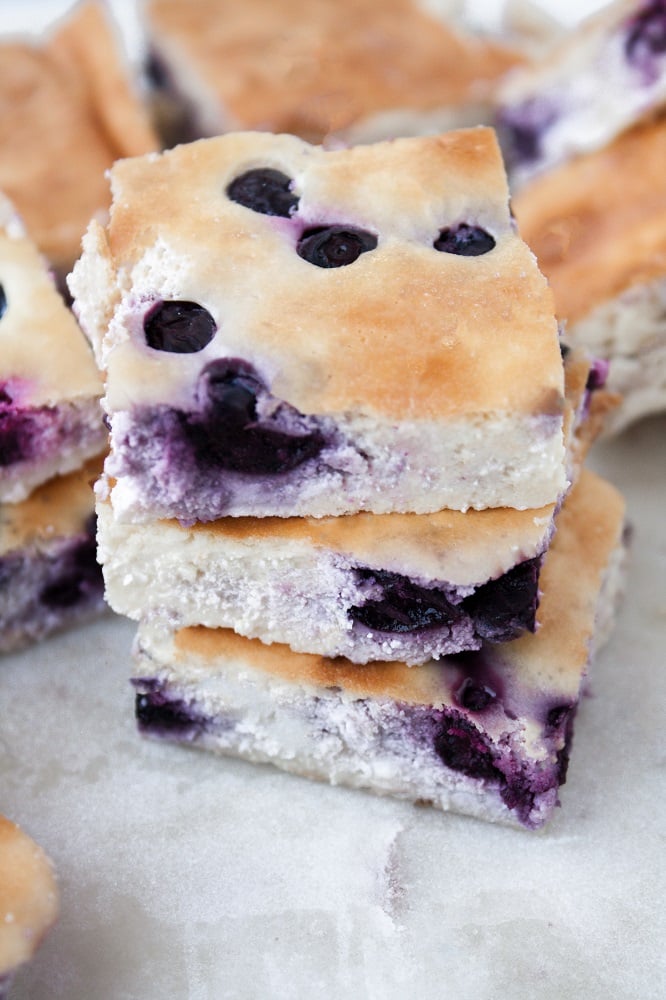 These Blueberry Cheesecake Bars Are Low-Carb, Gluten-Free, and Vegetarian
This recipe is useful to keep on-hand for those who do not eat grains, follow a keto, low-carb diet, and/or are vegetarian.
Keto and Low-Carb: One bar contains 3 grams of net carbs per serving.
Nut-Free: These Cheesecake Bars are free from nuts and are a perfect dessert option for those who have a nut allergy or intolerance.
Gluten-Free and Grain-Free: This recipe is both gluten-free and grain-free.
Vegetarian: These bars will fit perfectly into a vegetarian diet.
Net Carbs In Low-Carb Blueberry Cheesecake Bars
One bar contains 3 grams net carbs per serving.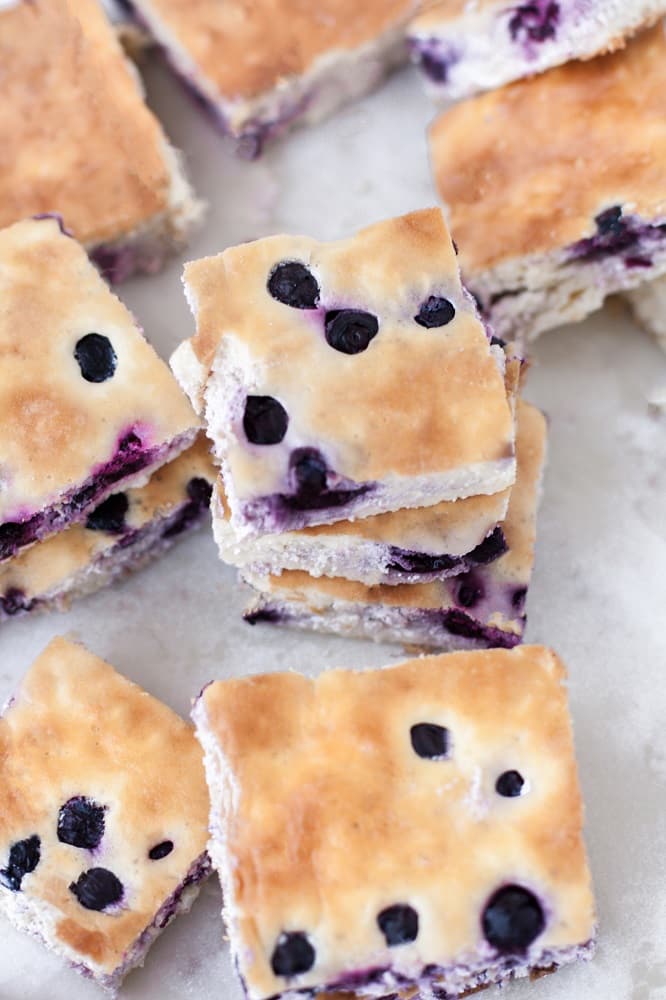 Love blueberries in your keto desserts? Here's another delicious recipe to try!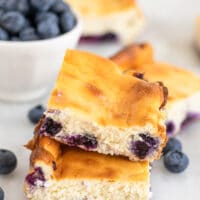 Low-Carb Blueberry Cheesecake Bars
---
Author: Sara Nelson
Prep Time: 10 minutes
Cook Time: 1 hour
Total Time: 5 hours, 10 minutes
Yield: 12 bars 1x
Category: Dessert
Method: Bake
Cuisine: American
Description
These Low-Carb Blueberry Cheesecake Bars are a deliciously tart dessert to satisfy your sweet tooth! These bars are low-carb, keto, nut-free, gluten-free, grain-free, vegetarian, refined-sugar-free, and contain only 3g net carbs per serving!
---
---
Instructions
Preheat oven to 325 degrees and spray 8×8 baking pan with nonstick cooking spray.
In a mixing bowl, using an electric mixer, mix together all ingredients excluding blueberries until fully-incorporated. Pour mixture into prepared baking pan. Place blueberries on top of mixture.
Transfer pan to oven and bake until crust is golden brown, about 40-45 minutes.
Remove pan from oven, loosely cover pan with foil, and transfer pan to refrigerator to chill for at least 4 hours.
Using a knife, cut cheesecake into 12 equal-sized bars, remove bars from pan using a spatula, serve, and enjoy!
Keywords: keto cheesecake, keto cheesecake bars, blueberry cheesecake, low-carb cheesecake, keto blueberry cheesecake
Reader Interactions