Do you follow keto and are looking for what to order, or are you searching for a low carb restaurant to eat at this evening? In this post, I cover great keto menu choices when dining out!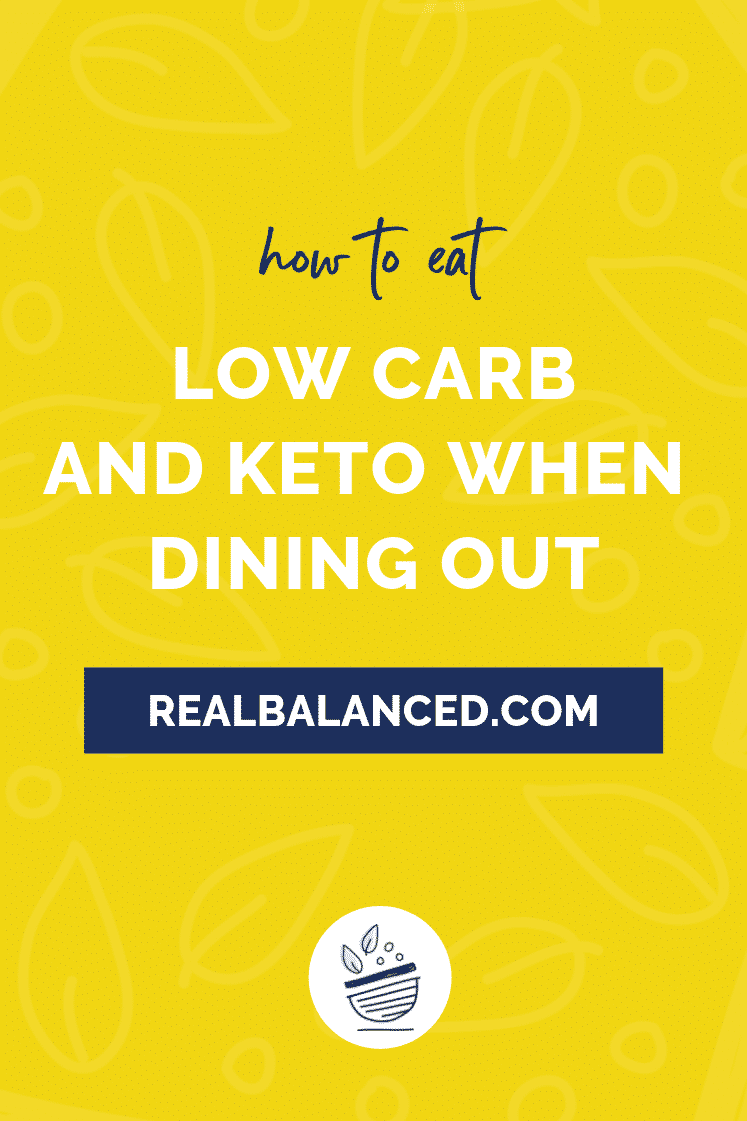 Following a keto diet does not mean that you should avoid going out to eat! I know, at first, it can feel pretty intimidating to venture to a restaruant and order something with quite a few substitutions, but don't worry! I do this EVERY TIME I go out to eat and, the more you practice, the easier the process becomes and the more confident you will feel. It's all about knowing what foods you can have and what foods you should avoid. Once you learn how, you'll feel way more comfortable going out to eat and enjoying a meal that wasn't cooked by you!
If you're brand new to a ketogenic diet, be sure to read this blog post all about the 5 simple steps to starting a ketogenic diet.
It's all about knowing what you can and can't eat. If you're just starting out, tracking your macros is super important. Luckily, I have an entire guide on how to easily track your macros in your day-to-day diet. Keep in mind that at a minimum, you want to be tracking your daily net carb intake, but it's also important to consider your protein and fat consumption.
Keep in mind that many people who follow a low-carb diet keep their carb intake to under 40-50 grams of net carbs, but, for many, the ideal goal for a ketogenic diet is for your intake to be at or below 20 grams of net carbs (the formula to calculate net carbs: total carb content – fiber – sugar alcohols = net carbs).
What foods to limit and avoid when following keto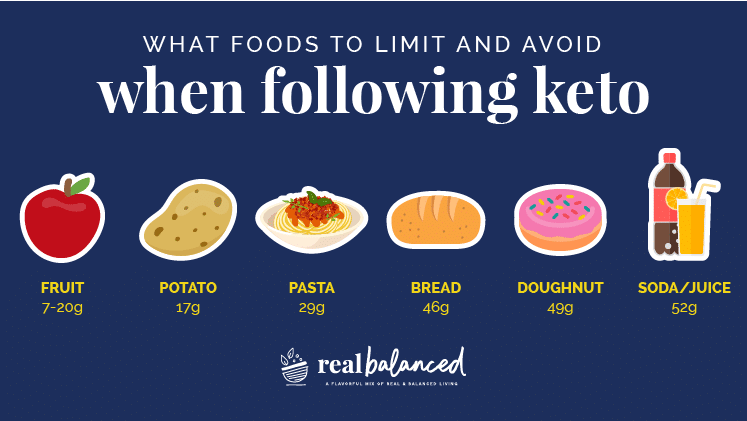 Your main priority when following a low-carb, ketogenic diet is to avoid foods filled with sugars and starch. There are a myriad of alternatives to all the foods listed in the graphic above.
Low Carb Foods List Cheat Sheet
If you're wondering what can you eat on a keto diet, we've created this helpful and downloadable graphic for you that lists many of the foods you can eat at home and when dining out!
At a basic level, you want to stick with foods that are higher in fat and protein and low in net carbs. This means that a meal that is comprised of meat, healthy fats (like olive oil or butter), and a low net carb veggie like broccoli is a perfect option!
Keto Menu Options at Popular Fast Food Restaurants
You can really eat almost anywhere you want, as long as you are conscious of what you pick to eat. Every restaurant has a lot of possibilities for what you can eat, you just have to be a little creative with it and confident in what you're ordering.
Chipotle Chicken Burrito Bowl without rice and beans

Panera Bread Power Breakfast Bowl
Chick-fil-A Grilled Chicken Nuggets
Jimmy John's The J.J. Gargantuan (salami, pork, roast beef, turkey, ham and provolone) without bread (commonly referred to as an "unwich")
Tips for what to do in advance of going out to eat when following a keto diet
Eat a light snack
Before you go out to eat, grab a small healthy snack to enjoy, so that you're not tempted! Something small won't completely ruin your appetite, so you can still enjoy food wherever you dine. Choosing something small like Chicken Bacon Ranch Poppers or a fat bomb would be perfect to fulfill your needs.
Review the menu online
If eating at a fancier restaurant, I advise you to check out the menu beforehand! It will be a lot less tempting to break your ketosis if you stick to what you picked out while looking at the menu online.
Checking out the menu also gives you an idea of questions you may need to ask the waiter/waitress. I know, sometimes it can be a little stressful making everyone wait on you because of the questions you may need to ask. But if you check everything out beforehand, you may not need to rely on rushing through the menu and picking something that may not fit your ketogenic/low-carb lifestyle.
Trade your burrito for a burrito bowl or salad bowl
Instead of getting a burrito wrap (that contains around 300 calories and 50 grams of carbs), get a burrito or salad bowl! Burrito and salad bowls are an awesome option for those who find themselves at Chipotle, Moe's, or Qdoba.
These restaurants also offer vegan and vegetarian options also, making it a win/win for everyone! I personally love Chipotle and this is my order…
Keto Order at Chipotle
Salad bowl with romaine lettuce, carnitas or steak, hot salsa, cheese, and sour cream. Sometimes I add guac on, too!
Tips on Ordering Keto at Chipotle
Stay away from all the extra toppings that are not so keto-friendly! Think things like tortillas, rice, beans, corn, etc. Replace the higher carb items with high-fat, low-carb items like an extra order of protein (you can double the meat!), veggies, salsa, cheese, and avocado/guacamole!
Ditch the bread for your burger and sandwiches
Lucky for you, choosing to have a burger or sandwich is super easy. All you have to do is skip the bun! When I want to order a burger, I ask for a "bunless burger" and, virtually always, the staff knows what I mean.
Keto Order at Jimmy John's or another sub sandwich shop
If you are craving a sub sandwich, choose an unwich! The popular fast-food sandwich restaurant Jimmy John's created this word when they realized that sometimes, people just don't want the bread. Basically, it's all of the sandwich ingredients minus the bread! From there, you can pick your choice of veggies and proteins, all within the guidelines of following a ketogenic diet.
If you are at a different sub sandwich shop than Jimmy John's, I would suggest asking the staff if they can make your sub in a lettuce wrap or in a salad bowl. I've done this countless times and the restaurant is usually more than willing to do this!
Side-note: stay away from all the sauces/extra toppings that may come with what you are ordering (i.e. ketchup, honey mustard sauce, etc). Instead, swap those out for mustard, mayo, avocado, ranch dressing, or some veggies! Doing this will cut down significantly on your carb intake and instead, fill you up with some tasty fats!
Stick to protein and fat for breakfast
For breakfast at restaurants, I rely on bacon and eggs: omelettes, scrambled, boiled, all the ways! Breakfast bowls are a great alternative also, as long as there aren't potatoes or hashbrowns included in the meal. When ordering an omelette or breakfast bowl, ask if you can sub certain ingredients; the staff will most likely let you customize what cheese, veggies, and protein that you can have in your meal.
Choose low-carb drinks
This one may be the most obvious, but I still have to mention it! The bottom line: avoid sugary drinks! Instead, stick to water, hot or iced black coffee, unsweetened ice tea, or seltzer water.
Note that milk is not recommended as lactose is processed by our bodies as sugar. If you love milk (or even half-and-half) in your coffee, I'd suggest replacing that with heavy cream, butter, and/or coconut oil!
Choose Grilled instead of Fried
If a restaurant offers chicken that is fried, they more than likely also offer the option to grill it! Fried chicken isn't the best choice to begin with, though it may taste good. Just one medium sized piece contains around 8-11 grams of carbs, no thanks!
Grilled chicken is the way to go if you are craving some protein. At restaurants like KFC, Chick-Fil-A, Shake Shack, and more, all have options for grilled chicken. So long as you don't get breading with it, you should be good to go!
So, tell me, what is your favorite low-carb meal to order when dining out?
Reader Interactions