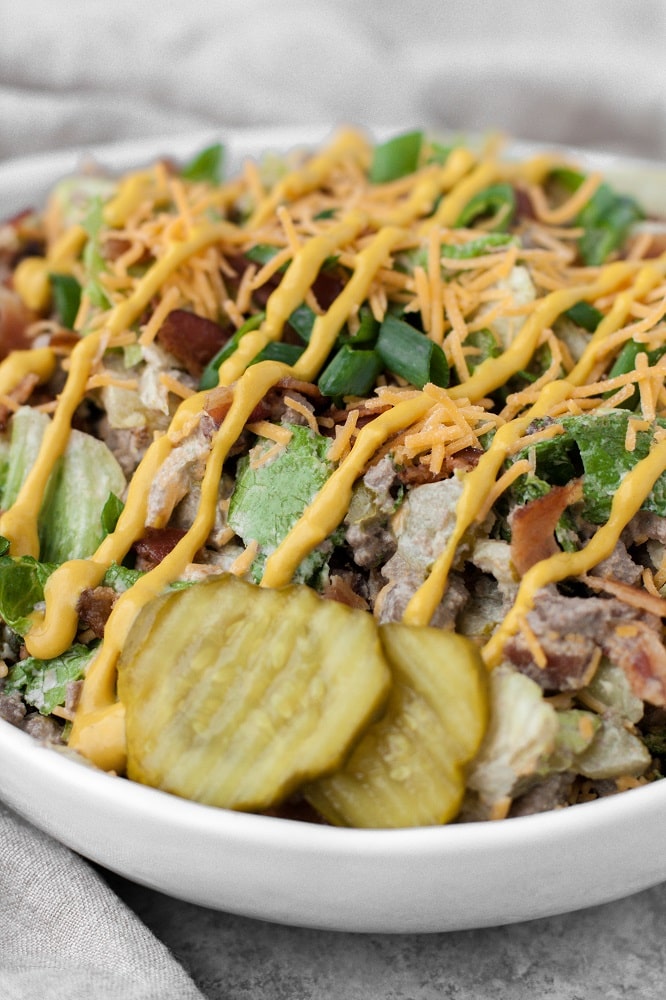 Bacon Cheeseburger Salad… YES PLEASE. This keto dinner option is basically heaven in a bowl.
Straightforward ingredients with minimal preparation required, this recipe is sure to become an instant household favorite!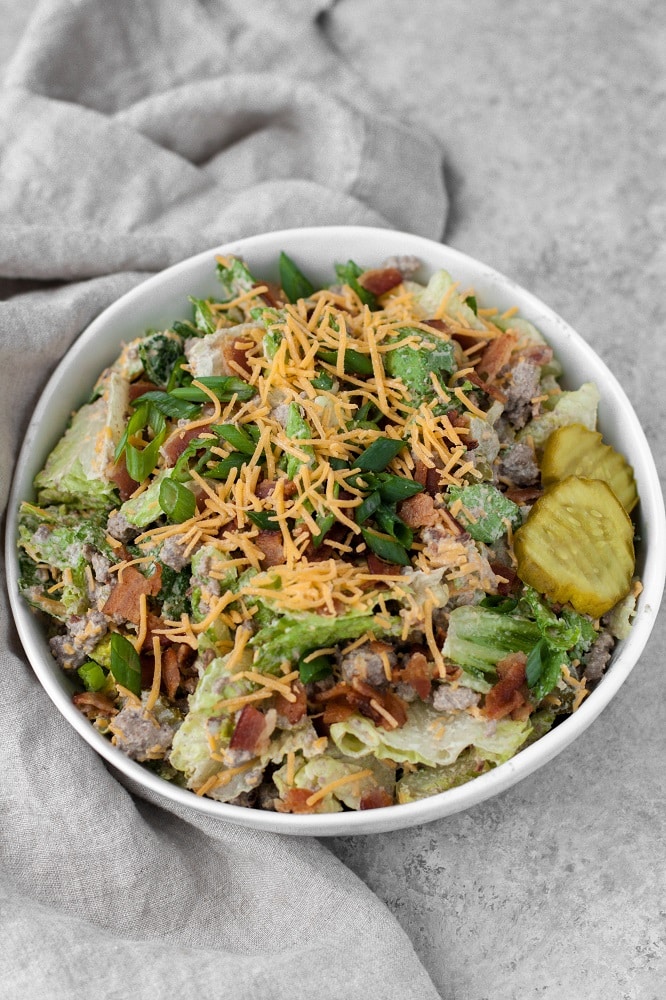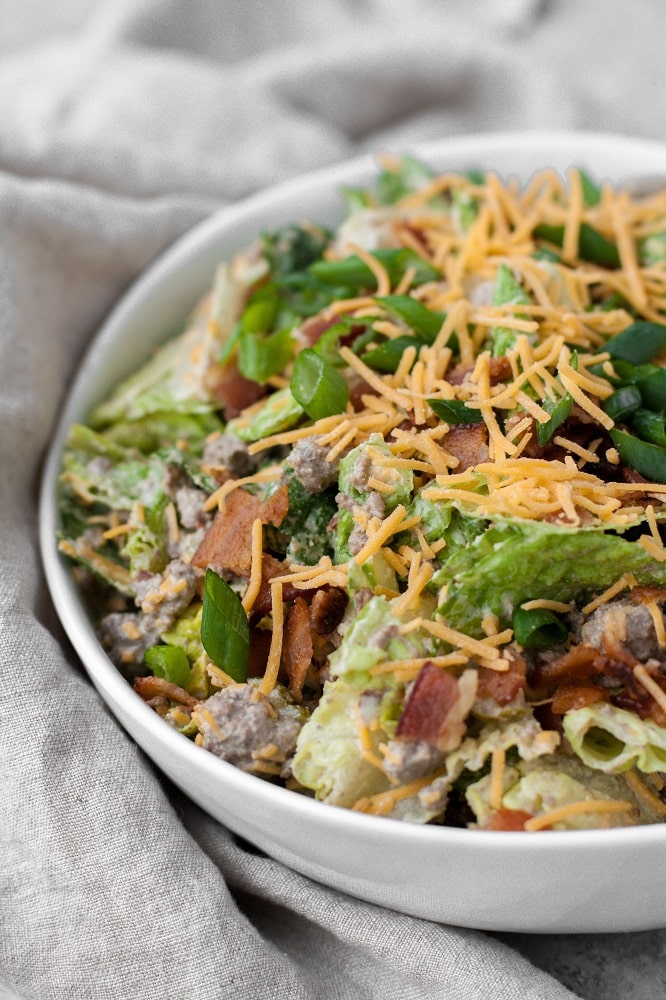 This Bacon Cheeseburger Salad Is Delicious Keto And Low-Carb Dinner Or Side Dish Option
In one short taste-test, this recipe instantly became Ryan's favorite meal. He immediately commented that it tasted how he remembered a McDonald's Big Mac to taste, but better… and with BACON.
I batch made this salad for him for lunch for work and he hasn't stopped talking about it since!
The best parts about this meal is that it contains minimal carbs, is incredibly satiating, and is full of all of the best flavors (helllllo beef, bacon, AND cheese!). Whoever you grace with this Bacon Cheeseburger Salad will never, ever know it is low-carb so it's a perfect meal or side dish option to pass at parties and gatherings!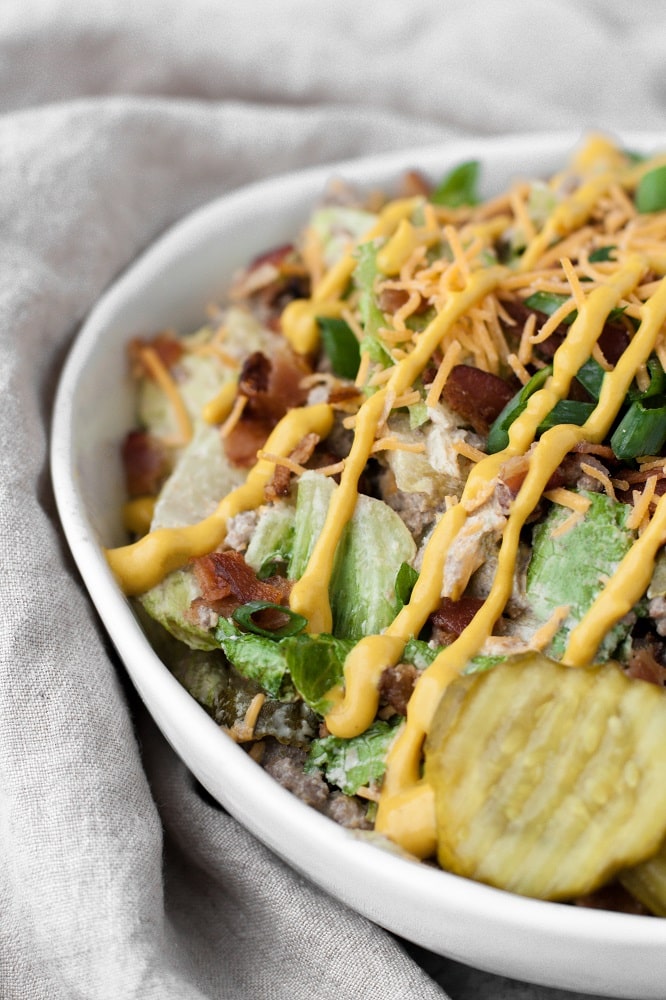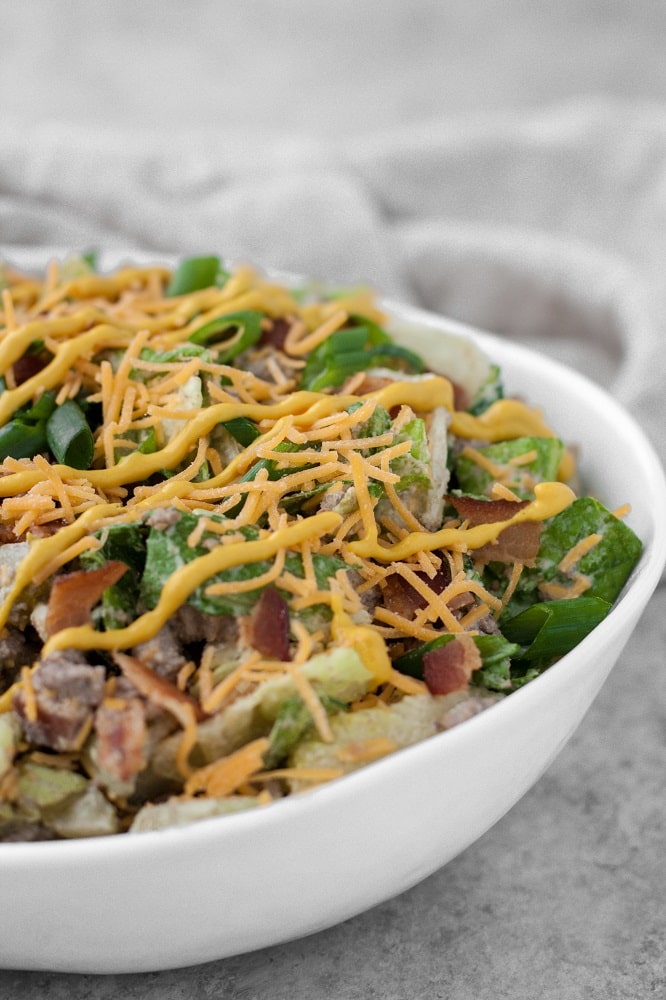 Net Carbs In Keto Bacon Cheeseburger Salad
This Bacon Cheeseburger Salad contains 1.2 grams of net carbs per serving, making it a perfect meal for those who follow a low-carb or ketogenic diet.
Diets This Keto Bacon Cheeseburger Salad Recipe Is Compliant With
This recipe is keto, low-carb, gluten-free, grain-free, and refined-sugar-free.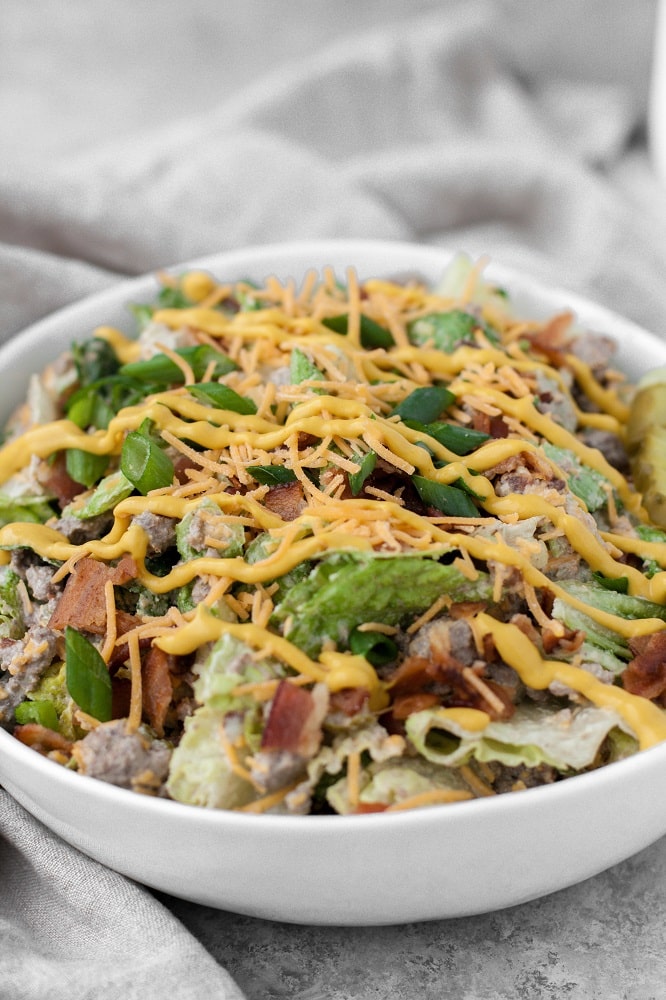 Looking for more keto-friendly meals to prepare? Browse through this keto dinner recipes!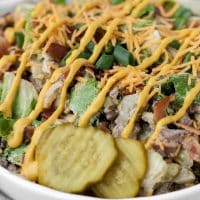 Keto Bacon Cheeseburger Salad
---
Author: Sara Nelson
Prep Time: 10 minutes
Cook Time: 30 minutes
Total Time: 1 hour, 40 minutes
Yield: 8 servings 1x
Category: Dinner
Cuisine: American
Description
This keto and low-carb Bacon Cheeseburger Salad is packed with flavor and will keep you full and energized for hours! This recipe is keto, low-carb, gluten-free, grain-free, refined-sugar-free, and has only 1.2g net carbs per serving!
---
Ingredients
Salad
8 oz bacon
1 lb ground beef
1 tsp salt
9 oz romaine, chopped
4 1/4 oz (119g) pickle slices, roughly chopped
3/4 cup finely shredded cheddar cheese
Dressing
Optional Topping
1/2 cup chopped green onions
---
Instructions
Preheat oven to 425 degrees and line baking sheet with foil and baking rack. Lay bacon strips on baking rack in even layer.
Bake bacon in oven until crispy, about 15-20 minutes depending on thickness of bacon. (Alternatively, bacon can be cooked on stovetop over medium heat and drained of excess grease on paper towel-lined plate).
Meanwhile, brown ground beef on stovetop over medium heat. Once cooked, remove from heat, add salt, and mix thoroughly. Do not drain liquid from ground beef.
Once bacon has cooked, allow to cool slightly before crumbling.
To a large mixing bowl, add ground beef, crumbled bacon, romaine, shredded cheddar, and pickles.
In a high-speed blender or food processor, blend dressing ingredients until smooth.
Pour dressing over salad and mix until well-incorporated.
Transfer salad to refrigerator to chill for 1 hour.
Optional: Drizzle yellow mustard and sprinkle chopped green onions over top of salad.
Serve chilled and enjoy!
Keywords: keto salad, keto bacon cheeseburger salad, keto big mac salad, big mac salad, low-carb dinner, keto dinner
Reader Interactions