This post is sponsored by Mezzetta, but the content and opinions expressed here are my own.
Low-FODMAP Pressure Cooker Italian Beef featuring Mezzetta Peperoncini is the best quick and delicious dinner option you've been needing your entire life! Not only is this recipe low-FODMAP, low-carb, keto, gluten-free, grain-free, dairy-free, and sugar-free!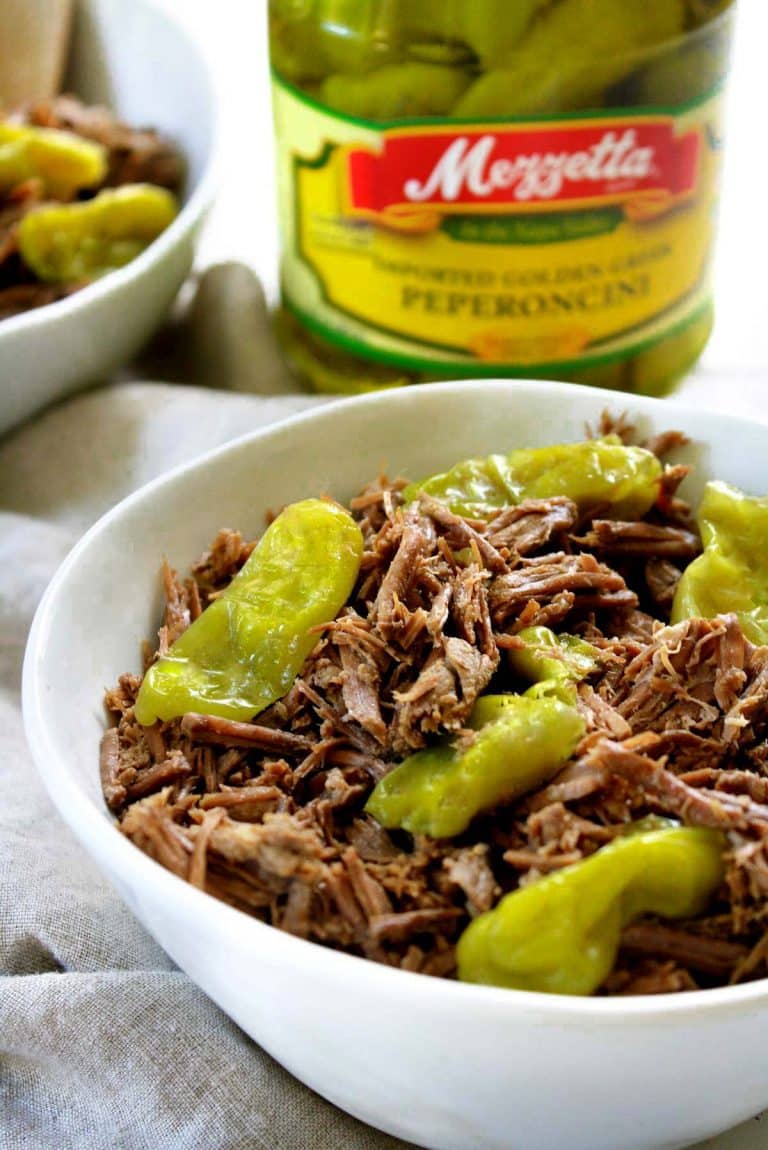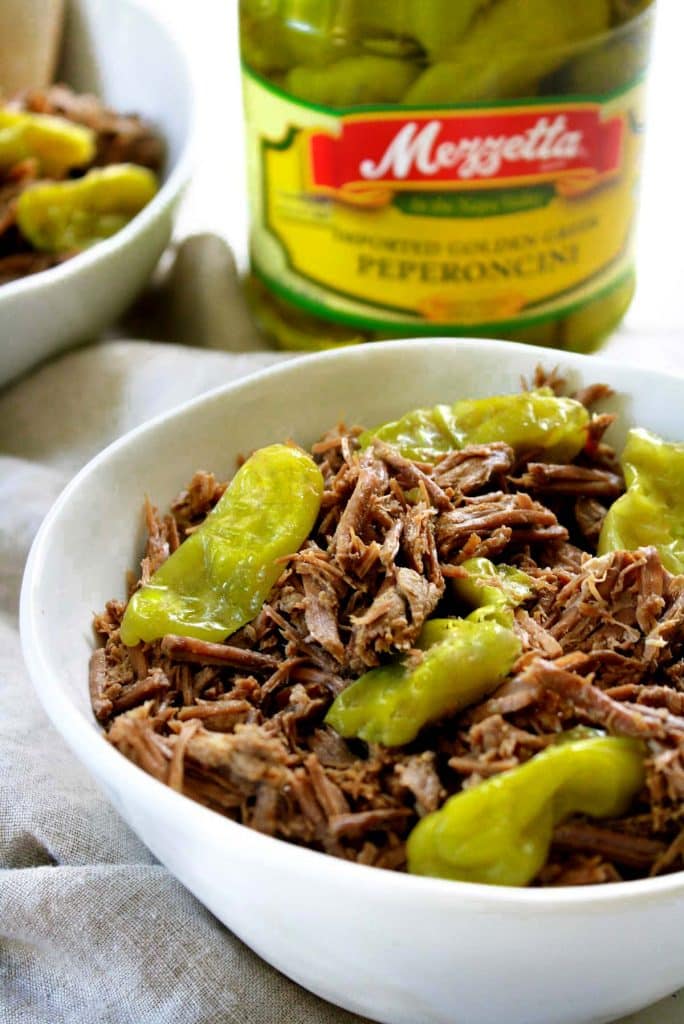 I'll be the first to admit that although I love to spend hours in the kitchen developing a recipe, sometimes quick, easy, and efficient is the best way to go, especially on busy weeknights! Enter Pressure Cooker Italian Beef made with bright, energizing Mezzetta Peperoncini and all of its delicious glory!
Since I learned to cook, my go-to recipe has always been Italian Beef! My Mom made it for us growing up and, when I moved away to college and then to Milwaukee, it was the first recipe I asked my Mom to share with me. It's a comforting meal that packs so much delicious flavor, yet requires little to no effort to prepare. My kinda recipe.
Simple ingredients yet so flavorful, budget-friendly (it was a staple in my college days), and couldn't be easier to make! Take some grass-fed beef roast, spices, broth, and, the key ingredient, Mezzetta Peperoncini, throw into the pressure cooker, wait a bit, and DONE. That's it. Doesn't get much easier than that!
Mezzetta Peperoncini take what would otherwise be a plain beef roast and turn this meal into a brightly-flavored, crave-worthy meal that is sure to impress and keep the whole family coming back for more!
Low-FODMAP
When I began to follow a low-FODMAP diet for health reasons, my immediate reaction was to think about all of my favorite meals that I'd no longer be able to eat. My Italian Beef had always been made with garlic and onions, two big "no-no" ingredients.
So, when the craving for Mezzetta Peperoncini hit, I knew I needed to develop a low-FODMAP alternative to this recipe! Luckily, garlic-infused olive oil exists, is low-FODMAP, and pairs perfectly with Mezzetta Peperoncini!
No idea what FODMAP means?
Here's a brief overview:
"Low-FODMAP" is a way of identifying specific foods that contain high levels of FODMAPs. FODMAP, an acronym that stands for Fermentable Oligosaccharides, Disaccharides, Monosaccharides, and Polyols, are all short-chained carbohydrates that are poorly absorbed by our digestive systems.
Highly recommended by medical professionals for individuals suffering from gastrointestinal distress, the low-FODMAP diet helps reduce and altogether eliminate symptoms and other gut issues brought to you by a high-FODMAP diet.
FODMAP-Free Italian Beef Pressure Cooked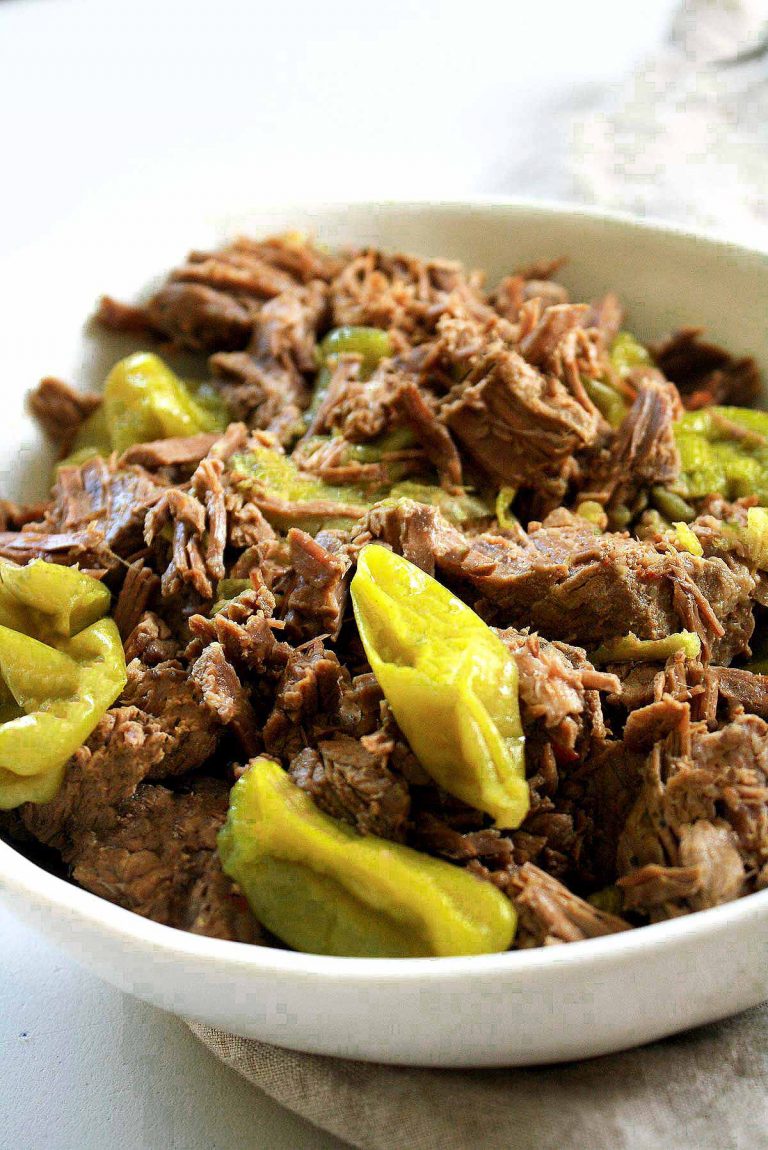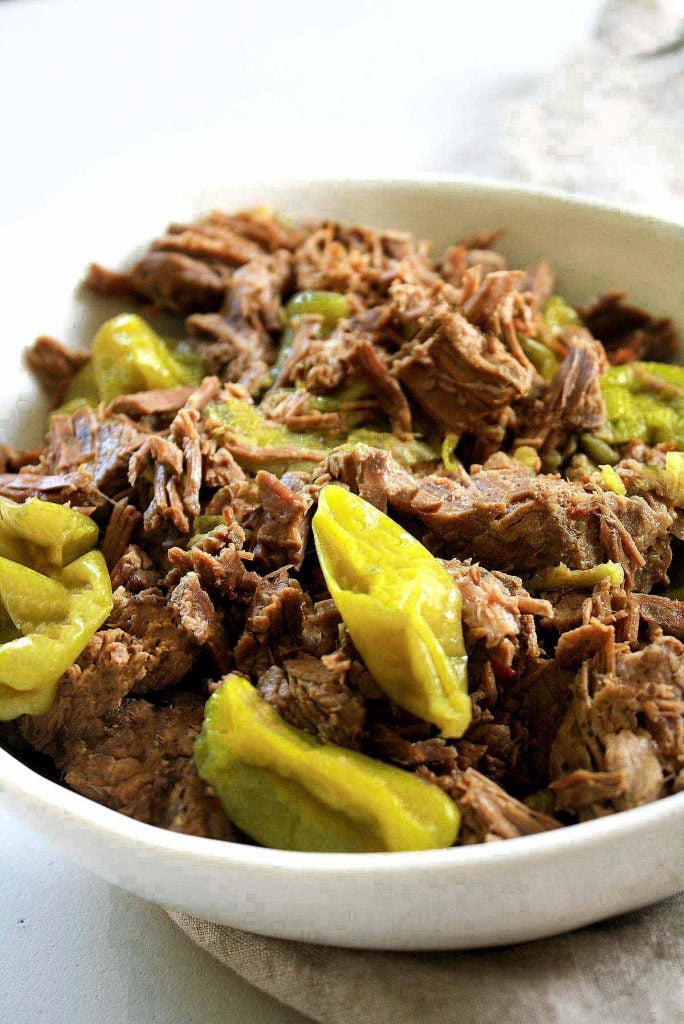 I wasn't about to let my love for this meal and for Mezzetta Peperoncini fall by the wayside! After some tinkering, I developed this recipe, free of FODMAPs, and it tastes just like the original! Even Ryan agrees! He always has the "final call" on recipes as the Official Taste Tester (maybe I'll make him some business cards…) and he was raving about this recipe for weeks!

Pressure Cooker
You all know how much I LOVE my pressure cooker. I use an Instant Pot. This is the best kitchen appliance we've ever invested in. I use it every day, sometimes multiple times a day.
When I first started making Italian Beef, I would cook it in my slow cooker for 15 hours on low. But with a pressure cooker, this Italian Beef recipe can be prepped, cooked, and ready to be eaten in less than 3 hours total!
Before you try the recipe, be sure to head over and enter the Mezzetta Brighten Every Bite sweepstakes!
Enter here for your chance to win!
Head over to Mezzetta's page to enter their Brighten Every Bite national sweepstakes for an opportunity to win 52 meal kits for 2 from Chef'd ($1,560 value)!
Plus, 10 runners-up will win a $50 Chef'd gift card and all entrants will receive a 10% coupon!
You can enter once every 24 hours!
(Giveaway CLOSED)
Diets This Low-FODMAP Pressure Cooker Italian Beef Recipe Is Compliant With
This recipe is low-FODMAP, low-carb, keto, nut-free, coconut-free, gluten-free, grain-free, dairy-free, and sugar-free.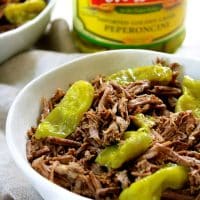 Low-FODMAP Pressure Cooker Italian Beef
---
Author: Sara Nelson
Prep Time: 15 minutes (+ optional overnight)
Total Time: 2 hours, 35 minutes
Yield: 6 1x
Description
This Low-FODMAP Pressure Cooker Italian Beef featuring Mezzetta Peperoncini is the best quick and delicious dinner option! This recipe is low-FODMAP, low-carb, keto, gluten-free, grain-free, dairy-free, and sugar-free!
---
---
Instructions
Using a sharp serrated knife, chop the beef into 1-inch cubes and place in a storage bag.
Add garlic-infused olive oil and spices to bag and gently rotate the bag to distribute the oil and spices.
Place storage bag in the refrigerator and allow to marinate for at least 2 hours, preferably overnight.
After marination of beef, pour a jar of Mezzetta Peperoncini (including juice), beef, and beef broth into pressure cooker insert.
Set Instant Pot to "Beef/Stew" and set the timer to 120 minutes.
After the pressure cooker has completed the cooking process, allow it to naturally depressurize for 20 minutes. After 20 minutes, rotate the lid nozzle to fully depressurize.
Serve Italian Beef in bowls topped high with Mezzetta Peperoncini and enjoy!
Keywords: Pressure Cooker Italian Beef, low-fodmap beef recipe, Italian Beef with Peperoncini
Reader Interactions