If you're searching for a simple and flavorful ketogenic dinner or appetizer recipe, look no further than these Keto Meatballs!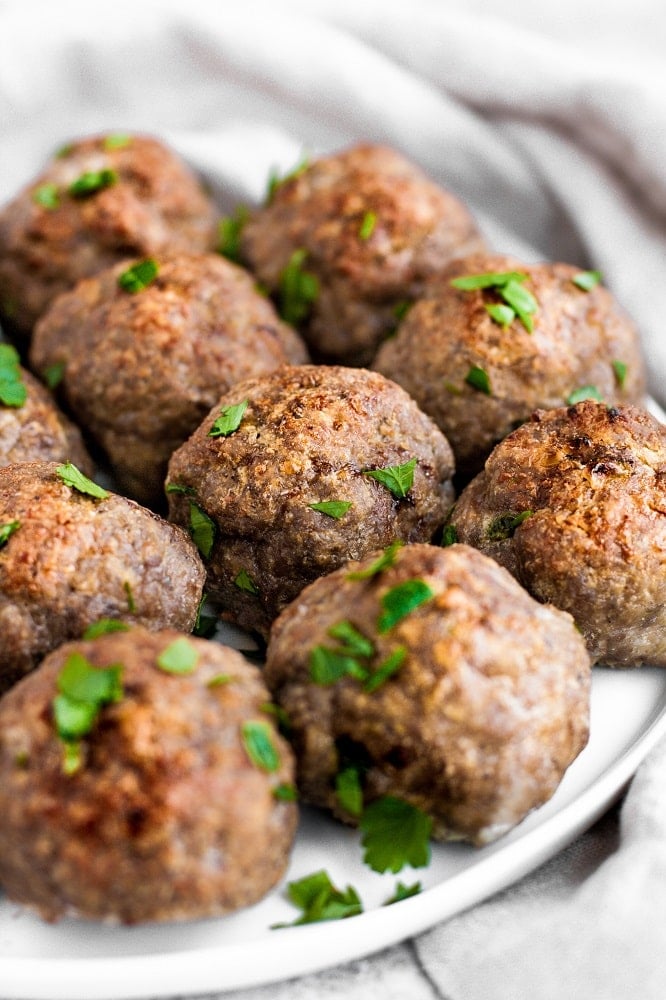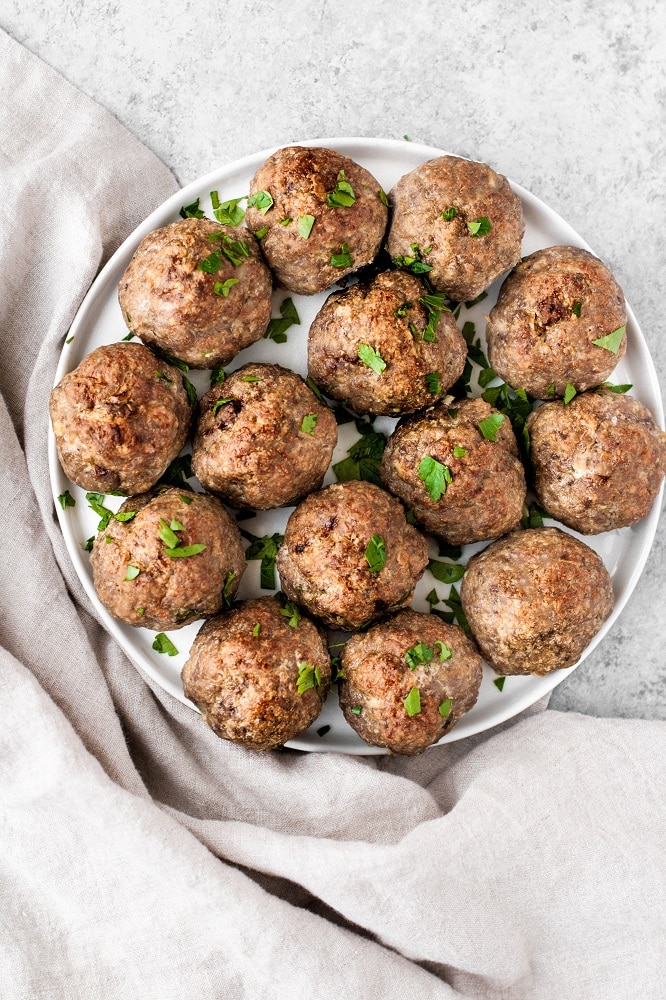 Made with wholesome, satiating ingredients, this recipe is perfect to have on-hand for family gatherings, work parties, and busy weeknights!


Wholesome and Nutrient-Dense Ingredients In Keto MeatBalls
Every ingredient in this recipe is meant to serve the purpose of both satiating hunger and providing vital nutrients. From the grass-fed protein to the spices, these meatballs will satisfy your hunger AND nourish your body!
A secret ingredient in this recipe, in particular, is the beef gelatin powder, which, when added, results in a juicy and delicious meatball while also providing a plethora of health benefits such as improved sleep, better skin, and less joint pain due to its profile of essential amino acids.
Low-Carb Meatballs Perfect For Meal Preparation!
When the weekdays get busy, the last thing that most people want to do is prepare a full meal!
In our household, we spend a couple of hours each Sunday evening prepping a few meal and snack options that can be quickly thrown together when hunger strikes. Taking the time to meal prep in advance helps to keep us on track for our health goals while also saving us money! We figure that since there is already food prepped and ready to eat in the refrigerator, there is no reason to go out to eat!
These meatballs have been the ultimate addition to our meal rotation as they take under an hour to prepare and store perfectly in the refrigerator. I especially love that they can be added to so many different dishes or just simply eaten on their own!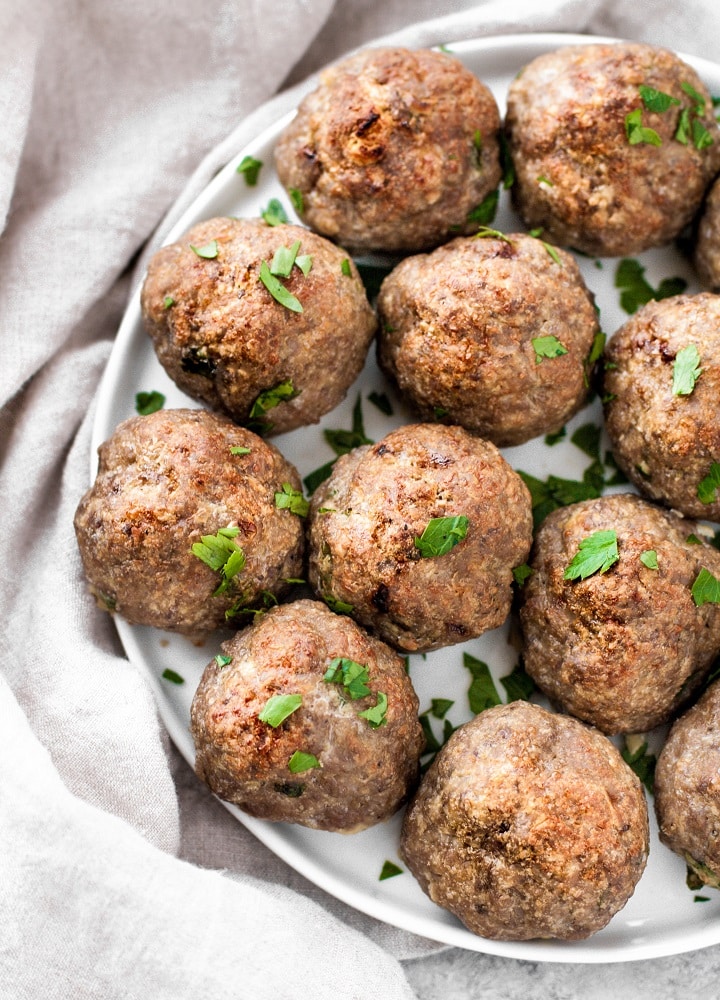 Diet-Friendly Keto Meatballs Recipe
Keto and Low-Carb: These meatballs are ultra low-carb and keto-friendly! One serving contains only 1g net carbs!
Paleo and Whole30-Compliant: This recipe is both paleo- and Whole30-compliant as it is gluten-free, grain-free, dairy-free, soy-free, and added-sugar-free.
Dairy-Free: This recipe is entirely dairy-free, making it a perfect meal option for those with a lactose intolerance or allergy.
Gluten-Free and Grain-Free: Almond flour is used to bind these meatballs together, rather than bread crumbs.
Added-Sugar-Free: This recipe does not include any added sugar.
Garlic-Free and Onion-Free: Many people experience gastrointestinal distress from consumption of garlic and onions, two ingredients that are high in fructans. This meatball recipe is free from both garlic and onions.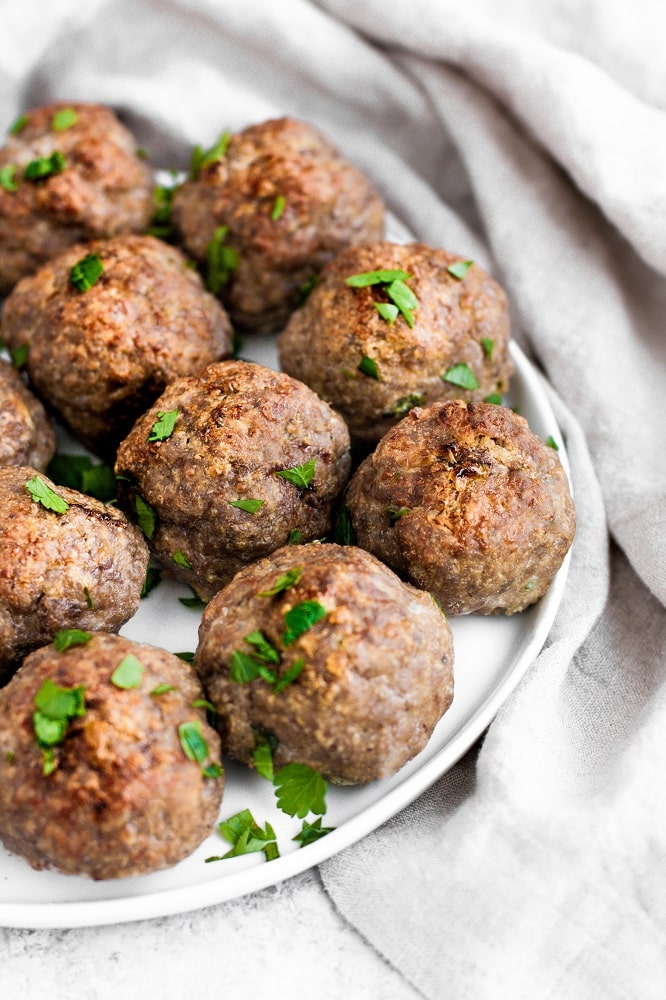 Net Carbs In This Recipe
These Keto Meatballs only contain 1 gram of net carbs per serving!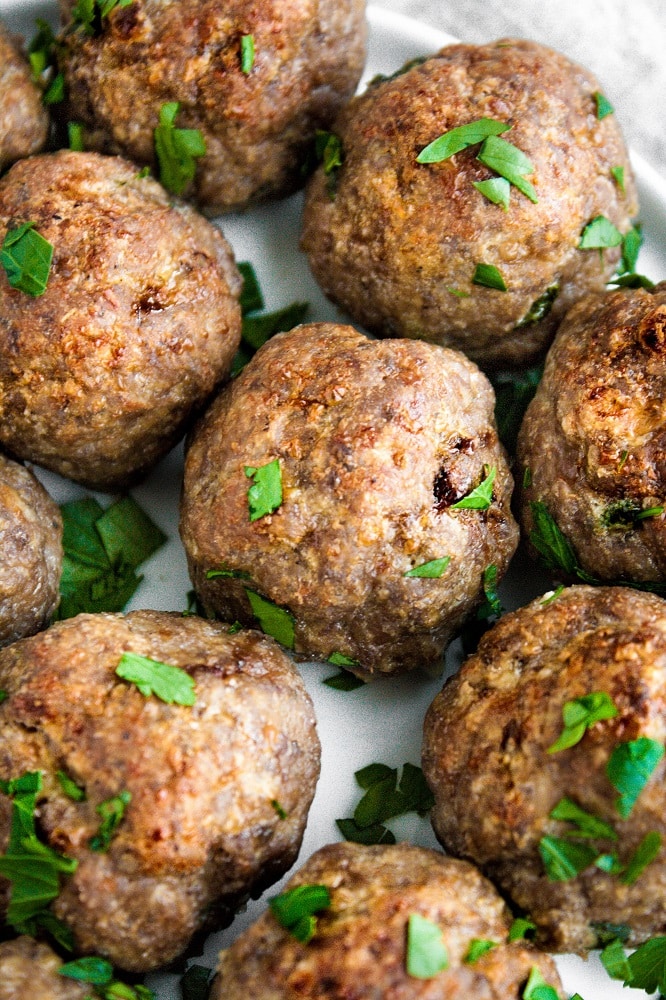 Looking for more keto-friendly recipes that are perfect for family occasions? Find it here!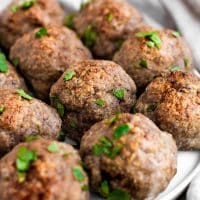 Keto Meatballs
---
Author: Sara Nelson
Prep Time: 10 minutes
Cook Time: 33 minutes
Total Time: ~45 minutes
Yield: 16 meatballs 1x
Category: Appetizer
Method: Bake
Cuisine: American
Description
These Keto Meatballs are a delicious and ultra low-carb dinner and appetizer option! This recipe is keto, low-carb, paleo, Whole30-compliant, dairy-free, gluten-free, grain-free, refined-sugar-free, and only 1 gram of net carbs per serving!
---
Ingredients
Optional garnish
Roughly chopped fresh parsley
---
Instructions
Preheat oven to 350 degrees and line baking sheet with foil.
To a mixing bowl, add ground beef, ground pork, eggs, parsley, gelatin, salt, oregano, black pepper, and red pepper flakes. Allow mixture to sit for 5 minutes before combining ingredients.
Add almond flour to mixture and combine all ingredients using hands.
Roll mixture into balls (approximately 65-70g per meatball) and place on prepared baking sheet.
Bake meatballs for 30 minutes on middle oven rack.
After 30 minutes, transfer baking sheet to top oven rack and broil meatballs until golden brown, about 2-3 minutes.
Remove meatballs from oven, serve warm, and enjoy!
Keywords: meatball, keto meatball, keto meatballs, low-carb meatballs, whole30 meatballs, whole30 keto, paleo keto, keto dinner, keto appetizer, low-carb appetizer
Reader Interactions