This Keto Coffee Cake is what low-carb breakfast dreams are made of! Made with wholesome ingredients, you can happily enjoy a slice alongside your morning coffee without being thrown out of ketosis!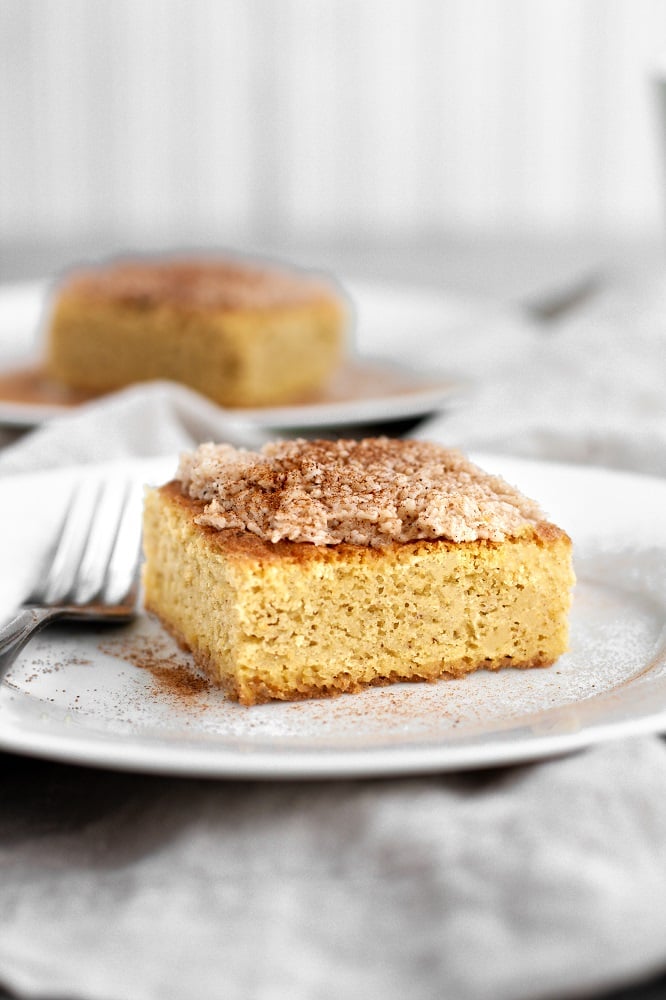 Keto Cake That's Actually A Healthy Low-Carb Breakfast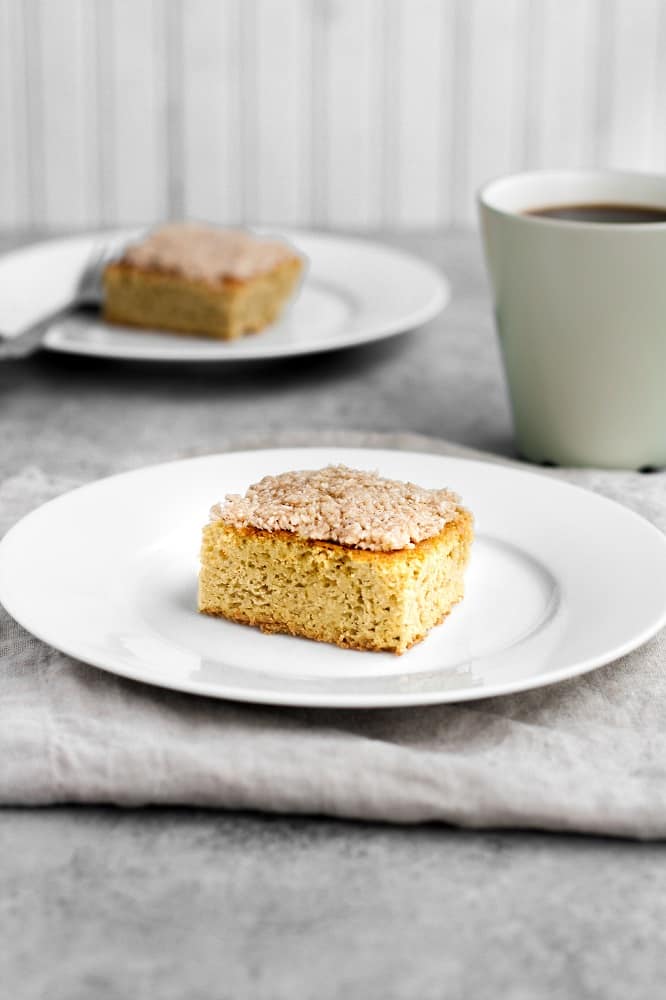 Coffee cake has always been my favorite bakery item to order when grabbing some coffee and a quick breakfast at a cafe. The pairing between the bitterness of coffee with the sweetness of cinnamon in coffee cake is the ultimate combination!
This Low Carb Coffee Cake has all of the flavors of the traditional coffee shop variety without the high carbohydrate content and refined sugar.
Try This Monk Fruit Sweetened Keto-Friendly Coffee Cake For Dessert!
This Nut-free Coffee Cake, like that of virtually all of my dessert and fat bomb recipes, is sweetened with classic monk fruit sweetener, a natural and net-carb-free sweetener. I personally use Lakanto Monk Fruit Sweetener as I find it has the best taste, incorporates perfectly into recipes, and doesn't leave an odd aftertaste like that of other keto-friendly sweeteners.
If you've never tried monk fruit sweetener, I highly suggest it! You can use code "REALBALANCED" for 20% off your Lakanto order!
If you are looking for more keto recipes that are sweetened with monk fruit sweetener, make sure to check out these 40+ Keto Monk Fruit-Sweetened Recipes!
Want to learn more about monk fruit sweetener? Check out this post here!
LAKANTO TASTE TEST BUNDLE
I am also excited to share that I have partnered with Lakanto to share a Taste Test Bundle with you all! If you've been waiting to try monk fruit sweetener, now is the time to order! This deal includes classic monk fruit sweetener, golden monk fruit sweetener, a recipe e-Book, and Lakanto's Taste Test Guarantee!
Read more about and place your order for the Taste Test Bundle here!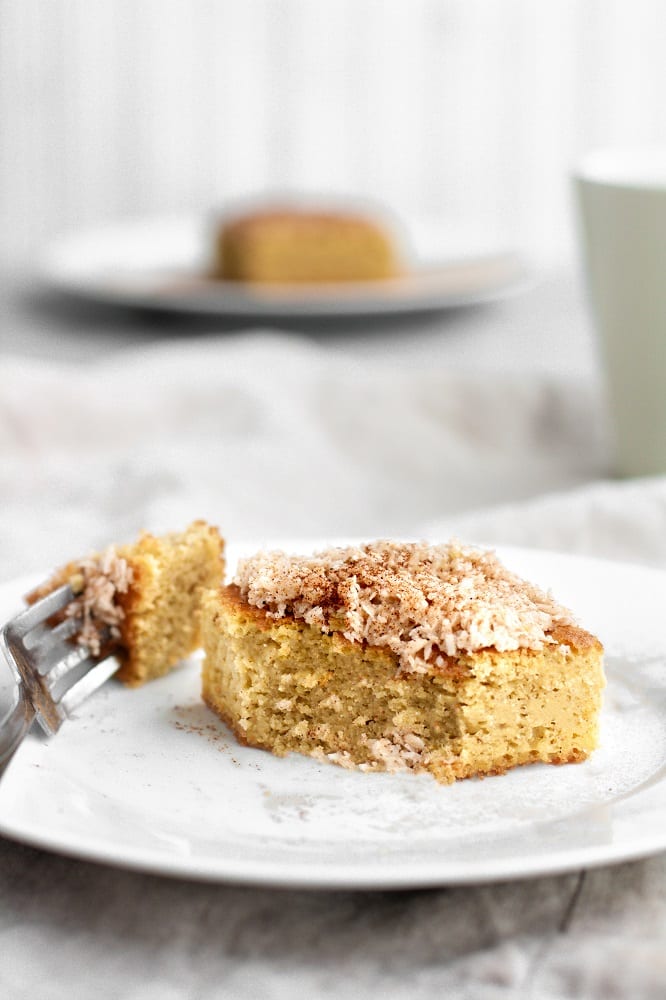 Diets This Recipe is Compliant with:
This recipe is a great keto-friendly, paleo-compliant, and nut-free breakfast recipe to hand on-hand!
Keto and Low-Carb: One slice of this coffee cake contains only 1.7 grams of net carbs per serving.
Nut-Free: This recipe uses coconut flour, making this coffee cake a perfect option for those who have a nut allergy or nut intolerance.
Paleo: This recipe is paleo-compliant as it does not contain gluten, grains, soy, or dairy.
Dairy-Free: This recipe used coconut oil and does not contain any dairy products, making this coffee cake completely dairy-free.
Gluten-Free and Grain-Free: This recipe is gluten-free, grain-free, and Celiac-friendly.
Vegetarian: This recipe is compliant with a vegetarian diet.
Refined-Sugar-Free: This recipe used monk fruit sweetener and does not contain traditional sugar products.
Looking for the perfect drink to partner with your keto dessert?
Finding the perfect pairing of a great cup of coffee with the right snack is easier when you can make amazing keto diet coffee drink anytime you want, accompanied by these delicious and mouth-watering nut-free keto desserts!
Net Carbs Per Serving
One slice of coffee cake contains 1.7 grams of net carbs per serving. One pan of coffee cake yields approximately 12 slices.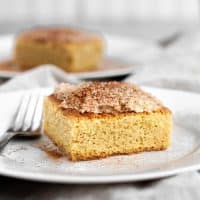 Keto Coffee Cake
---
Author: Sara Nelson
Prep Time: 15 minutes
Cook Time: 35 minutes
Total Time: 50 minutes
Yield: 12 slices 1x
Category: Dessert
Method: Bake
Cuisine: American
Description
This Keto Coffee Cake is a delicious low-carb and nut-free breakfast option to enjoy alongside your morning cup of coffee! This recipe is keto, low-carb, nut-free, paleo, dairy-free, gluten-free, grain-free, vegetarian, refined-sugar-free, and contains only 1.7 grams of net carbs per serving!
---
Ingredients
Coffee Cake
Crumble
---
Instructions
Preheat oven to 350 degrees and grease 9×9 baking pan (* see note below).
To a mixing bowl, add eggs and, using an electric mixer, mix on high for 2 minutes. Add coconut oil and vanilla extract and mix on high until well-incorporated with eggs.
To a separate bowl, add dry ingredients and whisk together. With the electric mixer turned to low, slowly add dry ingredients to wet ingredients and mix until fully incorporated and the dough is formed. Pour dough into prepared pan and bake for 35 minutes.
Meanwhile, to a mixing bowl, add all crumble ingredients and mix together with a spoon or electric mixer.
Remove pan of coffee cake from oven and allow to cool completely before topping with crumble and cutting into slices.
Recipe Notes:
* To ensure pan is well-greased and that bread will not stick, I suggest brushing 1-2 tsp melted coconut oil on all edges of the loaf pan and placing it in the freezer to solidify.
Keywords: keto coffee cake, keto cake recipe, keto dessert recipe, nut-free coffee cake
Reader Interactions