Here's a handy guide on what you need to eat if you want to take on a vegetarian keto lifestyle. Contrary to popular belief, it's relatively easy to stay in ketosis and enjoy a variety of meals without having to eat meat – this will help you learn how!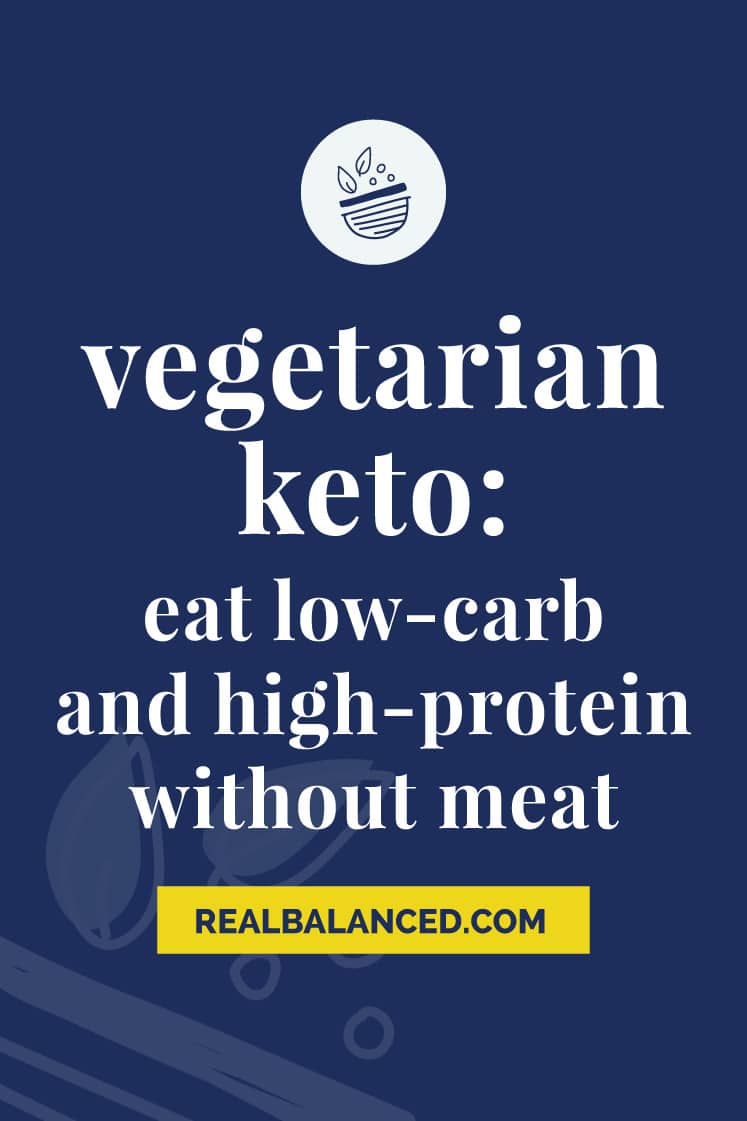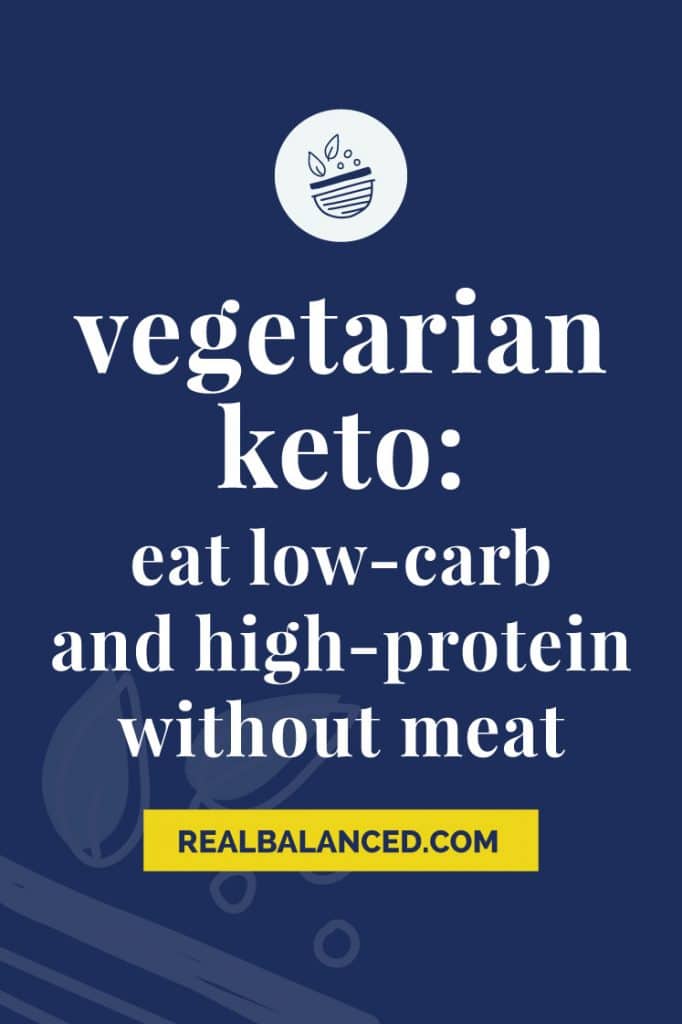 If the high-amount of animal-based foods on keto has you thinking about not doing it, then read this guide. You'll discover how to stay in ketosis without having to eat any animal-based foods at all.
Keto-Diet Basics
Before we start discussing how to eat a vegetarian diet while in ketosis, I think we should understand what the keto diet is first.
The keto diet is a way of eating that is low-carb, high-fat, and moderate protein. Eating this way can lead to a lot of health benefits, including weight loss.
People lose weight because when they eat low-carb and high-fat, their body goes into a state known as ketosis. That means your body goes from burning carbs for energy to burning fat for energy.
To stay in fat-burning ketosis, you'll have to monitor your macros. That means, you'll have to watch how many grams of carbs, fat, and protein you are eating every day.
Different Types of Vegetarians
One more thing we should clear up is that there are different types of vegetarian diets. Some vegetarians don't mind eating humanely-raised and grass-fed dairy products like butter and cheese.
Here are all the different types of vegetarian diets:
Pescatarians – Able to eat seafood, dairy, and eggs, but avoid poultry and red meat. This is also known as semi-vegetarian.
Lacto-Ovo Vegetarians – Eat dairy and eggs but avoid seafood, poultry, and meat. This is the most common form of vegetarianism in most of the world.
Lacto Vegetarians – Eat dairy, but avoid eggs, seafood, poultry, and meat.
Vegans – Avoids all animal by-products including dairy, eggs, seafood, poultry, meat, and even honey.
Since the most common type of vegetarians are lacto-ovo vegetarians, that is the type I will be referring to in this guide. You'll see recommendations for dairy and eggs.
Vegetarian Keto Guide
The more things that you restrict in your diet just means you'll have to be more creative with your recipes. At the end of the day, you need to do what works for your body and your values.
This guide will cover how to eat keto on a vegetarian diet that allows eggs and dairy. It's possible to do a vegan keto diet, and I will explain more about that later on this post.
The most important thing to remember, whether you consume animal products or not, is that your body needs protein that contains all nine amino acids. This helps your body build muscle and burn fat.
Studies show that animal protein provides all the essential amino acids in the amounts we need. If you cut out all animal proteins, you'll need to eat a combination of foods that will provide your body what it needs.
Let's look closer at how to stay within your macros when you are eating a vegetarian keto diet.
Limit Carbs
In order to stay in ketosis, experts recommend you limit your carb intake to 20 grams or less per day. This is a challenge for vegetarians since lots of vegetarian diets rely on grains and legumes for their protein and fiber intake.
It might be challenging, but it is possible.
Avoid popular vegetarian protein sources that are also grains and high in carbs, such as quinoa, buckwheat, and legumes.
You'll also want to track your macros as you eat fruit and starchy vegetables. Some of even the healthiest fruits are also pretty high in carbs. If you track your macros, you'll do fine on the keto diet.
Vegetarian Protein Sources
If you are going to cut out animal protein, then you'll need to eat keto-friendly low-carb plant protein sources. Combining them with dairy and eggs can give you even more protein in a more well-rounded form.
Diet Doctor suggests that people should try to eat 1.2-1.7 grams of protein per kg of body weight. That's about 70 grams of protein each day, depending on your weight and activity level.
Here are some of the best keto protein sources for vegetarians:
Eggs – There are 14 grams of protein and 1 gram of carbs in 2 eggs.
Hemp Seeds – There are 9 grams of protein and 1 gram of net carbs per ounce of seeds.
Cottage Cheese – Cottage cheese has 20 grams of protein and 6 grams of carbs in 6 ounces.
Hard Cheese (e.g. Cheddar, Parmesan) – Cheese has about 7-8 grams of protein and around 1 gram of carbs per ounce.
Peanut or Almond Butter – There are 7-8 grams of protein and 4 grams of net carbs per 2 tablespoons.
Another thing to remember is that almost all food has protein in it – even fruits and vegetables. In fact, most veggies have around 2 grams of protein per cup.
That's why it is so important to keep such good track of all of the macronutrients you eat each day when you are eating vegetarian.
Healthy Fats for Vegetarians
Another think you'll need to track when you are eating vegetarian keto is how many healthy fats you are consuming.
This is actually just as easy to do whether you eat animal proteins or not. Most healthy fats on keto include vegetable/seed oils and fish. If you want to avoid fish, then focus more on avocados and coconut oil.
Soy on Keto
Soy is a popular source of protein for vegetarians. Is it safe to eat on the keto diet?
There are lots of concerns about how soy affects people with thyroid problems since it has such a high amount of hormones that are naturally found in it.
It doesn't seem to affect people with normal thyroid functions. For this reason, the benefits seem to outweigh the risk. However, I always suggest you talk to a nutritionist or your doctor about any concerns you have.
Vegan Keto Tips
Eating vegan on the keto diet will take a little bit more focus and effort than other forms of vegetarian diets.
These are what you should eat more of if you are cutting out animal products on keto:
Vegan Dairy – Coconut dairy, vegan butter, vegan cream cheese, and cashew cheese.
Coconut Products – full-fat coconut milk, unsweetened coconut flakes, coconut cream.
Nut and Seed Butter + Other Nuts and Seeds Products
Non-starchy Vegetables – Brussels sprouts, leafy greens, zucchini, broccoli, peppers, cauliflower, and mushrooms.
Vegan Protein – tofu, tempeh
The Best Vegetarian Keto Recipes
As you try to meal plan some vegetarian recipes on the keto diet, here are some of our favorites. These are going to have the macros that fit into your plan.
Reader Interactions