You don't have to completely stop drinking when you start eating keto. Learn all about the keto diet and alcohol and what you can still enjoy.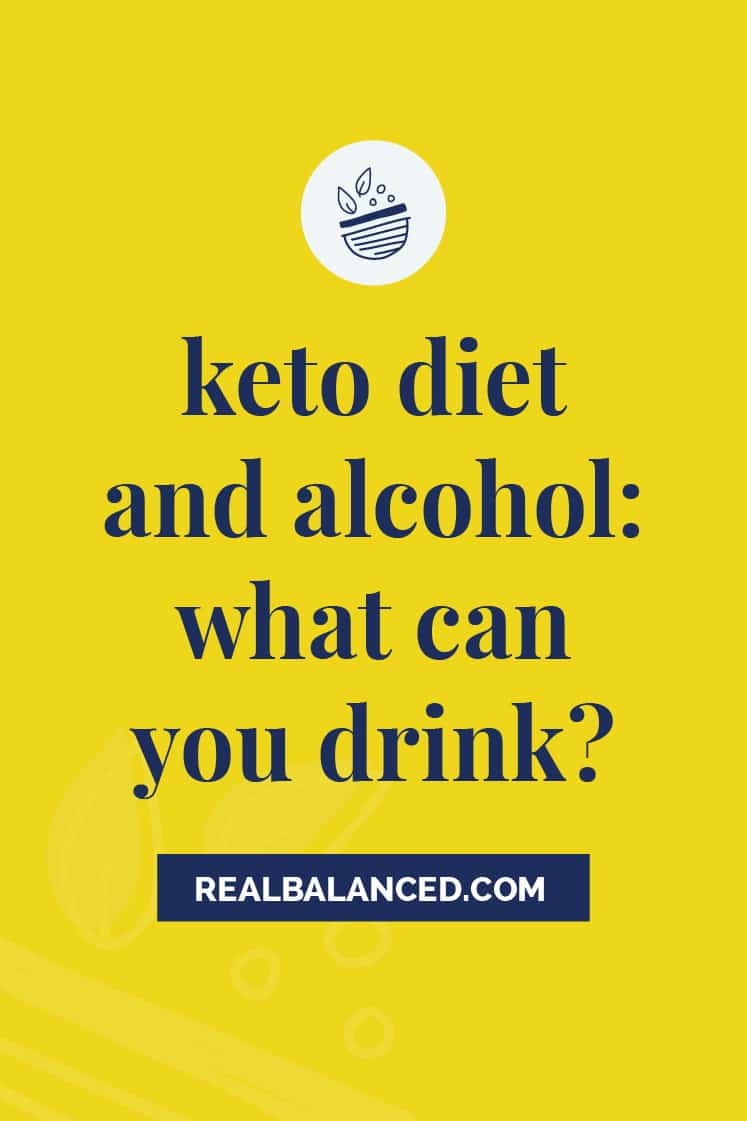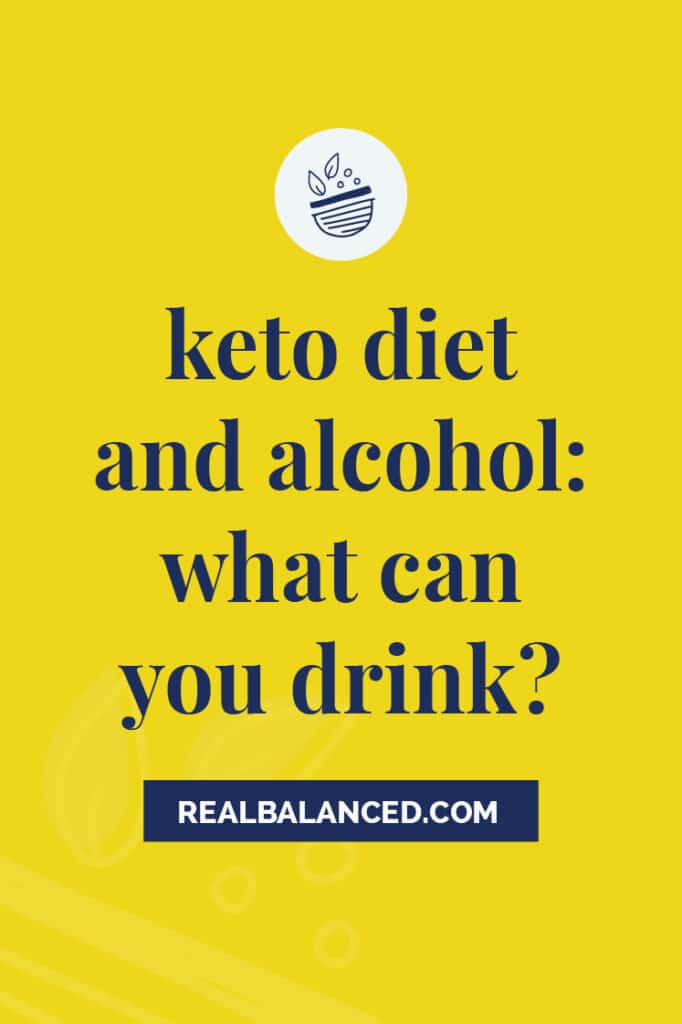 The Keto Diet and Alcohol
Just because you are on the keto diet doesn't mean you have to give up drinking entirely. There are a lot of myths and misconceptions about drinking.
Will it kick you out of ketosis? What is the best alcohol to drink? What drinks should you definitely avoid?
This guide will cover all of that and more. We will look really closely at what alcohol is, how it affects your body, which to drink, and what to avoid.
You will also learn how many carbs are in your favorite mixed drinks. It might even make you rethink about ordering that margarita at that Mexican restaurant tonight.
What Is Alcohol?
Alcohol is basically a fermented drink that acts as a depressant. It basically causes your body to slow down. Alcohol covers all sorts of drinks – from mixed drinks like margaritas to hard liquor like bourbon.
How Does Alcohol Affect Your Body?
Depending on how much and how often you drink, there are several short-term and long-term effects that alcohol can have on your body.
Your liver can safely metabolize about 1 drink per hour. After that, you risk feeling other side-effects that people commonly refer to as "feeling buzzed" or drunk.
Short-term side effects of drinking are:
Loss of coordination
Trouble concentrating
Mood swings
Dulled perception
Raised blood pressure
If someone is a heavy drinker, bombarding the liver with alcohol can have serious long-term effects such as:
Memory loss
Shortened attention span
Liver fibrosis
Cancer
Fatty liver
Stroke
Irregular heartbeat
Binge drinking could also lead to alcohol poisoning and even death. For this article, however, we are going to be tackling responsible drinking – drinks in moderation. That means less than 4 drinks per day.
Health Benefits of Alcohol
You might have heard that drinking one glass of wine a day is actually good for you. Drinking once in a while actually has these health benefits: reduced risk of heart disease, stroke, and diabetes.
The negative side effects stem from abusing alcohol. So, if you drink more than what your body can handle, it will hurt you in the long run.
Keep in mind that alcohol can only have these benefits if you drink it in moderation.
What is moderate alcohol consumption?
These limits differ based on your age, activity level, and other factors.
According to The National Institute on Alcohol Abuse & Alcoholism (NIAAA), it is up to four alcoholic drinks for men and three for women in any single day and a maximum of 14 drinks for men and seven drinks for women per week.
However, this does depend on your size and body. Four drinks might not affect some people. While with others, it could make them drunk.
Will Drinking Kick You Out of Ketosis?
As with everything you eat or drink on the keto diet, you have to track your macros. Some alcohol has no carbs and some drinks are mixed with fruit juice and sugary syrups, so you'll need to watch out for those.
While drinking straight alcohol in moderation is fine, drinking too much and too often, or mixing drinks with fruit and sugar definitely will have a negative impact on your health.
Let's look closer at the best alcohol to drink on keto and then the worst ones that have the most sugar.
Best Alcohol to Drink On Keto
Now that you know more about alcohol, let's look at the best ones to drink when you are on the keto diet. Keep this list handy so you know what to drink when you go out next.
The best zero-carb alcohol to drink is straight liquor. You can also have dry wines and the popular spiked seltzer drinks.
Pure Alcohol
If you are going to drink while on keto, taking shots of pure alcohol or liquor is your best choice. They don't have any carbs. So a Jack on the rocks is better for your diet than a Jack and Coke.
Here are the main types of alcohol and their carb counts:
Vodka – 0 carbs
Gin – 0 carbs
Tequila – 0 carbs
Whiskey – 0 carbs
Rum – 0 carbs
Wine does have carbs, but not much. We will dive into that in a bit.
Low-Carb Mixers
If you aren't a fan of straight liquor, I don't blame you. It can be rough! Thankfully, there are some keto-friendly mixers you can use.
Always choose sugar-free mixers like diet soda. Once in awhile diet soda is ok. Just don't consume too much since it has aspartame in it.
Sugar-free seltzer water is another good alternative. Gin and tonic is a keto-friendly mixed drink.
Another great sugar-free option is to use unsweetened iced tea. Mix in either some rum or bourbon. The flavor is actually rather good!
Need more ideas? Try one of these 30 keto cocktail recipes.
Wine on Keto
Five ounces of red or white wine has about 3-4 grams of carbs in it. So yes, wine is safe on keto. Just be careful with how much you are drinking.
Drink dry wines when you are in ketosis. Dry wines have less sugar in them. That is what makes them taste so strong. Avoid sweet wines. They have more sugar in them since they had a shorter fermentation process.
These are the best types of wine you can drink while on the keto diet:
Sauvignon Blanc
Chardonnay
Pinot Noir
Cabernet Sauvignon
Merlot
Pinot Grigio
Pinot Blanc
Is White Claw and Truly Keto?
White Claw is a really popular spiked seltzer drink, but can you drink it on the keto diet?
They are made with seltzer water, grain-free alcohol, fruit flavorings and without any added sugars. Most brands have about 5% alcohol per 12-ounce can.
Good news, you can drink both!
Here are the macros in one 12-ounce can:
White Claw: 2 grams sugar, 2 grams carbs
Truly: 1 gram sugar, 2 grams carbs
Remember: Always keep track of your macros.
Worst Alcohol to Drink on Keto
That's what you can safely drink while on the keto diet. Now let's look at what you should definitely avoid. The worst alcohol to drink on keto is anything high in sugar like sweet cocktails or sweet wines. Also, avoid regular beer since it is high in carbs.
Sugary Cocktails
Always avoid any sweet mixed drinks. They are usually made with syrups, fruit juices, and other high-carb ingredients. You might be amazed at how many carbs are in your favorite mixed drinks.
Here are the most popular sweet drinks and their macros:
Margaritas – pre-made margarita mix has 72 grams of sugar per cup
Sangria – 18 grams of carbs per glass
Bloody Mary – pre-made bloody mary mix has 11 grams of carbs per cup
Sex on the Beach – 11 grams of carbs per glass
Pina Colada – about 32 grams of carbs per cocktail
Strawberry Daquiri – 31 grams carbs
Screwdriver – 20 grams of carbs
Mimosa – 8 grams of carbs in 5 ounces
There are lots of ways to enjoy cocktails when you are on keto. You just have to make them yourself with sugar-free and low-carb ingredients.
We have an amazing keto cocktail recipe you should try! Keto Champagne Margarita. It's low-carb and amazing!
Sweet Wines
Sweet wines are safe on keto if you track your macros and know you have extra carbs you can consume.
The dangerous thing about sweet wines like Moscato is they taste so good you are more likely to drink more than you should.
These are the dessert wines you should avoid if you are eating low-carb:
Pink Zinfandel
Moscato
Riesling
Rose
Port/sherry wine
Dessert wine
Wine coolers
Beer on Keto
The average beer has about 13 grams of carbs per bottle or can. This is because it's made from some kind of grain.
If you really enjoy beer, choose light beer. Some light beers like Miller Light only have about 3 grams of carbs per can.
There are also low-carb beers you can drink too. Budweiser Select 55 and Miller 64 are the most popular ones.
When To Avoid Alcohol
Should you avoid alcohol entirely when you are on the keto diet? There are some warning signs to look for.
If drinking makes you crave food, avoid it. Alcohol lowers your inhibitions and you will be more likely to lose track of what you're consuming.
Do you drink to excess? Getting drunk wreaks havoc on your body. It's best to enjoy one drink at a time if you are going to drink at all. If you think you might have a problem binge drinking, seek help.
Finally, if you always crave the sweeter drinks, maybe stop drinking entirely. As you read above, the sweet drinks have too many sugar and carbs to help you stay in ketosis.
Moderation With Keto Diet and Alcohol
Yes, you can enjoy alcohol while on the keto diet. Just be careful and drink in moderation. Always track your carbs and make sure you aren't going over and consuming too many carbs.
More Keto Tips and Inspiration
Keep focusing on your health. Here are some more keto resources that you'll enjoy reading next.
Reader Interactions