This handy guide will tell you what not to eat when you are on a low-carb diet. Just follow these keto diet rules and you'll experience the benefits!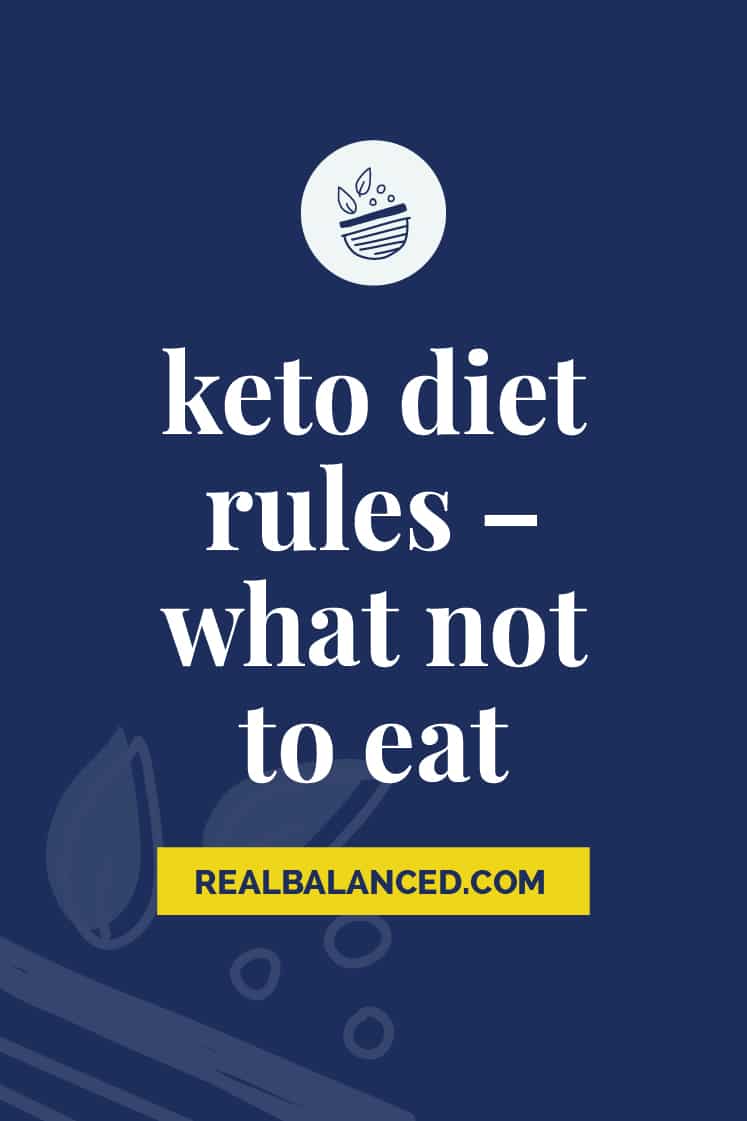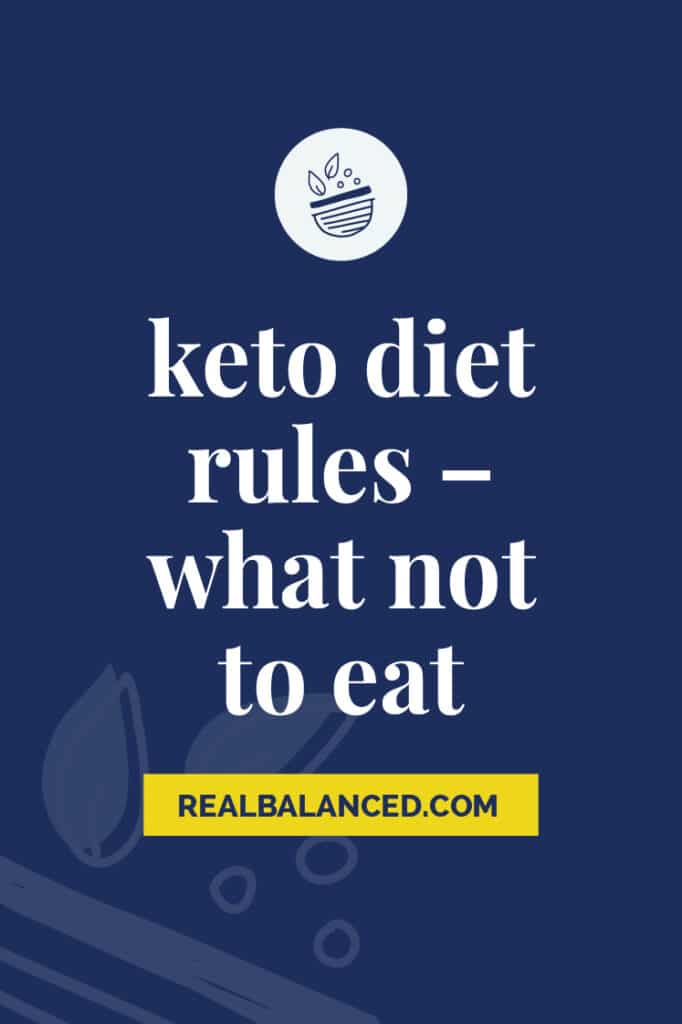 I already outlined some guidelines about what to eat when you are on the keto diet. I even made a helpful keto shopping guide and showed you how to meal plan. But sometimes it's just easier to understand what not to eat. I get it! Knowing what to avoid and why can help you make better meal planning decisions.
Keto Diet Rules – I. What Not To Eat
You are going to love this guide! I'll outline a few simple keto diet rules that will help you stay on track, so that we can eliminate the guesswork and get you closer to your health goals.
It can all be summed up by saying you should basically avoid all grains and simple carbs. But what does that mean exactly?
Here's a closer look at each category of things to avoid:
Avoid Grains
Unfortunately, pasta, bread, and grains have a lot of carbs in them. This is why you feel that jolt of energy after eating some toast, but it's also why you might feel sleepy after eating a bowl of pasta (hello, sugar slump!).
Maybe you're thinking, "whole grains are healthy and I can just eat those instead!"
Well, you should probably avoid whole grain bread, pasta, rice, and quinoa. Even though some of these have a higher fiber content compared to white bread and rice, the carbs in these whole-grain variants are still pretty high.
Just look at how many grams of carbs are in one serving of each:
1 Slice Whole-Grain Bread – 14 grams
1 cup of cooked pasta – 45 grams of carbs
1 cup brown rice – 45 grams
1 cup of quinoa – 32 grams
Most people try to stick to around 20-30 grams of net carbs per day, total, to stay in ketosis. With 14 grams in one slice of bread, that doesn't leave much room to eat anything else that day.
Traditional pasta isn't safe either. One cup of cooked pasta already puts you way over your carb limit. Yikes!
So, keep it simple and go grain-free when you are on keto. No oats, barley, rice, wheat, or any kind of grains.
Don't Eat Added Sugar
Obviously you'll have to give up typical candy bars and cookies. When I say "added sugar" I mean to look out for foods that have sugar as an ingredient. You'll have to read nutrition labels to see what I mean.
For example, one serving of regular ketchup has about 5 grams of carbs. It's usually made with corn syrup and that's where most of the carbs come from.
But you can buy a "no sugar added" ketchup that only has 1 gram of carbs per serving.
You have to look closely at ingredients on the food you buy. If it lists corn syrup or sugar as an ingredient, just avoid it.
Here are the keto-approved sugars that you can eat in your food because they don't add carbs:
Stevia
Monk Fruit Sweetener
Sugar Alcohols
Sucralose, aspartame, and saccharine are a maybe or sometimes choice. These are artificial sweeteners that might affect your appetite and make you crave more food.
Stop Drinking Diet Soda
No, there aren't any carbs or calories in them, but the artificial sugars in diet soda are really bad for your body. There are studies linking diet soda consumption to increased risk for stroke and Alzheimer's.
Other studies show an increased risk for diabetes among diet soda drinkers.
The artificial sweeteners could also cause your appetite to spike, making it even more difficult to stay on track with your keto diet.
So, do yourself a favor and enjoy drinking these keto-friendly drinks instead:
Unsweetened Tea
Hint Water
Seltzer or Sparkling Water
No Juice
Fruit juice will derail you on the keto diet. Avoid tomato juice, apple juice, and all other kinds of fruit juice.
Even the "no sugar added" varieties have too many carbs in them.
You see, when they make fruit juice, they take fruit and extract the sweetest parts of it. The juice. It's basically a mouthful of sugar.
Just look at how many carbs are in 1 cup of juice:
Orange juice – 26 grams
Grape juice – 37 grams
Apple juice – 28 grams
Tomato juice – 10 grams
Say No To Corn
Corn is technically a vegetable that grows above ground, but it's so high in carbs that it's best to just avoid it altogether.
In one ear of corn, there are 24 grams of net carbs. That's pretty much your entire carb allowance.
Even though we grew up calling corn a veggie, it's also considered a grain. So avoid it like you will the other grains.
Don't just avoid corn, also read the nutrition labels and don't eat anything that lists corn starch, corn syrup, or corn as an ingredient. It's in so many packaged foods, make sure you read all the labels before you buy.
---
Keto Diet Rules: II. Foods To Eat in Moderation
Now there are some foods that are safe to eat in small amounts on keto. Remember, the point of keto is to keep your body in a state of ketosis, where it burns your body's fat for fuel instead of carbohydrates.
The ones on this list have carbohydrates in them, but can be included in your meals as long as you keep an eye on your macros and don't eat too much of it.
Fruits
As you track your macros, be careful with how much fruit you are eating. Some have lower carb amounts than others.
Fruits have tons of vitamins and minerals, they are so good for you. Definitely include them in your meal plan. Just be careful with how much you eat every day.
Here are the 10 best fruits you can eat on keto (along with their carb counts). Anything not on this list you can still eat, just be careful with how much.
Net carbs in 1/2 cup serving:
Avocado – 2.6 grams
Blackberries – 3.1 grams
Tomatoes – 2.4 grams
Rhubarb – 1.7 grams
Star Fruit – 2.6 grams
Raspberries – 3.3 grams
Cantaloupe – 5.8 grams
Strawberries – 4.7 grams
Watermelon – 5.4 grams
1 Lemon Wedge – 0.5 grams
Starchy Vegetables
The easiest way to remember which vegetables are best to eat on keto is to eat ones that grow above ground. Root vegetables are much higher in carbs.
This list has pictures of above-ground vs below-ground vegetables with their carb amounts.
Safe above-ground veggies:
Broccoli – 4 grams net carbs
Zucchini – 3 grams net carbs
Green Beans – 4 grams net carbs
Yellow Peppers – 5 grams net carbs
Root vegetables, eat in moderation:
Radishes – 2 grams net carbs
Celery Root – 6 grams net carbs
Carrots – 7 grams net carbs
Beets – 7 grams net carbs
Keto Snacks
Finally, be careful when you eat keto snacks. We have lots (and I mean lots!) of keto fat bomb recipes that will keep you on track when you are feeling snacky.
Just because something at the store is labeled "low-carb" doesn't mean it's going to fit within your macros. Always read labels and make sure you aren't consuming too many carbs that day.
Another way to keep yourself on track when you are on keto is to ask yourself, "do I want a snack because I'm hungry or am I just bored/used to snacking?"
Eat only when you are actually hungry. This will help you eat fewer carbs in the long run.
---
Keto Diet Rules: III. Planning Is Your Friend
I hope these keto diet rules help you out. Sometimes it can be easier to know what not to eat. You'll be more successful on keto if you plan all your meals and snacks ahead of time. Spend one day planning out your food for the week.
That way if something comes up you'll be prepared. Just focus on staying within your macros and you'll do great!
Reader Interactions