Eating a keto diet can be simple. When you are revamping your grocery list, this keto shopping guide will give you everything you need to know to overhaul your pantry and refrigerator.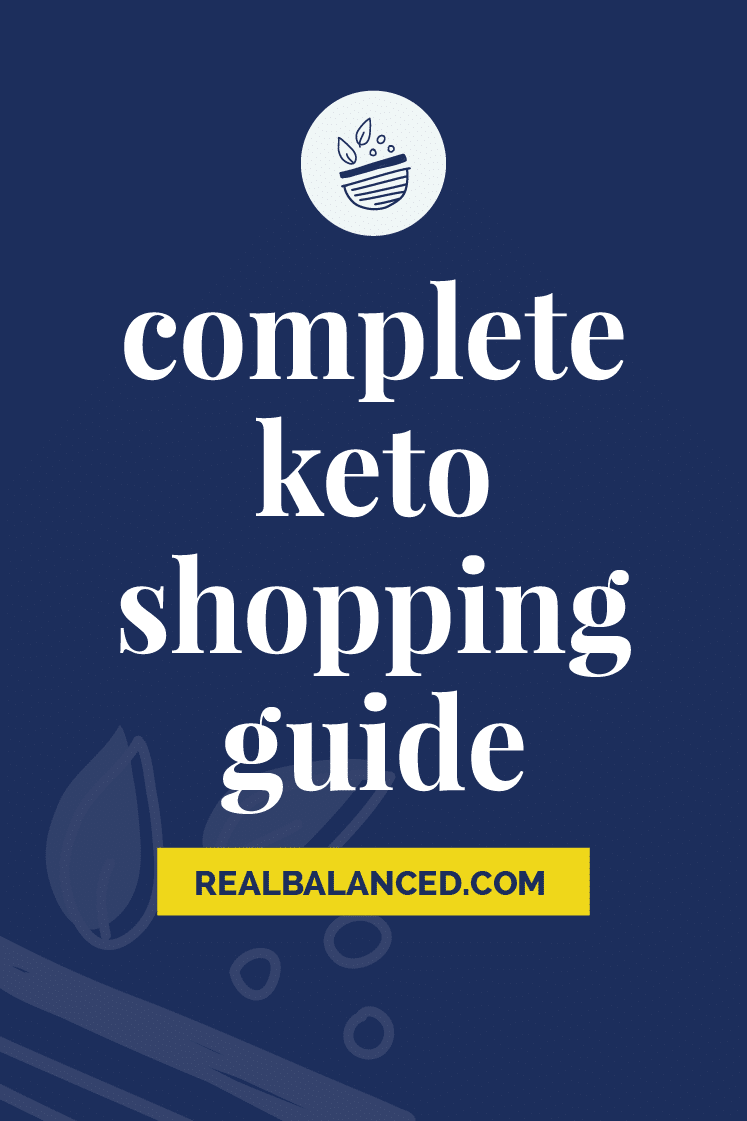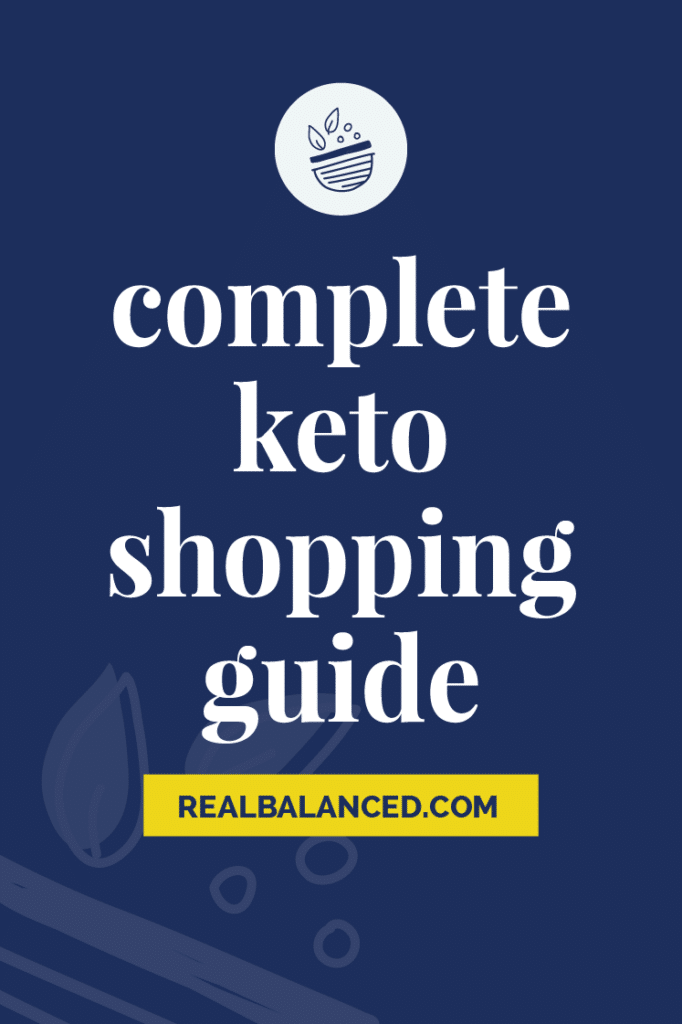 As an Amazon associate, I earn from qualifying purchases.
Keto Shopping Guide
You'll be so much more successful at sticking to keto and losing weight if all the food in your house is compliant.
If you have other family members in your home that aren't eating keto, this will be a little more difficult, but it isn't impossible.
You'll just need to work extra hard to ensure you stay on track!
The best thing you can do is to go shopping and stick to a complete keto shopping list.
This guide will walk you through everything you need to know about grocery shopping while on the keto diet.
You'll learn about:
Where to Shop
What To Look For in Ingredient Labels
Keto Pantry Staples
What to Keep in Your Fridge
Freezer Items You Need
Weekly Keto Menu Plan
How to Save Money on Keto
Basically, if you have any questions about what to buy at the store while on Keto, this is the right place!
Are you trying to eat nut-free? Me too! I have a specific nut-free keto shopping guide just for you.
Where To Shop
The first step is to know where to shop. Some stores are just stocked with more keto options than others.
Let's look at the best grocery stores and the best online stores.
The Best Keto Grocery Stores
When I go grocery shopping, I love the feeling of being able to find exactly what I need – even if it is something not often found in traditional grocery stores.
Honestly, some stores are just stocked better with sugar-free options. When I go grocery shopping, I stick to my two favorite stores:
These two places are known for carrying food that is as close to its original form as possible. That means minimal processing and few added ingredients.
Remember that when food is processed sugar and corn starch is normally added to make it taste better. That's why it is always better to eat foods that you cook yourself.
But we don't always have time. So try to buy food that has very few ingredients and no added sugar. You'll find more of these kinds of foods at Whole Foods and Trader Joe's.
Best Places to Shop Online
Shopping online is so much easier than going to a store! No crowds, no traffic, and you can find exactly what you want.
I buy from my two favorite online stores quite a bit – Amazon and Thrive Market.
With Amazon Prime and Thrive Market, I can easily order and buy products that are delivered directly to my doorstep and are safe to consume.
Have you heard of Thrive Market? I use it all the time because I can almost always find what I'm looking for.
They sell products at a discounted price, and they ship them directly to my house! I have been a customer of Thrive Market for several years. I'm continually impressed by their product selection, company mission, and customer service. If you are interested in trying this service out, you can
get up to $20 in shopping credit when you purchase a Thrive Market Membership! (1-month, 3-month, and 1-year memberships available)
Another place I like to shop online is directly from the manufacturer. This is especially true for specific items like Lakanto Monk Fruit Sweetener and Perfect Keto MCT Oil Powder, which I buy directly from their website.
What to Look For on Ingredient Labels
Now that you know where to shop, let's look at what to buy when you are shopping.
It is extremely important to understand food labels. When the following keto, eating specific ingredients can throw you out of ketosis. There are so many "low calorie" and other "diet" foods that actually contain hidden sugar and carbs.
Here is what you need to find on the nutrition label.
1. Ingredients List
Pay attention to the list of ingredients. Sometimes it can be really difficult to avoid all sugar (I'm looking at you, bacon), but definitely try to only buy things that do not list sugar as an ingredient.
Ingredients are listed in order of amount. So the ingredient that is used most in a product will be listed first in the ingredients list.
Before you look at ingredients, calculate your macros and know how many carbs you are going to eat each day. Then, let that number guide your buying decisions.
Avoid anything with these ingredients:
Sugar
Syrup
Starch
Wheat
Corn
Basically, if it has starch or sugar, don't buy it.
2. Calculate Net Carbs
The nutrition label has two spots (and, sometimes three) for carbohydrates on it: total carbohydrates and dietary fiber.
If a product contains sugar alcohol like erythritol, you'll also see the sugar alcohol content listed on the label.
Some people want to cut out carbs entirely. Other people prefer to consider net carbs.
Net carbs are the number of carbohydrates after you subtract the dietary fiber and sugar alcohol.
Follow this easy formula to calculate net carbs:
Total carbs – Dietary Fiber – Sugar Alcohol = Net Carbs
3. Pay Attention to Serving Size
Finally, look at the serving size. More than likely it is a lot less than you think!
This will also help you make a smart purchasing decision. If you don't think you'll be able to only eat one serving, and it has more carbs than you can fit in your macros, skip it.
Keto Pantry Staples
Here on Real Balanced, I have a ton of keto and low-carb recipes. When you are in the mood to bake, these are the most common staples you'll need to have on-hand.
Flour – Try to keep something like coconut flour, ground sunflower seed meal, or, if you eat nuts, almond flour.
Sweeteners – Monk fruit sweetener, erythritol, Swerve, or stevia is the best
Oils – Coconut oil, avocado oil, or olive oil
Portable Proteins – canned chicken, canned tuna, pepperoni, salami, and protein bars
Nut or Seed Spreads – No-Sugar-Added SunButter, or, if you eat nuts, almond butter or peanut butter
What to Keep in Your Fridge
Refrigerated items usually include fresh produce, condiments, and drinks. Here are a few must-have items that you'll want to keep in your fridge. They are things you'll more than likely use multiple times:
Sugar-free condiments – ketchup, mayo, mustard, and salad dressings
Cheeses – Cream cheese and hard cheeses
Milk – Traditional milk contains a high carb content; instead, opt for unsweetened coconut milk (from a container).
Tea – Unsweetened
Fruit and Vegetables – Choose lower-carb varieties, like berries, zucchini, asparagus, lettuce, broccoli, and cauliflower.
Freezer Items
Use your freezer to stock up on items that you cannot use right away. This is a tried and true way to save money.
The freezer is also a wonderful way to store steamable vegetables. Then all you need to do is pop them in the microwave and dinner is almost ready!
Always avoid items like bread, pasta, added sugars, and starches.
Here are some keto must-haves for your freezer:
Steamable veggies
Frozen fruit for smoothies
Freezer meals that you made yourself, like this Korean Barbecue Beef recipe!
Frozen meat
Weekly Keto Menu Plan
The best way to stay on track all week is to make a meal plan. Do all your meal prep for the week in one day. This will cut out any excuses you might have for eating out or indulging at the office vending machine.
Plus, it makes grocery shopping super easy.
We have so many recipes here. You can easily plan out a month's worth of keto meals in our recipe index!
Want to save time? We created a keto meal plan for you. An entire week's worth of meals all planned out. Check it out!
How to Save Money When Eating Keto
This might seem like a lot to take in. And when you are buying all fresh fruits, vegetables, and meat, it might seem like you'll be spending a lot more money.
Thankfully, there is a way to save money on Keto. Here are a few of my favorite ideas!
Join a CSA – You can often get your fresh vegetables at a much lower price when you join a Community Supported Agriculture group. Check out your local one and see what kinds of food you can purchase.
Buy frozen in bulk – Purchase frozen vegetables and meat in bulk. Just avoid any with marinades or coatings.
Only buy what you need – Avoid food waste. When you throw away food, you end up buying more to replace it. Only buy what you need and you'll save money in the long run.
Cook food yourself – You'll save a lot of money making your own keto snacks and desserts instead of buying them pre-made.
The Only Shopping Guide You Need
There you have it! This is everything you need to know to navigate the grocery store and keep your pantry and refrigerator stocked with keto-friendly items.
It might seem overwhelming at first. After all, you are overhauling how you eat and approach food. Your body will thank you for it. This is an investment in your health. And you will love it!
More Keto Resources
Here are some more helpful resources as you continue your keto journey.
Reader Interactions