When you follow a ketogenic diet, consuming dietary fat can make you feel full and fuel your body. These are the best high-fat foods for keto dieters to eat when you want to lose weight.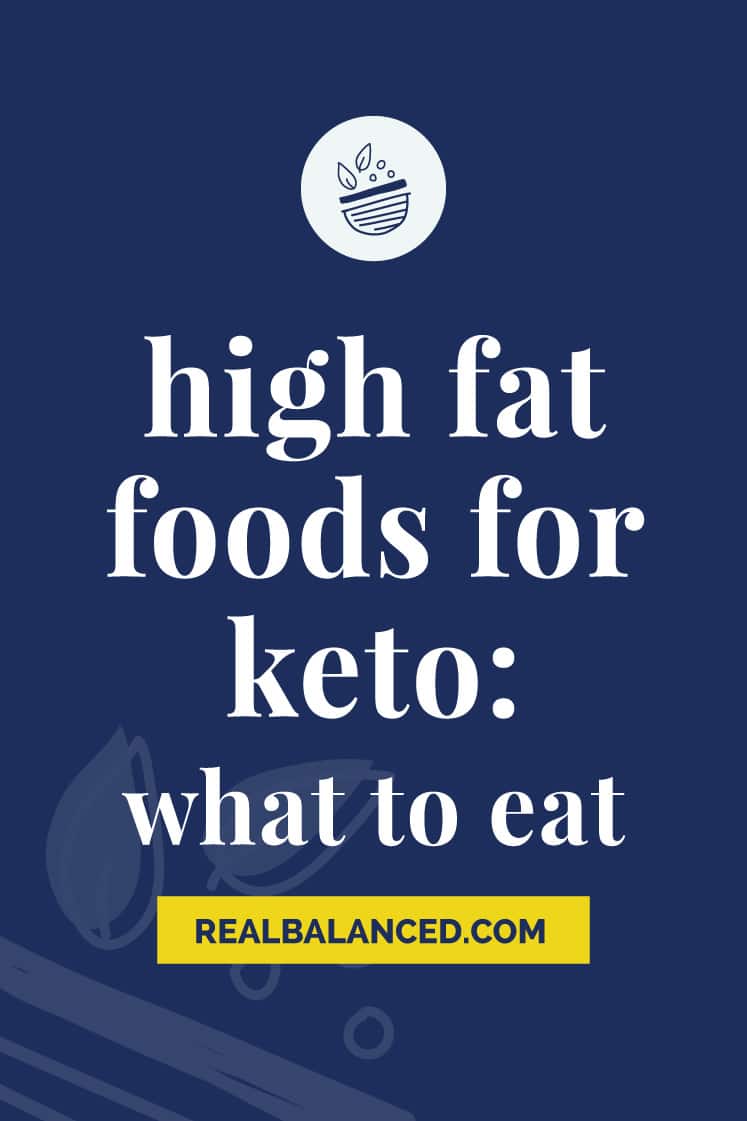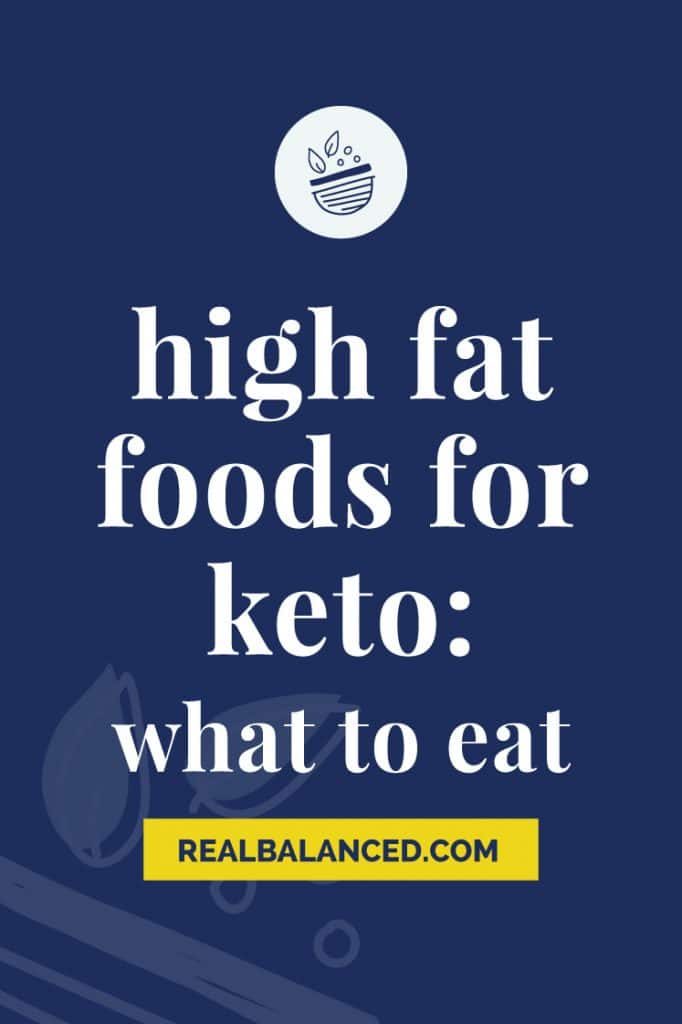 There is so much more to success on the keto diet than just eating fewer carbs. You need to pay attention to your nutrition and also how much healthy fats you are eating. Some high fats foods are better than others.
In this guide, I'll show you exactly which high fat foods for keto dieters are best and why they are so good for you.
Why is fat important on keto?
Eating enough of the right kind of fat is essential for a keto diet. When you are training your body to burn fat for energy instead of carbs, you need to fuel it with more healthy fats.
What are healthy fats?
Healthy fats include:
Saturated fats (in moderation) (see below)
Monounsaturated fats
Polyunsaturated fats
There is a lot of debate about whether saturated fats are as healthy as other dietary fats. There is proof that when you cook with saturated fats it breaks down less. That being said, you should focus on eating monounsaturated and polyunsaturated fats more since saturated fats could raise your LDL (bad) cholesterol levels.
The difference between these different types of fat is how many carbon atoms they have.
Omega-3 and omega-6 fatty acids are found in polyunsaturated fats.
Monounsaturated fats are known to lower bad cholesterol levels, thus reducing your risk for heart disease.
How much fat should you eat on keto?
Healthy fats should make up about 70% of your food intake. We have a handy guide to help you calculate your macros on the keto diet.
Does keto have to be high fat?
Yes, in order for your body to go into ketosis and burn fat for energy, you need to eat a high-fat diet.
Remember to only eat mono and polyunsaturated fats on keto. Avoid trans fat and eat saturated fats in moderation.
High fat foods for keto
Now that you know how important it is to eat high fat foods on keto, what are the best ones to eat? Let's take a closer look at some of the best foods, why they are so good for you, and some recipes and ideas of how to eat them.
Avocados
Tons of keto dieters rave about the nutrition and good-fat content of avocados. This is because 82.5% of its calories come from dietary fat.
They are high in both poly and monounsaturated fats but have more monounsaturated fats.
They are one of the most versatile fruits you can eat. You can use them in some many different recipes.
Here are a few ways to enjoy avocados.
Walnuts
Walnuts are high in polyunsaturated fats. They also double as an excellent source of protein too. One cup of walnuts contains 20 grams of fat and 5 grams of protein.
They make the perfect on-the-go snack and cut hunger in between meals, but you can also cook with them too.
Here are a few recipes that use these healthy nuts.
Fatty fish
Fish are common on lots of different diets – Mediterranean, paleo, and keto too. They are so good for you! These fish are packed with protein, low in calories, and have both omega-3 and omega-6 fatty acids that our bodies need.
They are also excellent sources of brain-boosting DHA and EPA. Research is also showing that fatty fish have anti-aging properties too.
According to the American Heart Association, you should eat fatty fish at least twice a week .
Here are some recipes just for you.
Dark chocolate
Yes, you can eat chocolate on the keto diet! Just make sure you are eating dark chocolate with as little sugar as possible.
Dark chocolate is really good for your heart. It's been shown to improve blood flow and lower blood pressure.
Here are some wonderful ways to bake with dark chocolate.
Chia seeds
Chia seeds are polyunsaturated fats that are high in Omega-3 fatty acids. They are also an excellent source of fiber too.
In fact, a one-ounce serving of chia seeds has 8.4 grams of fat, 5.6 grams of protein, and 13 grams of carbs.
Foods that are high in fiber will help you feel full longer, which can help you lose more weight. Another benefit of high-fiber diets is a lower number of flare-ups from diverticulitis.
It can also help lower bad cholesterol levels too.
Here are our favorite ways to incorporate chia seeds into your meals.
Bacon
Lots of keto dieters love putting bacon on their foods because it's high in protein and low in carbs.
The fats in bacon are about 50% monounsaturated and about 40% saturated fats. For this reason, eat bacon in moderation. You should always limit your intake of saturated fats when you can.
There are still health benefits of bacon, so don't write it off completely. It's a great source of B vitamins, iron, and potassium.
Try these bacon recipes out – you'll love them!
Coconut Oil
Coconut oil might have saturated fats, but they are also an excellent source of Medium Chain Triglycerides (MCTs) which are broken down in the liver and turned into ketones.
This article explains the varieties and health benefits of MCTs in depth. Basically, it helps with both gut health and weight loss. This is why so many people love cooking their foods in coconut oil.
Here on Real Balanced, we have a ton of recipes that use coconut oil. It's one of our favorite oils to cook with. Here are some of the most popular ones.
Eggs
Eggs are a convenient way to eat protein and healthy fats. Plus, they are so versatile – there are tons of ways you can eat them.
Most of the fats found in eggs are mono and polyunsaturated fats. Plus, one egg has 7 grams of protein and 5 grams of fat.
Be careful with how many eggs you eat each day. One egg still does have 1.5 grams of saturated fat too.
Here are some of our favorite recipes with eggs.
Cheese
There are tons of different types of cheeses out there, and each one has a different nutrition profile.
You can count on the fact that all cheese is basically low-carb and has a good source of protein. Cheese made from grass-fed milk is going to be high in omega-3 fatty acid.
If you are trying to watch your intake of saturated fats, limit how much cheese you eat. That being said, the fatty acids in cheese have been linked to lower bad cholesterol and an increase in the good cholesterol.
Here are some of our favorite cheesy recipes:
High fat foods for keto dieters
High fat foods for keto diet is essential. You want to consume enough fat that your body continues to turn the fat into ketones and use it for energy. Just be careful with what kind of fat you are eating. Eat more mono and polyunsaturated fat and try to limit the amount of saturated fats you eat. You always want to avoid trans fat.
More keto diet resources
The keto diet takes some getting used to. It's a completely different lifestyle – but it's one that your body will love. As you continue your keto journey, here are some more keto resources we think will help you along.
Reader Interactions