Hello hello hello! How is everyone? All is well here in Milwaukee and, specifically, in our household as we are living off these Paleo Thai Coconut Curry Meatballs. Goodness, they are GOOD.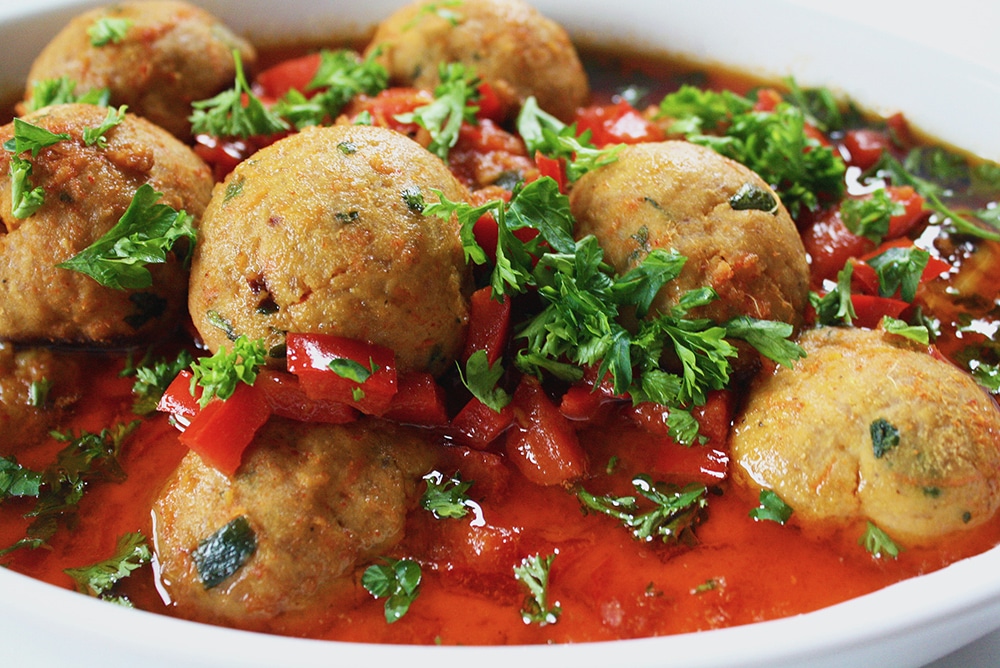 I've been playing around with a few meatball recipes over the last few weeks, but wasn't really loving the results… well, until now. First and foremost, can we please talk about how delicious Thai flavors are?! Curry, coconut, sweet, salty, kinda spicy. Yeah. I'm reaaaaally into all of that.
I made these meatballs and had my glorified taste tester, Ryan, try them and he gave them his official seal of approval. So, if Ryan likes them, you will too. Promise.
Diets This Paleo Thai Coconut Curry Meatballs Recipe Is Compliant With
This recipe is paleo, low-carb, keto, gluten-free, grain-free, dairy-free, and refined-sugar-free.
Looking for more delicious Keto Recipes?
Going Keto doesn't mean you need to miss out in yummy and mouth-watering food, These will definitely help you satiate your cravings:
Want another Real Balanced meatball recipe? Click here for the full Keto Meatballs recipe!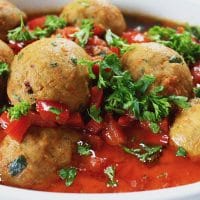 Paleo Thai Coconut Curry Meatballs
---
Author: Sara Nelson
Prep Time: 10 minutes
Cook Time: 20 minutes
Total Time: 30 minutes
Yield: 6 servings 1x
Category: Main Dish
Method: Bake
Cuisine: American
Description
These Paleo Thai Coconut Curry Meatballs are paleo, low-carb, keto, gluten-free, grain-free, dairy-free, and refined-sugar-free.
---
---
Instructions
Preheat oven to 400 degrees.
In a medium bowl, combine all meatball ingredients. Roll meatball mixture into balls. Place meatballs on lined baking sheet and bake for 20 minutes, or until meatballs have reached an internal temperature of 165 degrees.
While meatballs are baking, add coconut oil to saucepan over medium heat. Saute bell pepper until tender, about 5 minutes. Add remaining sauce ingredients and stir to combine.
Once meatballs have finished cooking, place them in sauce, reduce to low heat, and cover. Simmer meatballs and sauce for 10-15 minutes, stirring occasionally.
Serve immediately and enjoy!
Recipe Notes:
Weight of Meatballs Prior to Cooking: I measured mine to each be 58g.
Rolling Meatballs: If the mixture becomes too sticky, wet your hands with cold water.
Keywords: paleo meatballs, paleo thai food, paleo dinner recipe
Reader Interactions