Cauliflower rice is a perfect side dish, especially when you're looking for something with a little less carbs than traditional rice, but don't want to sacrifice on taste!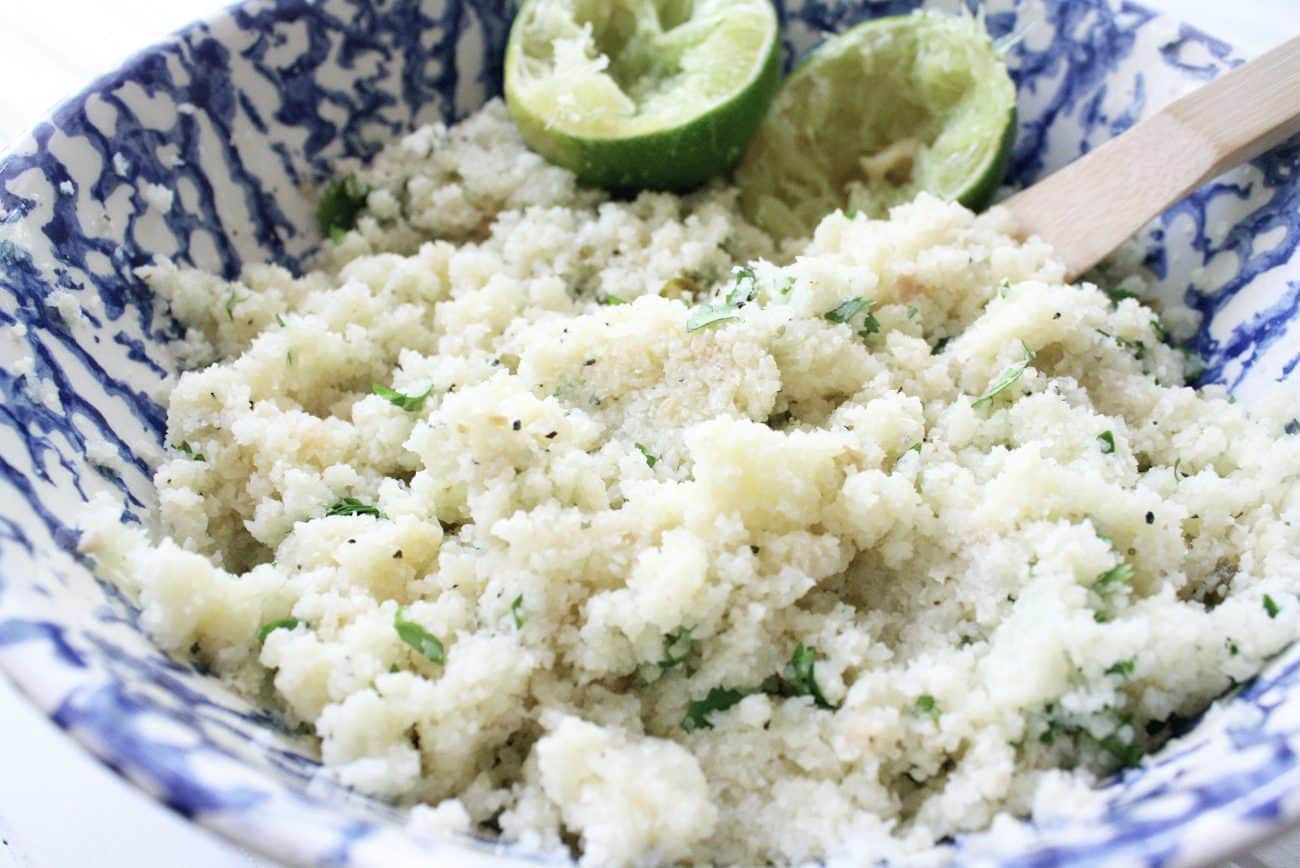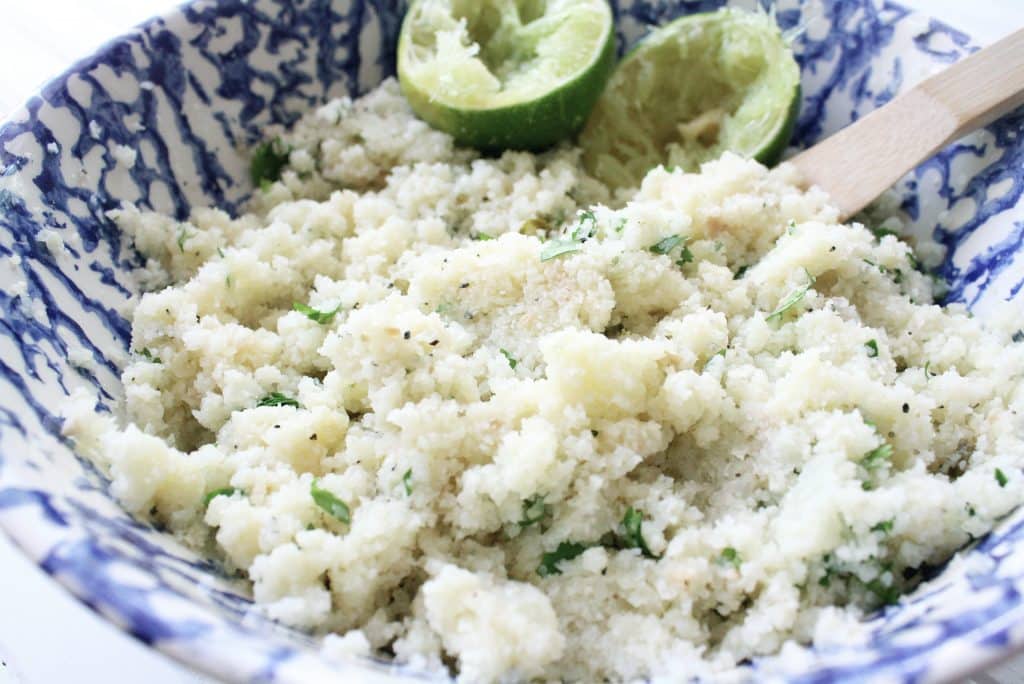 The best part about cauliflower rice is that it can be made a million and one different ways and always tastes delicious! This recipe is one of my absolute favorites as it incorporates bold garlic flavors with light and citrusy (…is that a word?) lime and cilantro.
Benefits Of Cauliflower In This Rice Recipe
Not a fan of cauliflower? Trust me, when you put this veggie in the food processor, it truly does turn into rice that tastes like grain rice. Plus, cauliflower is high in glucosinolates, which help activate the body's detoxification system. Additionally, cauliflower is high in potassium, phytochemicals, vitamin C, vitamin K, thiamin, riboflavin, niacin, magnesium, phosphorus, fiber, vitamin B6, pantothenic acid, manganese, and folic acid. According to the CDC, consuming folic acid during pregnancy is essential for helping to prevent neural tube defects in the fetus, such as spina bifida.
Benefits Of Cilantro In This Rice Recipe
Cilantro, like many fresh herbs, is often forgotten about when it comes to its health benefits. This herb provides antioxidants, vitamin K, folate, potassium, manganese, choline, beta-carotene, beta-cryptoxanthin, lutein, and zeaxanthin.
Benefits Of Lime In This Rice Recipe
Lime and other citrus fruits can provide a punch of flavor without any added calories and actually provide a rather substantial amount of health benefits. Lime juice has vitamin C, flavonol glycosides, anti-carcinogenic properties, and liminoids. Liminoids promote the activity of an enzyme in the liver that detoxify a variety of cancer-causing chemicals by deactivating harmful chemicals.
Diets This Cilantro Lime Cauliflower Rice Recipe Is Compliant With
This recipe is keto, low-carb, paleo, Whole30 compliant, gluten-free, grain-free, vegan, vegetarian, dairy-free, and sugar-free!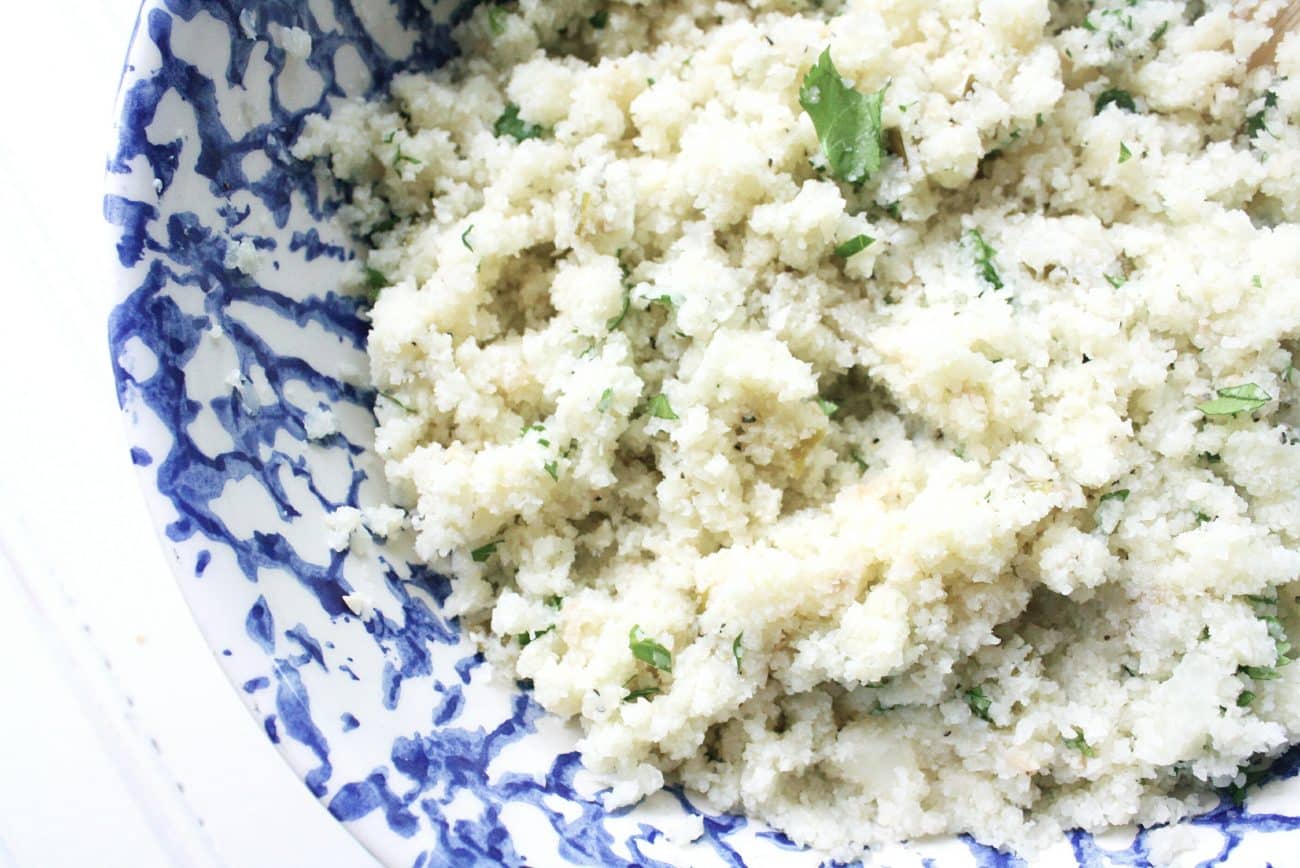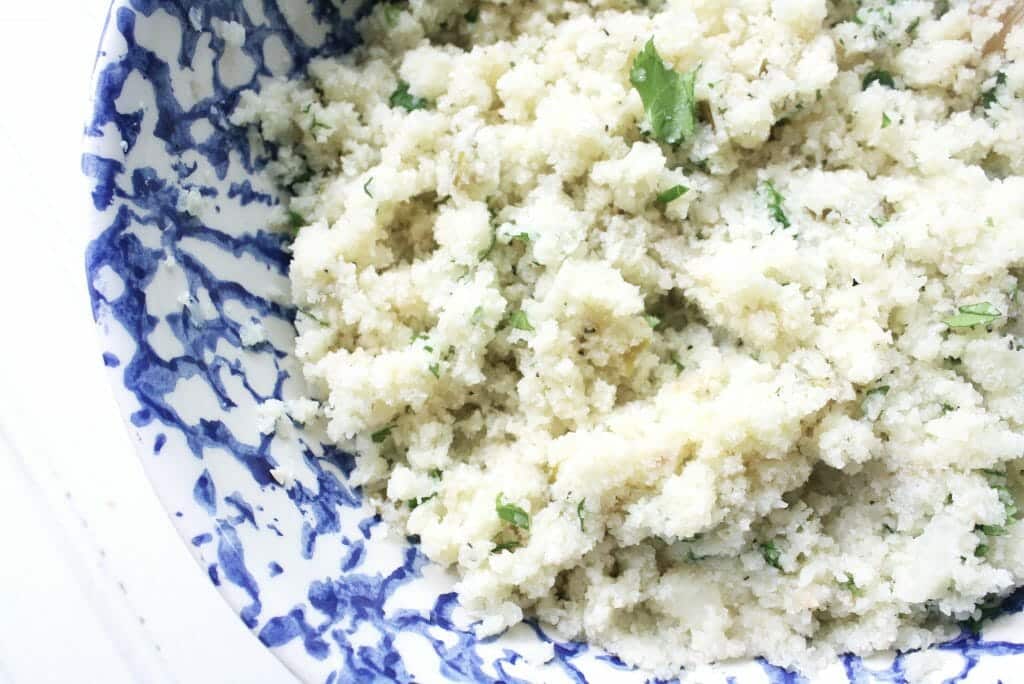 Looking for more delicious cauliflower recipes?

Here are more delicious keto recipes you can make with cauliflower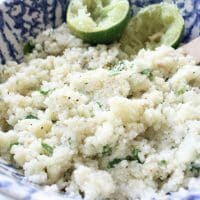 Cilantro Lime Cauliflower Rice
---
Author: Sara Nelson
Prep Time: 15 minutes
Total Time: 25 minutes
Yield: 4 servings 1x
Category: Side Dish
Cuisine: American
Description
This Cilantro Lime Cauliflower Rice is a nutrient-dense side dish that is low in carbs and packed with flavor! This recipe is keto, low-carb, paleo, Whole30 compliant, gluten-free, grain-free, vegan, vegetarian, dairy-free, sugar-free, and contains only 4.1 grams of net carbs per serving!
---
Ingredients
1 medium head of cauliflower 2 tbsp extra-virgin olive oil 2 tbsp garlic, minced 2 green onions, chopped 1 medium lime, juiced 1/4 cup fresh cilantro, roughly chopped
---
Instructions
Wash cauliflower, cut into florets and place on paper towel until dry.
Place raw cauliflower florets in a food processor and blend until coarsely chopped.
In a large saute pan over medium flame, heat olive oil, garlic, and green onions until fragrant.
Add chopped cauliflower to the pan and stir frequently.
Cook cauliflower until soft and somewhat browned (this adds a level of delicious crispiness!).
Remove from heat and, in a separate bowl, gently stir in lime juice and cilantro.
Serve immediately.
Keywords: cauliflower rice, keto side dish, paleo side dish, whole30 side dish
Reader Interactions