These Buffalo Deviled Eggs are such a delicious and fun appetizer to serve at parties throughout the year!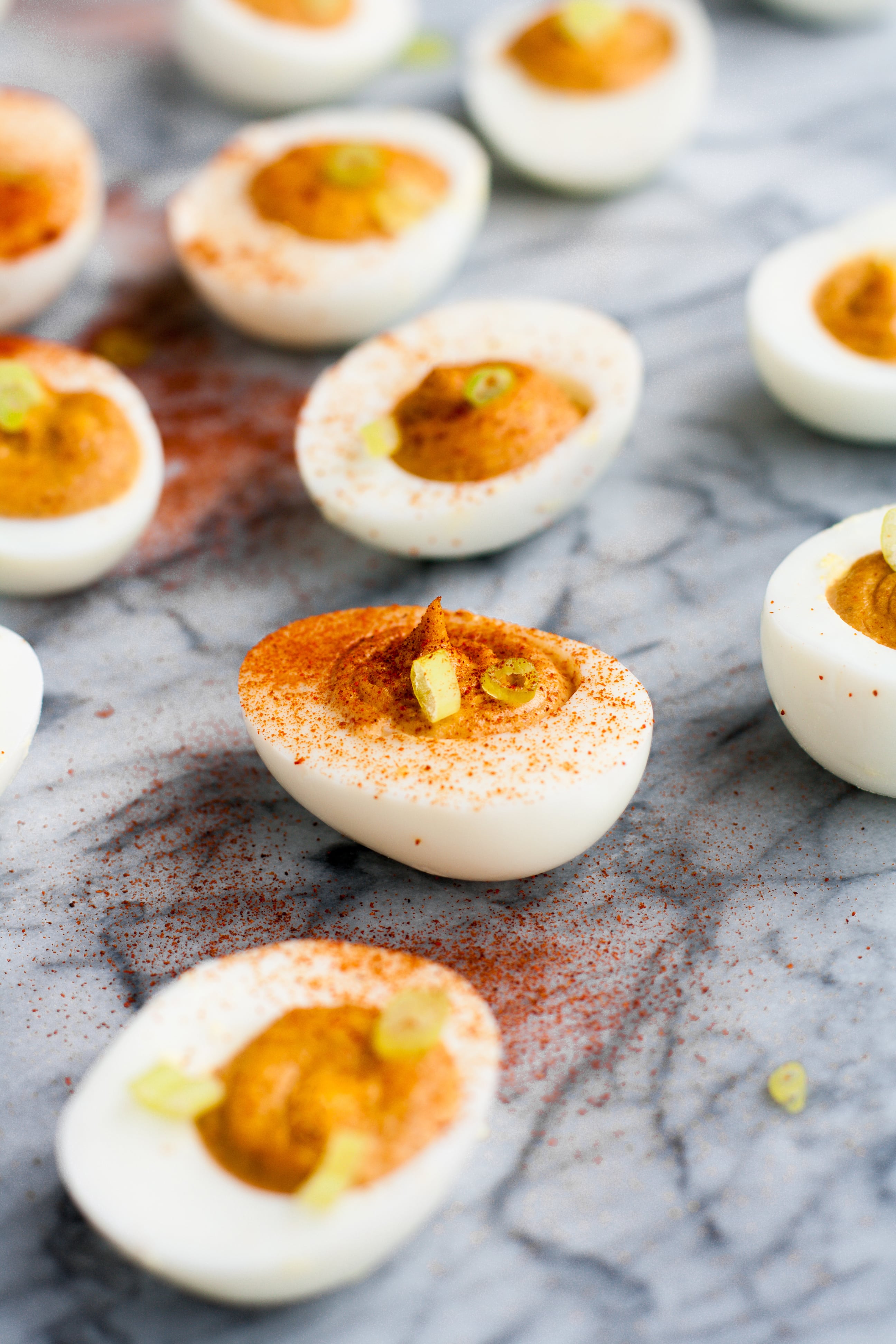 Keep this recipe on-hand for those times when you want to offer something that is diet- and allergy-friendly!
Buffalo Deviled Eggs Are Allergy-Friendly and Diet-Compliant Appetizer or Snack
I love developing recipes that are allergy-friendly, diet-compliant, and can be enjoyed by everyone! This recipe is no exception!
I mean, who doesn't love a delicious, low-carb, bite-sized snack?! This recipe is full of flavor and low in carbohydrate content. It's also safe to consume for many who follow a specific diet or have a food allergy or intolerance. These are perfect for holiday parties, family gatherings, and even just for a midday snack when we need something small to tide us over between meals!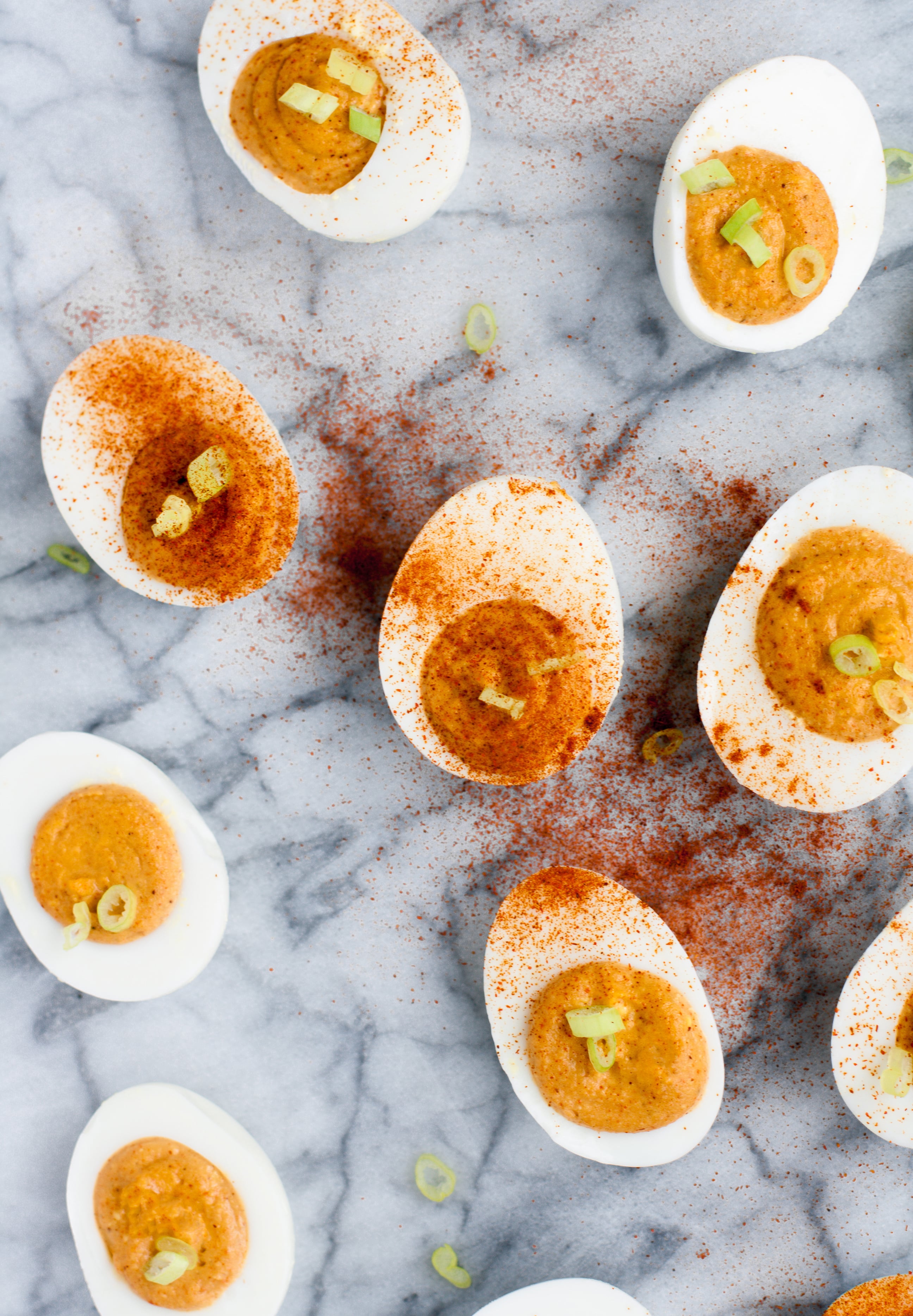 This recipe is compliant for many diets and allergy restrictions:
Keto and Low-Carb: This recipe is incredibly low in carbs and is very keto-friendly. One serving of this recipe contains less than one gram of net carbs!
Paleo and Whole30-Compliant: Free from gluten, grains, dairy, soy, and sugar, this recipe is both paleo- and Whole30-compliant.
Nut-Free: This recipe does not contain any nut ingredients. It is safe to consume for those with nut allergies or nut intolerances.
Dairy-Free: These deviled eggs do not include any dairy products. A great recipe option for those with a dairy allergy or lactose intolerance.
Coconut-Free: There are no ingredients in this recipe that contain coconut.
Gluten-Free and Grain-Free: This recipe is gluten-free, grain-free, and Celiac-friendly.
Vegetarian: This recipe is safe to consume for those who follow a vegetarian diet.
Sugar-Free: This recipe does not contain any added sugar.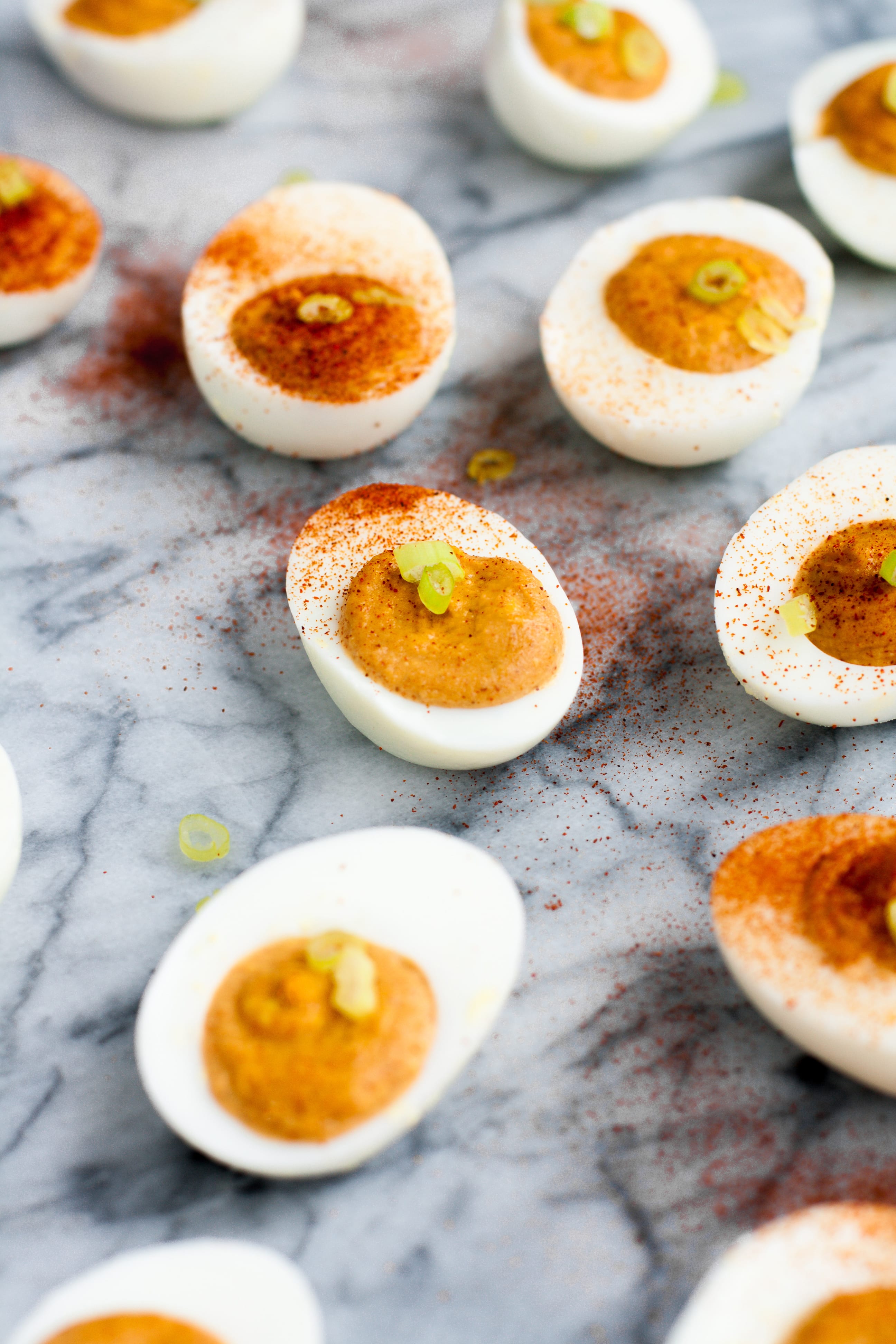 Quick and Easy Keto Deviled Eggs Appetizer
This recipe is perfect for ketogenic, paleo, Whole30, and nut-free diets! You will love how simple it is to prepare this recipe!
The preparation of this recipe is extremely easy, straightforward, and the deviled eggs can be prepared and ready to serve in under an hour!
Recipe Cooking Tips For Making Deviled Eggs
To ensure the eggs peel properly after boiling, I highly suggest transferring the eggs into an ice bath immediately after boiling, which is described in the recipe instructions below. This will help the egg white to cool away from the shell, making the peeling process much easier! I have also found that peeling the egg from the thin, film layer that is directly below the shell results in a perfect peel!
To pipe the buffalo-spiced yolk mixture into the egg whites, I would recommend using a piping bag, which you can likely purchase at your local grocery store in the baking aisle or purchase directly from Amazon.
Minimal Net Carbs In This Recipe
Less than 1 gram of net carbs in one serving of these Buffalo Deviled Eggs! This only contains 0.9 grams of net carbs per serving and yields 24 deviled eggs.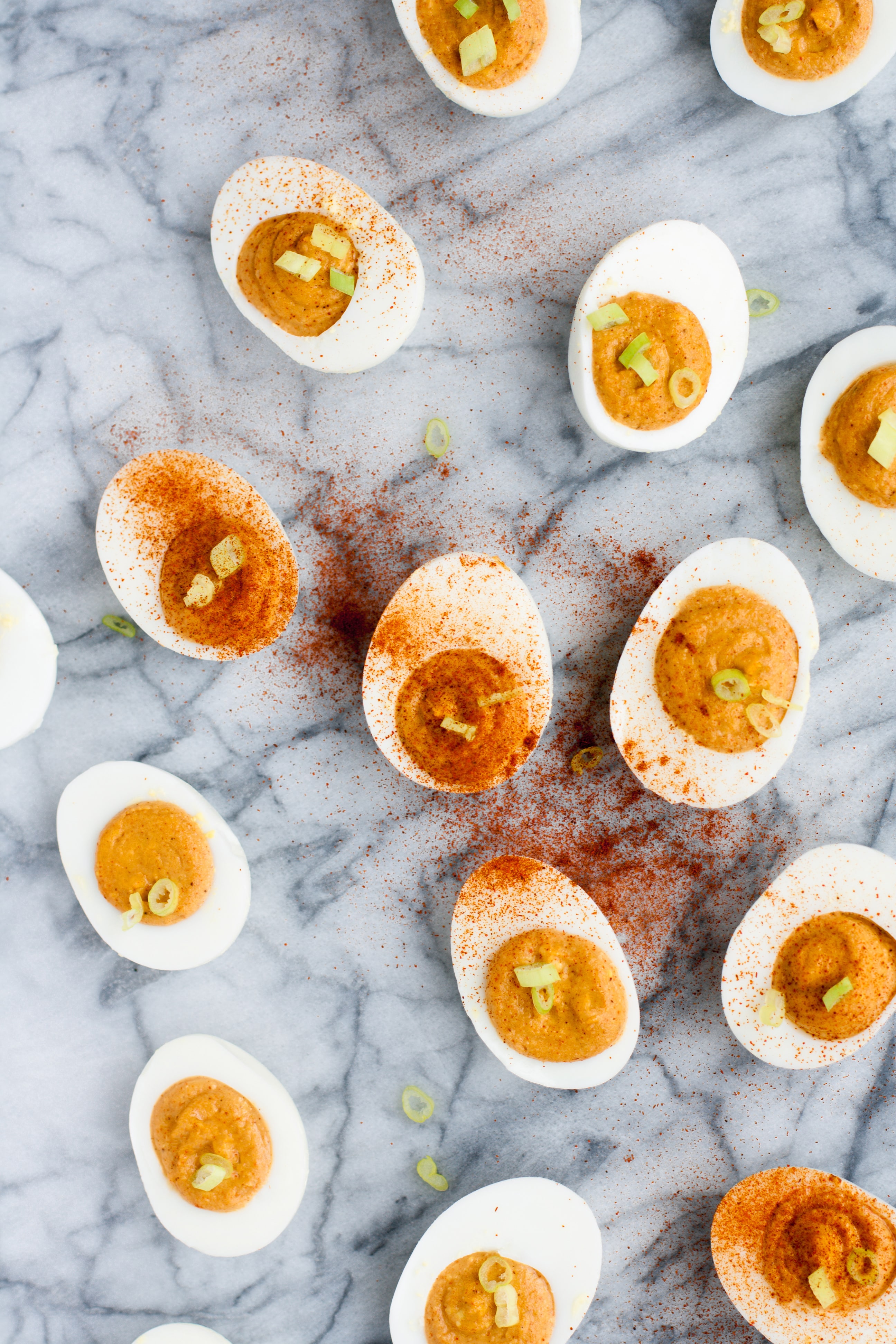 Check more keto-friendly appetizer recipes and Whole 30 Recipes!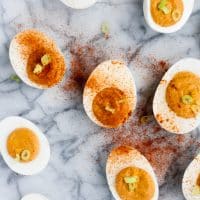 Buffalo Deviled Eggs
---
Author: Sara Nelson
Prep Time: 10 minutes
Cook Time: 12 minutes
Total Time: 30 minutes
Yield: 24 deviled eggs 1x
Category: Appetizer
Method: Boil
Cuisine: American
Description
These Buffalo Deviled Eggs are the most flavorful keto-friendly and paleo-compliant appetizer! This recipe is keto, low-carb, paleo, Whole30-compliant, nut-free, dairy-free, coconut-free, gluten-free, grain-free, vegetarian, sugar-free, and contains only 0.9 grams of net carbs per serving!
---
Ingredients
Buffalo Seasoning
Deviled Eggs
Optional garnishes
1/2 tsp paprika
Fresh green onion, finely chopped
Materials
---
Instructions
In a medium pot, fully submerge eggs in water and, over medium-high heat, bring water to a rolling boil. Reduce heat to the medium low, cover pot with lid, and boil eggs for 10 minutes. Meanwhile, prepare an ice bath in a large bowl. Remove pot from heat and carefully drain water from the pot and immediately transfer eggs to ice bath. Allow eggs to cool off in ice bath for 10 minutes.
Meanwhile, to a medium mixing bowl, add buffalo seasoning spices, mayonnaise, and mustard. Set aside.
After eggs have cooled, peel shells away from eggs and slice eggs in half lengthwise. Remove yolks from whites and transfer yolks to the bowl of buffalo seasoning, mayonnaise, and mustard. Using an electric mixer, mix together yolks, spices, mayonnaise, and mustard until smooth and well-combined.
Transfer yolk mixture to piping bag and pipe into egg whites (Alternatively, if you do not have a piping bag, spoon a dollop of mixture into yolks). Top deviled eggs with optional garnishes as desired.
Recipe Notes:
Store deviled eggs in airtight container in the refrigerator and consume within 3-4 days.
Keywords: keto appetizer, low-carb appetizer, deviled eggs, keto deviled eggs, whole30 appetizer, dairy-free appetizer, paleo appetizer
Reader Interactions