I think we can all agree that it's officially fall in the midwest! With fall comes cooler weather, football, and delicious food. There are few things better on a perfect fall day than a big bowl of chili with all of the fixings. This turkey chili is sweet, savory, AND spicy. YUM.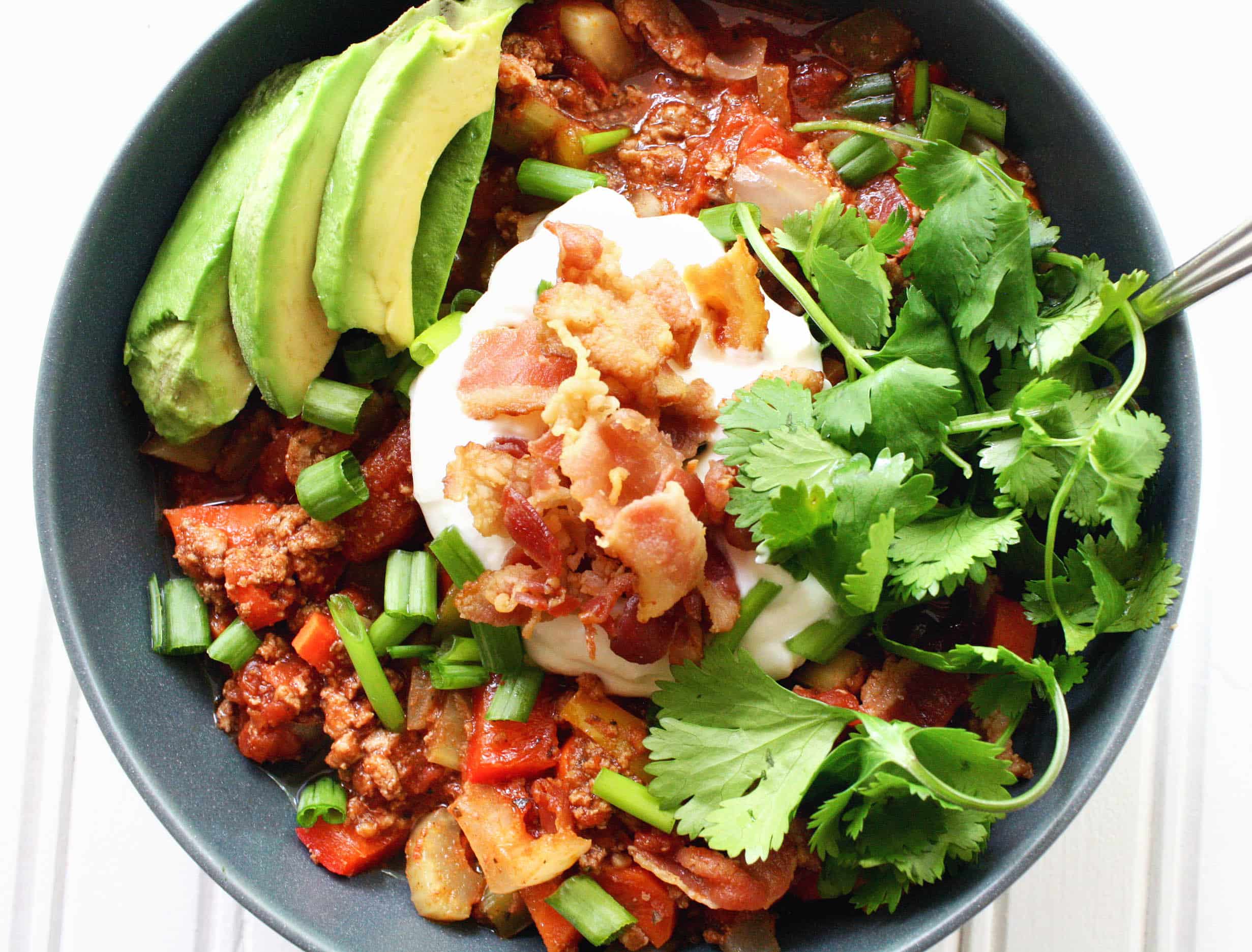 You may have never noticed that traditional chili ingredients are often full of added-sugar. Take a look at the ingredients of beef bouillon, stock, and chili beans and you'll notice cane sugar, molasses, honey, and high fructose corn syrup. "Why is sugar needed in these savory-tasty foods?," you ask. Good question. It's not and there's a way around it. This chili recipe is full of whole food ingredients that, when cooked together, taste heavenly! Sweet, savory, and spicy goodness that your taste buds will thank you for! Enjoy!
Diets This Sweet And Spicy Bacon And Turkey Chili Recipe Are Compliant With:
This recipe, ungarnished, is paleo, Whole30 compliant, nut-free, dairy-free, gluten-free, grain-free, and sugar-free.
Need more keto recipe inspiration? Check out more recipes here!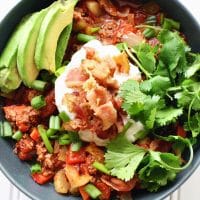 Sweet & Spicy Bacon and Turkey Chili
---
Author: Sara Nelson
Prep Time: 30 minutes
Total Time: 1 hour, 10 minutes
Yield: 6 servings 1x
Category: Dinner
Cuisine: American
Description
Every bite of this Sweet & Spicy Bacon & Turkey Chili is sweetened with cacao and cinnamon and spiced from cayenne pepper, red pepper flakes, and jalapeño. Plus a whole lot of of bacon-y goodness!
---
Ingredients
Toppings:
Greek yogurt
Avocado
Scallions
Shredded sharp cheddar
Cilantro
---
Instructions
Crisp bacon in large pot over medium heat.
Remove crisped bacon from pot with tongs and place in bowl.
Add ground turkey and jalopeño to pot to cook in bacon fat.
Once turkey is cooked throughout and jalopeño has softened, add all dry spices, cover, and simmer for 2-3 minutes.
Add vegetables, stir, cover, and simmer for another 2-3 minutes.
Stir in diced tomatoes and tomato paste.
Cover and reduce heat to medium low and simmer for 40 minutes.
Remove chili from burner and stir in 3/4 of bacon crumbles.
Garnish with Greek yogurt, remaining bacon crumbles, avocado slices, scallions, and cilantro.
Reader Interactions