These Low-Carb Chocolate Chip Cookies are soft, chewy, nut-free, and can happily be enjoyed on a ketogenic diet!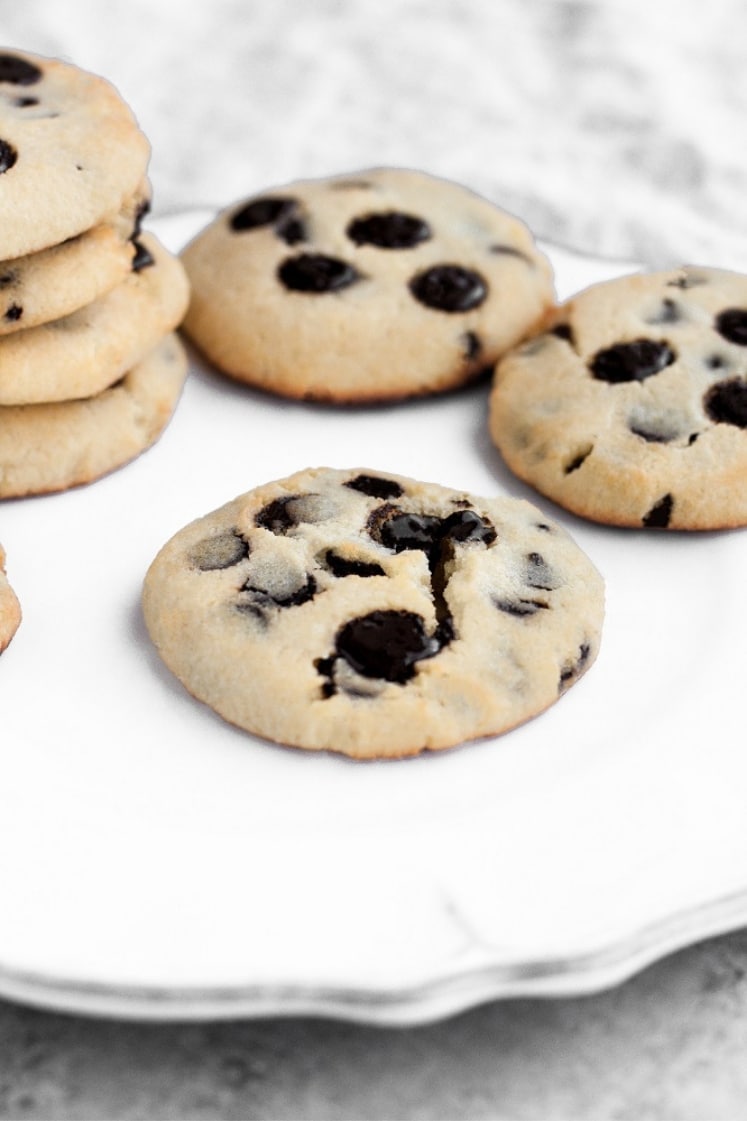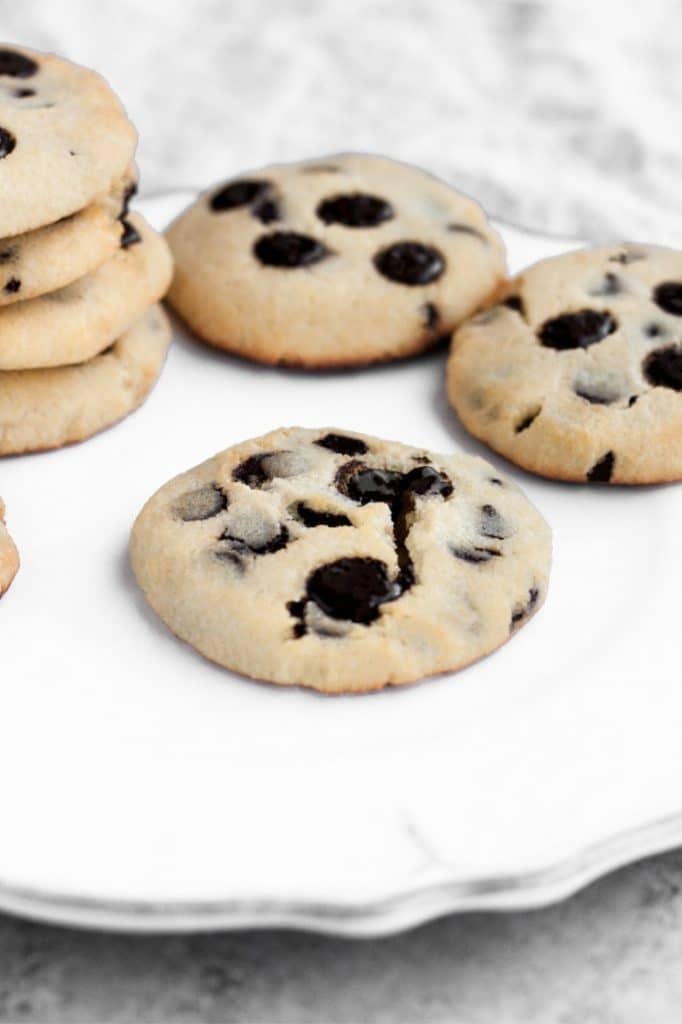 These Chocolate Chip Cookies Are Keto-Friendly Staple Dessert Recipe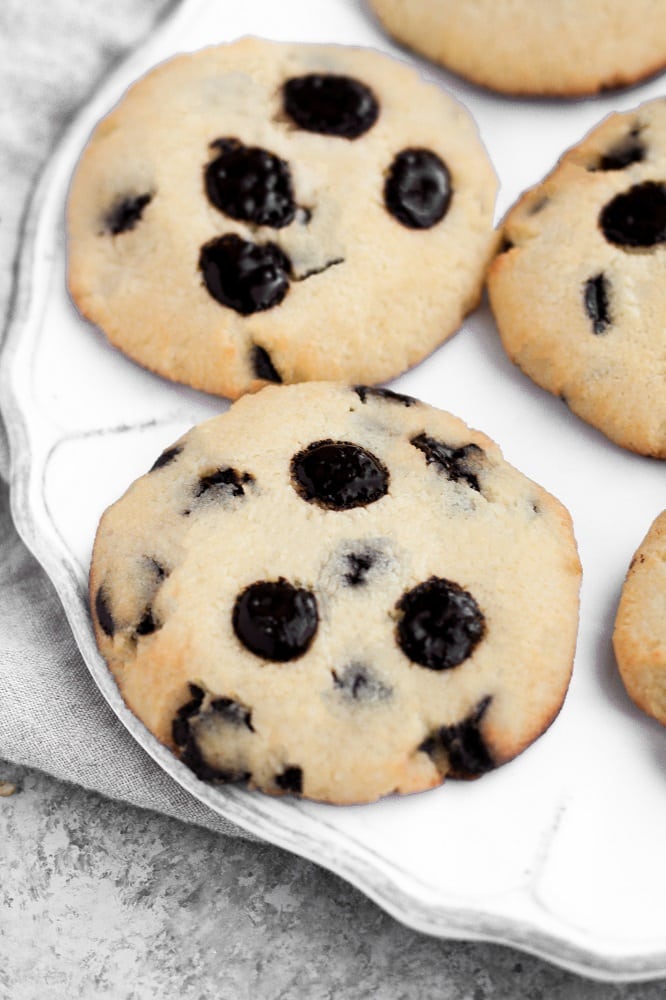 Having a no-fail chocolate chip cookie recipe on-hand is an essential part of any baker's repertoire! These Low-Carb Chocolate Chip Cookies check EVERY box on my cookie requirement list:
soft,
chewy,
melty, and
made with simple ingredients!
The best part? These are high in fiber, low in net-carbs, and full of healthy, satiating fats!

Nut-Free Chocolate Chip Cookies Recipe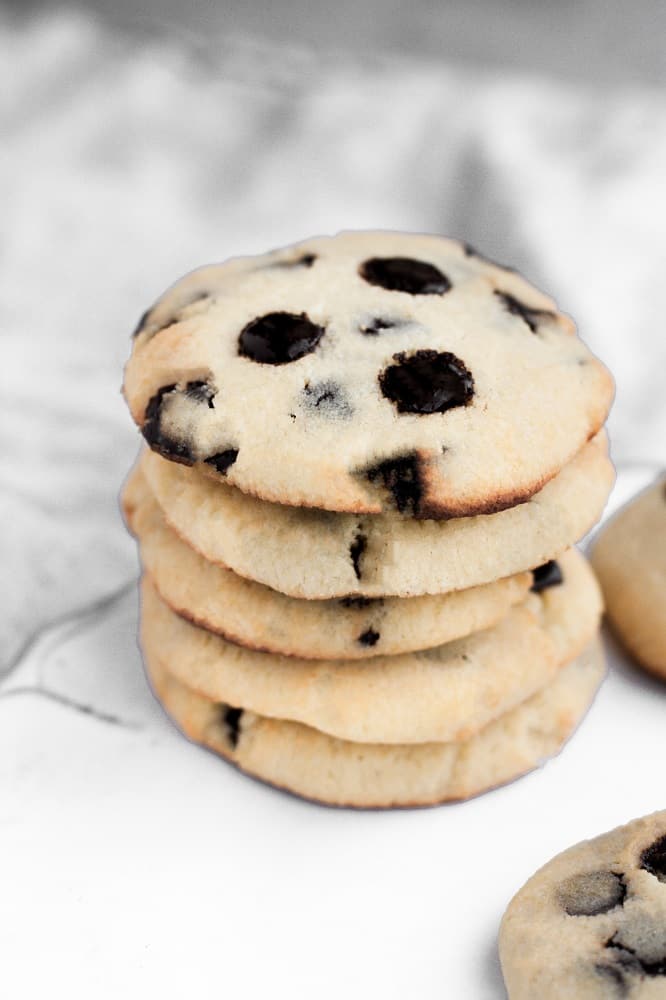 As someone who was recently diagnosed with a nut allergy, I have begun to develop many new nut-free and low-carb recipes!
Like many of my other nut-free recipes, these cookies are made with coconut flour, making them safe to consume for those who have a nut allergy or nut intolerance.

Low-Carb Chocolate Chip Cookies Sweetened With Monk Fruit Sweetener
To sweeten these cookies, I use my favorite natural and net-carb-free sweetener, Lakanto Monk Fruit Sweetener. I almost exclusively use monk fruit sweetener in my low-carb dessert recipes and fat bomb recipes as I find it has the best taste, incorporates into recipes exactly like traditional sugar, and doesn't kick me out of ketosis.
If you need to re-stock your pantry, you can use code "REALBALANCED" for 20% off your Lakanto order!
If you are looking for more keto recipes that are sweetened with monk fruit sweetener, make sure to check out these 40+ Keto Monk Fruit-Sweetened Recipes!
Want to learn more about monk fruit sweetener? Check out this post here!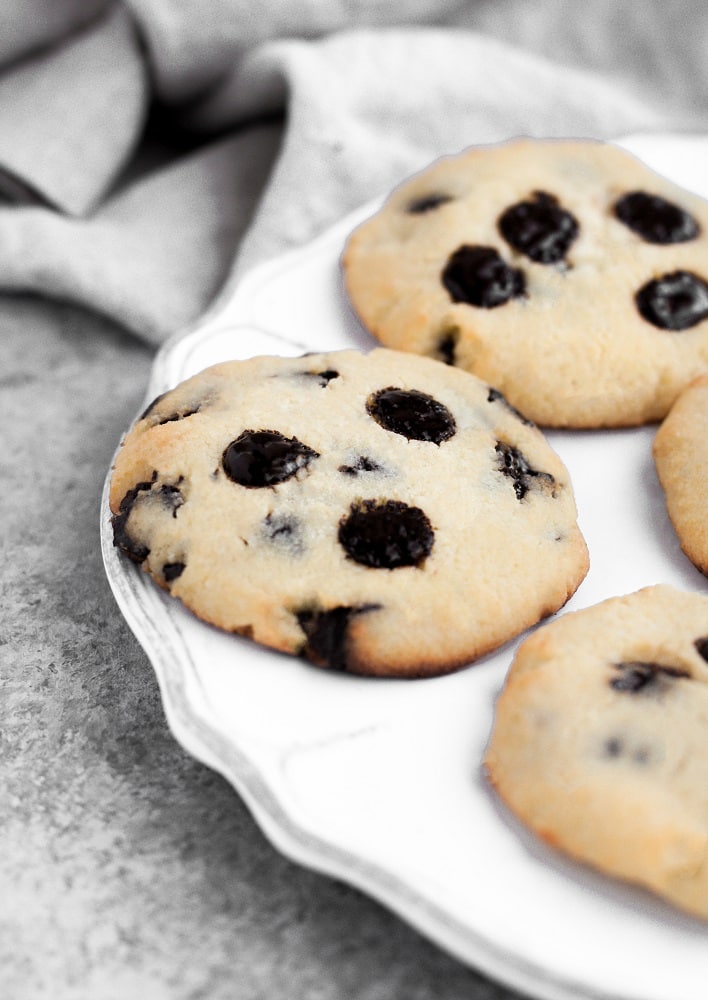 LAKANTO TASTE TEST BUNDLE
I am also excited to share that I have partnered with Lakanto to share a Taste Test Bundle with you all! If you've been waiting to try monk fruit sweetener, now is the time to order! This deal includes classic monk fruit sweetener, golden monk fruit sweetener, a recipe e-Book, and Lakanto's Taste Test Guarantee!
Chocolate Chips For Cookies
In this recipe, like that of my Low-Carb Chocolate Chip Muffins, I use chocolate chips that contain only one ingredient: chocolate! Doesn't get any more simple or straightforward than that! Other low-carb chocolate chip products contain other ingredients, specifically soy, that some choose not to consume.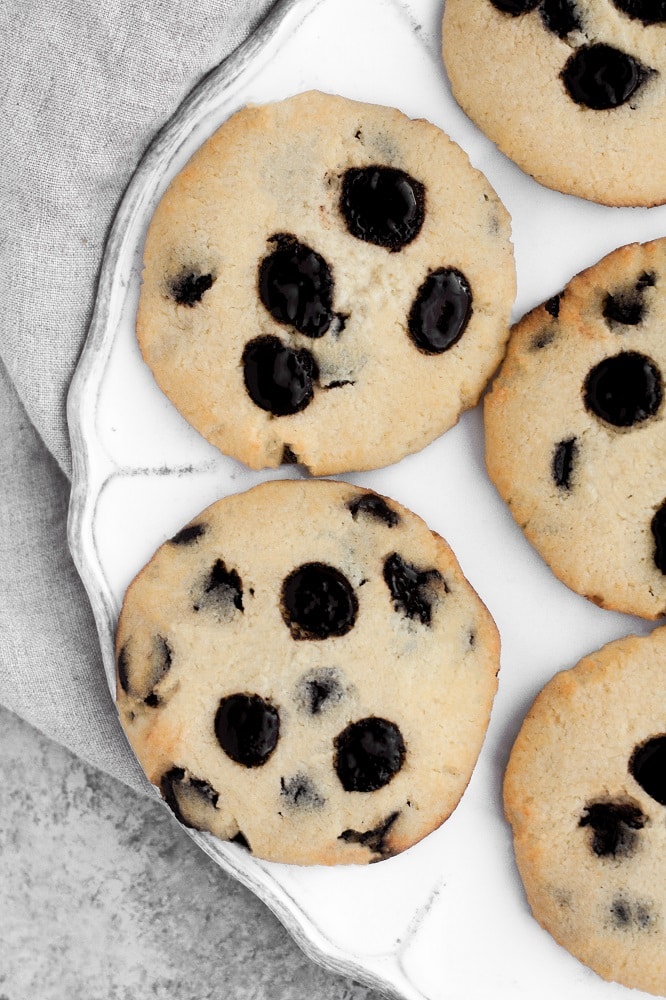 Diet-Friendly and Allergy-Friendly Chocolate Chip Cookies
These Low-Carb Chocolate Chip Cookies are a delicious keto- and allergy-friendly recipe to have on-hand for when a craving for something chocolatey and sweet hits!
Low-Carb and Keto: One cookie contains only 3.7 grams of net carbs per serving.
Nut-Free: These cookies are made with coconut flour rather than almond flour or another nut flour, making them a perfect treat for someone with a nut allergy or nut intolerance to enjoy.
Gluten-Free and Grain-Free: This recipe is grain-free and gluten-free and is celiac-friendly.
Vegetarian: This recipe is compliant with a vegetarian diet.
Refined-Sugar-Free: Sweetened with natural monk fruit sweetener, this recipe does not contain any refined sugar.
Net Carbs In Low-Carb Chocolate Chip Cookies
One cookie contains 3.7 grams of net carbs per serving.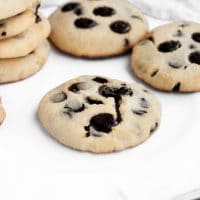 Low-Carb Chocolate Chip Cookies
---
Author: Sara Nelson
Prep Time: 15 minutes
Cook Time: 15 minutes
Total Time: 50 minutes
Yield: 8 cookies 1x
Category: Dessert
Method: Bake
Cuisine: American
Description
These Low-Carb Chocolate Chip Cookies are soft, chewy, keto-friendly, and nut-free! This recipe is low-carb, keto, nut-free, gluten-free, grain-free, vegetarian, refined-sugar-free, and contains only 3.7 grams of net carbs per serving!
---
---
Instructions
Preheat oven to 350 degrees and line baking sheet with parchment paper.
To a mixing bowl, add butter, heavy whipping cream, cream cheese, egg, and vanilla. Using an electric mixer, mix together until all ingredients are well-combined.
To a separate mixing bowl, add classic monk fruit sweetener, coconut flour, gelatin, cream of tartar, and baking soda and whisk until fully incorporated.
In small batches, add dry ingredients to wet ingredients and mix with electric mixer.
Fold in chocolate chips.
Form dough into 8 small balls, lightly press down to form into cookies, and place on prepared baking sheet.
Bake cookies until golden brown, about 15-17 minutes.
Remove cookies from oven and allow to cool completely before serving.
Keywords: keto chocolate chip cookies, low carb chocolate chip cookies, nut free chocolate chip free cookies, low-carb chocolate chip cookie recipe
Reader Interactions