The sweet, salty, and crunchy flavor combination of these Sea Salt Dark Chocolate Almond Cluster Fat Bombs are absolutely UNREAL. The best part? They are full of healthy fats, contain minimal carbs, and will keep you full, focused, and satisfy all of your chocolate cravings, all in one bite! There's even an option to make these nut-free!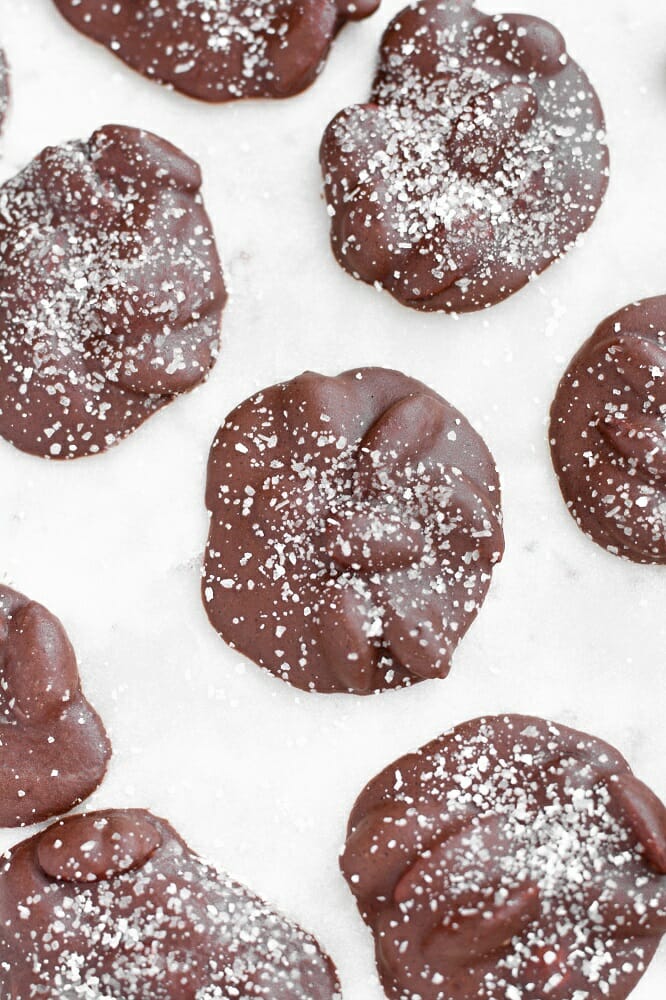 What Are Fat Bombs?
Fat bombs are a great way for those who follow a ketogenic, low-carb diet to enjoy a dessert without being thrown out of ketosis! They contain healthy fats that will keep you satiated for hours and are sure to give you an extra boost of energy to make it through your day.
Over the weekend in our household, we love to batch-make multiple Real Balanced fat bomb recipes so we have them on hand for the times during the week we need a little snack to tide us over between meals or for an after-dinner treat!
(If you are looking for more fat bomb recipes, I have you covered! Take a look at all of my fat bomb recipes!)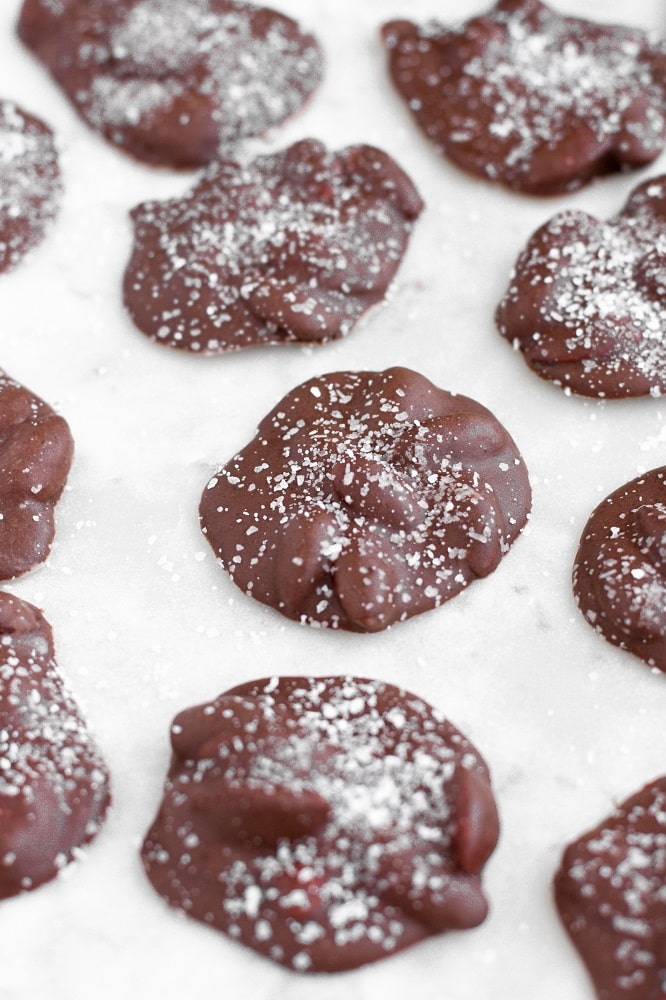 Sea Salt Dark Chocolate Almond Cluster Fat Bombs Sweetened With Monk Fruit Sweetener
These fat bombs, like many of my other ketogenic dessert recipes, are sweetened with my favorite sweetener, Lakanto Monk Fruit Sweetener. In this particular recipe, I use Lakanto's Classic Monk Fruit Sweetener, a natural sweetener that contains zero calories and will not spike your blood sugar.
Over the years, I've tried maaaaaany keto-friendly sweeteners, and monk fruit sweetener still always wins out in terms of flavor and texture. If you've never tried monk fruit sweetener or just need to re-stock your pantry, you can use the code "REALBALANCED" for 20% off your Lakanto orders!
Want to learn more about monk fruit sweetener? Check out this post here!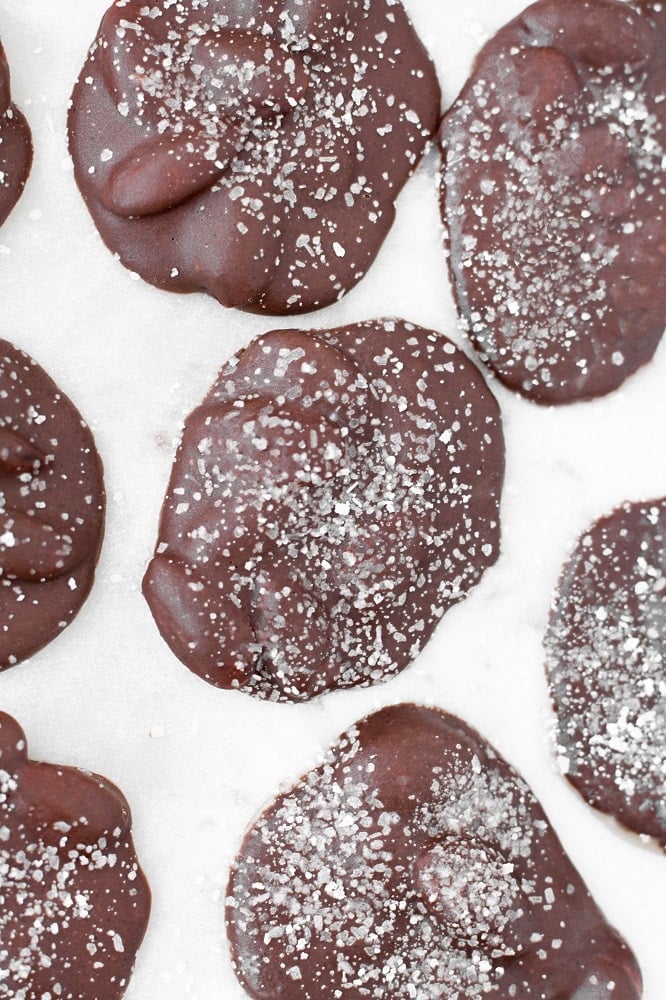 LAKANTO TASTE TEST BUNDLE
I am also excited to share that I have partnered with Lakanto to share a Taste Test Bundle with you all! If you've been waiting to try monk fruit sweetener, now is the time to order! This deal includes classic monk fruit sweetener, golden monk fruit sweetener, a recipe e-Book, and Lakanto's Taste Test Guarantee!
Diets This Sea Salt Dark Chocolate Almond Cluster Fat Bombs Recipe Is Compliant With
Keto and Low-Carb: These clusters are full of healthy fats and contain minimal carbs. That's 0.8 grams net carbs per serving!
Gluten-Free and Grain-Free: This recipe is both gluten-free and grain-free.
Vegetarian: This recipe is compliant for those who follow a vegetarian diet lifestyle.
Refined-Sugar-Free: Made with monk fruit sweetener, this recipe is free from refined sugar.
Net Carbs In Sea Salt Dark Chocolate Almond Cluster Fat Bombs
One fat bomb contains 0.8 grams of net carbs.
Other Fat Bomb Recipes You Should Try
Lemon Bar Fat Bombs
Dark Chocolate Raspberry Bark
Dark Chocolate Peppermint Patty Fat Bombs
Chocolate Chip Cookie Dough Fat Bombs
Cinnamon Roll Fat Bombs
No-Bake Chocolate Chip Almond Butter Fat Bomb Bars
French Toast Fat Bombs
Chocolate Bar Fat Bombs
Powdered Donut Hole Fat Bombs
ORDER YOUR COPY OF "FAT BOMB FAVORITES"
Take a look inside and place your order for "Fat Bomb Favorites," a digital cookbook including 50 keto-friendly and low-carb fat bomb recipes!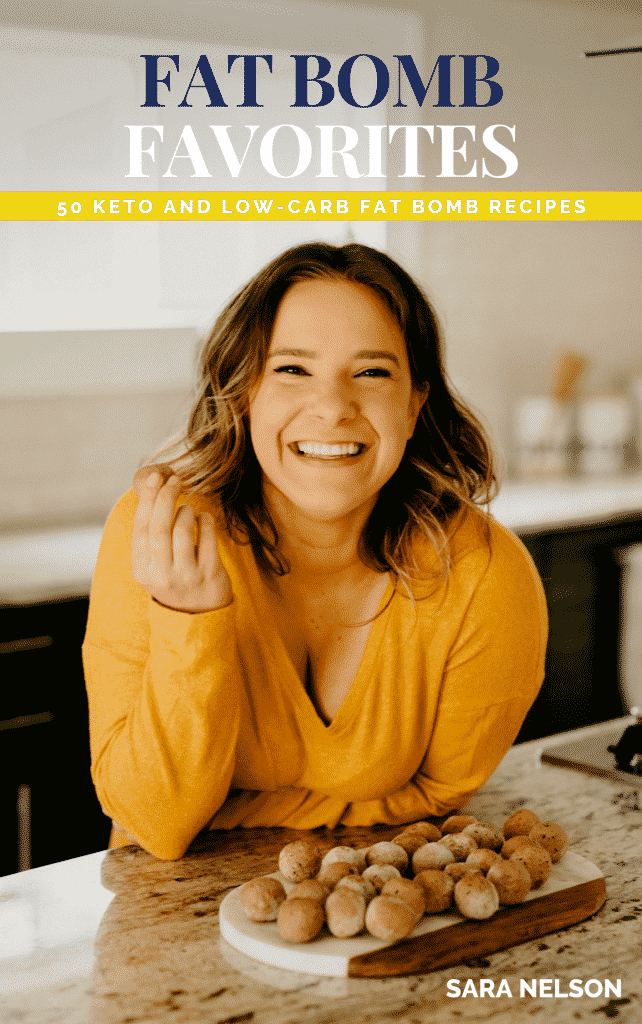 Looking for more keto treats?
If you're looking for some delicious keto treats, then you should try these out!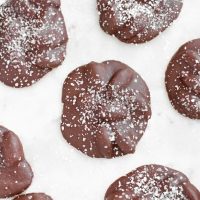 Sea Salt Dark Chocolate Almond Cluster Fat Bombs
---
Author: Sara Nelson
Prep Time: 10 minutes
Cook Time: 5 minutes
Total Time: 1 hour
Yield: 20 clusters 1x
Category: Dessert
Cuisine: American
Description
These Sea Salt Dark Chocolate Almond Cluster Fat Bombs are a perfect keto-friendly and low-carb dessert to satisfy your craving for chocolate! This recipe is keto, low-carb, gluten-free, grain-free, vegetarian, refined-sugar-free, and contains only 0.8 grams net carbs per serving!
---
---
Instructions
Preheat oven to 300 degrees and line baking sheet with parchment paper. Add almonds to baking sheet in an even layer. Bake almonds until toasted, about 10 minutes.
Line a separate baking sheet with parchment paper.
To a small glass bowl, add cocoa butter, cocoa powder, heavy whipping cream, and classic monk fruit sweetener.
Using double boiler method on stovetop over low heat, melt ingredients together until chocolate is smooth. Whisk mixture frequently to avoid burning.
Remove melted chocolate from heat and stir in toasted almonds. Spoon chocolate and almond mixture onto prepared baking sheet into desired cluster size. Top clusters with sea salt. (A second baking sheet may be necessary, depending on the size of the baking sheet.)
Allow clusters to sit on baking sheet at room temperature for 30 minutes before transferring baking sheet to refrigerator to chill until hardened, about 25-30 minutes.
Once chocolate has hardened, gently pull parchment paper away away from clusters, serve, and enjoy!
Recipe Notes:
Nut-Free Substitution: To make this recipe nut-free, substitute raw pumpkin seeds in for almonds at a 1:1 ratio.
Storage: Store clusters in airtight container in the refrigerator.
Keywords: fat bomb, keto fat bomb, fat bombs, chocolate fat bomb, low-carb dessert, keto dessert
Reader Interactions