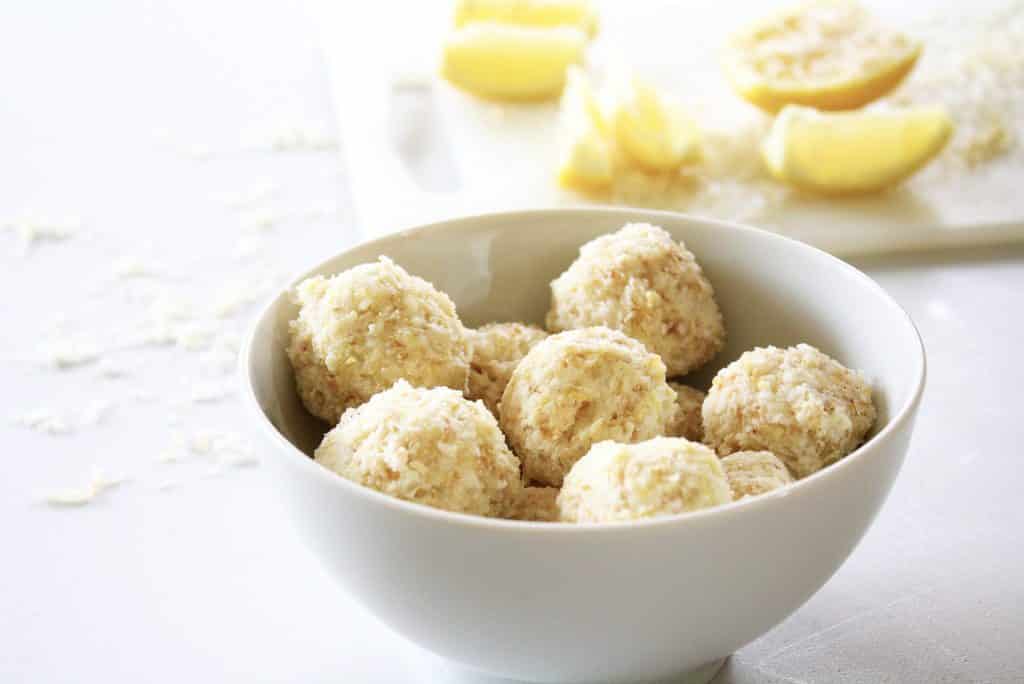 These Lemon Bar Fat Bombs are perfectly tart, bite-sized snacks that will keep you full and focused throughout your day!
Keto Lemon Fat Bombs
Have you been looking for keto lemon fat bomb recipes? Well, look no further because you have come to the right place!
These Lemon Bar Fat Bombs have become a favorite keto fat bomb recipe for many Real Balanced readers as they are simple to make and taste SO DELICIOUS! Even better? These are dairy-free lemon fat bombs as they are made without cream cheese (we use cashews and coconut butter here instead)!
So, if you're someone who follows a vegan keto diet or paleo keto diet, this is a great recipe for you!
Why You Should Be Including Saturated Fats In Your Diet
It's no secret that people are finaaaaally starting to accept that including healthy fats in your diet is incredibly beneficial, not to mention satiating. Fat keeps you full. Plus, saturated fats are now no longer being considered Enemy #1, and for good reason!
For the last several decades, fat has been demonized and the idea that "eating fat will make you fat" has been so engrained in our heads (and our refrigerators), that we've been led to eat fat-free, low-fat, and high-in-junk-ingredients food for so long, yet we continue to gain weight, be diagnosed with an endless number of diseases, and, in general, feel overall crummy.
Saturated fats are, plain and simply, a dietary requirement. Our bodies need it to function and thrive. Additionally, and perhaps most interestingly (considering Americans' take on consumption of saturated fat), saturated fat has been found to not cause heart disease. I think Chris Kresser describes the benefits of saturated fat best. Take a look at his take on the topic here.
Why You Should Be Including Fat Bombs In Your Diet
In our house, we like to eat fat. A lot of it. It tastes good, keeps us full, and allows Ryan to eat a significant amount of bacon without having to listen to me ramble on about nutrition and the Standard American diet and blah blah blah. For that, he is, I assume, very grateful.
Most days, we can both go without thinking of snacking. This is 100 PERCENT crazy for me. Really. Snacking is a hobby of mine and I think I do a really good job of it. But, when you eat a high-fat diet, you are rarely, if ever, hungry between meals. However, we are only human and sometimes we want a little dessert after dinner, ya know?
Enter fat bombs and all their delicious glory. These little power-packed-balls-of-joy are probably the most simple things to make in bulk, store in the freezer, and pop one out when you're feeling a little hungry or a craving hits. Plus, the list of ingredients is minimal, making your life a whole heckofa lot easier. That's a win in my book.
If you are interested in more fat bomb recipes, you can find all Real Balanced fat bomb recipes here!
Nutrition Info of Lemon Bar Fat Bombs
One fat bomb is 4.3g net carbs per serving!
You can find a nutrition label including macros of this recipe near the ingredients and directions of the recipe below. As a note, I like to make my fat bombs a little bigger, but you can always "half" the recipe to make them much smaller than I did, which will result in half the calories, net carbs, etc. If you have any questions on this, please don't hesitate to leave a comment below!
Diets These Lemon Fat Bombs Are Compliant With
This recipe is keto, low-carb, paleo, grain-free, gluten-free, dairy-free, vegetarian, vegan, and refined-sugar-free.
Fat Bomb Recipes You Should Try
Fudge Fat Bombs
Blueberry Bliss Fat Bombs
Key Lime Pie Fat Bombs
Strawberries & Cream Fat Bombs
PBJ Fat Bombs
Pumpkin Spice Fat Bombs
Berries & Cream Fat Bombs
Dark Chocolate Peppermint Patty Fat Bombs
Chocolate Chip Cookie Dough Fat Bombs 
Cinnamon Roll Fat Bombs
No-Bake Chocolate Chip Almond Butter Fat Bomb Bars
French Toast Fat Bombs
Sea Salt Dark Chocolate Almond Cluster Fat Bombs
Chocolate Bar Fat Bombs
Powdered Donut Hole Fat Bombs
You can find all Real Balanced fat bomb recipes here!

More Keto-Friendly Recipes
You can find all Real Balanced keto and low-carb recipes here!
Print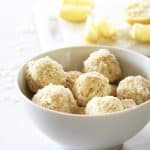 Lemon Bar Fat Bombs
Author:

Prep Time:

10 minutes

Total Time:

1 hour

Yield:

Approximately 30 fat bombs, depending on size

Category:

Dessert

Method:

Freeze

Cuisine:

American
---
Description
These Lemon Bar Fat Bombs are a delicious vegan, low-carb treat to satisfy your sweet tooth! This recipe is keto, low-carb, paleo, grain-free, gluten-free, dairy-free, and refined-sugar-free!
---
---
Instructions
Combine all ingredients in food processor and blend until well-combined.
Transfer mixture to medium-sized bowl and place in freezer for 20-30 minutes to cool (they may take slightly longer if you chose to boil the cashews rather than soak).
Remove mixture from freezer and form into balls.
Place balls in freezer for 20 minutes to harden. I recommend putting them on a cookie sheet or plate lined with parchment paper to avoid the bottoms sticking.
Remove from freezer once solid. Store in airtight container in the refrigerator or freezer (you'll need to let them thaw for a little prior to eating if you choose to freeze them).
Enjoy!
---
Notes
If you use stevia and use a brand that is different than the one I have linked here, you may need to add more. The brand of stevia that I use in this recipe is VERY potent and a little bit goes a very long way!
Keywords: fat bomb, keto fat bomb, vegan keto fat bomb, dairy-free fat bomb, paleo keto, low-carb dessert, keto dessert