This post contains affiliate links, which means that if you click one of the product links, I'll receive a commission. Don't worry, you won't be charged anything extra. This just helps keep the lights on.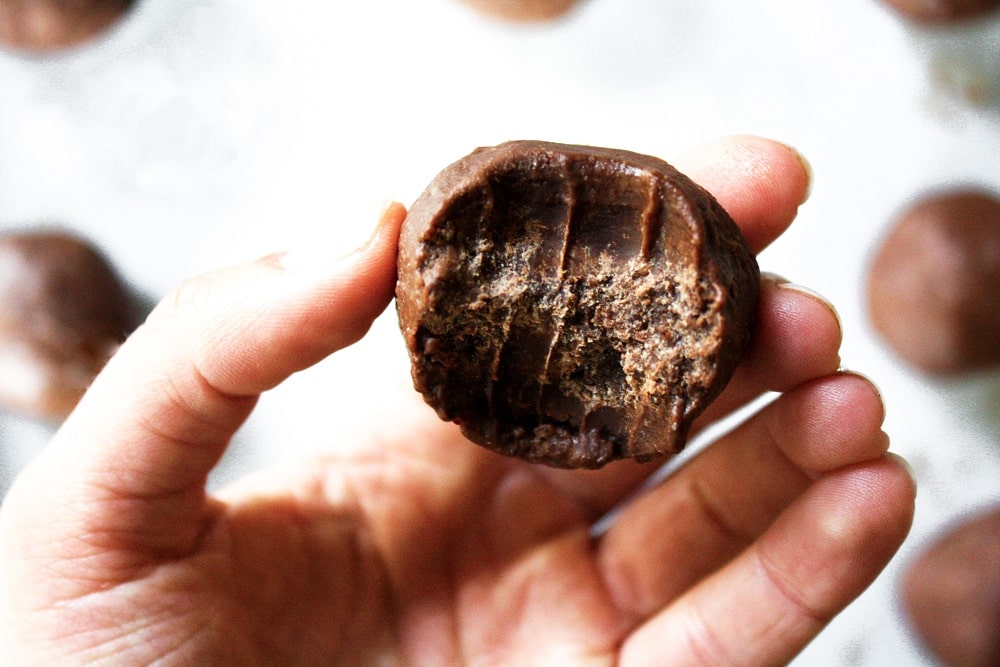 Chocolatey and sweet fat bombs. These Fudge Fat Bombs taste just like a piece of fudge, but without the refined sugar! These fat bombs are simple to prepare, contain minimal carbs, and are a perfect keto-friendly and vegan-compliant option to satiate you between meals and satisfy your sweet tooth!
Chocolate Fudge Fat Bombs
There are few things better than biting into a piece of chocolate fudge! The one simple way to make fudge better? Make it low-carb and into keto Fudge Fat Bombs! If you've been wondering how to make low-carb fudge or looking for low-carb fudge recipes, you've come to the right place!
What Are Keto Fudge Fat Bombs?
Fat bombs have become a staple snack in our house. We tend to eat a higher fat and lower carb diet due in part to the satiating effect of fat, but mostly due to the fact that fat just plain tastes REALLY GOOD. Fat bombs are high-fat bites of goodness that are perfect for your low-carb, ketogenic diet!
Whether you just need a small snack to keep you satiated between meals or if you have a craving for sweets, fat bombs are going to be your new best friend! In our house, we always have these Fudge Fat Bombs on-hand because I love to enjoy one as an after-dinner treat!
Looking for more easy to prepare keto fat bomb recipes?
BE SURE TO ALSO DOWNLOAD MY FREE FAT BOMBS RECIPE EBOOK!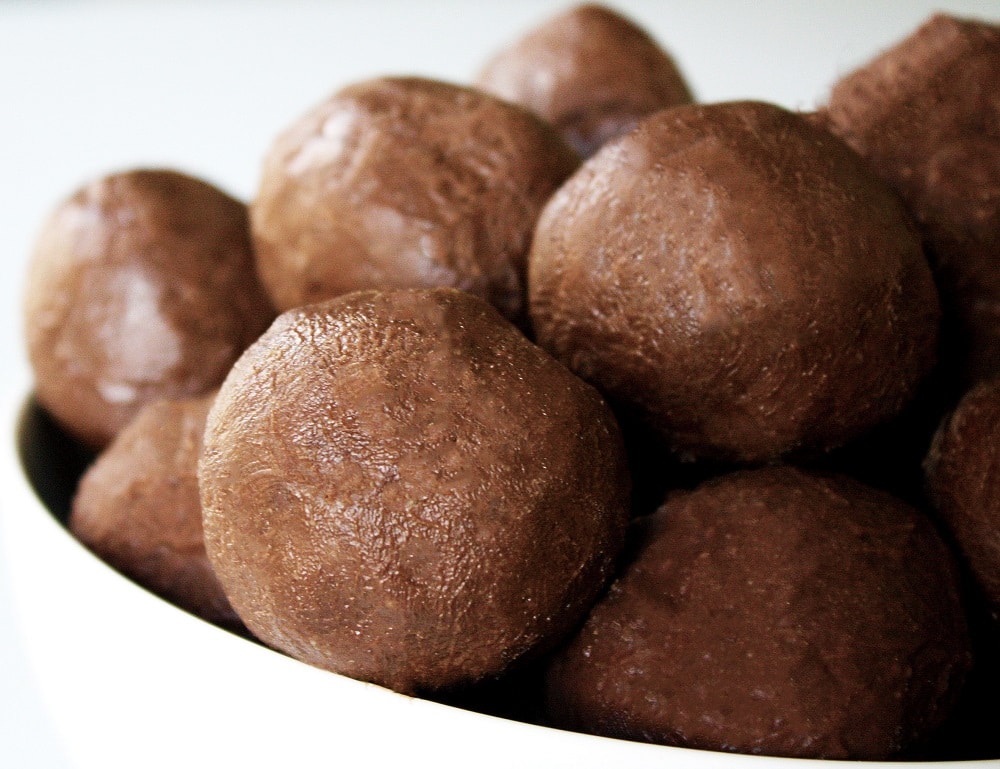 You can sweeten these Fudge Fat Bombs with either pure stevia or, my personal favorite, Lakanto Monk Fruit Sweetener!
Fudge Fat Bombs Sweetened with Stevia
Stevia is a sweetener that is derived from the leaves of the plant species Stevia rebaudiana. It contains 0 calories, 0 grams of carbohydrates, and rates at a 0 on the glycemic index, making it a safe option for diabetics.
NOTE: For this recipe, the stevia I used is VERY POTENT. A little bit goes a very long way. So, if you choose to use stevia but use a different brand, you will likely need to add more.
Fudge Fat Bombs Sweetened with Monk Fruit Sweetener
In this recipe, like in a majority of my keto dessert recipes and fat bomb recipes, I prefer to use monk fruit sweetener. Like that of stevia, monk fruit sweetener contains 0 calories, 0 grams of net carbohydrates, and rates at a 0 on the glycemic index, making it another safe option for ketogenic dieters and diabetics.
I personally include Lakanto Monk Fruit Sweetener in my diet every day as I prefer its flavor and texture over stevia. I have been following a ketogenic diet for quite some time and monk fruit sweetener has allowed me to enjoy desserts, fat bombs, and baked goods while continually remaining in ketosis.
If you are looking for a sweetener that tastes like sugar and is low-carb, keto, vegan, and paleo-compliant, I highly recommend trying Lakanto Monk Fruit Sweetener! You can use code "REALBALANCED" for 20% off your total order! And, if you need more keto-friendly monk fruit-sweetened desserts, check out this list of over 40 monk fruit-sweetened dessert recipes!
Looking for more information on monk fruit sweetener? I wrote a post answering all of your most frequently asked questions.
LAKANTO TASTE TEST BUNDLE
I am also excited to share that I have partnered with Lakanto to share a Taste Test Bundle with you all! If you've been waiting to try monk fruit sweetener, now is the time to order!
This deal includes classic monk fruit sweetener, golden monk fruit sweetener, a recipe e-Book, and Lakanto's Taste Test Guarantee! Read more about and place your order for the Taste Test Bundle here!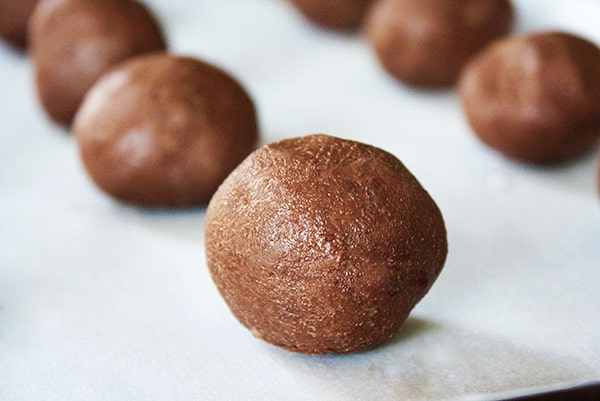 Fudge Fat Bombs Are Keto Diet Dessert Recipe
This recipe for easy Fudge Fat Bombs is sure to become a staple in your house! I highly suggest making them often, especially if you are someone who follows a ketogenic diet! This recipe for chocolate fat bombs is also great if you follow a paleo diet or a vegan diet and are trying to reduce your carbohydrate intake!
Keto and Low-Carb: One fat bomb contains only 1.4 grams net carbs per serving!
Paleo: This recipe is free from grains, gluten, soy, and dairy and are therefore paleo-compliant.
Nut-Free Substitution Available: This recipe contains a nut-free substitution replacing almond butter with SunButter, a seed butter made from sunflower seeds.
Grain-Free and Gluten-Free: Coconut flour is used in this recipe, which is both grain-free and gluten-free, making these fat bombs safe for those who are allergic or intolerant to grains and/or gluten.
Dairy-Free: Coconut oil is used in this recipe in place of butter. These fat bombs are both dairy-free and lactose-free.
Vegetarian and Vegan: These Fudge Fat Bombs are both vegetarian and vegan as they do not contain any animal products.
Refined-Sugar-Free: These fat bombs can be sweetened with stevia or monk fruit sweetener.
Net Carbs In Fudge Fat Bombs
One fat bomb is only 1.4 grams net carbs per serving! You can enjoy one (…or two) and remain in ketosis!
Diets This Fudge Fat Bombs Recipe Is Compliant With
This recipe is keto, low-carb, paleo, grain-free, gluten-free, dairy-free, vegetarian, vegan, and refined-sugar-free.
OTHER FAT BOMB RECIPES YOU SHOULD TRY
Lemon Bar Fat Bombs
Blueberry Bliss Fat Bombs
Key Lime Pie Fat Bombs
Strawberries & Cream Fat Bombs
PBJ Fat Bombs
Pumpkin Spice Fat Bombs
Berries & Cream Fat Bombs
Dark Chocolate Peppermint Patty Fat Bombs
Chocolate Chip Cookie Dough Fat Bombs
Cinnamon Roll Fat Bombs
No-Bake Chocolate Chip Almond Butter Fat Bomb Bars
French Toast Fat Bombs
Sea Salt Dark Chocolate Almond Cluster Fat Bombs
Chocolate Bar Fat Bombs
Powdered Donut Hole Fat Bombs
You can find all Real Balanced keto dessert recipes here!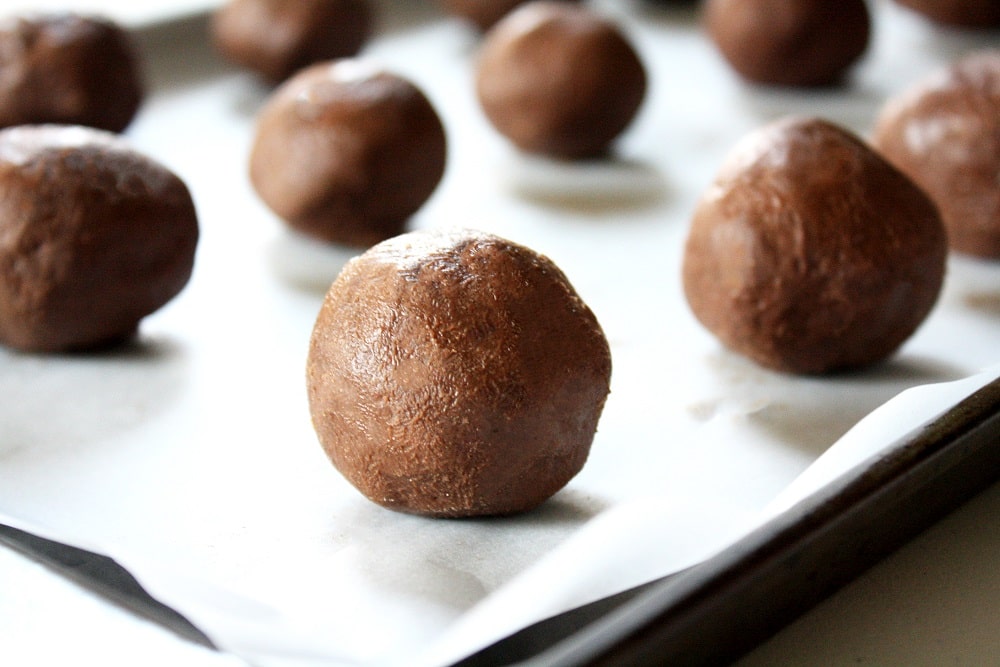 Print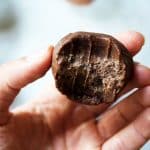 Fudge Fat Bombs
Author:

Prep Time:

30 minutes

Total Time:

2 hours

Yield:

Approximately 30 fat bombs, depending on size

Category:

Dessert

Method:

Freeze

Cuisine:

American
---
Description
These Fudge Fat Bombs are the ultimate ketogenic dessert! This recipe is keto, low-carb, paleo, grain-free, gluten-free, dairy-free, vegetarian, vegan, refined-sugar-free, and contains only 1.4 grams of net carbs per serving!
---
Ingredients
Optional Materials
---
Instructions
Over medium heat in a small pot, melt and combine almond butter and coconut oil. To the same pot, add dried ingredients and stir until well-combined.
Allow mixture to cool slightly and taste test to determine if additional sweetener is needed. Add more as necessary depending on your preferences.
Pour mixture into bowl and transfer to freezer to solidify, approximately 60-90 minutes, depending on the temperature of your freezer OR pour into silicone mold (if you choose to use a silicone mold, skip steps #4 and #5 and just allow the fat bombs to solidify in freezer, about 2-3 hours).
Once solidified, remove bowl from freezer and form into balls. Tip: regularly wash hands under cold water and wipe with dry paper towel to avoid coconut oil melting in hands. Place formed balls on a flat tray or plate and return to freezer for 15-20 minutes. Enjoy!
---
Notes
If you use stevia and use a brand that is different than the one I have linked here, you may need to add more. The brand of stevia that I use in this recipe is VERY potent and a little bit goes a very long way! If you do use a different brand, I recommend taste testing the mixture while it is still in liquid form and adding more sweetener if necessary.
Store fat bombs in airtight container in the freezer. When you want one, pop one out, allow to thaw for a few minutes, and eat up!
Keywords: fudge, fat bombs, fudge fat bombs, keto chocolate, keto dessert, low-carb chocolate, low-carb dessert, vegan keto, nut-free keto, paleo keto