If you follow a ketogenic (keto) or low-carb diet, you know that most fruit is too high in carbs and sugar to regularly snack on. That's why Strawberries & Cream Fat Bombs are such a beautiful, beautiful thing. Eat just one and your craving for fruit will disappear, you won't spike your blood sugar, and you'll get in lots of healthy fats!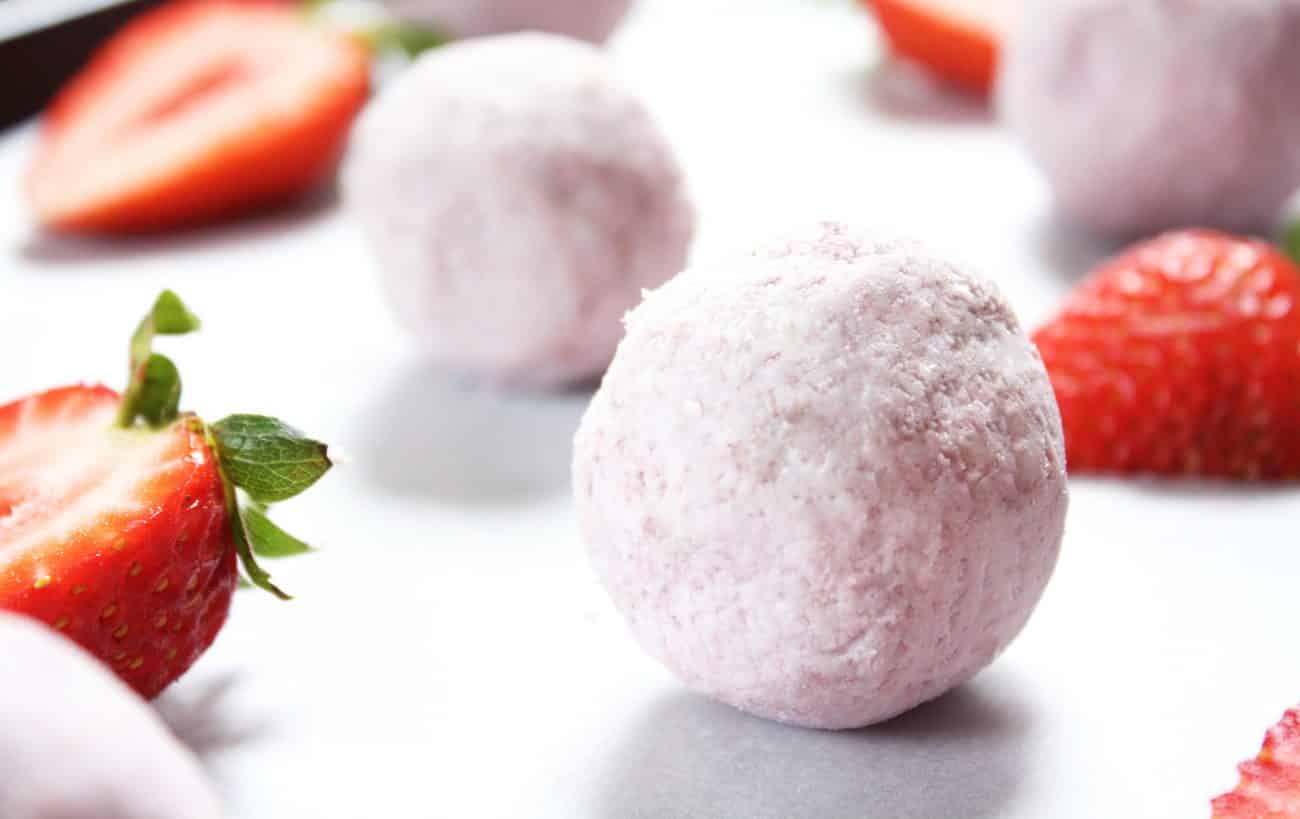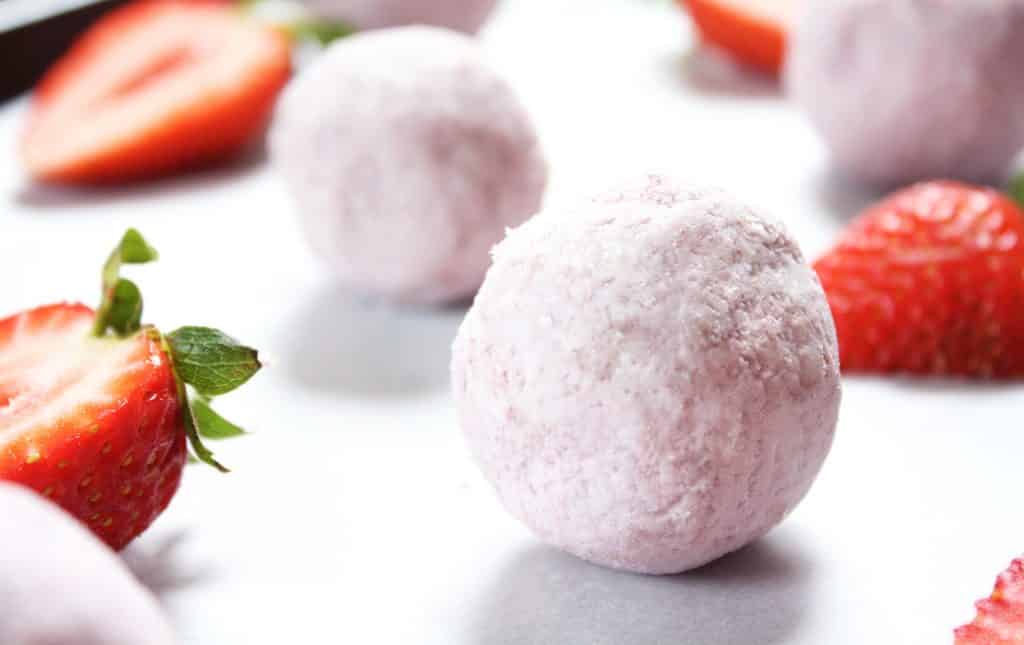 I received free coconut butter and coconut oil from one of my favorite companies, Artisana Organics, and knew I needed to put both of these ingredients to use, FAST. I LOVE their coconut butter SO MUCH. Creamy, coconutty, and oh so delicious!
I prefer to use Artisana's coconut butter in my fat bomb recipes, and, well, let's be real, I also just eat it straight out of the jar prettttyyyy (read: very) regularly. Their products are verified non-GMO, certified organic, and certified C.L.E.A.N. and R.A.W.! Does it get any better than that?!
Now that berries are in-season and don't cost a million dollars for a pint that's gonna rot in 12 seconds, I have been stocking up, especially since frozen berries have been on sale!
Strawberries And Cream Fat Bombs on a Keto/Low-Carb Diet
I especially love these Strawberries & Cream Fat Bombs when I've broken my fast, had a meal, and want a small snack before I begin to fast again. I'm rather new to fasting and am currently 16:8 intermittently fasting (16 hours of fasting, 8 hours of feeding).
I LOVE the way fasting makes me feel when I'm in ketosis. It's pretty remarkable how much more focused I feel and how significantly my desire to snack on high-carb foods alllllllllll day has decreased. That's particularly why I love fat bombs, they are a delicious treat to look forward to, yet they don't lead me to the refrigerator, the pantry, the cupboards, etc. a million times directly after eating one!
These fat bombs are full of healthy fats, a moderate amount of protein, and come in at 4.9g net carbs per serving (and even less net carbs if you decide to make them smaller!).
If you're looking for more of my fat bomb recipes, you can find them here!
AND BE SURE TO ALSO DOWNLOAD MY FREE FAT BOMBS RECIPE EBOOK!
Nutrition Info of Strawberries And Cream Fat Bombs
You can find a nutrition label including macros of this recipe near the ingredients and directions of the recipe below.
(As a note, I like to make my fat bombs rather large. You can half the recipe and make them much smaller than I did, which will result in half the calories, net carbs, etc. If you have any questions on this, please don't hesitate to leave a comment below!)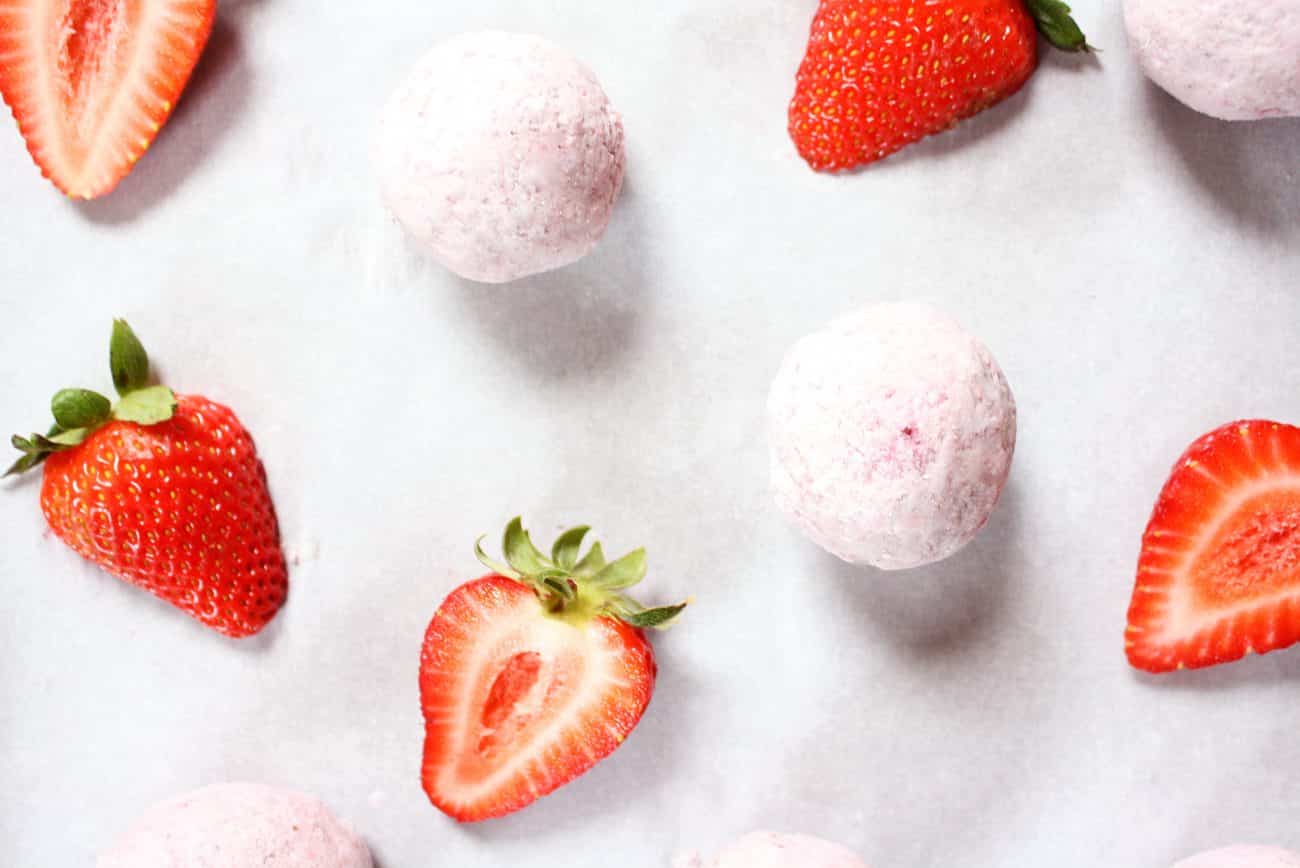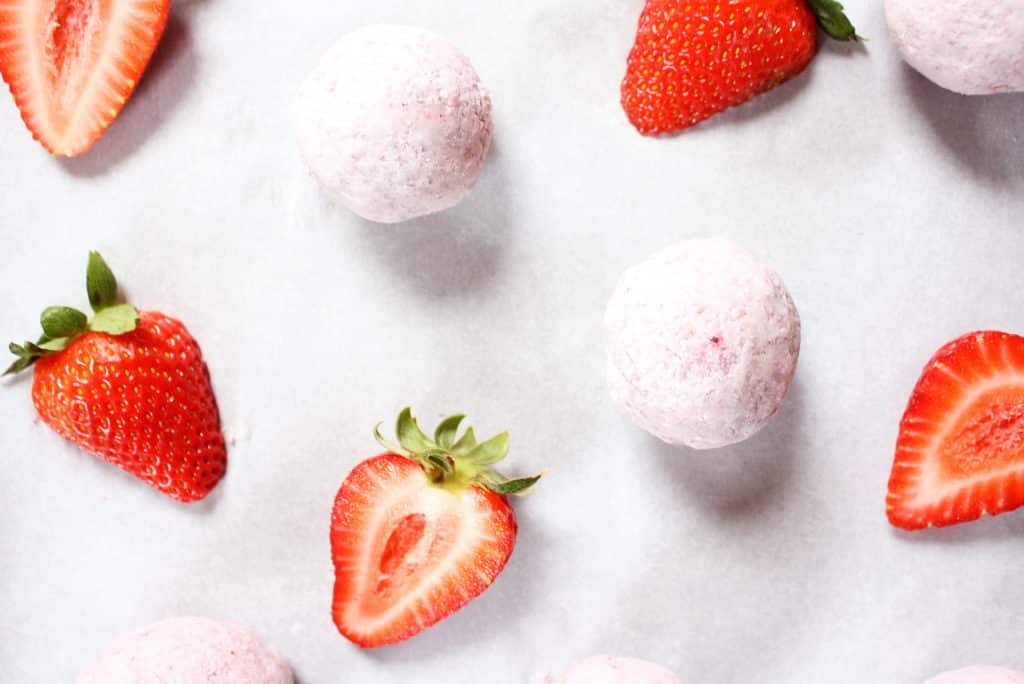 Diets Strawberries and Cream Fat Bombs Are Compliant With
This recipe is keto, low-carb, paleo, gluten-free, grain-free, dairy-free, vegetarian, vegan, and refined-sugar-free.
More Fat Bomb Recipes To Try
ORDER YOUR COPY OF
"FAT BOMB FAVORITES"
Take a look inside and place your order for "Fat Bomb Favorites," a digital cookbook including 50 keto-friendly and low-carb fat bomb recipes!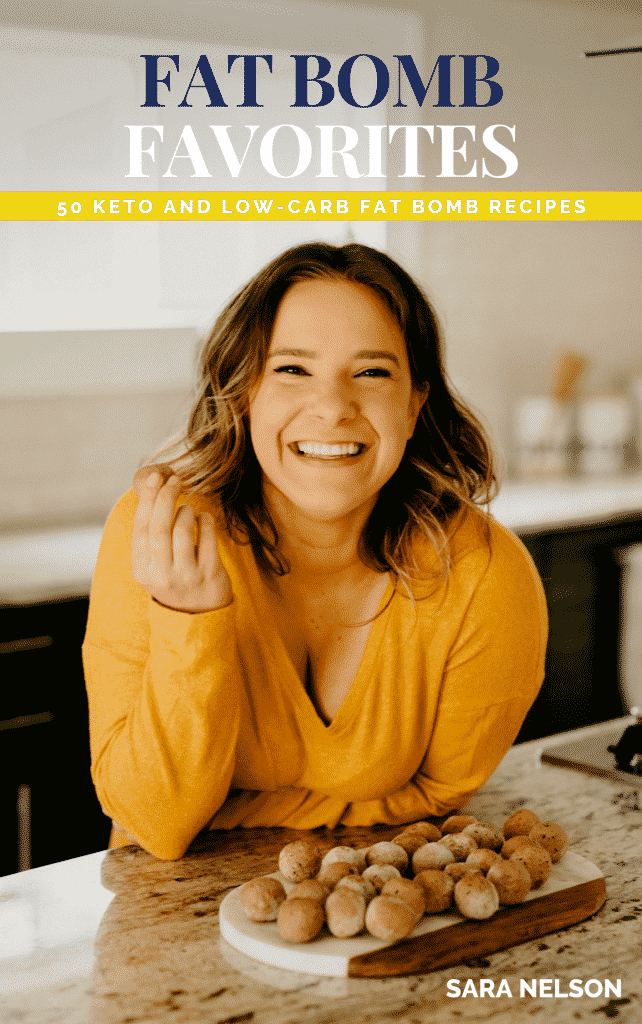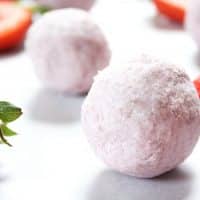 Strawberries and Cream Fat Bombs
---
Author: Sara Nelson
Prep Time: 5 minutes
Total Time: 1 hour
Yield: Approximately 15 fat bombs, depending on size 1x
Description
These Strawberries & Cream Fat Bombs are a delicious vegan keto dessert option! This recipe is keto, low-carb, paleo, gluten-free, grain-free, dairy-free, vegetarian, vegan, and refined-sugar-free
---
---
Instructions
In a microwave-safe bowl, microwave frozen strawberries until just thawed, about 45 seconds, depending on wattage strength of microwave.
Combine all ingredients in a food processor and blend until well-combined.
Transfer mixture to medium-sized bowl and place in freezer for 20-30 minutes to cool (they may take slightly longer to cool if you chose to boil the cashews rather than soak).
Remove mixture from freezer and form mixture into balls. Set formed fat bombs on a plate lined with parchment paper.
Transfer fat bombs to the freezer to harden for 25 minutes. Once hardened, remove from freezer and enjoy!
Recipe Notes:
 Storage: Store fat bombs in an airtight container in freezer. Allow to thaw prior to eating.
Reader Interactions