This Chocolate Chip Cookie Dough Fat Bombs recipe was crafted with a keto and low carb diet lifestyle in mind! These cookie dough fat bombs are extra low in carbs, full of flavor, and require only 10 minutes of prep time!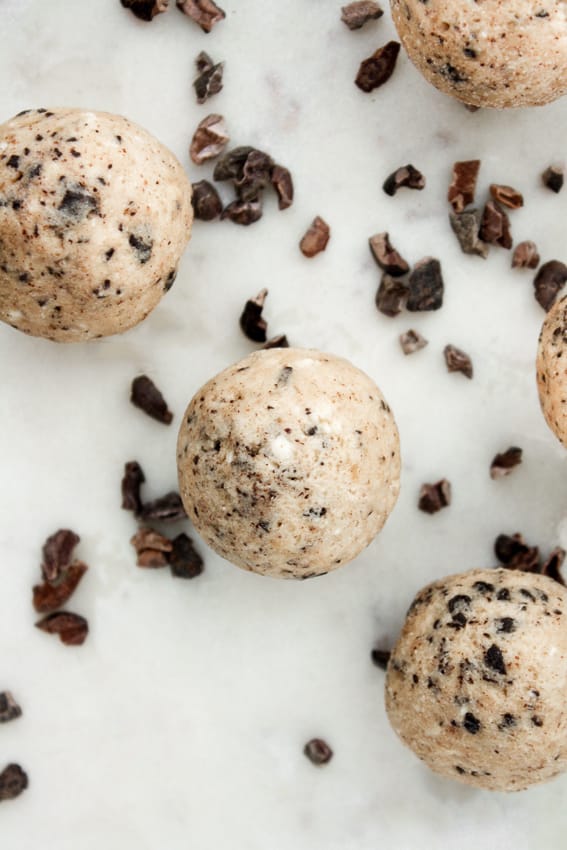 Admit it… Cookie dough was the dessert you licked straight outta the bowl as a kid. Don't worry, we ALL did it.
Well, I have some good news for all of my ketoers out there: these Chocolate Chip Cookie Dough Fat Bombs are about to be your new best friend!
Chocolate Chip Cookie Dough Fat Bombs Are The Ultimate Keto-Friendly Dessert Recipe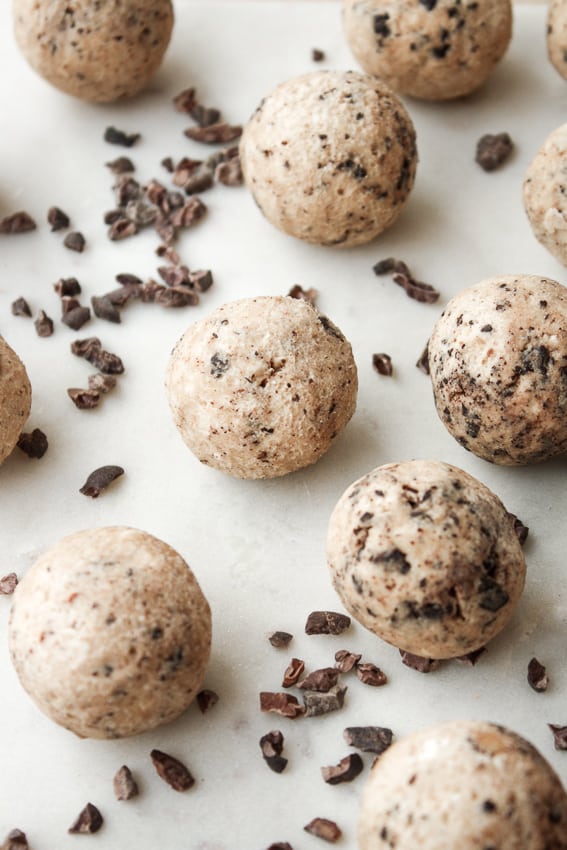 I am a total sucker for low-carb and keto desserts. I spend my days coming up with substitutions for how to make my favorite sweet treats low in carbs while still tasting like the original, (usually) sugar-laden recipe. This recipe for Chocolate Chip Cookie Dough Fat Bombs 100% fits all of my criteria!
Not only do these fat bombs taste EXACTLY like traditional cookie dough, they are ultra low-carb, take minimal effort to make, and store perfectly! Whip up a batch and keep them in your freezer to pop out whenever a craving hits!
Keto Cookie Dough Fat Bombs Sweetened With Monk Fruit Sweetener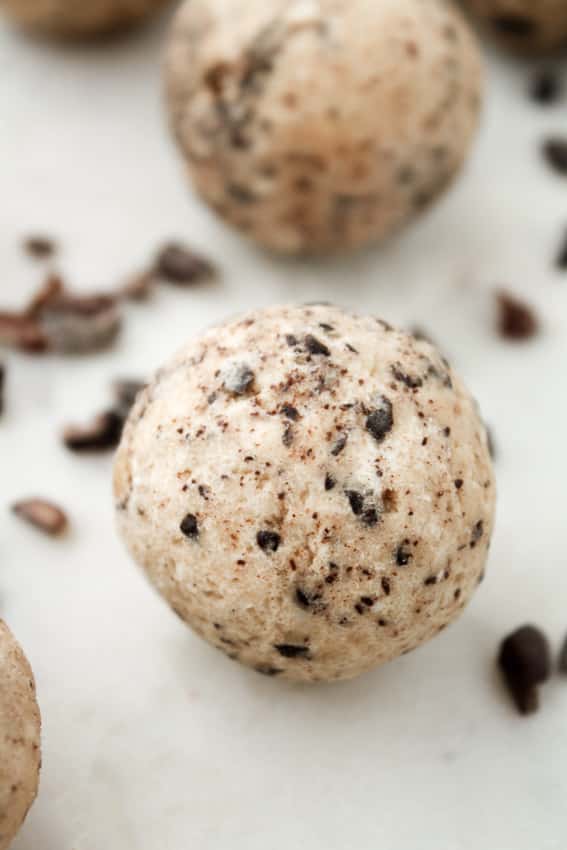 Monk fruit sweetener contains 0 grams of net carbs, 0 calories, and rates at a 0 on the glycemic index, meaning consuming it won't spike your blood sugar. I personally use Lakanto Monk Fruit Sweetener every single day and sweeten virtually all of my keto desserts and fat bombs with it. I love it because it tastes amazing, incorporates perfectly into recipes, and does not kick me out of ketosis!
Monk fruit sweetener tastes exactly like traditional sugar and, unlike other low-carb sweeteners, does not leave an aftertaste.
I use and recommend Lakanto Monk Fruit Sweetener. You can use code "REALBALANCED" for 20% off your order!
Looking for more information on monk fruit sweetener? I wrote a post answering all of your most frequently asked questions.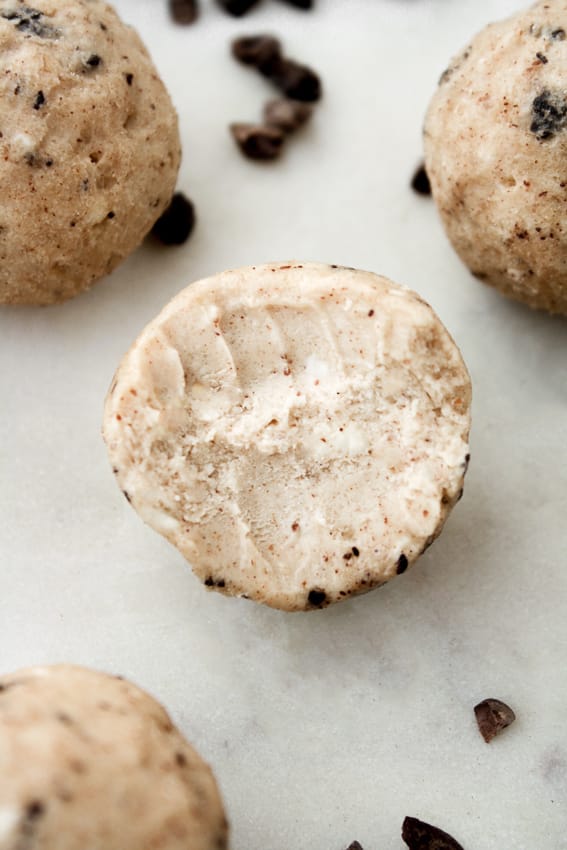 LAKANTO TASTE TEST BUNDLE
I am also excited to share that I have partnered with Lakanto to share a Taste Test Bundle with you all! If you've been waiting to try monk fruit sweetener, now is the time to order! This deal includes classic monk fruit sweetener, golden monk fruit sweetener, a recipe e-Book, and Lakanto's Taste Test Guarantee!
Diet Lifestyle-Friendly Chocolate Chip Cookie Dough Fat Bombs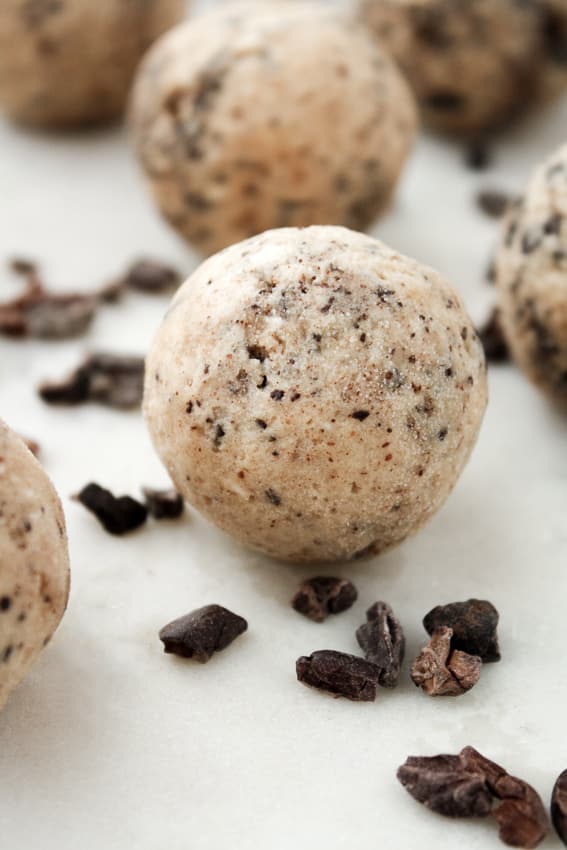 Keto and Low-Carb: One fat bomb contains only 0.7 grams of net carbs per serving.
Coconut-Free: There are no coconut-containing products in this recipe for Cookie Dough Fat Bombs.
Nut-Free Substitution Available: This recipe contains a nut-free substitution replacing almond butter with SunButter, a seed butter made from sunflower seeds.
Gluten-Free and Grain-Free: This recipe is entirely gluten-free, grain-free, and Celiac-friendly.
Vegetarian: These fat bombs are compliant with a vegetarian diet.
Refined-Sugar-Free: Free from refined-sugar, these fat bombs are sweetened with monk fruit sweetener.
Net Carbs In This Recipe
One fat bomb contains only 0.7 grams net carbs!
OTHER FAT BOMBS RECIPE YOU SHOULD TRY
BE SURE TO ALSO DOWNLOAD MY FREE FAT BOMBS RECIPE EBOOK!

ORDER YOUR COPY OF "FAT BOMB FAVORITES"
Take a look inside and place your order for "Fat Bomb Favorites," a digital cookbook including 50 keto-friendly and low-carb fat bomb recipes!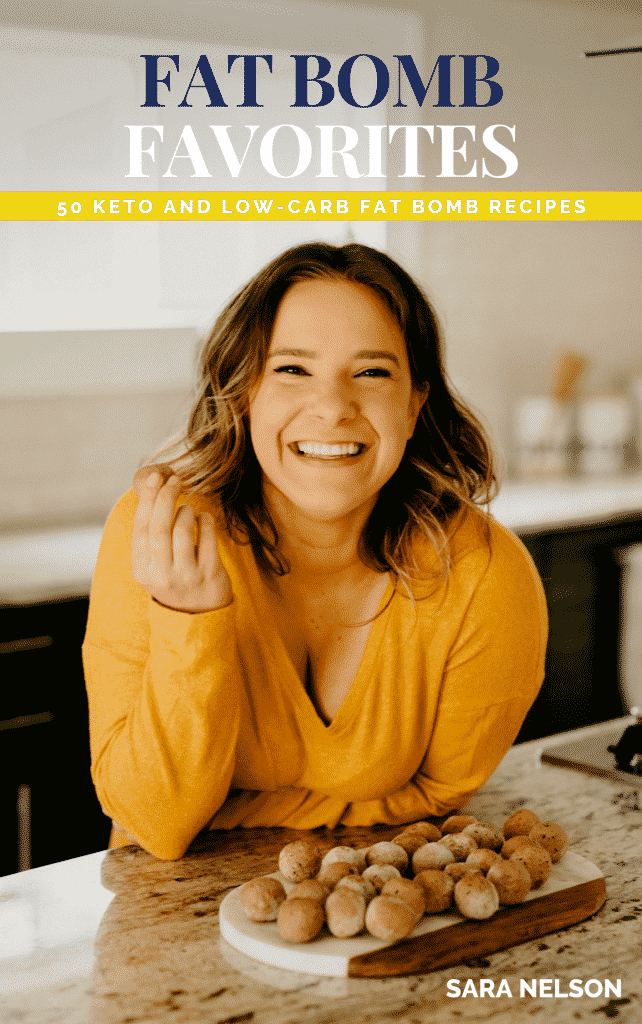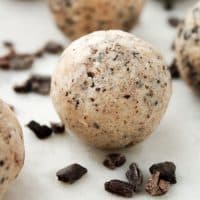 Chocolate Chip Cookie Dough Fat Bombs
---
Author: Sara Nelson
Prep Time: 10 minutes
Total Time: 1 hour, 25 minutes
Yield: 24 fat bombs 1x
Category: Dessert
Method: Freeze
Cuisine: American
Description
These Chocolate Chip Cookie Dough Fat Bombs are the ultimate keto dessert! These fat bombs are keto, low-carb, coconut-free, gluten-free, grain-free, vegetarian, refined-sugar-free, include a nut-free substitution, and only 0.7g net carbs!
---
Ingredients
Optional Materials
---
Instructions
In a mixing bowl, using an electric mixer, mix all ingredients excluding chocolate until well-combined.
Refrigerate mixture for 30 minutes.
In a food processor, pulse chocolate until broken into small pieces.
Remove mixing bowl from the refrigerator, fold in chocolate pieces, and form mixture into balls or scoop and flatten into the silicone mold. (If forming fat bombs into balls, line plate with parchment paper and set fat bombs atop parchment paper.)
Harden fat bombs in the freezer for 45 minutes.
Enjoy!
Recipe Notes:
Store fat bombs in airtight container in freezer.
Keywords: fat bomb, keto fat bomb, fat bombs, chocolate chip cookie dough fat bomb, cookie dough fat bomb
Reader Interactions