These Cinnamon Roll Fat Bombs are soft, creamy, and a perfect keto-friendly dessert to satisfy your cravings for something sweet!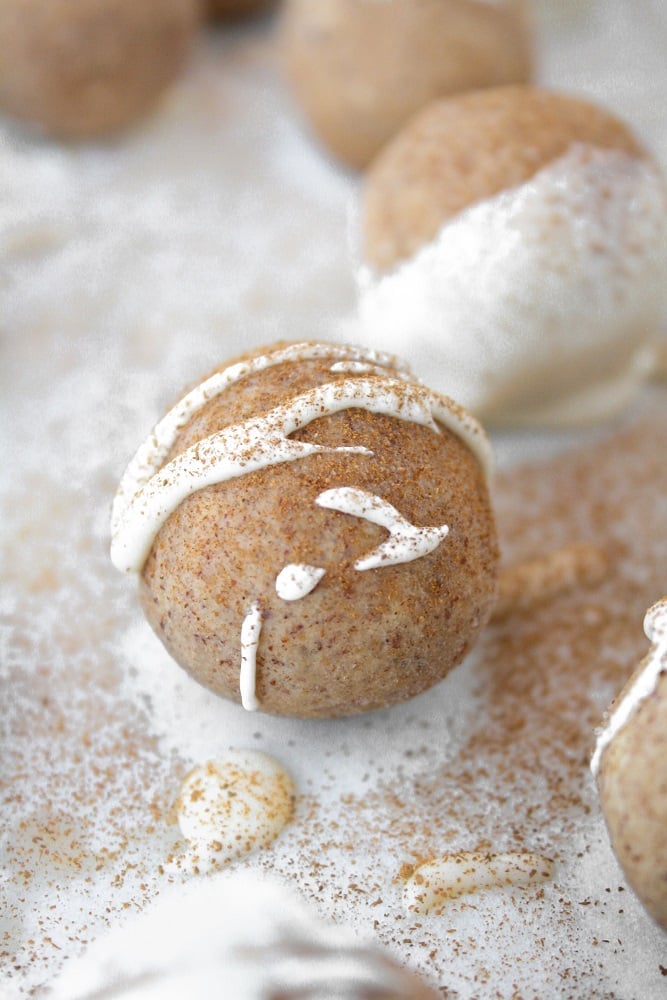 When I was out to eat for brunch recently, I noticed someone enjoying a cinnamon roll and, I can't lie, I was immediately jealous. I knew I needed to put a fun spin on the traditional pastry and turn it into my favorite keto-friendly dessert: FAT BOMB!
Honestly, just the thought of frosted cinnamon roll balls makes my mouth water… YUM. They are basically the ultimate breakfast baked good!
Easy To Prepare Keto Dessert Cinnamon Roll Fat Bombs Recipe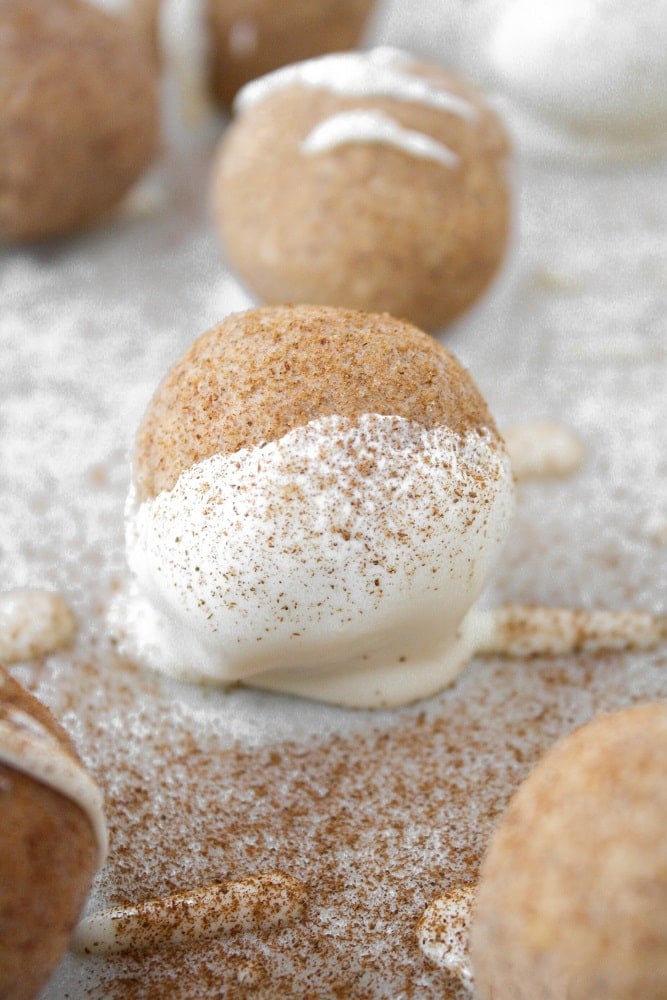 These Cinnamon Fat Bombs will not leave you hanging… they are sweet, creamy, simple to make, and will satisfy all of your sweet treat cravings!
We love to whip up a batch of these over the weekend, store them in the freezer, and enjoy one after dinner.
This recipe also uses straightforward, simple ingredients that you likely already have in your kitchen and pantry!
Cinnamon Roll Fat Bombs Sweetened With Monk Fruit Sweetener
Like virtually all of my other fat bomb and keto dessert recipes, these Cinnamon Roll Fat Bombs are sweetened with net-carb-free Lakanto Monk Fruit Sweetener. Monk fruit sweetener is a natural sweetener that tastes just like traditional sugar, yet it won't spike your blood sugar or kick you out of ketosis!
If you are looking for a sweetener that tastes like sugar and is low-carb, keto, vegan, and paleo-compliant, I highly recommend trying Lakanto Monk Fruit Sweetener! You can use code "REALBALANCED" for 20% off your total order!
Looking for more information on monk fruit sweetener? I wrote a post answering all of your most frequently asked questions.
LAKANTO TASTE TEST BUNDLE
I am also excited to share that I have partnered with Lakanto to share a Taste Test Bundle with you all! If you've been waiting to try monk fruit sweetener, now is the time to order! This deal includes classic monk fruit sweetener, golden monk fruit sweetener, a recipe e-Book, and Lakanto's Taste Test Guarantee!
Diets This Recipe Is Compliant With
These Cinnamon Roll Fat Bombs are a perfect addition to your low-carb diet, ketogenic diet!
Keto and Low-Carb: One fat bomb contains only 0.7 grams of net carbs per serving.
Coconut-Free: There are no coconut-containing products in this recipe for Cinnamon Roll Fat Bombs.
Nut-Free Substitution Available: This recipe contains a nut-free substitution replacing almond butter with SunButter, a seed butter made from sunflower seeds. Which means these nut-free keto fat bombs are safe to consume for those with nut allergies or nut intolerances!
Gluten-Free and Grain-Free: This recipe is free from gluten and grains and is therefore Celiac-friendly.
Vegetarian: These fat bombs are compliant with a vegetarian diet.
Refined Sugar-Free: Free from refined-sugar, these fat bombs use sweetened with monk fruit sweetener.
Net Carbs In Cinnamon Roll Fat Bombs
One fat bomb is only 0.7 grams net carbs!
OTHER FAT BOMB RECIPES YOU SHOULD TRY
Lemon Bar Fat Bombs
No-Bake Chocolate Chip Almond Butter Fat Bomb Bars
French Toast Fat Bombs
Sea Salt Dark Chocolate Almond Cluster Fat Bombs
Chocolate Bar Fat Bombs
Powdered Donut Hole Fat Bombs
ORDER YOUR COPY OF "FAT BOMB FAVORITES"
Take a look inside and place your order for "Fat Bomb Favorites," a digital cookbook including 50 keto-friendly and low-carb fat bomb recipes!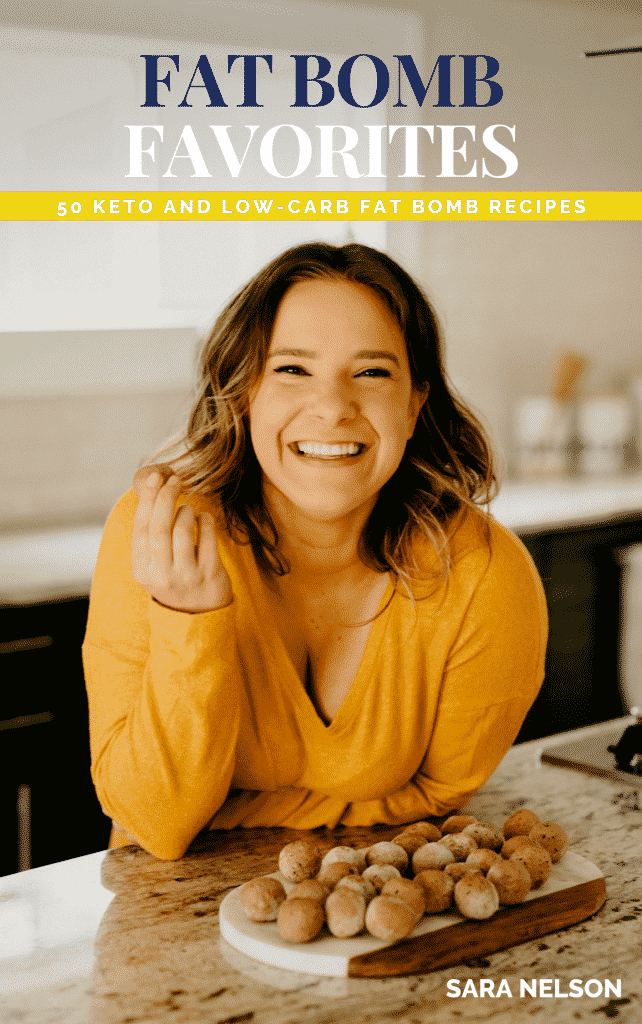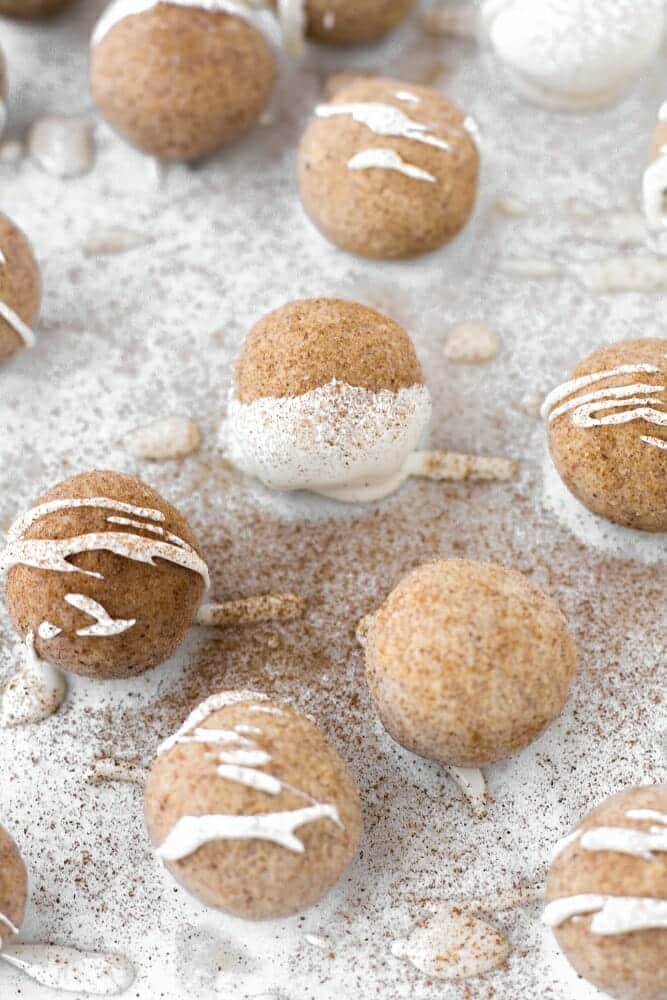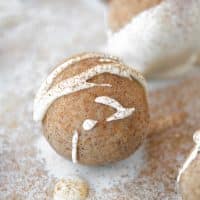 Cinnamon Roll Fat Bombs
---
Author: Sara Nelson
Prep Time: 15 minutes
Total Time: 1 hour, 30 minutes
Yield: 24 fat bombs 1x
Category: Dessert
Method: Freeze
Cuisine: American
Description
These Cinnamon Roll Fat Bombs are a perfect keto-friendly dessert to curb your sweet tooth! These fat bombs are keto, low-carb, coconut-free, gluten-free, grain-free, vegetarian, refined-sugar-free, include a nut-free substitution, and only 0.7g net carbs!
---
Ingredients
Fat Bomb
Frosting
1 ½ oz cream cheese, softened
1 tbsp (15 mL) heavy whipping cream
2 tsp (8g) golden monk fruit sweetener
¼ tsp pure vanilla extract
1/16 tsp cinnamon
---
Instructions
Fat Bombs: In a mixing bowl, using an electric mixer, mix all ingredients until well-combined. Cover mixing bowl with lid or plastic wrap and transfer to refrigerator to chill for 30 minutes.
Remove mixing bowl from refrigerator and form mixture into balls or scoop and flatten into silicone mold cavities. Transfer fat bombs to freezer to harden for 45 minutes.
Frosting: Meanwhile, in a mixing bowl, using an electric mixer, mix together cream cheese, heavy cream, monk fruit sweetener, and vanilla extract until fully incorporated.
Final Steps: Remove fat bombs from freezer. Add drizzle of frosting and sprinkle of cinnamon on top
Recipe Notes:
Store fat bombs in airtight container in freezer.
Keywords: cinnamon roll, fat bombs, fat bomb, keto fat bomb, keto dessert, low-carb dessert
Reader Interactions