These vegan keto baked pancakes are so great! You scoop the batter on to a baking tray, put them in the oven, and voilà: breakfast for the week is DONE!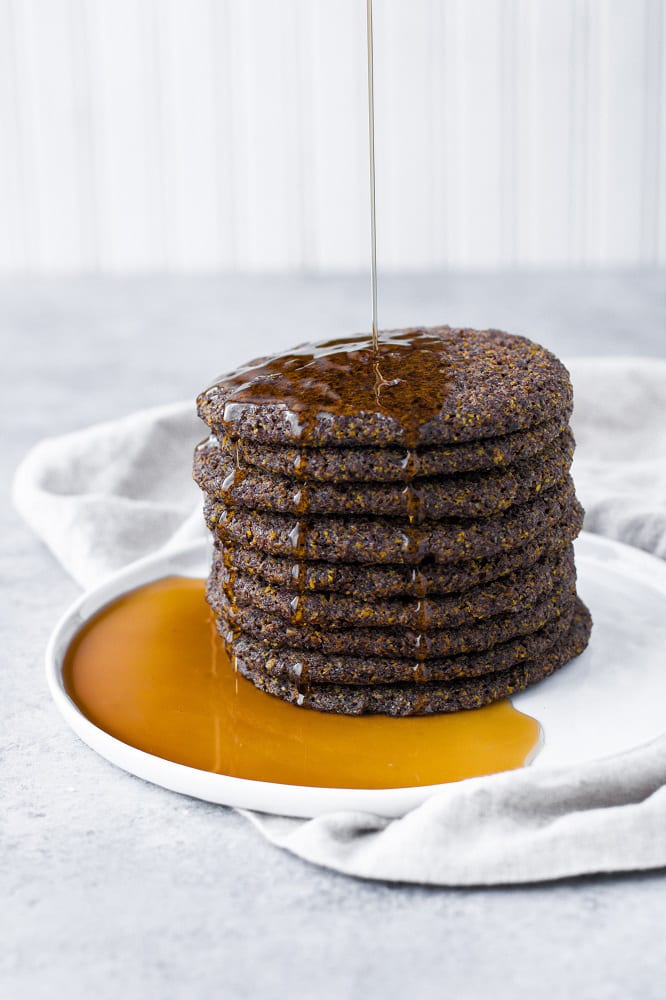 Preparing allergy-friendly weekday breakfasts in advance can be… complicated.
If I don't make breakfast in advance, on busy mornings, I usually am stuck drinking a protein shake because, even if I try my hardest to, I nevvvvver wake up early enough to cook anything substantial.
Luckily, these Vegan Keto Pancakes are SO EASY to make ahead of time and store perfectly in the refrigerator or freezer, so I can make multiple batches on a Sunday and have breakfast ready to go for weeks!
Very Allergy- and Diet-Friendly Baked Pancakes (Dairy-Free, Egg-Free, Vegan, Paleo)
These pancakes are not only incredibly simple to prepare, they are very allergy- and diet-friendly! Made without dairy, eggs, nuts, or soy, they are both vegan and paleo-compliant!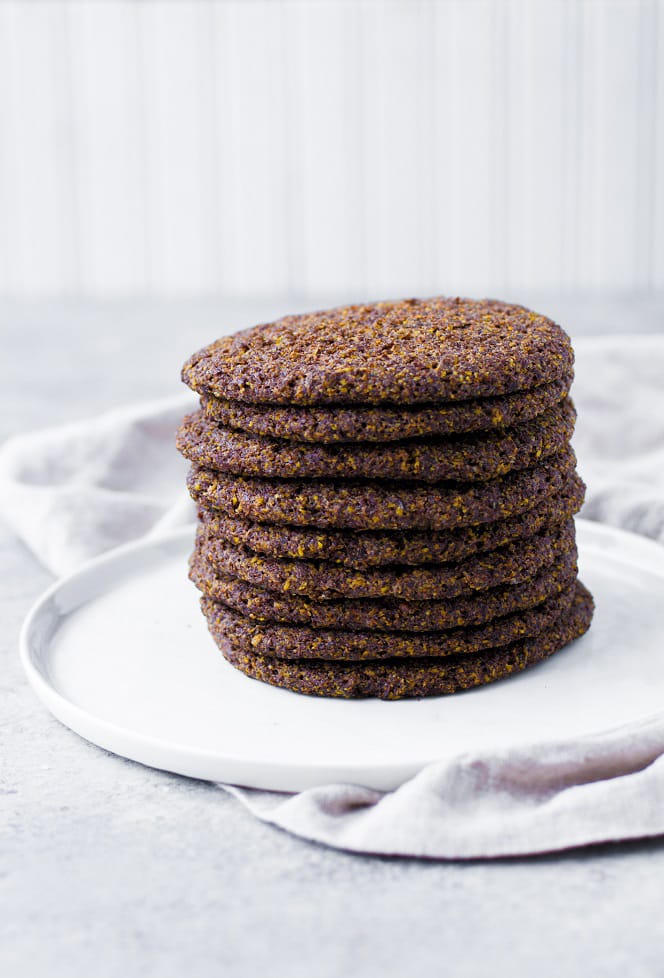 Keto and Low Carb: One pancake contains 2.3 grams net carbs per serving.
Paleo: These pancakes are paleo-friendly as they are free from any ingredients containing dairy, grains, gluten, or soy.
Dairy Free: Coconut oil is used in this recipe in place of cream, milk, and butter.
Egg Free: This recipe utilizes ground flax seeds in place of eggs. Flax seeds are a fiber-rich, vegan alternative to eggs.
Nut Free: These pancakes are made without nuts or nut flours.
Gluten-Free and Grain-Free: This recipe is free from flour, making them both gluten- and grain-free.
Vegetarian and Vegan: There are no animal products in this recipe making them both vegetarian and vegan.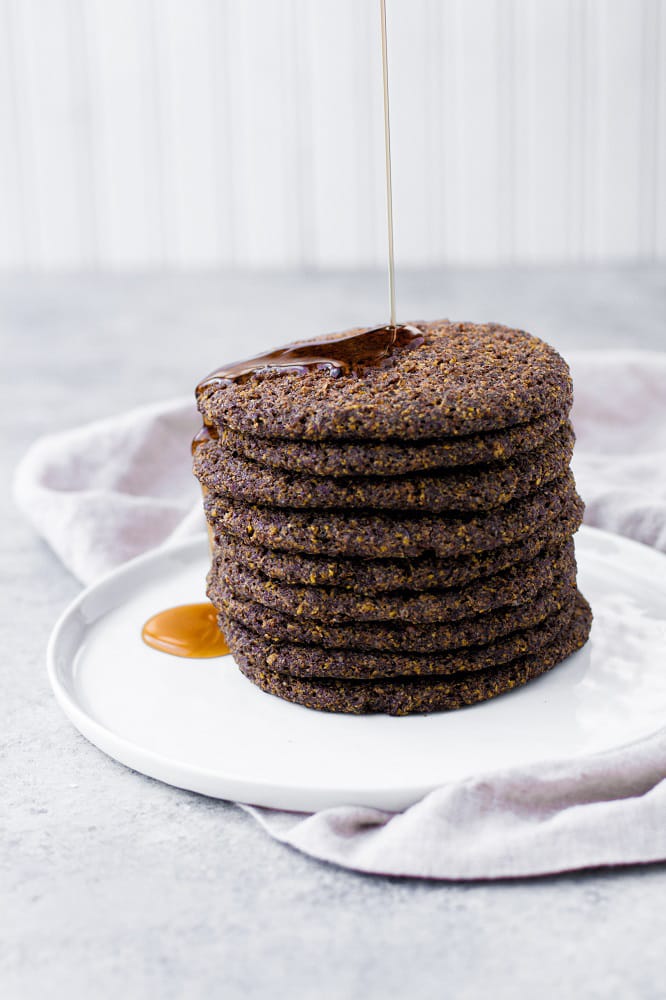 Net Carbs In This Recipe
One pancake contains 2.3g net carbs per serving.
Diets This Vegan Keto Baked Pancakes Recipe Is Compliant With
This recipe is keto, low-carb, paleo, dairy-free, egg-free, nut-free, gluten-free, grain-free, vegetarian, vegan, and refined-sugar-free.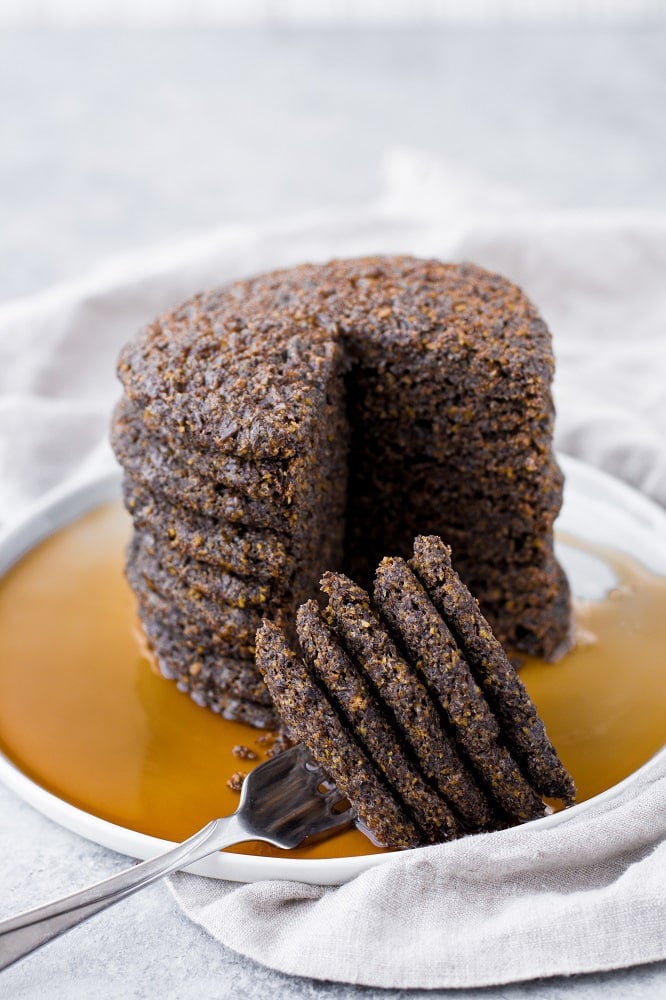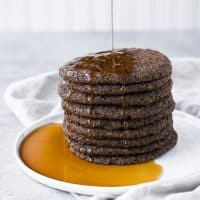 Vegan Keto Pancakes
---
Author: Sara Nelson
Prep Time: 15 minutes
Cook Time: 20 minutes
Total Time: 35 minutes
Yield: 10 pancakes 1x
Category: Breakfast
Method: Bake
Cuisine: American
Description
These Vegan Keto Baked Pancakes are the ultimate allergy-friendly meal prep option for busy weekdays! These pancakes are keto, low-carb, paleo, dairy-free, egg-free, nut-free, gluten-free, grain-free, vegetarian, vegan, refined-sugar-free, and only 2.3g net carbs per serving!
---
Ingredients
Flax Egg:
Pancakes:
---
Instructions
Initial Streps: Preheat oven to 350 degrees and line two baking sheets with parchment paper.
Flax Egg: To a small bowl, add flax seeds and water and whisk together. Allow to soak for 5 minutes.
Pancakes: Meanwhile, in a mixing bowl, combine 2 cups flax seeds, monk fruit sweetener, cinnamon, cream of tartar, baking soda, and salt. Whisk until well-combined.
In a separate small mixing bowl, microwave coconut oil until melted, about 20-30 seconds.
To dry ingredients, add flax egg, melted coconut oil, and water. Using electric mixer, mix all ingredients until fully incorporated. Allow mixture to rest for 5 minutes.
Final Steps: Using a 1/3 cup measuring cup, scoop mixture out, roll into a ball, and set atop prepared baking sheet. Lightly press down on mixture to form into pancake. Split pancakes up among the two baking sheets. Bake pancakes in oven for 20 minutes. Remove from oven and allow pancakes to cool prior to serving. Serve with drizzle of Maple-Flavored Syrup.
Recipe Notes:
Weight of Pancakes: I weighed my pancakes using a food scale. Each pancake prior to baking weighed approximately 80-85 grams.
Storage: Store pancakes in airtight container in refrigerator for 3-5 days or in freezer for up to 1 month. Reheat in oven or toaster oven.
Keywords: vegan keto pancakes, keto pancakes, low carb pancakes, dairy free keto pancakes, nut free keto pancakes
Reader Interactions