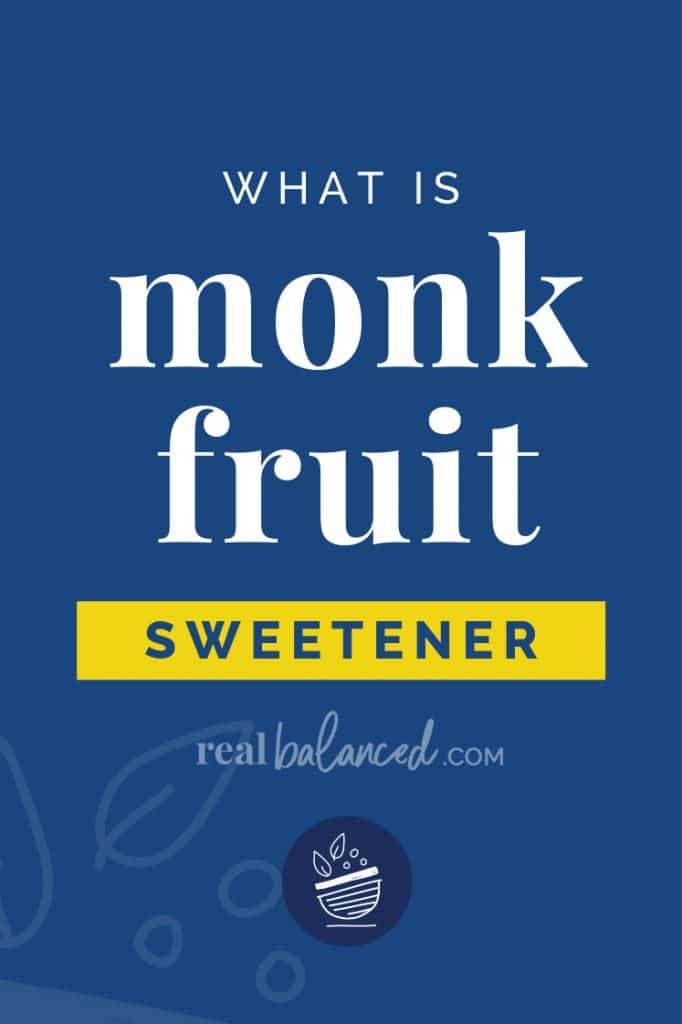 If you've been following Real Balanced, you know how much we LOVE monk fruit sweetener!
If you've been hearing all about it recently and found yourself wondering, "what IS monk fruit sweetener?," then this post was written just for you!
So, what IS monk fruit?
The sweetener itself is made from the monk fruit (in case that wasn't obvious!), a fruit that was used for centuries in herbalism "to increase chi and well-being," also called the immortals' fruit.
Monk fruit is 150-200 times sweeter than sugar and has absolutely zero calories, net carbs, and glycemic sweeteners. It tastes exactly like traditional sugar and incorporates perfectly into recipes at a 1:1 ratio, which makes it the ultimate addition for every sweet treat recipe featured on Real Balanced!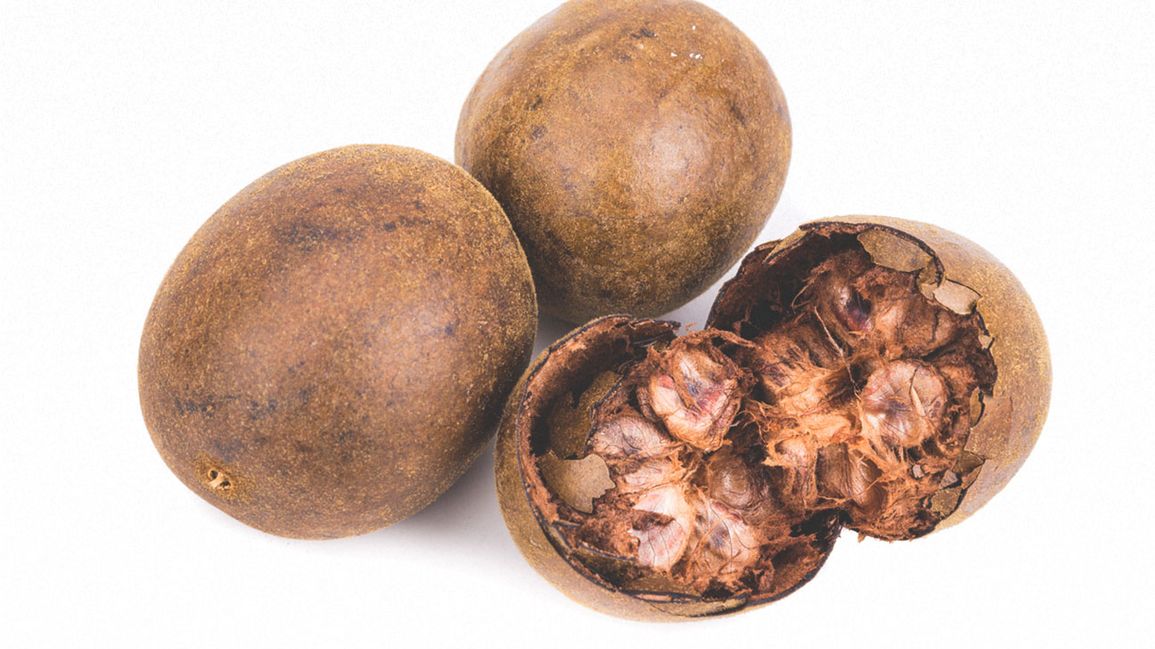 Compared to other sweeteners, monk fruit doesn't cause bloating or nausea (a common side effect for other keto sweeteners). Plus, there is no evidence showing any negative side effects.
The obvious competitor for monk fruit sweetener is stevia, but when it comes down to it, monk fruit is the winner!
Benefits of monk fruit sweetener
It's hard to believe, but monk fruit sweetener is net-carb-free, contains zero calories, and is GMO-free! If you are diabetic, low-carb, ketogenic, paleo, vegan, low-sugar, etc., then it's completely safe for you to use within your diet!
The best part? It's free from ALL natural/artificial flavorings, fibers, maltodextrin, and artificial sweeteners. So you CAN have your cake, and eat it too 🙂
The only negative thing about the sweetener is that it's difficult to find in stores, which is why purchasing online is ideal. If you've never tried monk fruit sweetener or just need to re-stock your pantry, you can use the code "REALBALANCED" for 20% off your online orders through Lakanto!
Why I love monk fruit sweetener
Obviously, I LOVE monk fruit sweetener and use it in virtually all of my fat bomb recipes, keto dessert recipes, and low-carb baked good recipes! Monk fruit sweetener adds the perfect amount of sweetness to desserts and sweet treats, yet doesn't have the harsh aftertaste like many other keto sweeteners.
With this sweetener, you can create so many delicious desserts that are healthy, satiating, AND aren't loaded with refined-sugar or other inflammatory ingredients.
The difference between stevia and monk fruit sweetener
Stevia and monk fruit sweetener both do the same thing: sweeten things, but each have quite different characteristics. But first, what do they have in common? Both are available in liquid, powder, and granule forms and contain zero calories. They are easy to use and are great sugar substitutions.
Monk fruit sweetener, specifically, has a variety of health benefits. The antioxidants and other vitamins contained in monk fruit sweetener help individuals reduce oxidative stress, among other things. While pure monk fruit sweetener is known to cause minimal negative bodily effects, stevia, however, has been linked to bloating, nausea, and gas.
When it comes to taste, they both do the job in sweetening, but stevia is known for its licorice flavor and bitter aftertaste. While difficult to explain, stevia has a very specific taste and, if you've ever tried it and have been unhappy with it, I suggest incorporating monk fruit sweetener into your recipes instead.
This next one is important for those allergic to ANY plant from the Asteraceae family: stevia may cause a reaction if you are allergic to sunflowers, daisies, ragweed, or chrysanthemums. There are no known allergies linked to the ingredients in monk fruit sweetener, unless of course you are allergic to monk fruit!
Are monk fruit sweetener blends safe?
Absolutely!
For baking, it's better to use monk fruit blends that contain another low-carb sweetener, such as erythritol. Monk fruit sweetener itself is much too concentrated to use on its own in baking and presents some challenges, which is where the blend of monk fruit sweetener and erythritol comes in!
Monk fruit sweetener blends, like Lakanto Classic Monk Fruit Sweetener and Lakanto Golden Monk Fruit Sweetener, contain all the health benefits of pure monk fruit sweetener, but is much easier to use and incorporate into recipes (it's a 1:1 substitute for traditional cane sugar)! One of our favorite blends is the Lakanto Classic Monk Fruit Sweetener!
Long story short, monk fruit sweetener blends are 110% safe and are a keto pantry staple if you often find yourself baking!
How is monk fruit sweetener net carb free?
If you are a little confused as to how Lakanto Monk Fruit Sweetener can be entirely net-carb-free, do not worry because you are not alone!
Lakanto's granulated monk fruit sweetener is a blend of monk fruit sweetener and erythritol, a sugar alcohol that tastes sweet, yet our bodies do not recognize as sugar.
You will notice on the nutrition label of your Lakanto Monk Fruit Sweetener that one serving contains 4 grams of total carbs and 4 grams of sugar alcohol, thereby calculating to 0 grams of net carbs (net carbs are calculated by taking total carbs and subtracting fiber and subtracting sugar alcohol).
So, 4 grams of total carbs minus 4 grams of sugar alcohol equals 0 grams of net carbs!
Where can I purchase pure monk fruit sweetener?
If you are looking for a pure monk fruit sweetener extract, Lakanto offers two variations: 30% Extract and 50% Extract. Both of these options are entirely pure monk fruit; neither increase blood sugar and both contain all of the benefits of monk fruit sweetener sweetener.
With pure monk fruit extracts, you can use them to flavor your tea, coffee, water, desserts, smoothies, and just about anything else you want to add some sweetness to! Due to their potency, (pure monk fruit extract is over 150x sweeter than sugar!), a little goes a long way!
Looking for keto dessert recipes sweetened with monk fruit?
Check out all of these posts and recipes!
Fat Bombs Sweetened With Monk Fruit Sweetener
Fudge Fat Bombs
Pumpkin Spice Fat Bombs
Berries & Cream Fat Bombs
Dark Chocolate Peppermint Patty Fat Bombs
Chocolate Chip Cookie Dough Fat Bombs
Cinnamon Roll Fat Bombs
French Toast Fat Bombs
Sea Salt Dark Chocolate Almond Cluster Fat Bombs
Chocolate Bar Fat Bombs
Powdered Donut Hole Fat Bombs
Baked Goods Sweetened With Monk Fruit Sweetener
Low-Carb Triple Chocolate Zucchini Muffins
Bacon-Wrapped Maple Parmesan Asparagus Bundles
Keto Flourless Mocha Brownies
Low-Carb Chocolate Chip Banana Bread Muffins
Low-Carb Glazed Sugar Cookies
Keto Coffee Cake
Low-Carb Chocolate Chip Cookies

Find even more recipes sweetened with monk fruit sweetener!
Check out this post of over 40+ Keto Monk Fruit-Sweetened Recipes!
Where to Buy Monk Fruit Sweetener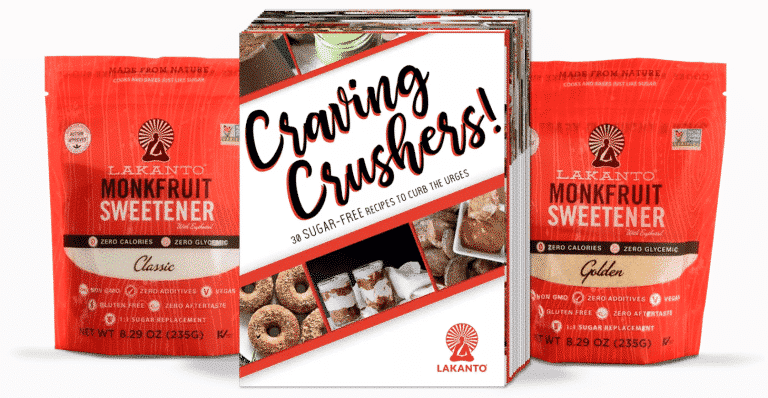 TRY MONK FRUIT SWEETENER FOR YOURSELF!
While there are many brands out there offering some yummy sweeteners, Lakanto is hands down our favorite brand to use. And for a limited time only, Real Balanced and Lakanto are giving you the opportunity to taste it all for 60% off! Included in your Taste Test Bundle is:
One 235g bag of Lakanto Classic Monk Fruit Sweetener(regularly $7.99, bundle price $3.19),
One 235g bag of Lakanto Golden Monk Fruit Sweetener (regularly $7.99, bundle price $3.19),
A "Cravings Crushers" recipe eBook featuring 30+ recipes sweetened with monk fruit sweetener (regularly $9.99, bundle price $3.99), and
Lakanto's Taste Test Guarantee!
Lakanto Discount Code
You can also always use the discount code "REALBALANCED" for 20% off your Lakanto orders!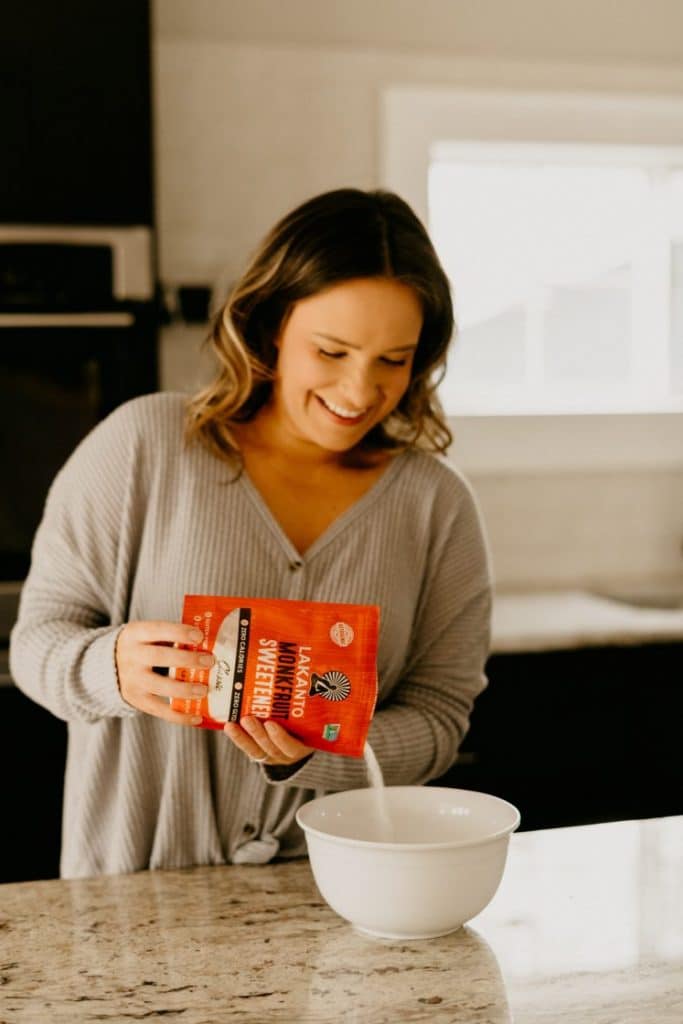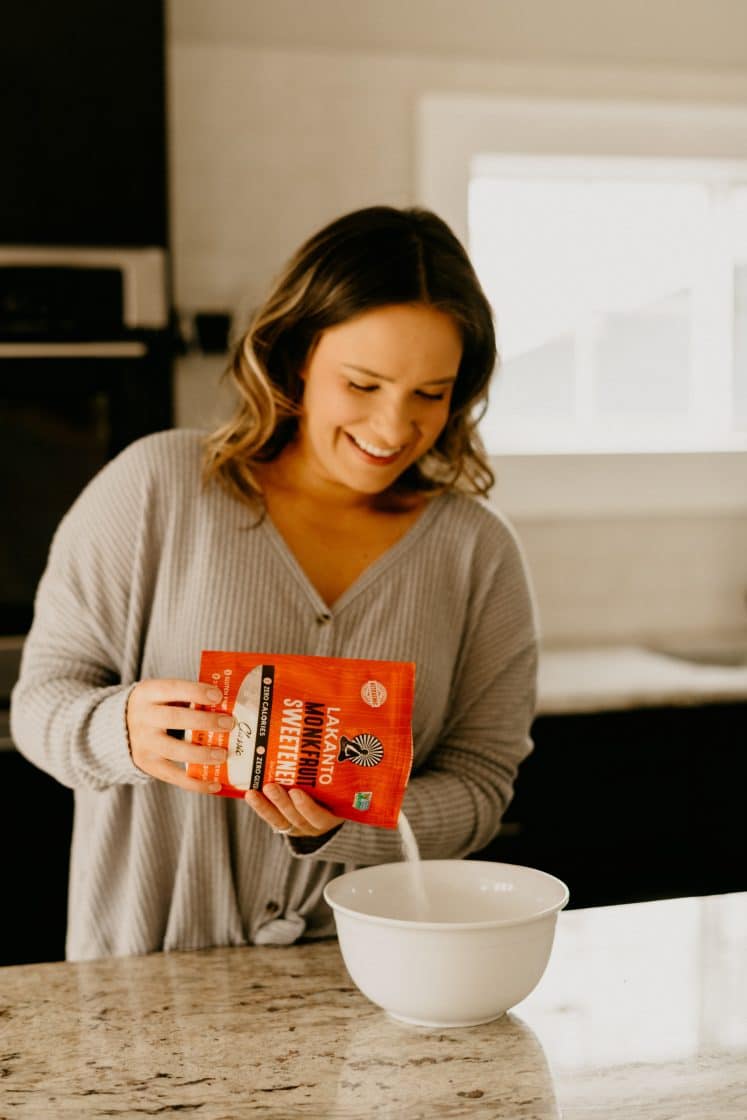 Do you have questions about monk fruit sweetener?
Leave them in the comments below and I will respond back with my answers!
Reader Interactions