This post contains affiliate links, which means that if you click one of the product links, I'll receive a commission. Don't worry, you won't be charged anything extra. This just helps keep the lights on.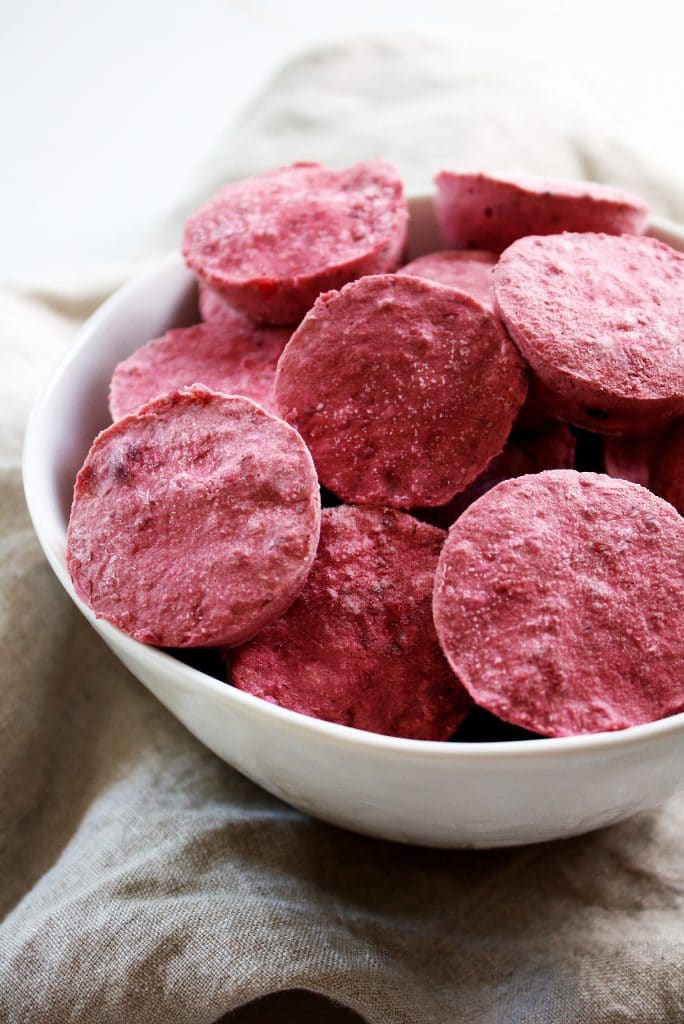 Berry, creamy, full-fat delicious fat bombs are about to be your new post-dinner dessert! This recipe has become a household favorite of ours because: 1) we almost always have all of the ingredients on hand, and 2) ummm they taste AMAZING. Easy as that!
If you are someone who follows a keto or low-carb diet, you also will likely have everything you need for these fat bombs stored right now in your freezer and refrigerator. So, in saying that, what are you waiting for?! Go on and make some of these tasty low-carb goodies!
Fat Bombs are a Perfect Keto Treat
Fat Bombs are a sweet treat that utilize high-fat and low-carb ingredients such as coconut oil, butter, cream cheese, low-glycemic sweeteners, etc.
If you've been following my blog or Instagram for any amount of time, you know that fat bombs are a staple in our household (click here to see all of my fat bomb recipes!). We always have some stored in our freezer!
I enjoy a fat bomb (or two) either after eating dinner if I'm craving something sweet, which is usually the only meal of the day that I sit down and eat, or before an intense workout. As someone who follows a low-carb diet, my body uses dietary fat and stored fat for energy, so a fat bomb gives me a huge boost to power through a spin class or some HIIT at the gym.
Why Eat Fat Bombs?
Fat bombs are, you guessed it, HIGH IN FAT! If you're new to keto, don't let the calorie or fat content scare you!
For the majority of our lives, we've been conditioned to eat low-fat and fat-free foods. Low-fat dairy products, fat-free snacks, low-fat sadness…. It's been boring, unsatisfying, and, truthfully, confusing (looking back, I wonder why we never questioned fat-free butter?! Ugh. Yuck.)
What happens when fat is removed from food? Gotta put something in there to make it palatable! ANSWER: Carbs. Sugar. Processed junky fillers.
When you add healthy dietary fat back into your diet, reduce your carbohydrate intake, you can finally feel the freedom from hanger (hunger + anger) that you likely experience 20 seconds after finishing your most recent meal.
Following a low-carb (mostly ketogenic) diet has allowed me the opportunity to see food in an entirely new light. My life has exponentially improved (not exaggerating). I am very grateful to have found this diet lifestyle and to no longer exhibit symptoms of sugar-induced devil human. (Ryan is even more grateful, as you can imagine.)
To read more about my experience with following a ketogenic diet, check out this post here.
Net Carbs In Berries and Cream Fat Bombs
One Berries & Cream Fat Bomb contains only 1.4g net carbs!
Diets This Recipe Is Compliant With
This recipe is low-carb, keto, nut-free, gluten-free, grain-free, vegetarian, and refined-sugar-free.
Other Fat Bomb Recipes You Should Try
Lemon Bar Fat Bombs
Fudge Fat Bombs
Blueberry Bliss Fat Bombs
Key Lime Pie Fat Bombs
PBJ Fat Bombs
Strawberries & Cream Fat Bombs
Pumpkin Spice Fat Bombs
Dark Chocolate Peppermint Patty Fat Bombs
Chocolate Chip Cookie Dough Fat Bombs
Cinnamon Roll Fat Bombs
No-Bake Chocolate Chip Almond Butter Fat Bomb Bars
French Toast Fat Bombs
Sea Salt Dark Chocolate Almond Cluster Fat Bombs
Chocolate Bar Fat Bombs
Powdered Donut Hole Fat Bombs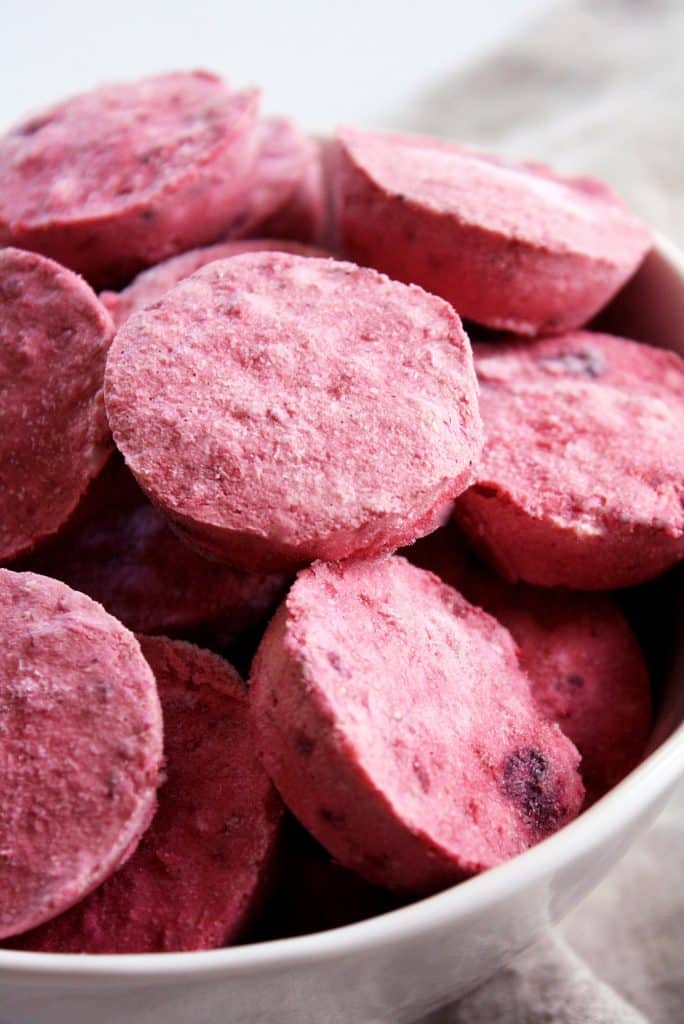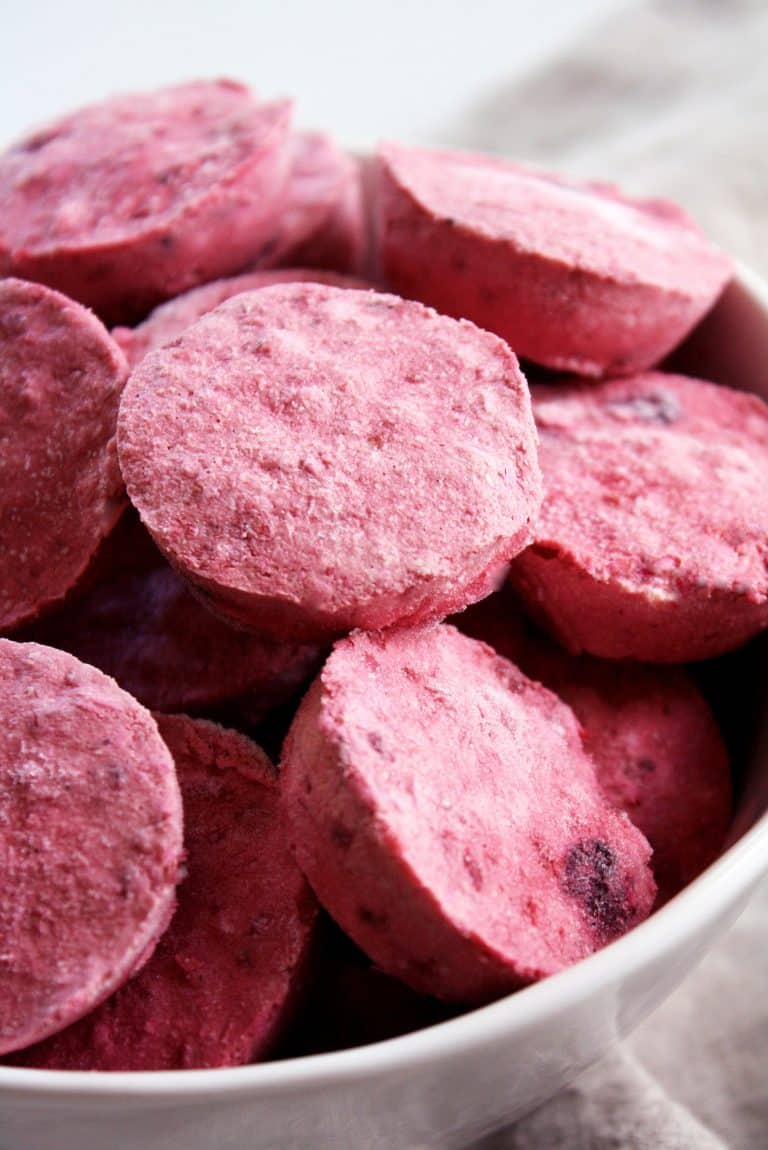 More Easy and Delicious Ketogenic Dessert Recipes
If you are in need of more keto dessert recipes, you can find them here!
Print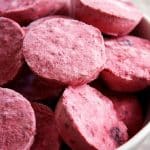 Berries and Cream Fat Bombs
Author:

Prep Time:

5 minutes

Total Time:

4 hours, 5 minutes

Yield:

24 fat bombs

Category:

Dessert

Method:

Freeze

Cuisine:

American
---
Description
With only 1.4g net carbs per serving, these Berries and Cream Fat Bombs are sure to satisfy your sweet tooth! This recipe is low-carb, keto, nut-free, gluten-free, grain-free, vegetarian, and refined-sugar-free!
---
---
Instructions
In a microwave-safe bowl, microwave frozen berries until just thawed, about 1 minute, depending on wattage strength of microwave. Combine all ingredients in food processor and blend until well-combined.
Spoon mixture into silicone mold and freeze for 4 hours, preferably overnight. Remove from freezer, pop fat bombs out of molds, and enjoy!
---
Notes
Store fat bombs in airtight container in freezer.
Keywords: fat bomb, keto fat bomb, keto dessert, low-carb fat bomb, fat bombs, nut-free fat bombs, nut-free keto