Low-Carb Cinnamon Sugar Bagels?! YES PLEASE.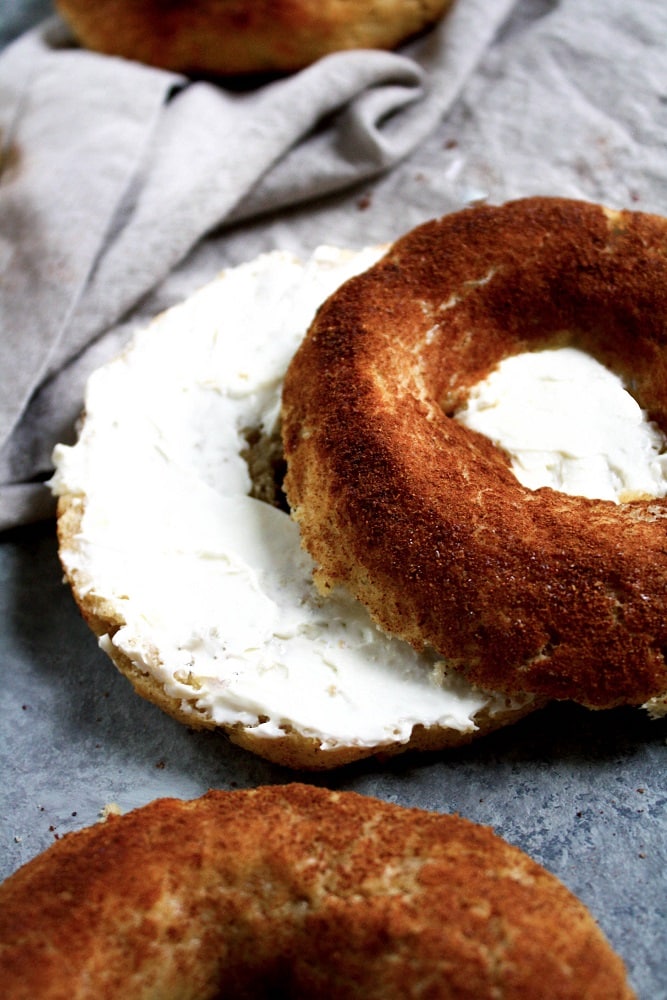 If you've been following a low-carb diet for any period of time (even as short as 30 seconds), you've probably dreamt about bread. Soft, warm, DELICIOUS bread. I love you and I've missed you.
Keto Cinnamon Sugar Bagels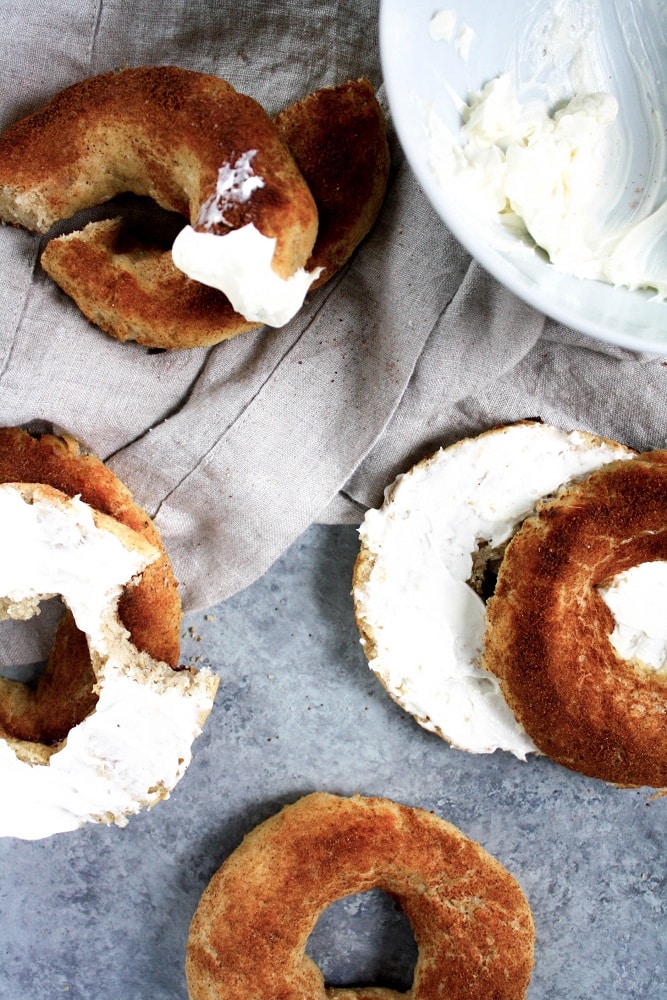 Did you know that most store-bought bagels have OVER 50g carbs in just one bagel?! If you follow a low-carb diet, bagels are just not an option.
But, with this recipe for Low-Carb Cinnamon Sugar Bagels in your wheelhouse, you will no longer be denied your bagel fix!
Low-Carb Bagels Sweetened With Monk Fruit Sweetener
These bagels are sweetened and dusted with my favorite calorie-free, net-carb-free, and all-natural sweetener, Lakanto Monk Fruit Sweetener, which is a product that I consider to be a pantry-necessity! I love monk fruit sweetener because it tastes exactly like traditional sugar, yet it doesn't spike your blood sugar nor will it kick you out of ketosis.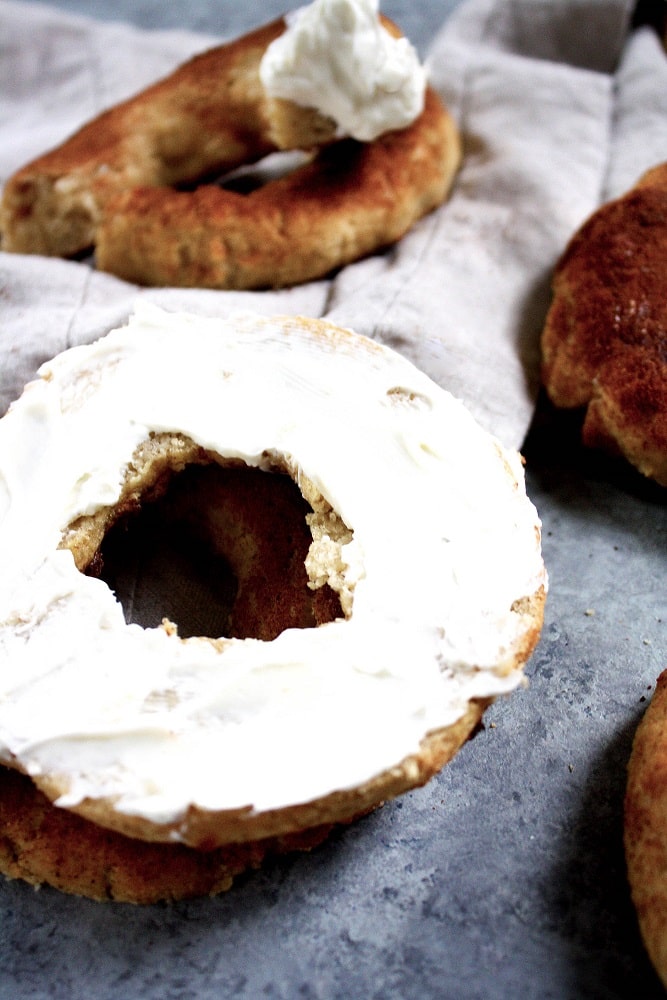 If you are looking for a sweetener that tastes like sugar and is low-carb- and keto-friendly, I highly recommend trying Lakanto Monk Fruit Sweetener! You can use code "REALBALANCED" for 20% off your total order!
Looking for more information on monk fruit sweetener? I wrote a post answering all of your most frequently asked questions… check it out here!
LAKANTO TASTE TEST BUNDLE
I am also excited to share that I have partnered with Lakanto to share a Taste Test Bundle with you all! If you've been waiting to try monk fruit sweetener, now is the time to order! This deal includes classic monk fruit sweetener, golden monk fruit sweetener, a recipe e-Book, and Lakanto's Taste Test Guarantee!
Read more about and place your order for the Taste Test Bundle here!
Perfectly Toasted Low-Carb Cinnamon Sugar Bagels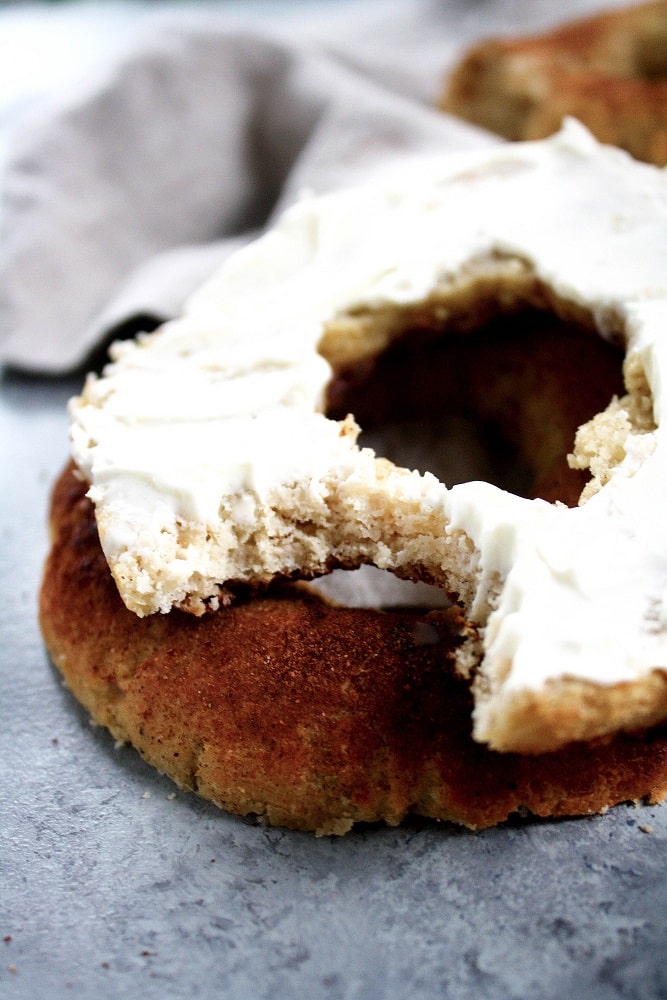 These Low-Carb Cinnamon Sugar Bagels not only are, you guessed it, low in carbs, they taste EXACTLY LIKE A BAGEL. I swear. It's almost too unbelievable to be true, so I decided to not question it. Even Ryan agreed that these bagels taste exactly like a traditional store-bought bagel. SUCCESS!
These keto bagels can be enjoyed straight out of the oven or, my personal favorite, cut in half and toasted in the toaster oven for a couple of minutes. Golden-y brown with some cream cheese on top? YES, PLEASE!
Net Carbs In This Recipe
With only 5.6g net carbs per bagel, these Low-Carb Cinnamon Sugar Bagels will satisfy both your craving for bread AND your sweet tooth!

Diets These Cinnamon Sugar Fat Head Bagels Recipe Are Compliant With
This recipe is low-carb, gluten-free, grain-free, vegetarian, and refined-sugar-free.
Looking for more delicious keto bread recipes?
If you're looking for more low-carb keto bread recipes, you should definitely try these out!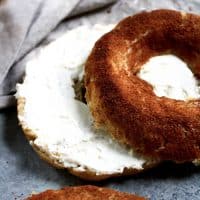 Low-Carb Cinnamon Sugar Bagels
---
Author: Sara Nelson
Prep Time: 15 minutes
Cook Time: 14 minutes
Total Time: 40 minutes
Yield: 6 Bagels 1x
Category: Breakfast
Method: Bake
Cuisine: American
Description
At only 5.6g net carbs per serving, these Low-Carb
Cinnamon
Sugar Bagels are about to be your new favorite breakfast! This recipe is low-carb, gluten-free, grain-free, vegetarian, and refined-sugar-free!
---
---
Instructions
Preheat oven to 400 degrees and line baking sheet with parchment paper.
In a large bowl, whisk together almond flour, coconut flour, baking soda, cream of tartar, 1 tbsp golden monk fruit sweetener, and 1 tsp cinnamon.
To a microwave-safe bowl, add mozzarella and cream cheese and microwave for 90 seconds. Remove bowl from microwave and stir ingredients together. Return to microwave and microwave for another 60 seconds. Stir together until mozzarella and cream cheese are completely combined.
In a separate small bowl, whisk together 2 eggs. Add whisked eggs to the large mixing bowl of flour. Transfer cheese mixture to the large mixing bowl of flour and eggs. Using your hands, knead together the dough until well-combined (flour and cheese must be combined completely before moving ahead to remaining steps).
Divide dough into 6 equal portions (I used a food scale to make sure mine were precisely divided). Using your hands, gently roll each of the 6 portions into a log shape, attaching the two ends to make the log into a circle. Place on a prepared baking sheet.
In a bowl, whisk the remaining egg. Using a pastry brush, brush egg wash over bagels. Combine remaining 2 tbsp of monk fruit sweetener and remaining 2 tsp cinnamon and sprinkle on top of egg wash on bagels (I used a mesh strainer to ensure cinnamon sugar was evenly coated on bagels).
 Bake bagels for 12-14 minutes, watching the bagels carefully the last few minutes to ensure cinnamon doesn't burn. Remove bagels from oven and allow to cool for at least 15 minutes (NOTE: it is important to allow them to cool before eating as the inner part of the bagel will finish cooking during this time).
Keywords: low-carb bagel, keto bagel, keto cinnamon bagels
Reader Interactions