These Pumpkin Spice Fat Bombs are the ultimate keto-friendly treat! Enjoy during the fall and winter months (or all year long)! This recipe is low-carb and has the option to be nut-free.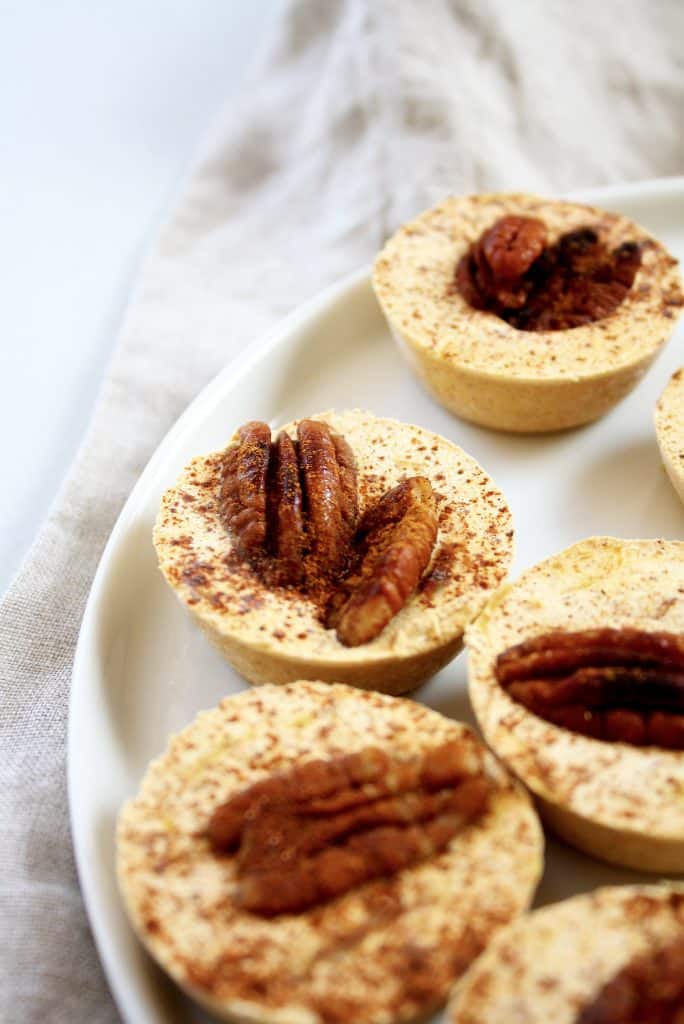 Whip up a batch today and enjoy one to satisfy your craving for something pumpkin-y and sweet!
Pumpkin Spice Fat Bombs Keto Dessert
What's better than a pumpkin treat when the seasons turn from summer to fall?! We love enjoying these Pumpkin Spice Fat Bombs as an after-dinner treat as they satisfy our craving for something with pumpkin and for something sweet, yet we don't have to worry about over-indulging in a carb-ridden dessert or coffee shop latte.
Pumpkin Spice Fat Bombs Sweetened With Monk Fruit Sweetener
Developing recipes that use real, whole food ingredients is really important to me. A lot of the time, in low-carb store-bought desserts, you'll find artificial sweeteners. That stuff is just downright awful for you. Sucralose, aspartame, etc. I don't recommend consuming it, ever.
In this recipe, and in many of my fat bombs and low-carb desserts, I use my favorite calorie- and net-carb-free sweetener, Lakanto Monk Fruit Sweetener. My favorite is the golden monk fruit sweetener. It tastes like brown sugar and is SO GOOD. If you're running low or if you've never tried it before, I highly, highly recommend it! You can use code "REALBALANCED" for 20% off your total order!
Looking for more information on monk fruit sweetener? I wrote a post answering all of your most frequently asked questions… check it out here!
LAKANTO TASTE TEST BUNDLE
I am also excited to share that I have partnered with Lakanto to share a Taste Test Bundle with you all! If you've been waiting to try monk fruit sweetener, now is the time to order! This deal includes classic monk fruit sweetener, golden monk fruit sweetener, a recipe e-Book, and Lakanto's Taste Test Guarantee!
Read more about and place your order for the Taste Test Bundle here!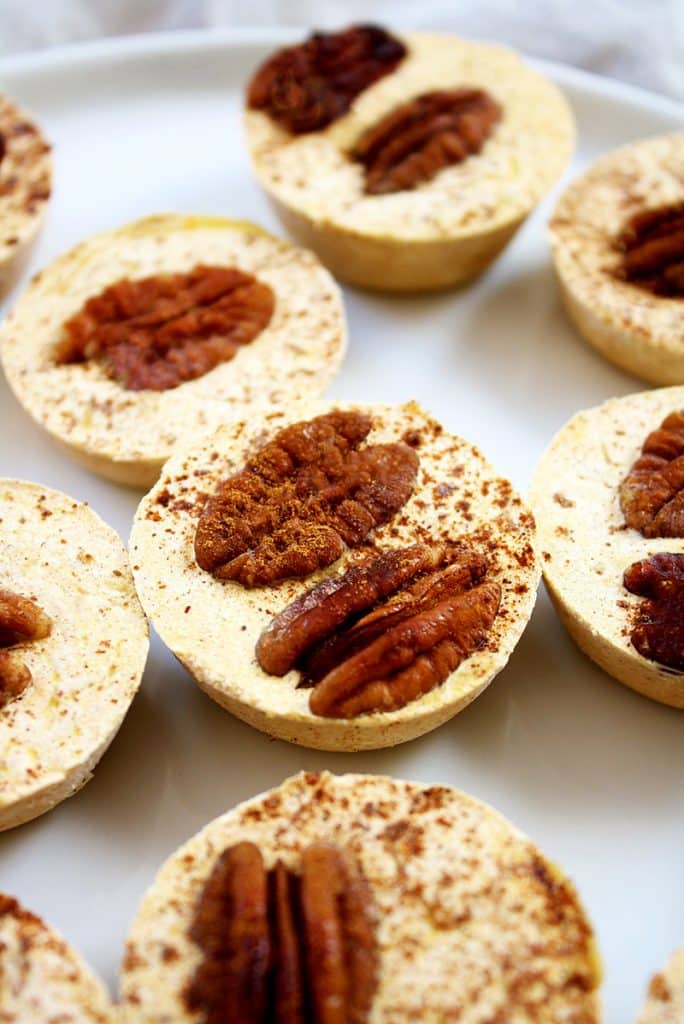 Net Carbs In Pumpkin Spice Fat Bombs
With only 0.7 grams of net carbs per fat bomb, you can enjoy a Pumpkin Spice Fat Bomb (or two!) completely guilt-free while remaining in ketosis! Win, win!
Diets This Pumpkin Spice Fat Bombs Recipe Is Compliant With
This recipe is low-carb, keto, gluten-free, grain-free, vegetarian, and refined-sugar-free.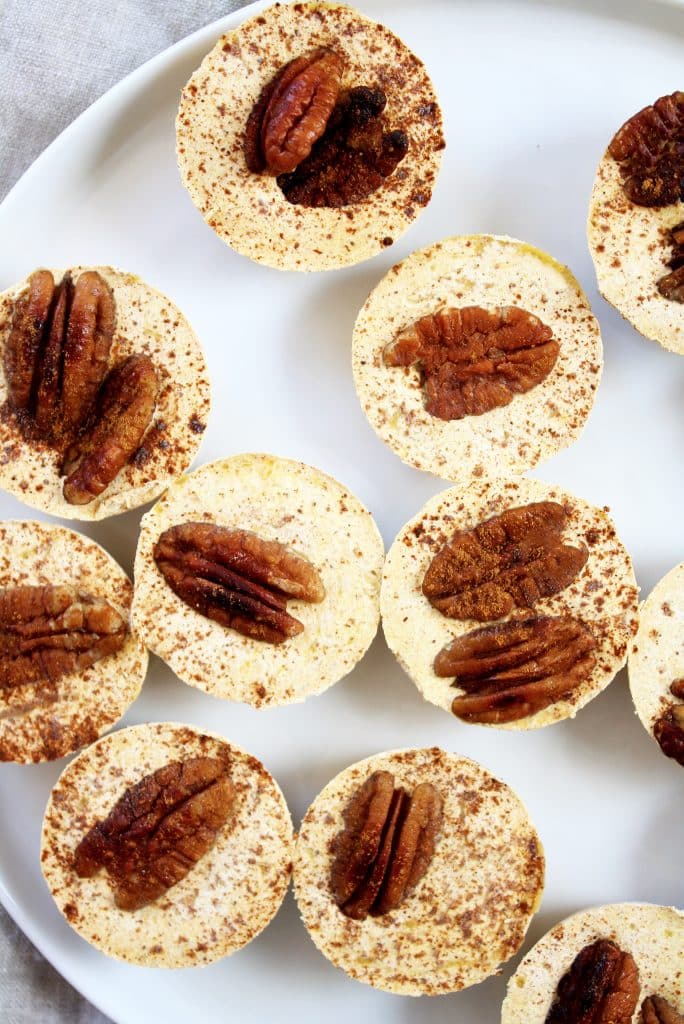 Other Real Balanced Fat Bomb Recipes You Should Try
If you're looking for more pumpkin recipes, be sure to check out these Cream Cheese Pumpkin Muffins and Low-Carb Pumpkin Mousse!
ORDER YOUR COPY OF "FAT BOMB FAVORITES"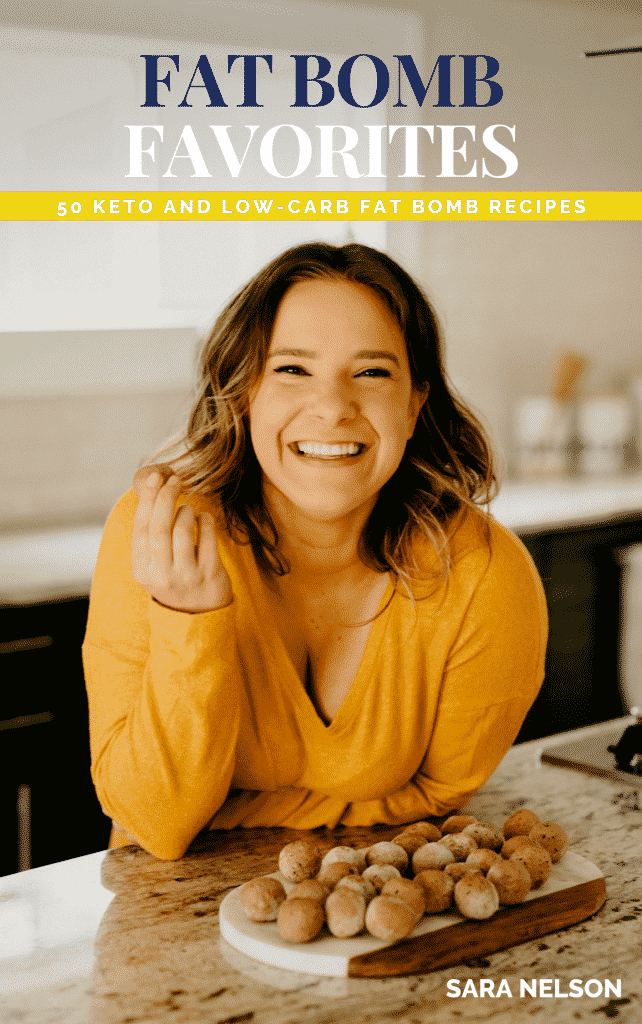 Download my free fat bombs recipe eBook!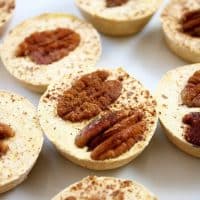 Pumpkin Spice Fat Bombs
---
Author: Sara Nelson
Prep Time: 10 minutes
Total Time: 4 hours, 10 minutes
Yield: 24 fat bombs 1x
Category: Dessert
Method: Freeze
Cuisine: American
Description
With less than 0.7g net carbs per serving, these Pumpkin Spice Fat Bombs are the ultimate keto treat! This recipe is low-carb, keto, gluten-free, grain-free, vegetarian, and refined-sugar-free! There is also an option to make this recipe nut-free.
---
---
Instructions
In a small pan over medium heat, spray avocado oil cooking spray and toast pecans until fragrant. Remove from heat and set aside to cool. (For nut-free fat bombs, skip this step.)
In a medium-sized pot over medium-low heat, heat coconut oil until melted and cream cheese until softened. Pour coconut oil and cream cheese mixture into mixing bowl. To mixing bowl, add pumpkin puree, golden monk fruit sweetener, and pumpkin pie spice. Using an electric mixer, mix mixture until smooth and incorporated.
Spoon mixture into silicone mold cavities, top with 1-2 toasted pecan(s), and sprinkle with cinnamon. Place silicone mold in freezer and freeze until solid, about 4 hours, before popping fat bomb out from silicone mold cavities.
Recipe Notes:
Storage: Store fat bombs in the freezer and, when you're ready to eat one, pop it out of the freezer and allow it to thaw for 10-15 minutes before enjoying.
Keywords: pumpkin fat bomb, keto pumpkin dessert, low carb pumpkin dessert, keto fat bomb, low carb fat bomb
Reader Interactions