These Low-Carb Chocolate Chip Muffins will satisfy your craving for something sweet, keep you in ketosis, and won't spike your blood sugar!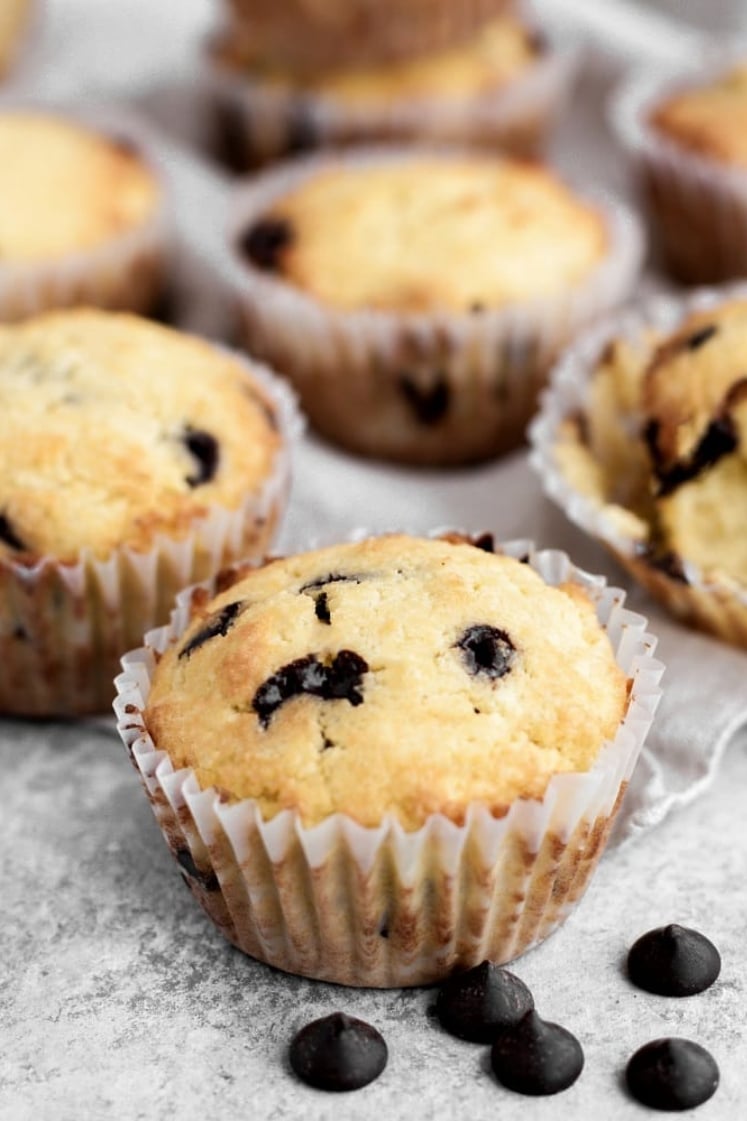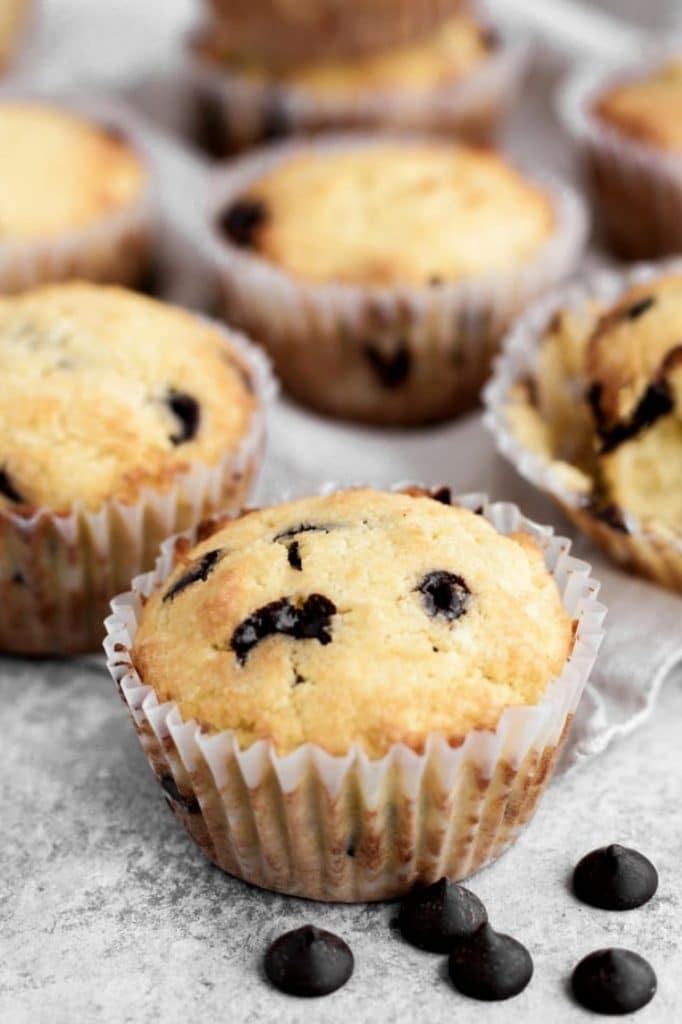 Over the course of developing recipes for Real Balanced, I have received many requests for nut-free recipes and I have begun to experiment with the challenge!
If you've baked low-carb or paleo treats, you know that almond flour is a staple ingredient; however, it is certainly not a requirement when coconut flour is an option, so long as the ratios of other ingredients counter-balance the coconut flour's ability to soak up liquids.
These muffins are entirely nut-free, so they are a wonderful choice for dessert for those who personally have a nut allergy or cook for someone who does.

Coconut Flour-based Chocolate Chip Muffins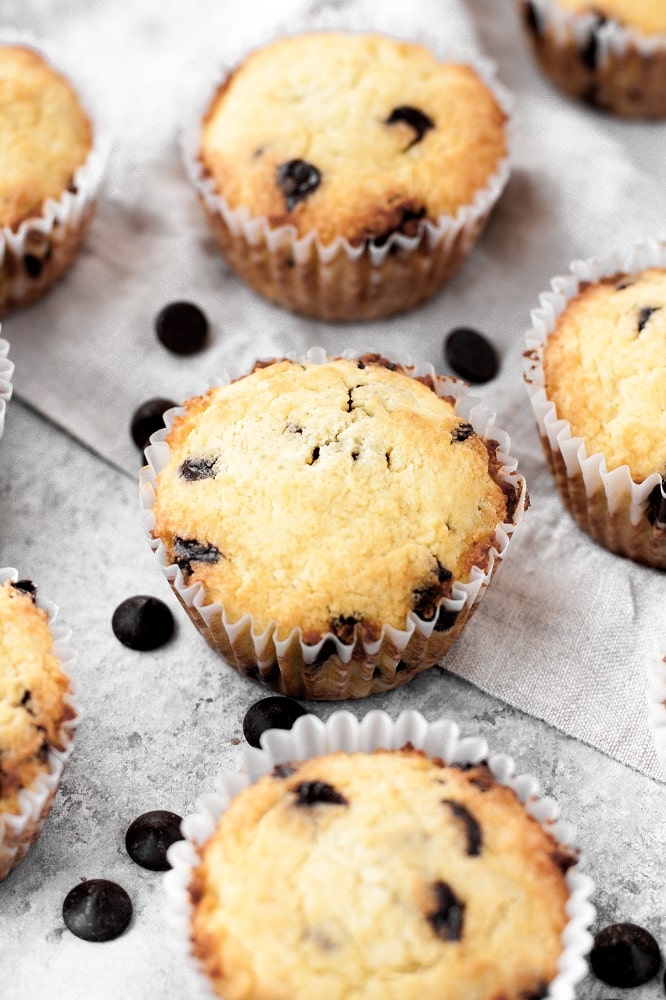 These Chocolate Chip Muffins are a delicious keto and low-carb dessert option. Not to mention, these particular recipe is nut-free!
I love to develop new dessert recipes that are compliant with a ketogenic diet and these muffins fit the bill perfectly! These taste just like traditional soft muffins, just without any of the inflammatory, high-carb ingredients.
Low-Carb Chocolate Chip Muffins Sweetened With Monk Fruit Sweetener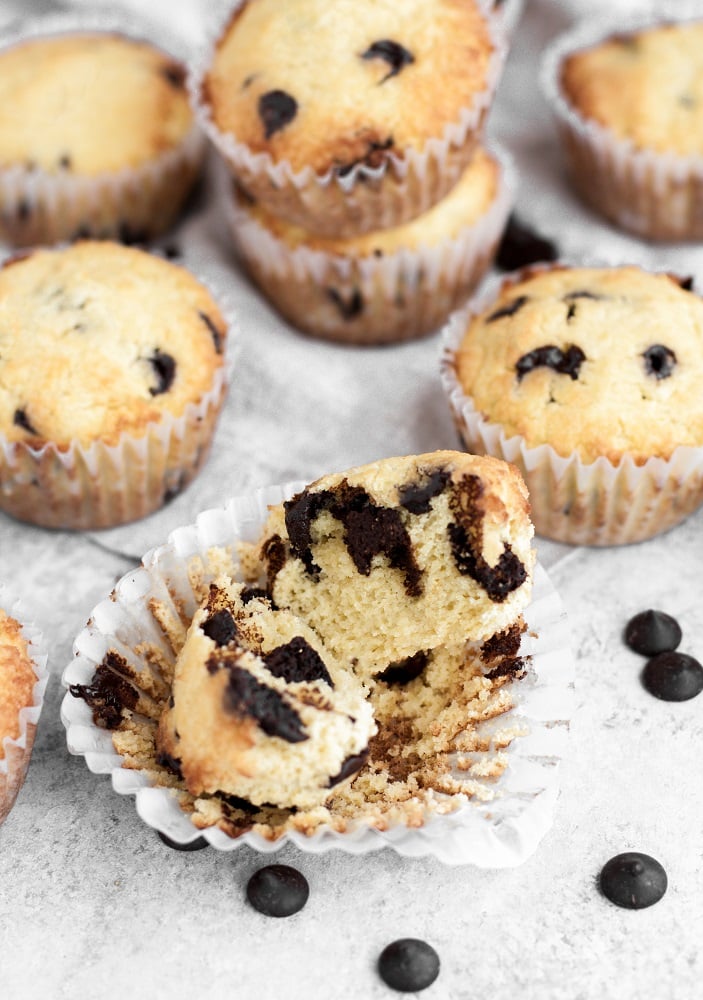 For this recipe, like a majority of my other dessert recipes, I used Lakanto Monk Fruit Sweetener, a natural, net-carb-free sweetener that looks and tastes just like traditional sugar. If you've ever experienced a "weird aftertaste" from other low-carb sweeteners, I highly recommend trying Lakanto's monk fruit sweetener! You can use code "REALBALANCED" for 20% off your total order!
Looking for more information on monk fruit sweetener? I wrote a post answering all of your most frequently asked questions… check it out here!
LAKANTO TASTE TEST BUNDLE
I am also excited to share that I have partnered with Lakanto to share a Taste Test Bundle with you all! If you've been waiting to try monk fruit sweetener, now is the time to order! This deal includes classic monk fruit sweetener, golden monk fruit sweetener, a recipe e-Book, and Lakanto's Taste Test Guarantee!
Read more about and place your order for the Taste Test Bundle here!
Chocolate Chips In Muffins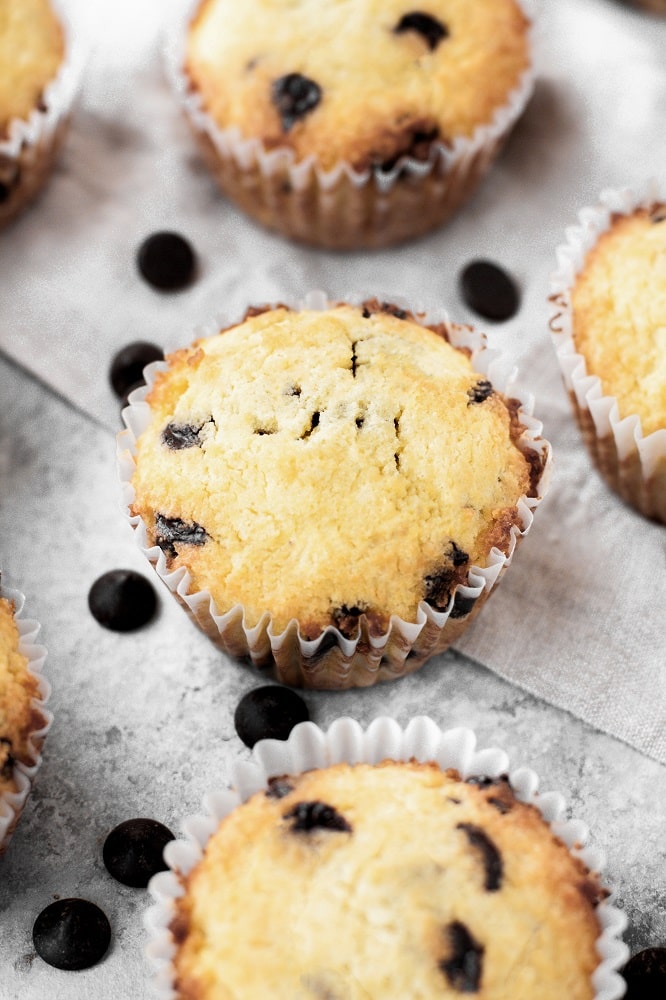 Another ingredient to note in these muffins is the chocolate chips. In this recipe, like in my recipe for No-Bake Chocolate Chip Almond Butter Fat Bomb Bars, I used high-quality chocolate chips that contain only one ingredient: chocolate. Most low-carb chocolate chips contain other ingredients, such as soy, which many try to exclude from their personal diet. Pascha is a great brand that I purchase either at my local co-op grocery store or on Amazon.

Diet-Friendly and Nut Allergy-Friendly Chocolate Chip Muffins Recipe
These muffins are a great dessert option for those who follow a ketogenic diet, eat a gluten-free diet, or have a nut allergy!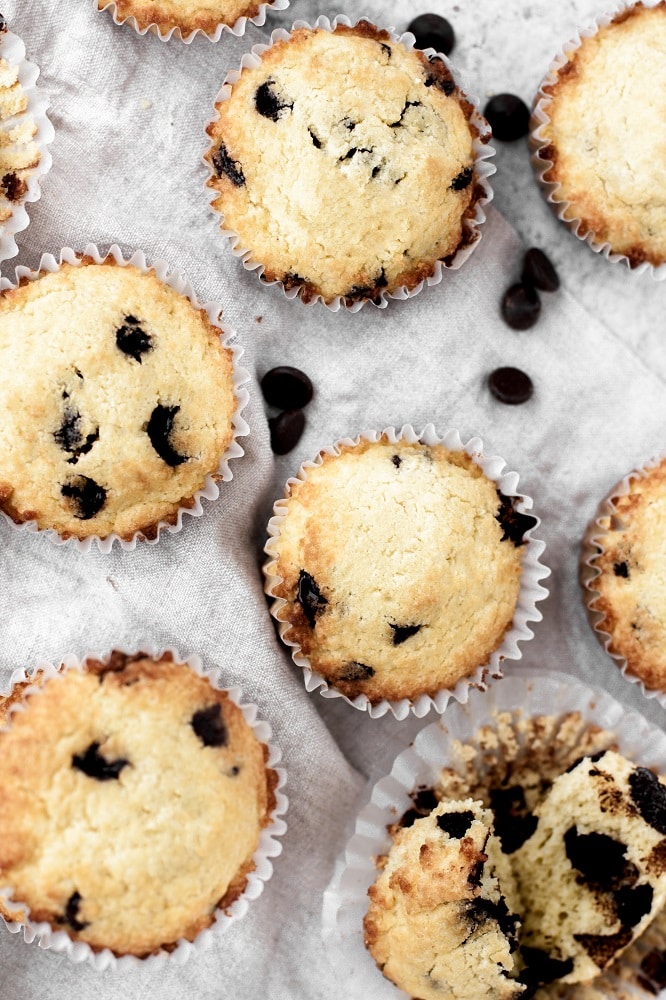 Keto and Low-Carb: One muffin contains only 2.2 grams of net carbs per serving.
Nut-Free: Coconut flour is used in this recipe in place of other nut flours, such as almond flour.
Gluten-Free and Grain-Free: These muffins are made with ingredients that are free from both gluten and grains.
Soy-Free: Many low-carb chocolate chips are made with soy. The chocolate chips used in this recipe are free from soy.
Vegetarian: This recipe is compliant with a vegetarian diet.
Net Carbs In Low-Carb Chocolate Chip Muffins
One muffin contains 2.2 grams net carbs per serving.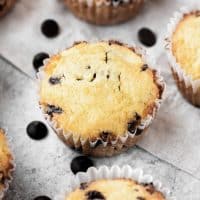 Low-Carb Chocolate Chip Muffins
---
Author: Sara Nelson
Prep Time: 10 minutes
Cook Time: 25 minutes
Total Time: 35 minutes
Yield: 12 muffins 1x
Category: Dessert
Method: Bake
Cuisine: American
Description
These Low-Carb Chocolate Chip Muffins are the ultimate keto treat to satisfy your sweet tooth! This recipe is low-carb, keto, nut-free, soy-free, gluten-free, grain-free, vegetarian, refined-sugar-free, and contains only 2.2g net carbs per serving!
---
Ingredients
Additional Materials
---
Instructions
Preheat oven to 350 degrees and line muffin tins with 12 muffin liners.
To a mixing bowl, add eggs, classic monk fruit sweetener, heavy whipping cream, cream cheese, vanilla extract, cream of tartar, baking soda, and salt. Mix with an electric mixer until ingredients are combined.
In a microwave-safe bowl, melt butter. To mixing bowl, add melted butter and coconut flour. Mix with an electric mixer until fully incorporated.
Fold chocolate chips into the dough. Spoon dough into individual muffin liners.
Bake until muffin tops are slightly golden, about 23-25 minutes.
Keywords: Low-Carb Chocolate Chip Muffins, keto chocolate chip muffins, keto muffin recipe
Reader Interactions