These low-carb chocolate-covered strawberry cheesecake bars are the on-the-go keto-friendly dessert of your dreams! Try them and see for yourself!!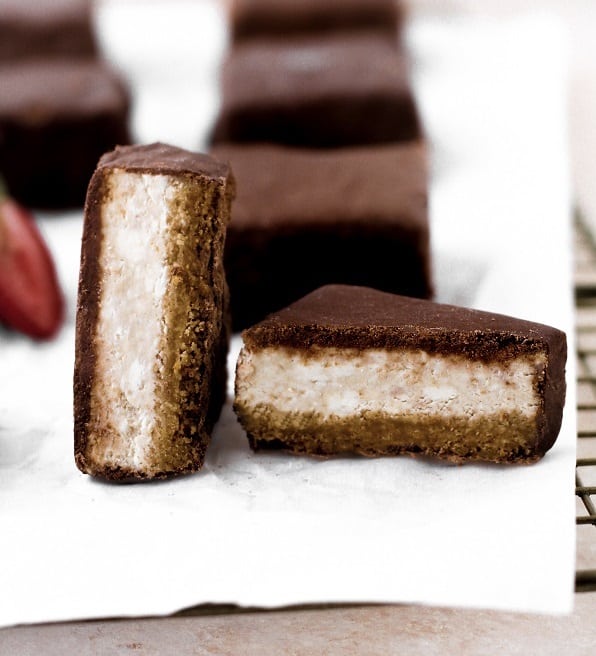 These dessert bars are a perfect way to enjoy the decadence of a delicious berry cheesecake PLUS chocolate without eating a bazillion grams of sugar.
Chocolate + Strawberry + Cheesecake? This Recipe is a Delicious Low-Carb Dessert Option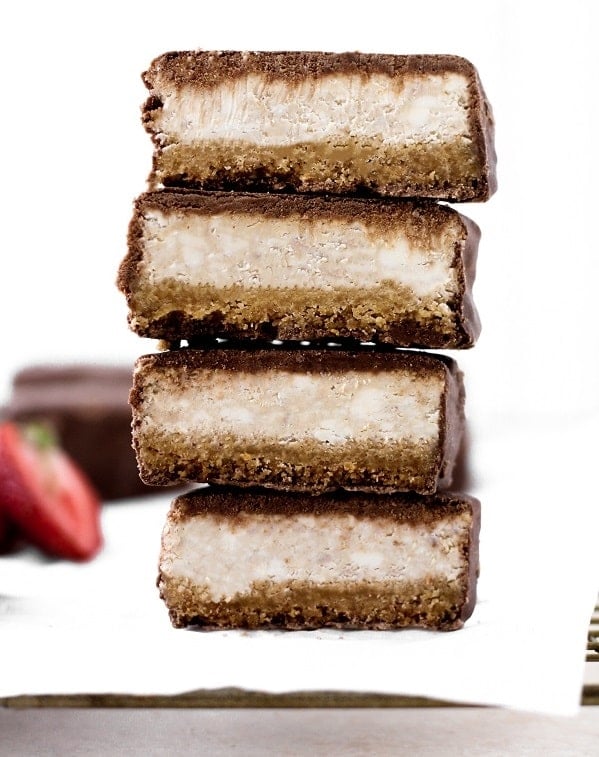 Eating a low-carb diet does not mean low-in-flavor treats! I follow a ketogenic diet and am a firm believer that enjoying low-carb desserts is both allowable and AWESOME.
This recipe, in particular, is a surefire way to show someone new to a ketogenic way of eating that desserts can be both low-carb AND delicious!
These Low-Carb Chocolate Covered Strawberry Cheesecake Bars Are Perfect Make-Ahead Recipe
I love to prepare this recipe in advance of serving it. Since it needs a decent amount of time to chill in the refrigerator after baking and to allow the chocolate coating to harden, I recommend baking these up the day before and giving them an overnight session in the fridge. They don't, however, need to be chilled overnight! That's just my personal preference.
Net Carbs In This Keto Chocolate Strawberry Cheesecake Recipe
One bar is just 5.4g net carbs.
Diets This Low-Carb Chocolate Covered Strawberry Cheesecake Bars Recipe Is Compliant With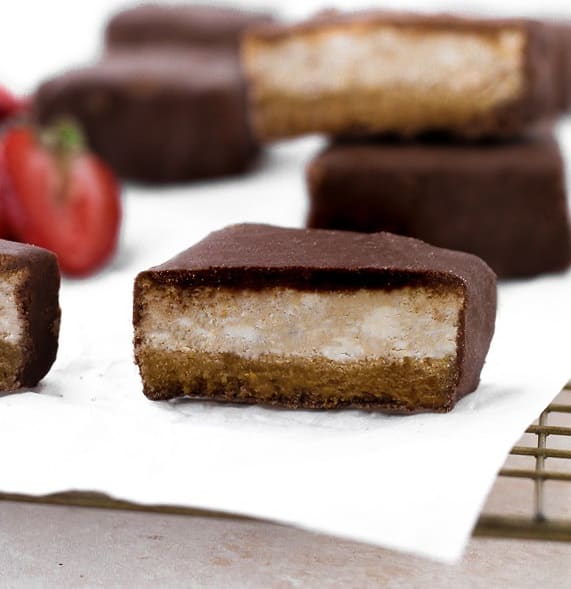 This recipe is low-carb, keto, gluten-free, grain-free, vegetarian, and refined-sugar-free.
Looking for more chocolatey treats?
Being on a keto diet doesn't mean you can't treat yourself with chocolate treats! From Almond Joy Bars to Low-Carb Scotcheroos we have recipes that would satisfy your sweet tooth!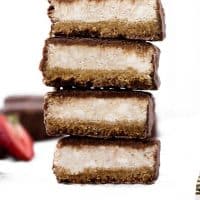 Low-Carb Chocolate-Covered Strawberry Cheesecake Bars
---
Author: Sara Nelson
Prep Time: 30 minutes
Cook Time: 1 hour, 20 minutes
Total Time: 7 hours, 30 minutes
Yield: 10 Bars 1x
Category: Dessert
Method: Bake
Cuisine: American
Description
These Low-Carb Chocolate-Covered Strawberry Cheesecake Bars are a delicious and decadent dessert that is sure to satisfy your sweet tooth! This recipe is low-carb, keto, gluten-free, grain-free, vegetarian, and refined-sugar-free!
---
Ingredients
Crust
Filling
Chocolate
---
Instructions
For the crust:
Preheat oven to 350 degrees and line 8×8 baking pan with parchment paper (use enough parchment paper that the edges fold outside the rim of the pan).
Melt butter in the microwave for 20-30 seconds.
Add crust ingredients to a small mixing bowl and, using hands, knead ingredients together until fully incorporated.
Pour crust ingredients into prepared baking pan and, using hands, press crust down into an even layer.
Bake for 8 minutes.
Remove pan from oven, reduce heat to 325 degrees, and set pan aside.
For the filling:
Add filling ingredients to a mixing bowl and, using an electric mixer, mix together all ingredients until well-combined.
Pour filling over crust in pan and spread into even layer using a spatula.
Return pan to oven and bake for 1 hour, 10 minutes.
After cook time has elapsed, turn the oven off, open oven door 1 inch, leaving the pan inside for 1 hour.
After 1 hour, cover the pan with foil and transfer the pan from oven to refrigerator.
Chill in the refrigerator for a minimum of 4 hours.
For the chocolate:
Place a baking rack atop a lined baking sheet. Spray baking rack with nonstick cooking spray.
Remove baking pan from refrigerator and carefully remove cheesecake from pan by pulling up on edges of parchment paper.
Cut cheesecake into desired bar size (I cut mine to yield a total of 10 bars).
Using double boiler method on a stovetop, melt chocolate ingredients over medium-low heat. Stirring occasionally until ingredients are fully combined.
Transfer chocolate to a shallow bowl.
Using two forks, place individual cheesecake bars into a bowl of melted chocolate, flipping as necessary so as to evenly coat each side of the bar.
Transfer chocolate-coated cheesecake bars to a prepared baking rack.
Refrigerate bars until chocolate hardens, about 1 hour.
After the chocolate has hardened, using a fork or butter knife, gently press upwards from underneath each individual bar as they may have become slightly stuck to a baking rack.
Recipe Notes:
Store bars in the refrigerator or freezer. If frozen, allow to thaw slightly before eating.
Keywords: Low-Carb Chocolate-Covered Strawberry Cheesecake, keto dessert, keto cheesecake
Reader Interactions