I am sharing this post in partnership with Lakanto. As always, all opinions are my own. I appreciate you supporting both me and the brands that allow me to create quality content for you!
This Chocolate Fat Bomb Smoothie recipe is so delicious! This recipe is low-carb, gluten-free, nut-free, egg-free, vegan, and keto! Plus, it only takes 5 minutes (or less) to whip up. It's perfect for a quick, easy, and fat-fuelled breakfast!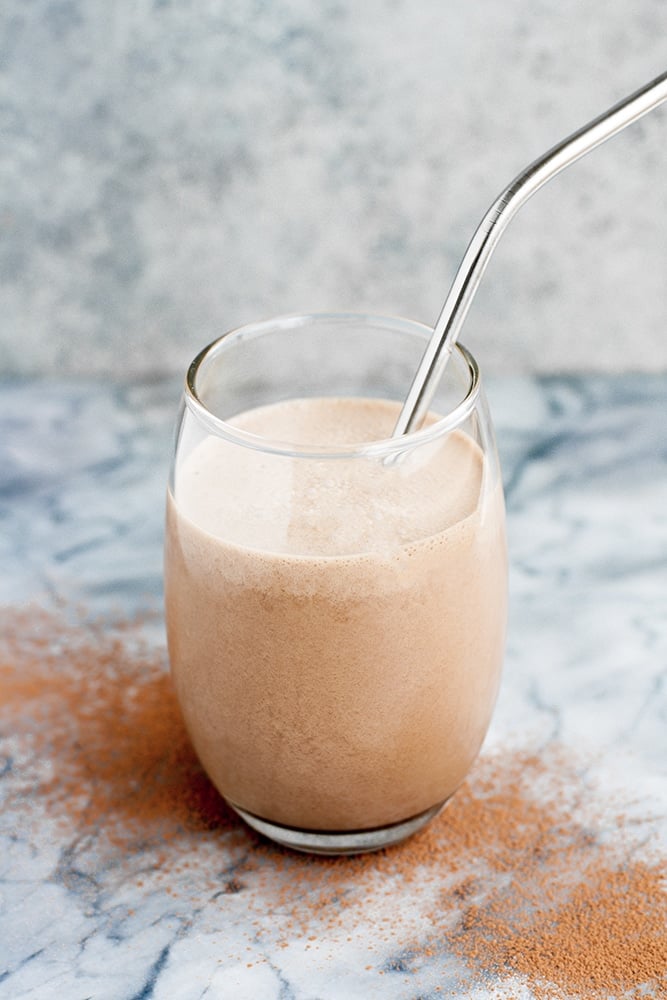 I'm all about simplicity, which makes this chocolate fat bomb smoothie one of my favorites! I typically make it in the morning, when I'm craving something sweet, or when I want a fast and simple afternoon snack!
Fat bombs in smoothie form? Yes, please!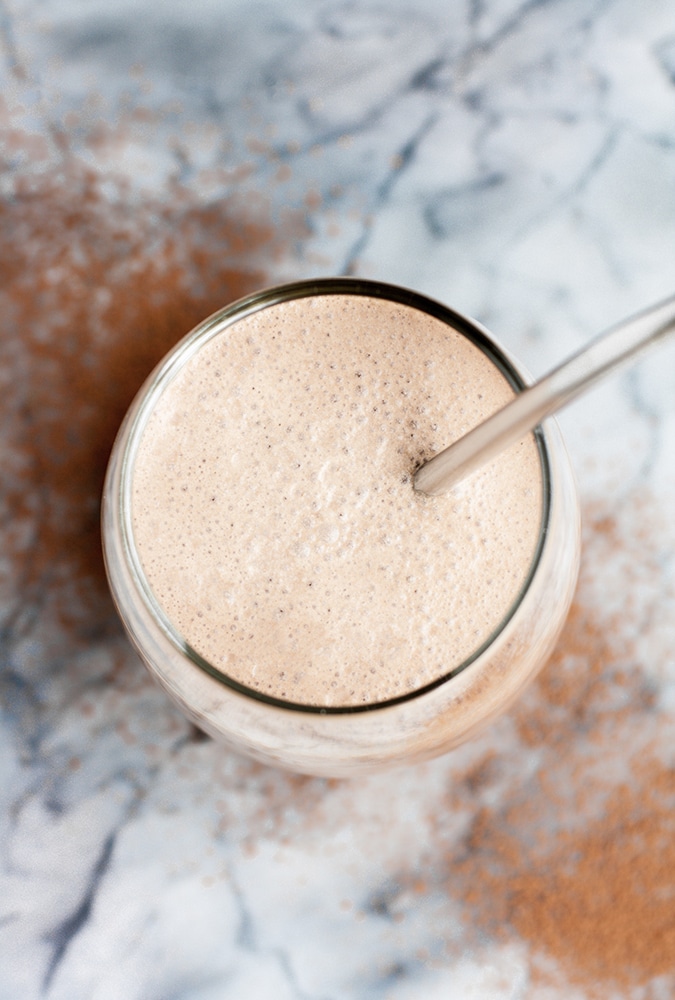 So as you probably know, I LOVE fat bombs! They make my life as a keto-er so much simpler because they serve so many purposes. They're great on-the-go, work well as quick breakfasts or afternoon pick-me-ups, and they're delicious!
Well, this fat bomb smoothie works the same way! As a low-carb, high-fat drink, this smoothie provides an AWESOME boost of energy. Because it includes monk fruit sweetener instead of regular sugar, it does NOT cause a crash!
The high-fat content is beneficial just as with regular fat bombs. It's fast, easy, and great as a breakfast, snack, or dessert!
Substituting SunButter
I'm an avid fan of SunButter because it tastes delicious and the company is awesome. As someone with a severe nut allergy who also used to LOVE nut butters, SunButter seriously saves the day. It's a win-win!
However, if you're more a peanut or almond butter person, I totally understand. By all means, feel free to use the nut butter of your choice in this recipe. Using a 1:1 ratio, and the swap should work perfectly!
Please note, though, that changing the nut butter may alter the nutrition facts.
Don't over-blend your keto chocolate smoothie
Be sure to carefully monitor the consistency of your smoothie. Over-blending could cause it to be a bit too runny.
Usually, just a few pulses in a high-speed blender does the trick! It's seriously that quick! You'll likely spend more time gathering your ingredients than you will actually "making" it!
This low-carb smoothie recipe uses monk fruit sweetener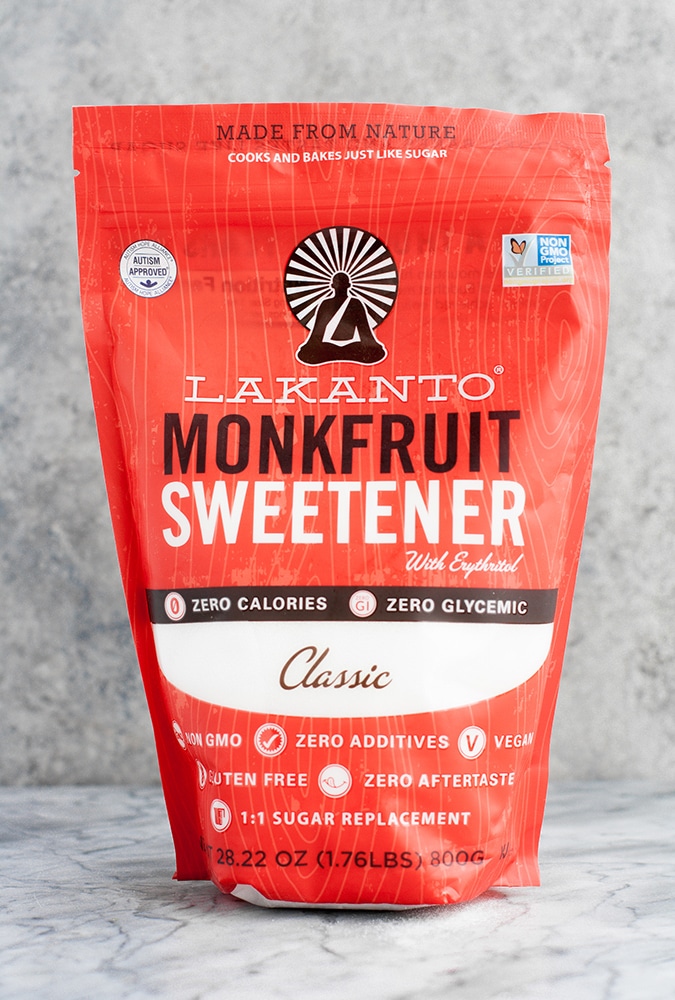 As with all of my "sweet" recipes, Lakanto Monkfruit Sweetener is used in this smoothie. Why? It's the best! It's delicious, easy to use, low-carb, GMO free, AND it doesn't spike blood sugar! I'm not exaggerating when I say I use it literally all. the. time.
They make two versions: Classic (typically used in place of white sugar) and Golden (typically used in place of brown sugar). Though this recipe calls for the classic version, the golden version will work too!
If you want to get your hands on some, use code "REALBALANCED" at checkout for 20% off!
And, after you get your monk fruit sweetener, be sure to download my free eBook featuring recipes made with monk fruit sweetener!
Make this Chocolate Fat Bomb Smoothie yourself!
Pour all ingredients into a high-speed blender.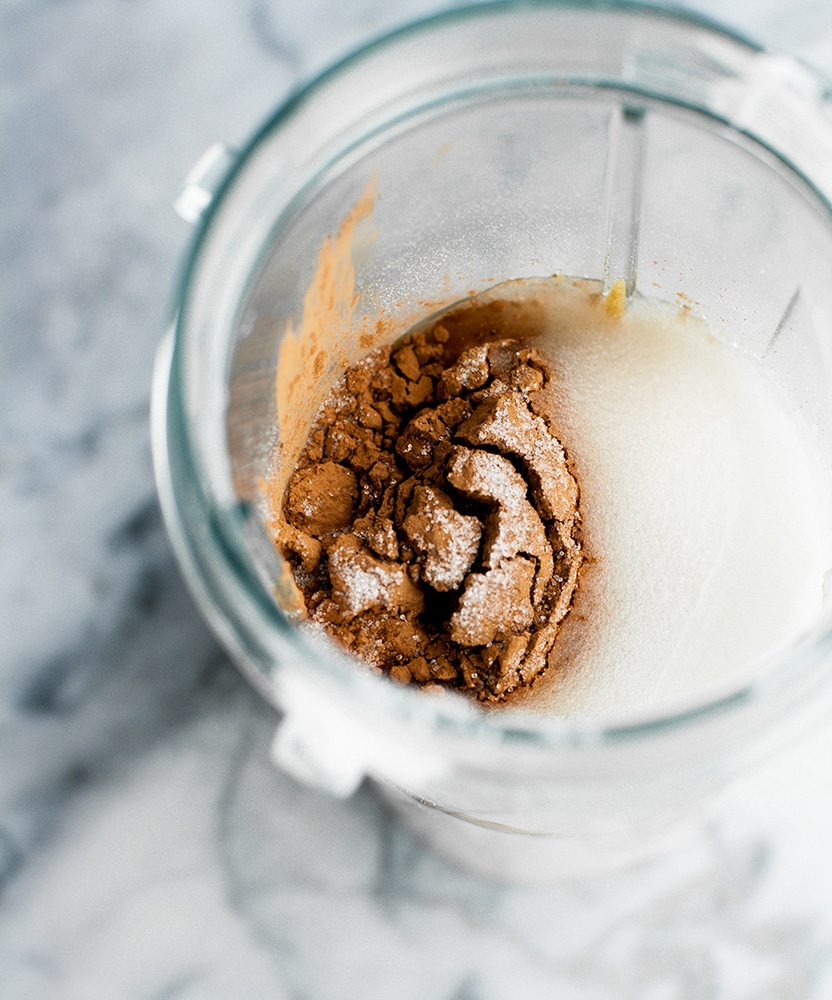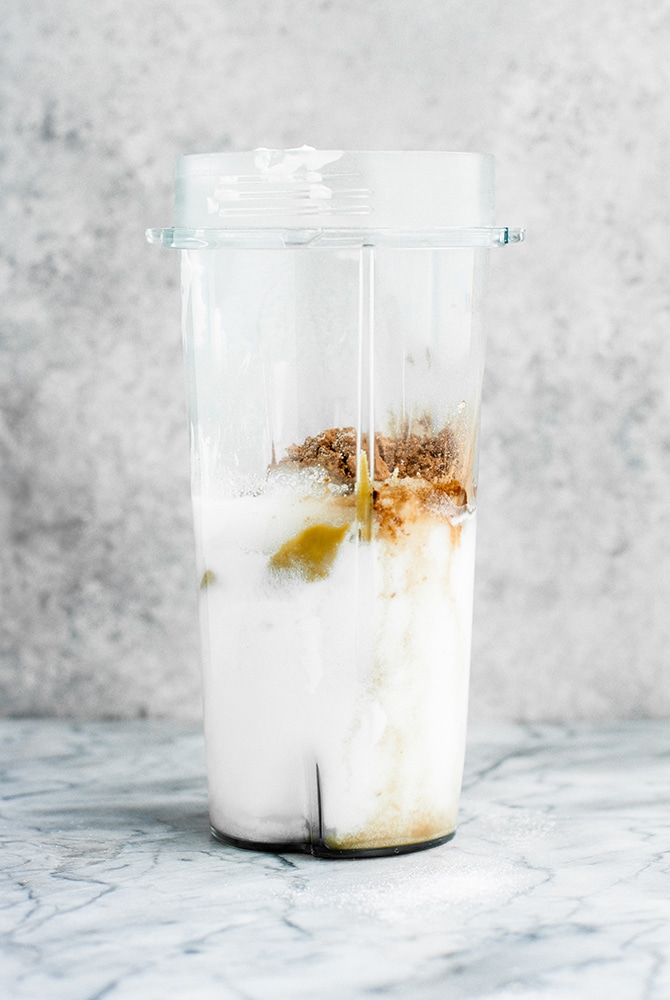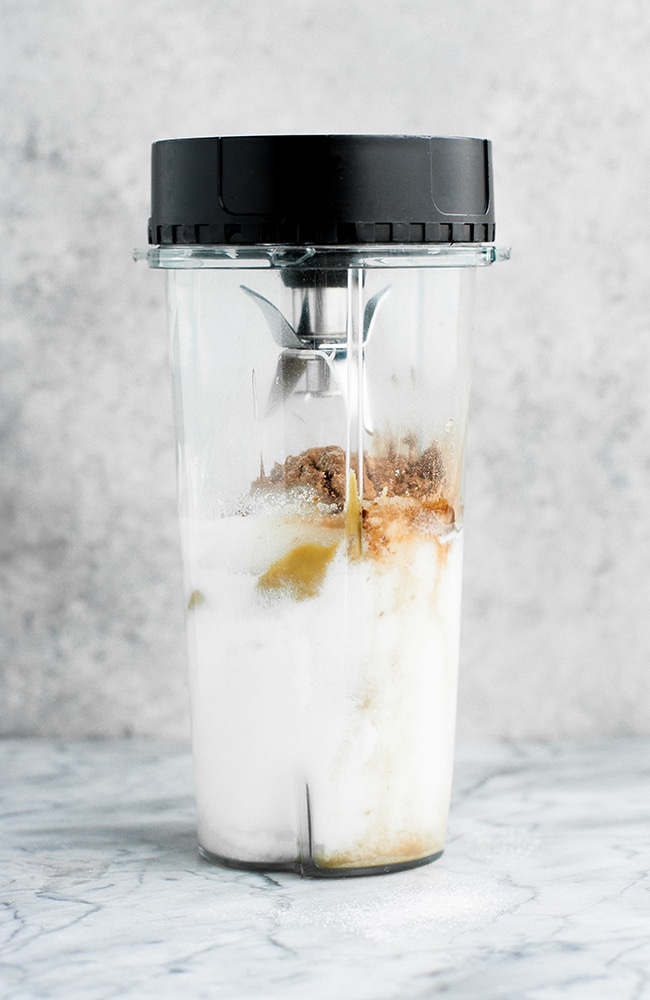 Pulse until smooth.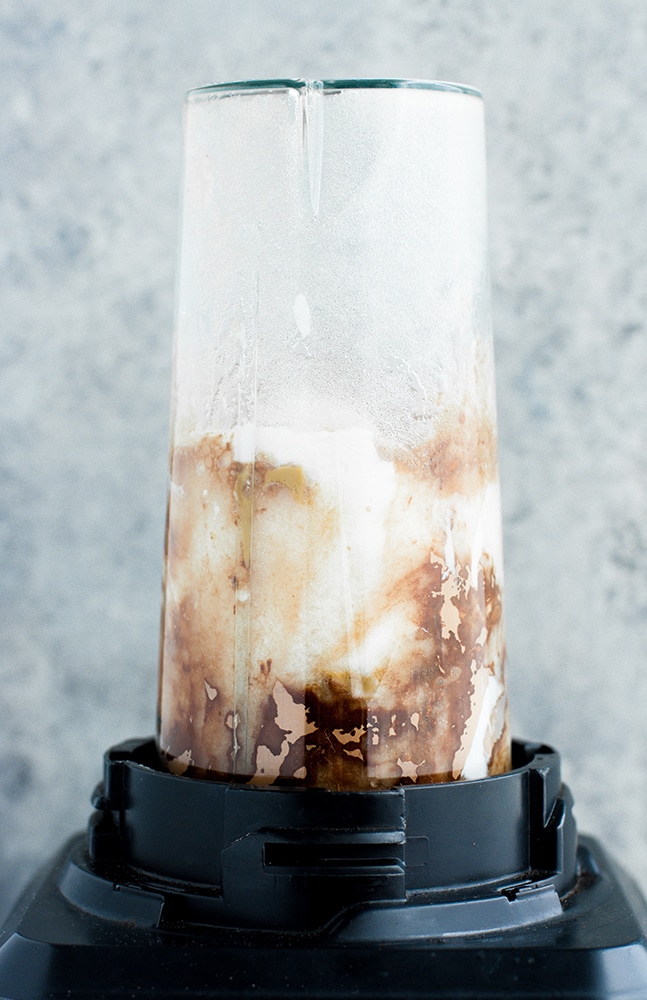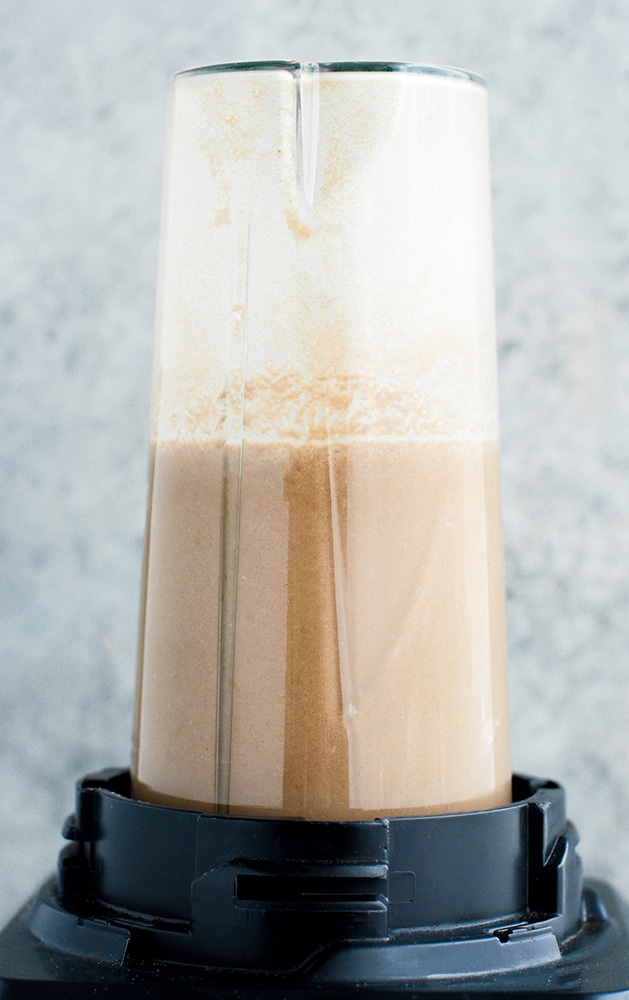 Serve immediately and enjoy!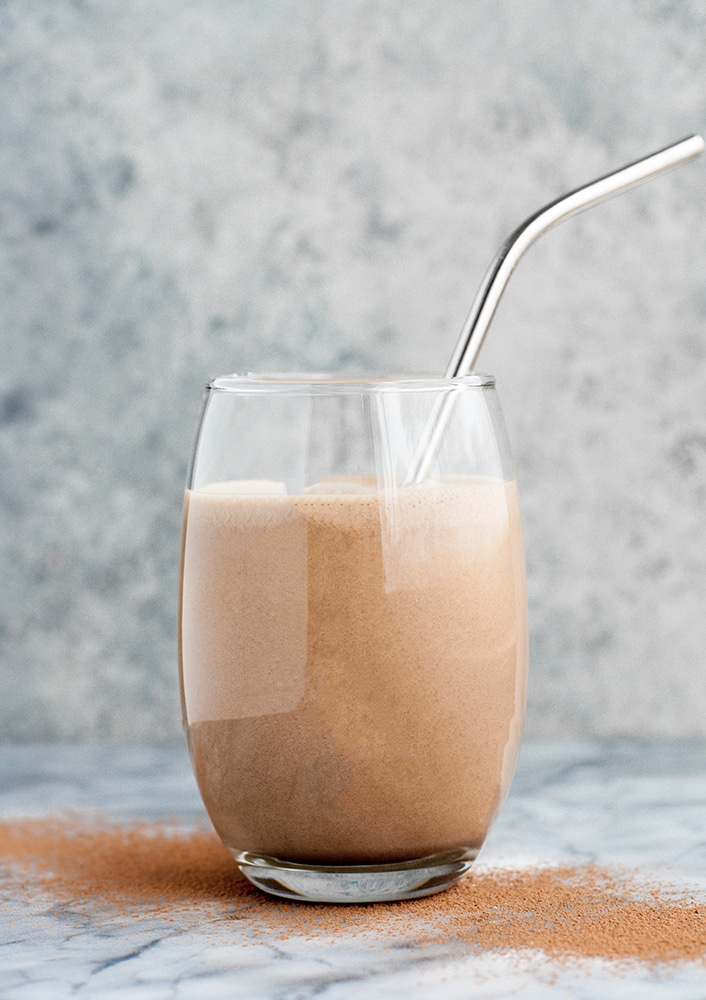 Storing your smoothie
If you decide to save, double, or triple your smoothie recipe (which is super simple, by the way), leftovers can be kept for up to two days. Be sure to seal in an airtight container (like a glass mason jar) and refrigerate.
A low carb smoothie for a bunch of diets
Keto and Low Carb: This recipe has only 4 grams of net carbs per serving, making it perfect for a keto diet.
Gluten-Free: This keto chocolate smoothie does not include any gluten-containing ingredients.
Grain-Free: Grain products are not used in this recipe.
Nut-Free: There are zero peanut or tree nut products in this recipe.
Coconut-Free: This recipe can be made coconut-free by simply substituting coconut-based ingredients.
Egg-Free: There are no eggs in this recipe.
Vegetarian: Free of meat, this chocolate smoothie is perfect for vegetarians!
Vegan: This smoothie does not contain any animal-based products.
Sugar-Free: This recipe does not use granulated or traditional sugar.
More keto chocolate recipes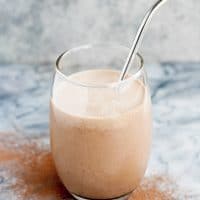 Chocolate Fat Bomb Smoothie
---
Author: Sara Nelson
Prep Time: 5 minutes
Cook Time: 0 minutes
Total Time: 5 minutes
Yield: 1 cup 1x
Category: Drink
Method: Blend
Cuisine: American
Description
This Chocolate Fat Bomb Smoothie recipe is seriously delish, and it doesn't hurt that it's also low-carb, gluten-free, nut-free, egg-free, vegan, and keto! Plus, it only takes 5 minutes (or less) to whip up.
---
---
Instructions
To a high-speed blender, add all ingredients and pulse until smooth. Serve immediately and enjoy!
Recipe Notes:
Coconut Milk and Coconut Cream Substitution: To substitute coconut milk and coconut cream, replace with ½ cup heavy cream and ¼ cup water. Note that this will change the nutrition content.
SunButter Substitution: If you do not have a nut allergy or intolerance, you can substitute in unsweetened almond butter or peanut butter for SunButter at a 1:1 ratio. Note that the nutrition facts will change if you do this.
Storage: Store smoothie in an airtight glass jar in the refrigerator and enjoy within 2 days.
Keywords: low carb smoothie recipes, keto chocolate smoothie, how to make a chocolate smoothie
This is a sponsored post written by Sara Nelson on behalf of Lakanto.
Reader Interactions