The combination of flavors between chocolate, coconut, and almonds in these Low-Carb Almond Joy Bars is a match made in low-carb heaven!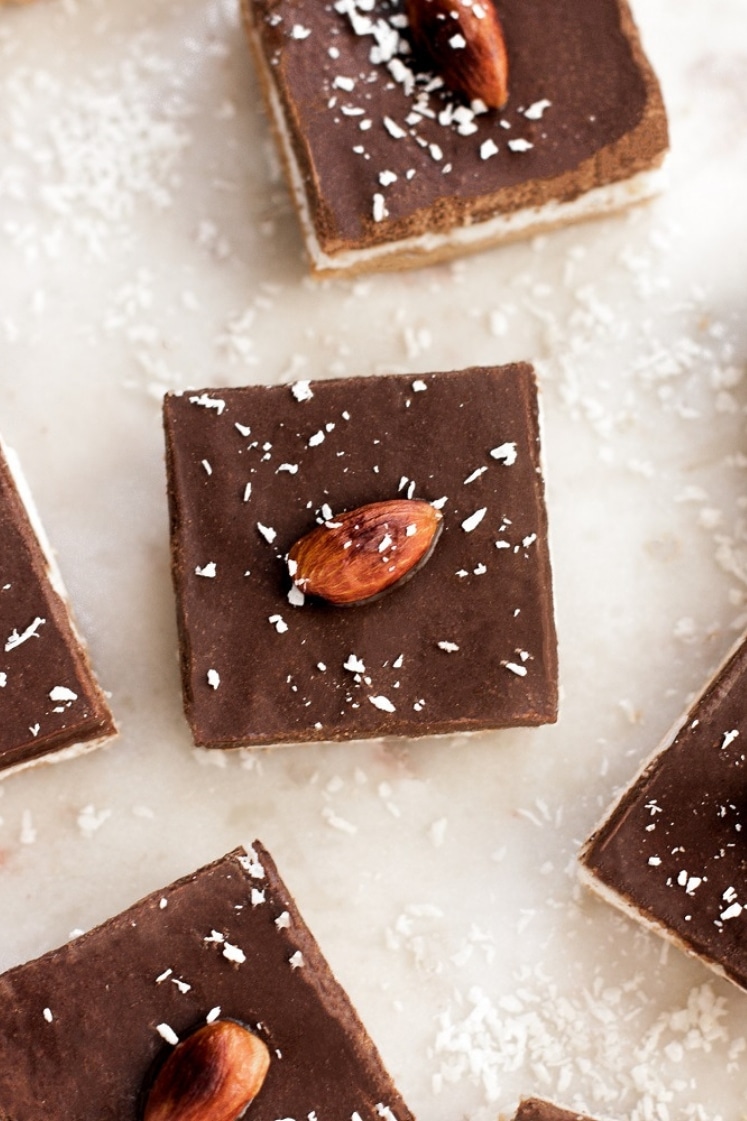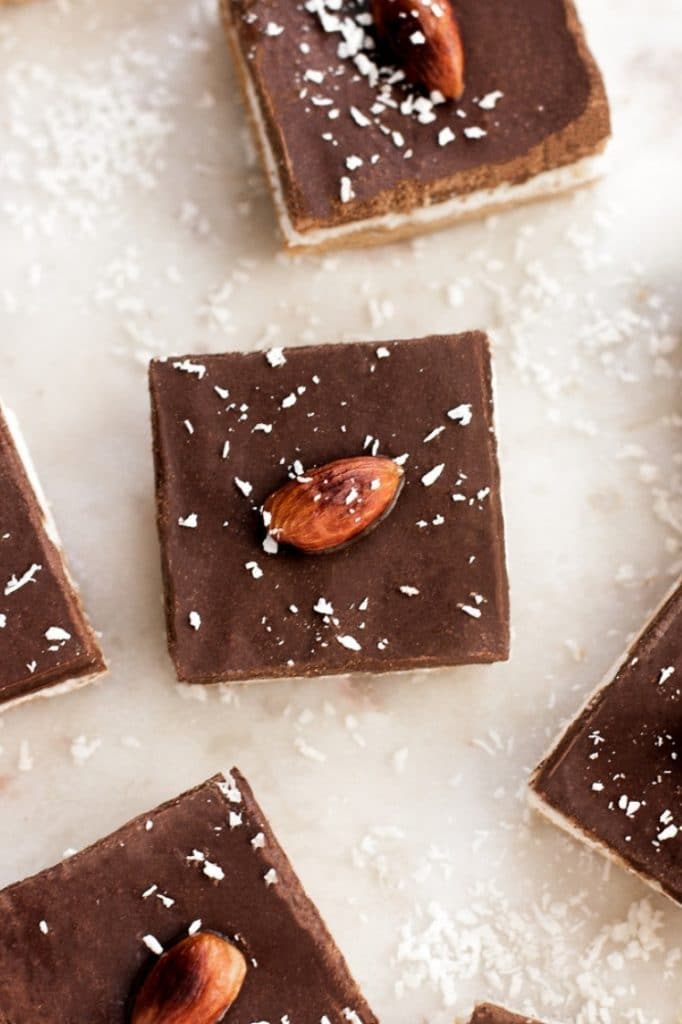 Whip up a batch of these to bring to work parties, family gatherings, or just to enjoy as a post-dinner treat!
Almond Joy Bars Are Low-Carb Dessert Option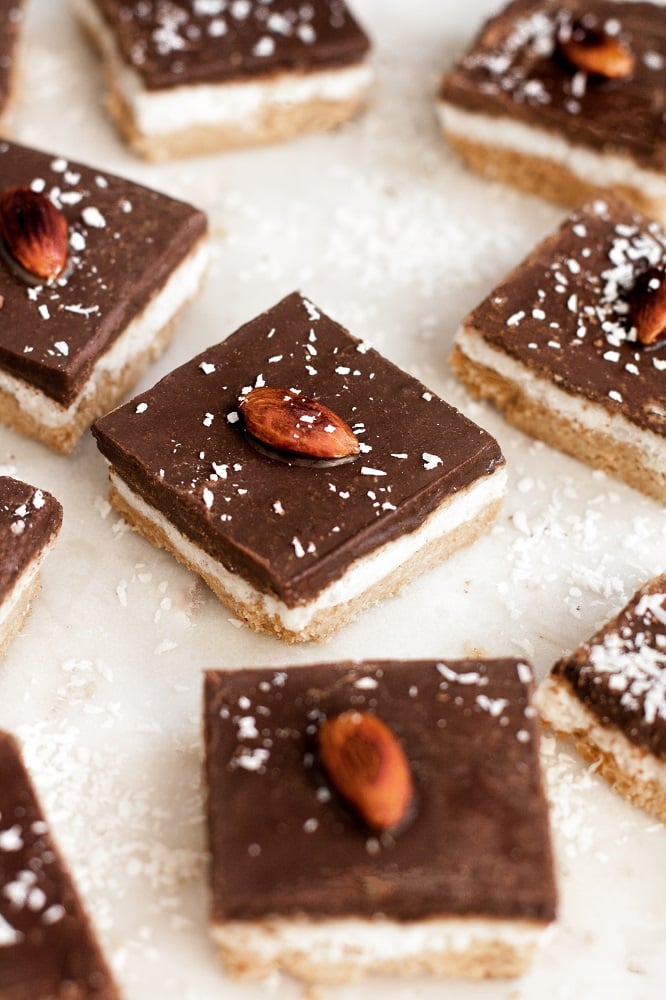 After we finished eating up all of my Sea Salt Dark Chocolate Almond Cluster Fat Bombs, I was still reaaaaallly craving some more chocolatey goodness! This got me to thinking (and craving) a combination of homemade chocolate and coconut, which are two of my favorite keto-friendly ingredients to work with!
With this craving in mind and in knowing that Ryan LOVES Almond Joys, I knew I needed to put a low-carb spin on this delicious treat!
These Low-Carb Almond Joy Bars have all the flavors of the traditional candy bar plus an added crust component, making this a simple and tasty recipe to prepare and bring to parties for everyone to enjoy!
Almond Joy Bars Sweetened With Monk Fruit Sweetener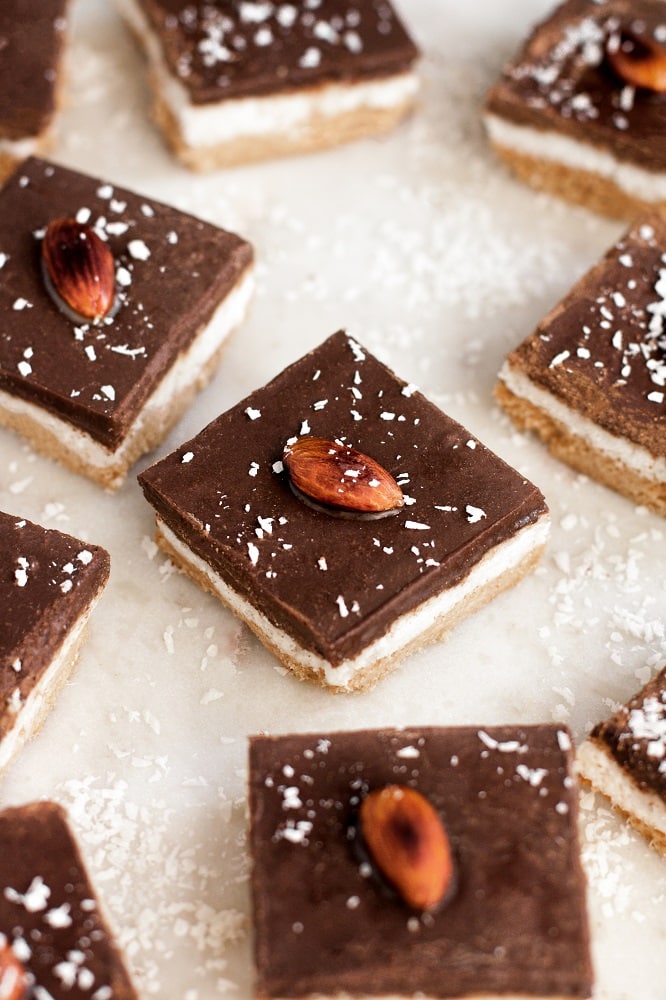 Like almost all of my other ketogenic dessert recipes, these Low-Carb Almond Joy Bars are sweetened with net-carb-free Lakanto Monk Fruit Sweetener.
Lakanto's natural sweetener tastes exactly like traditional sugar yet won't spike your glucose levels or kick you out of ketosis!
If you've been a follower of Real Balanced for any period of time, you probably have learned two things:
I love developing (and eating) low-carb dessert recipes, and
My favorite keto product is Lakanto Monk Fruit Sweetener. I truly use both the classic and golden varieties every single day!
Haven't tried Lakanto's Monk Fruit Sweetener or need to re-stock your pantry? Then, use the code "REALBALANCED" for 20% off your order!
Have questions about monk fruit sweetener? Read this post here!
LAKANTO TASTE TEST BUNDLE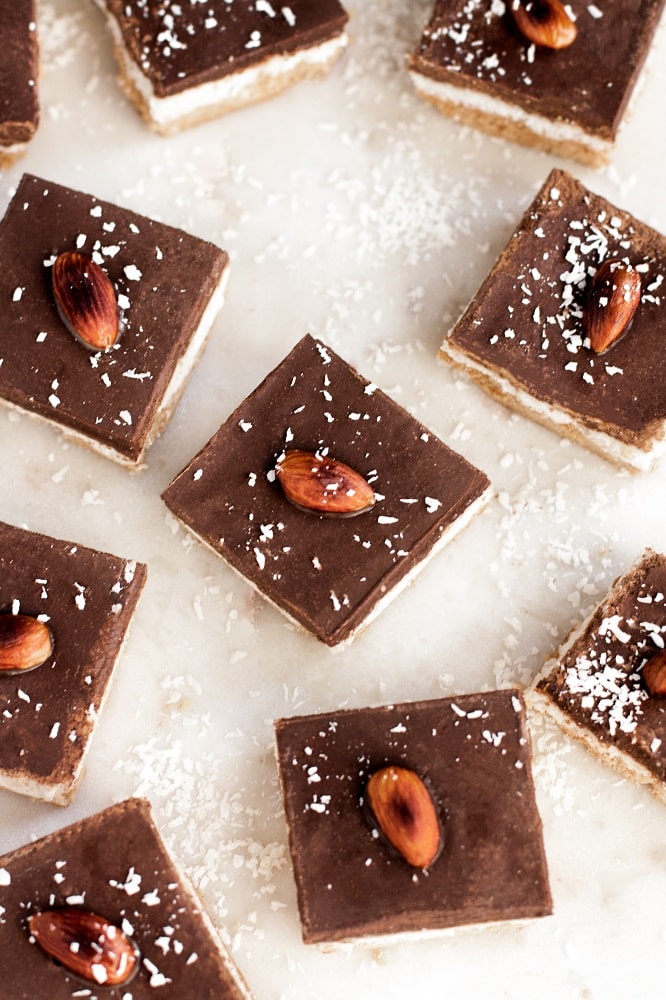 I have partnered with Lakanto to share a Taste Test Bundle with you all! If you've been waiting to try monk fruit sweetener, now is the time to order! This deal includes classic monk fruit sweetener, golden monk fruit sweetener, a recipe e-Book, and Lakanto's Taste Test Guarantee!
Almond Joy Bars Are Delicious And Diet-Friendly Dessert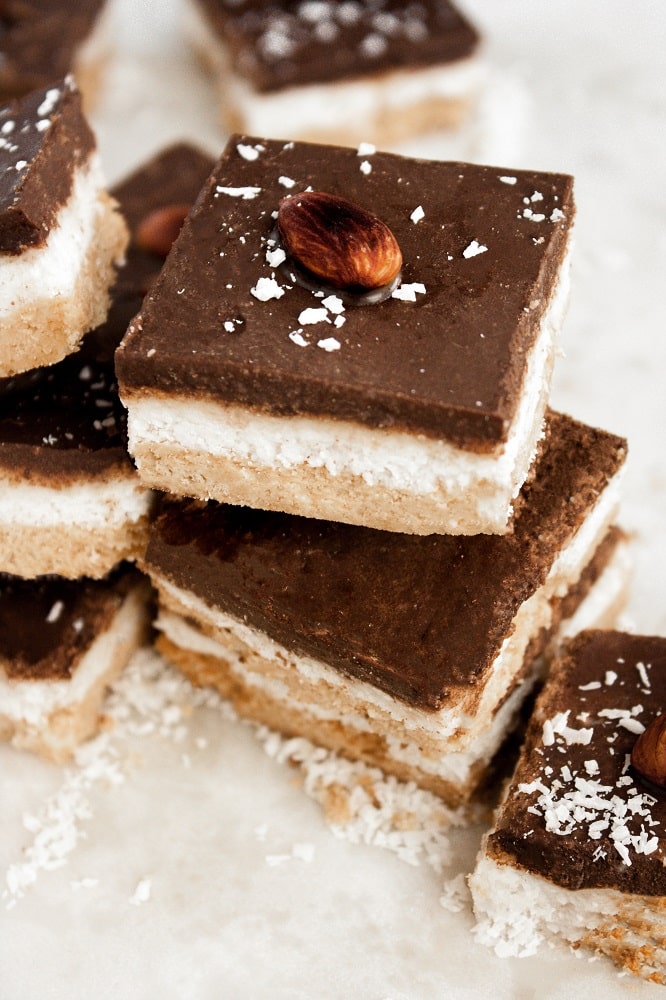 Low-Carb and Keto: These bars are a delicious low-carb treat containing only 3.7 grams of net carbs per serving!
Egg-Free: This recipe is egg-free, making it a perfect dessert option for those with an egg allergy or egg intolerance.
Gluten-Free and Grain-Free: This recipe uses almond flour and coconut flour and is entirely gluten-free and grain-free.
Vegetarian: These bars are vegetarian-friendly.
Refined-Sugar-Free: This recipe contains no refined sugars since it's sweetened with monk fruit sweetener.
Net Carbs In Low Carb Almond Joy Bars
One bar contains 3.7 grams of net carbs.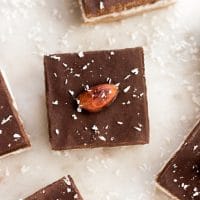 Low-Carb Almond Joy Bars
---
Author: Sara Nelson
Prep Time: 15 minutes
Cook Time: 25 minutes
Total Time: 1 hour, 20 minutes
Yield: 16 bars 1x
Category: Dessert
Method: Bake
Cuisine: American
Description
These Low-Carb Almond Joy Bars are a perfect dessert to satisfy your craving for something chocolatey and sweet! This recipe is low-carb, keto, egg-free, gluten-free, grain-free, vegetarian, refined-sugar-free, and contains only 3.7 grams of net carbs per serving!
---
Ingredients
Crust
Coconut
Chocolate
Topping
---
Instructions
For the crust:
Preheat oven to 325 degrees and line 8×8 baking pan with parchment paper.
Pulse crust ingredients in food processor until well-combined.
Transfer mixture to prepared baking pan and, using fingers, press crust into even layer.
Bake crust until golden brown, about 20 minutes.
Set aside to slightly cool.
For the coconut layer:
Meanwhile, pulse coconut ingredients in food processor until well-combined.
After crust has slightly cooled off, using fingers, press coconut mixture into even layer on to top of crust.
For the chocolate layer:
To a small glass bowl, add cocoa butter, cocoa powder, heavy whipping cream, and classic monk fruit sweetener.
Using double boiler method on stovetop over medium low heat, melt ingredients together until chocolate is smooth. Whisk mixture frequently to avoid burning.
Pour chocolate mixture atop coconut layer and smooth into even layer using a spatula.
Transfer pan to freezer to harden chocolate, about 30-40 minutes.
Remove pan from freezer and cut bars into 16 equal pieces (*see note below).
For the almonds:
In a small pan on stovetop over medium low heat, heat almonds until golden.
Remove almonds from heat and, using a tongs, carefully place individual almonds on top of chocolate layer of bars, pressing down so the chocolate just melts and acts as a glue.
Recipe Notes:
* I find that it is easiest to cut the bars if your knife is hot. I suggest running the knife under hot water, drying, and then cutting the bars. Store bars in airtight container in refrigerator.
Keywords: Low-Carb Almond Joy Bars, keto almond joy, healthy almond joy recipe
Reader Interactions