This post is sponsored by BrightFarms, but all content and opinions expressed here are my own.
This Keto Green Smoothie is packed with energizing superfood ingredients to keep you full and focused throughout your day! I personally love to drink a glass of this smoothie during the early afternoon and it keeps me satiated until dinnertime!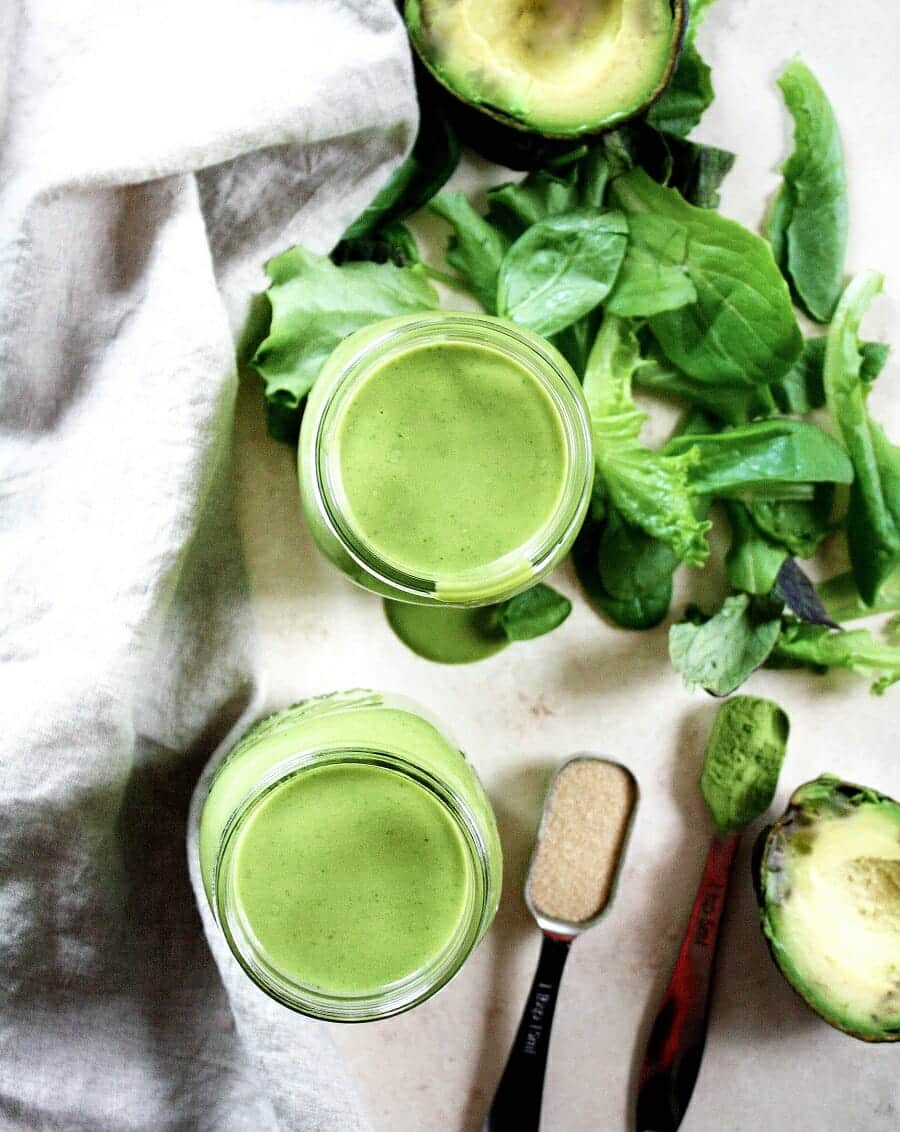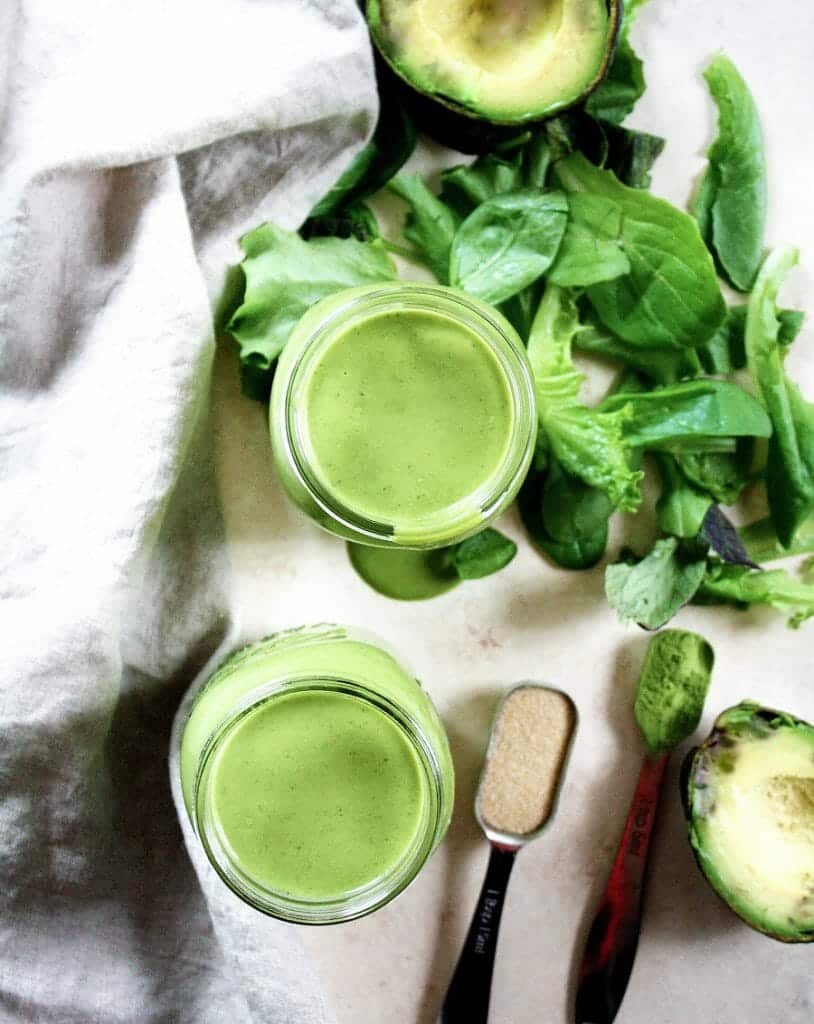 Fiber-Rich, On-The-Go Low-Carb, And Keto Green Smoothie
FEATURING LOCAL FLAVOR
I believe that eating meals that feature real, whole, local ingredients is the cornerstone to optimal health. Whenever possible, I buy local produce for its freshness, nutrient-density, and to support my local farmer! The BrightFarms spinach greens featured in this recipe are local to the midwest and are non-GMO and pesticide-free! Learn more about their local farming operation!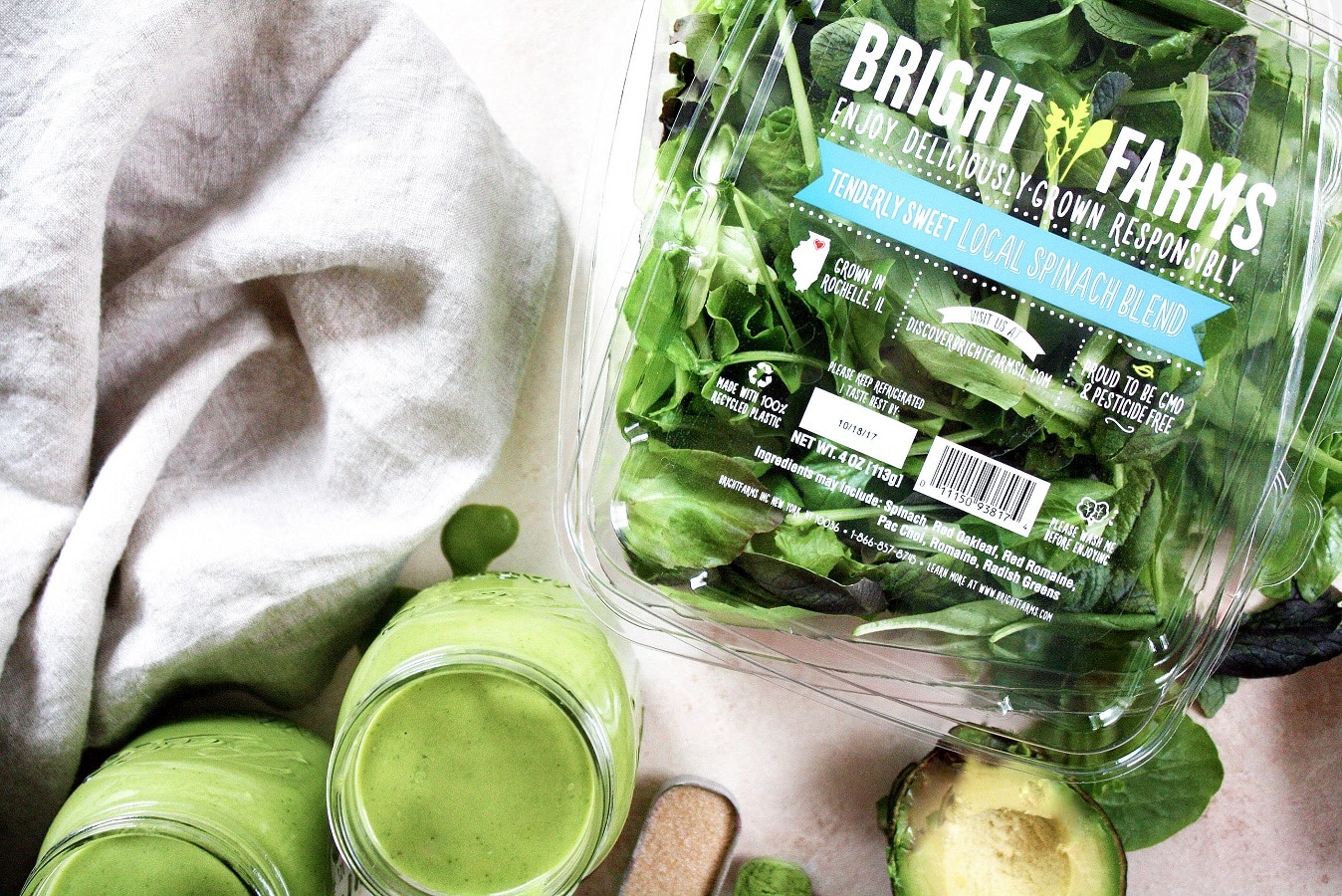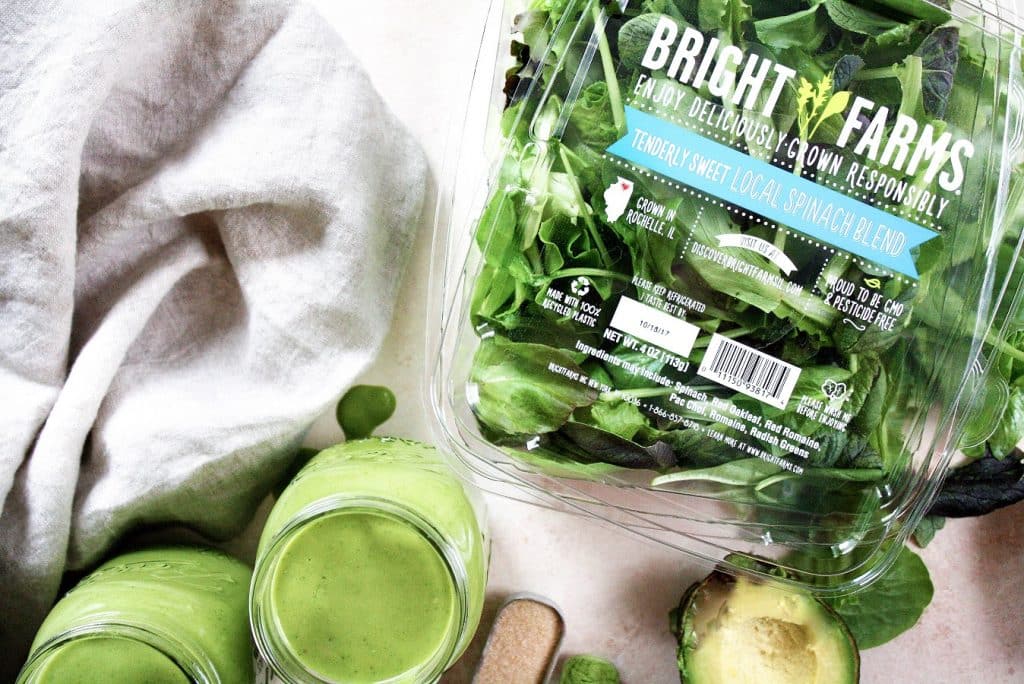 Green Smoothie Sweetened With Monk Fruit Sweetener
This Keto Green Smoothie is sweetened with my favorite all-natural, net-carb-free, and calorie-free sweetener, Lakanto Monk Fruit Sweetener! I personally include Lakanto Monk Fruit Sweetener in my diet every day as I prefer its flavor and texture over stevia or other low-carb sweeteners.
If you are looking for a sweetener that tastes like sugar and is low-carb, keto, vegan, and paleo-compliant, I highly recommend trying Lakanto Monk Fruit Sweetener! You can use code "REALBALANCED" for 20% off your total order!
And, if you need more keto-friendly monk fruit-sweetened dessert recipes, check out this list of over 40 recipes!
Looking for more information on monk fruit sweetener? I wrote a post answering all of your most frequently asked questions…
LAKANTO TASTE TEST BUNDLE
I am also excited to share that I have partnered with Lakanto to share a Taste Test Bundle with you all! If you've been waiting to try monk fruit sweetener, now is the time to order! This deal includes classic monk fruit sweetener, golden monk fruit sweetener, a recipe e-Book, and Lakanto's Taste Test Guarantee!
Read more about and place your order for the Taste Test Bundle here!
Keto Green Smoothie With An Added Boost of Energy From MCT Oil
MCT oil powder is my absolute favorite way to incorporate healthy fats into my diet, especially by way of this Keto Green Smoothie. MCT Oil is derived from coconuts and is rapidly absorbed by our bodies and converted into physical energy and causes improved mental performance. The days that I do not have MCT Oil in my smoothie or my coffee, I instantly notice a decline in my ability to focus and my energy output in the gym. There is rarely a day that goes by that I don't add MCT Oil or MCT Oil Powder to a drink or meal!
I use Perfect Keto MCT Oil Powder and it gives me the extra boost of energy I need to power through my days and remain satiated between meals.
Perfect Keto products are a pantry-staple of ours. If you are running low, you can use code "REALBALANCED" for 15% off your Perfect Keto orders!
Net Carbs In Keto Green Smoothie
With only 4.1 grams of net carbs (all of which are coming from low-glycemic, whole, real food!), you can enjoy this nutrient-dense green smoothie while happily remaining in ketosis!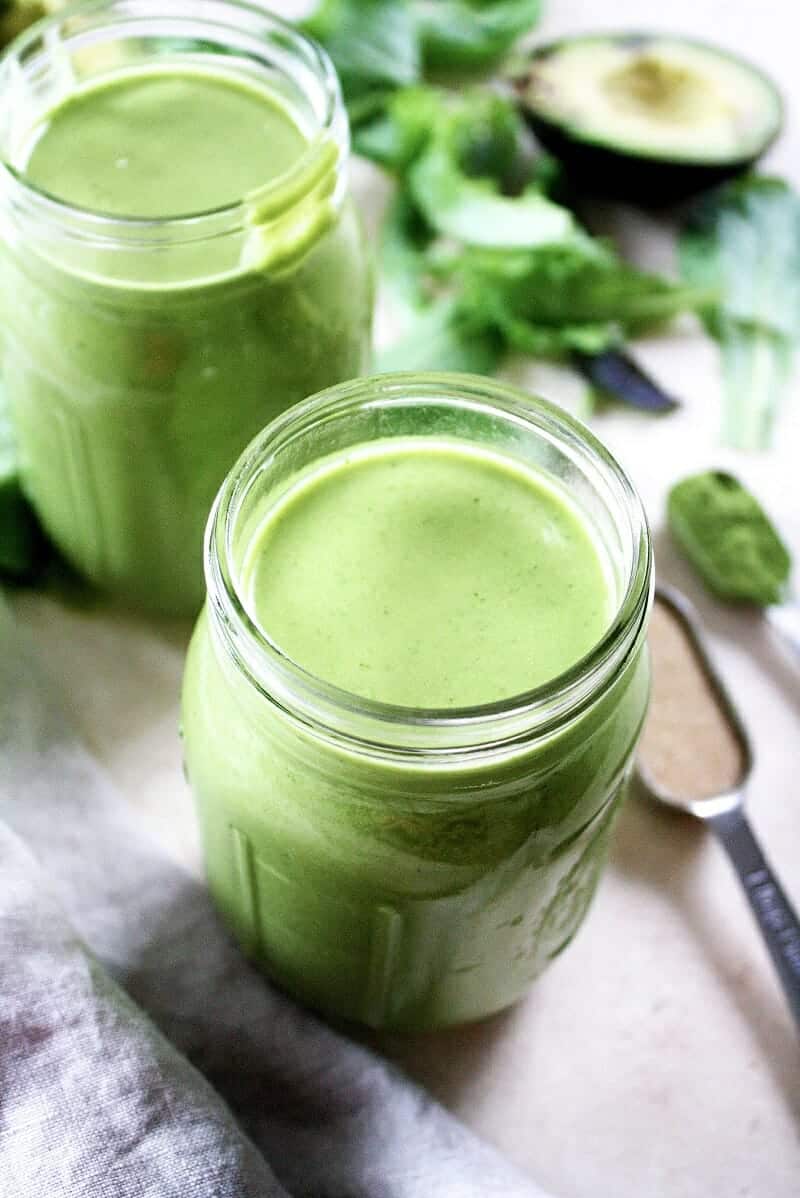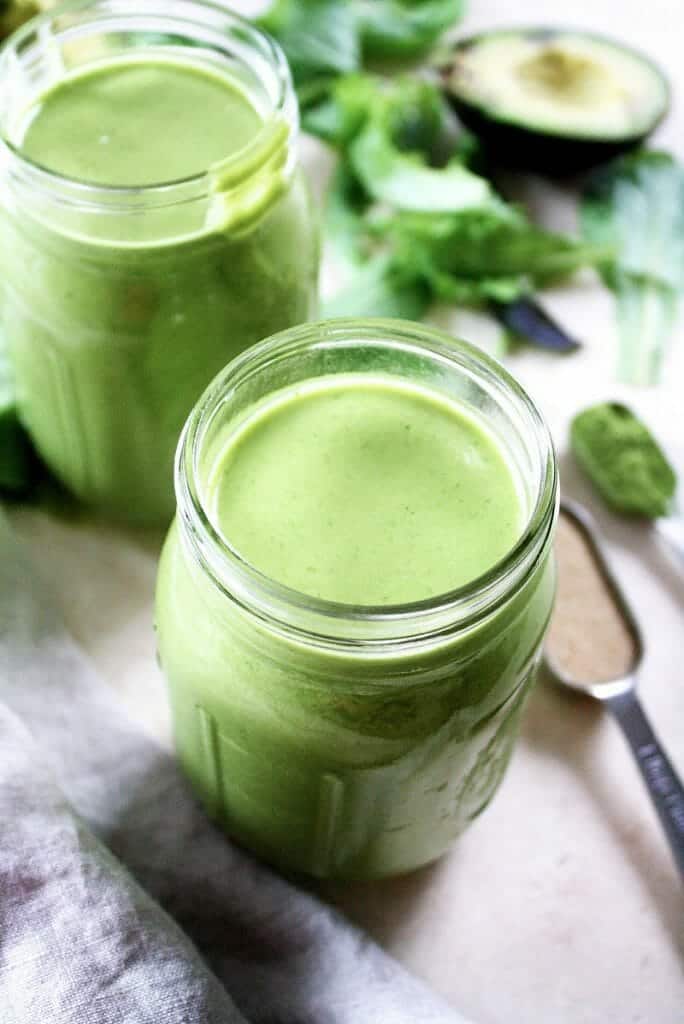 Diets This Keto Green Smoothie Recipe Is Compliant With
This recipe is keto, low-carb, paleo, low-glycemic, egg-free, nut-free, gluten-free, grain-free, dairy-free, vegetarian, vegan, and refined-sugar-free.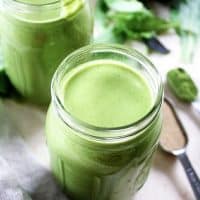 Keto Green Smoothie
---
Author: Sara Nelson
Prep Time: 5 minutes
Total Time: 5 minutes
Yield: 1 Smoothie 1x
Category: Drink
Method: Blend
Cuisine: American
Description
This Keto Green Smoothie is the ultimate superfood smoothie! One serving is only 4.1g net carbs, full of fiber, and is keto, low-carb, paleo, low-glycemic, egg-free, nut-free, gluten-free, grain-free, dairy-free, vegetarian, vegan, and refined-sugar-free!
---
Ingredients
Optional additions:
---
Instructions
Add all ingredients to blender and blend until well-combined.
Serve and enjoy!
Recipe Notes:
Coconut Milk Substitution: Instead of using 1/2 coconut milk, you can substitute in 1/4 cup (60mL) heavy cream + 1/4 cup water.
Keywords: keto green smoothie, low-carb smoothie, keto smoothie, low-carb green smoothie, paleo green smoothie, paleo smoothie, low-carb vegan smoothie, vegan keto smoothie
Reader Interactions