This is the TASTIEST keto mocha smoothie! If you like chocolate and coffee, you are going to LOVE this for an energizing and low-carb breakfast. The best part? It's ready to serve in just FIVE minutes!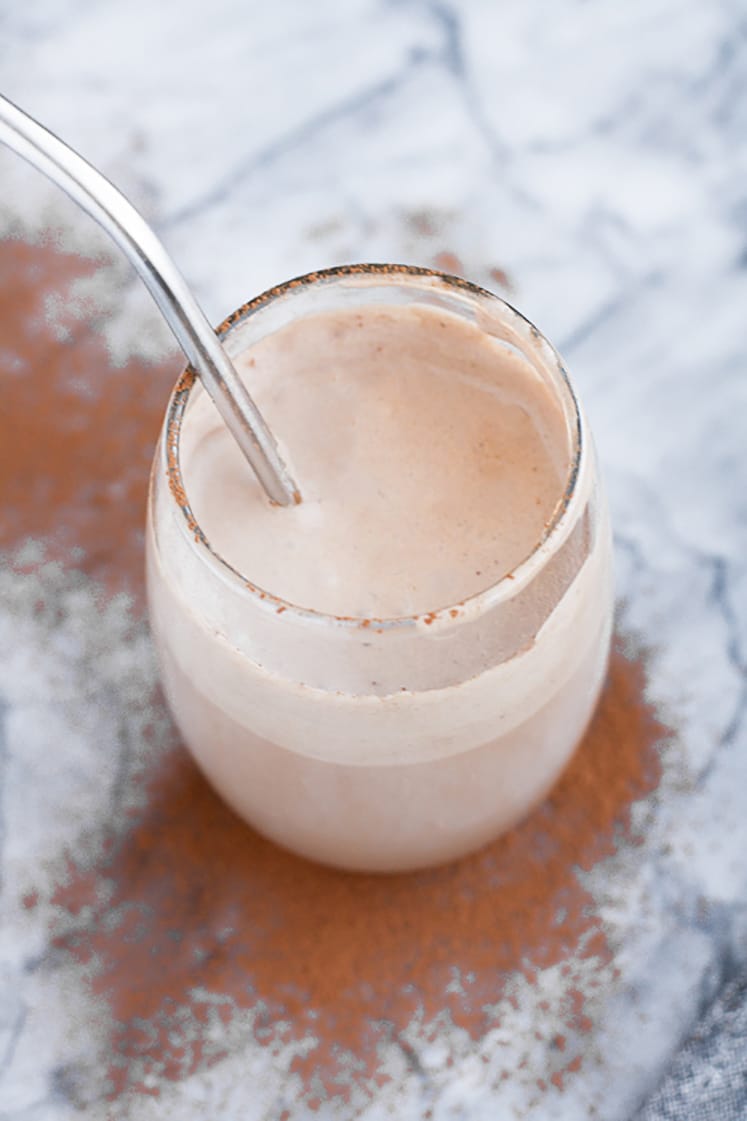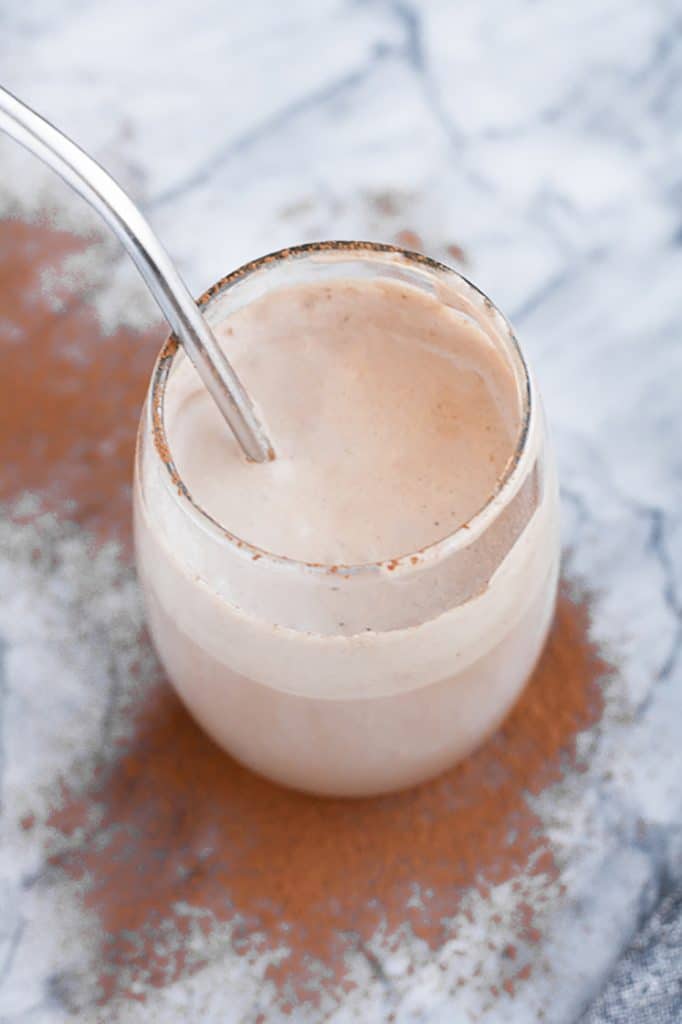 This incredible smoothie recipe is keto, low-carb, gluten-free, grain-free, sugar-free, nut-free, egg-free, coconut-free, primal, AND vegetarian!
The perfect keto smoothie recipe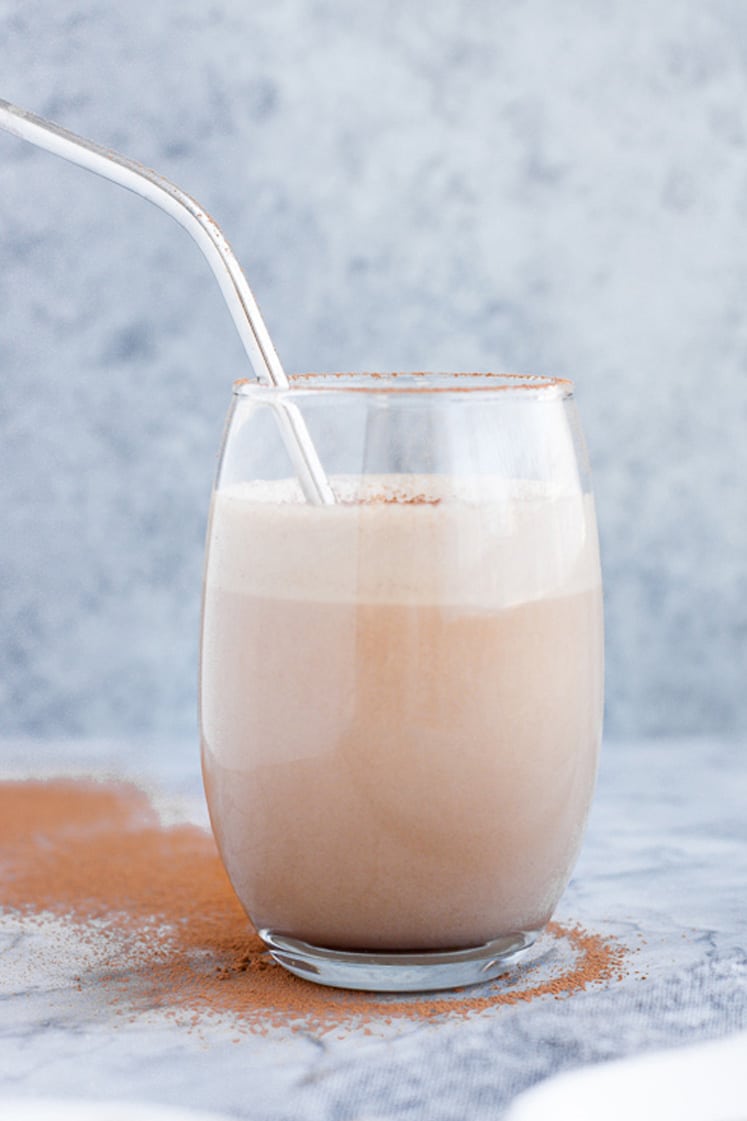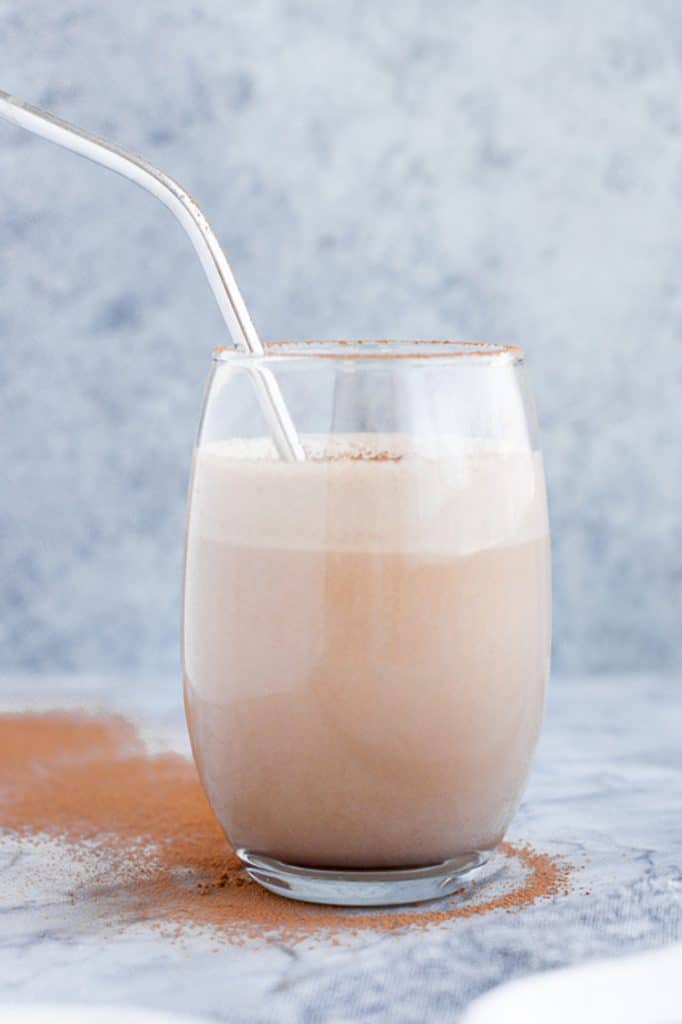 I am ALL for things that make my life easier. I LOVE "life hacks" and tips and tricks for saving time and making the day-to-day grind a bit less hectic. This could not be more true when it comes to cooking!
When I decided to put together a new smoothie recipe, my goal was to create something SO easy that I'd be able to successfully make it even during the busiest of mornings.
This recipe is so simple that it can be prepped and ready to serve in just five minutes, making it a perfect option for those days you're really hungry but need to run out the door to work.
A DELICIOUS smoothie breakfast
This mocha smoothie is SO tasty! The perfect blend of flavor, this recipe uses cocoa powder, monk fruit sweetener, and espresso powder. I LOVE the coffee undertones mixed with the chocolaty flavor of the cocoa powder.
A tasty (optional) ingredient addition: MCT oil powder
Whether you're a seasoned keto-er or you're just beginning your journey, you may have heard about MCT oil powder. The MCTs (medium chain triglycerides) provide the body with satiating fat that will keep you full, focused, and energized between meals.
Commonly listed benefits that people mention after incorporating MCT oil into their diet is improved mental clarity, lowered blood sugar, and even increased energy!
If you're looking for a boost of energy or an extra serving of fat, you may consider adding MCT oil powder to your smoothie! Simply add one scoop of Perfect Keto's MCT Oil Powder and you'll be satiated for hours to come!
A nut-free smoothie breakfast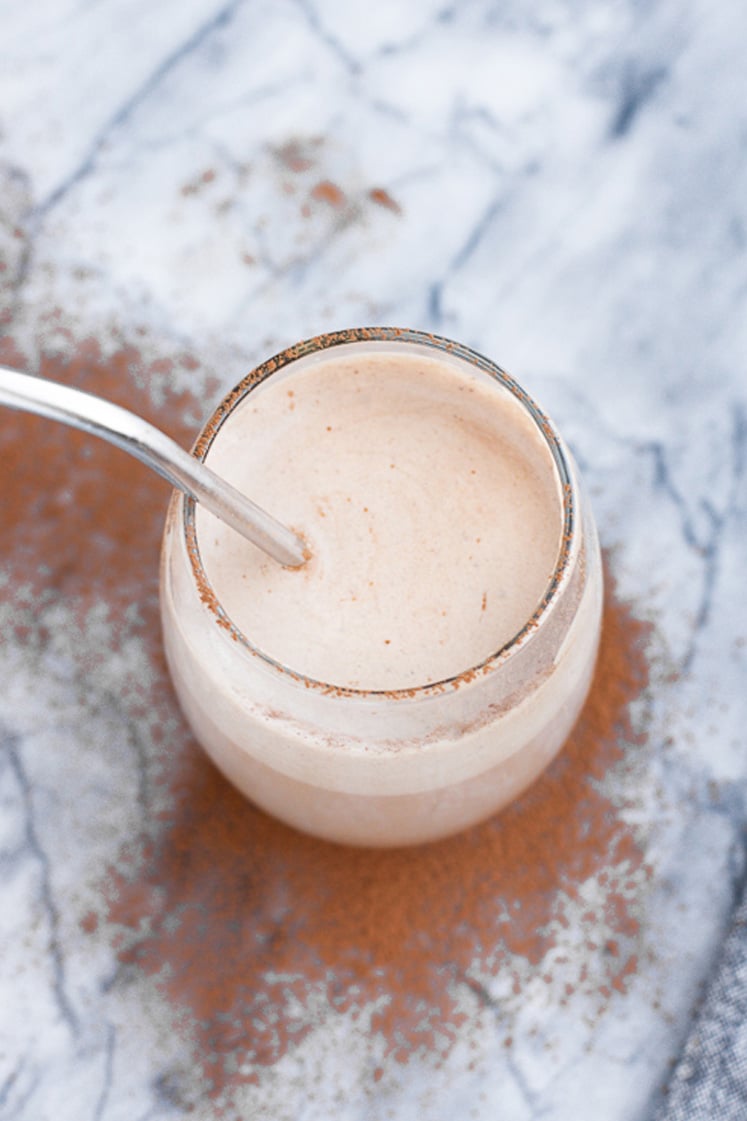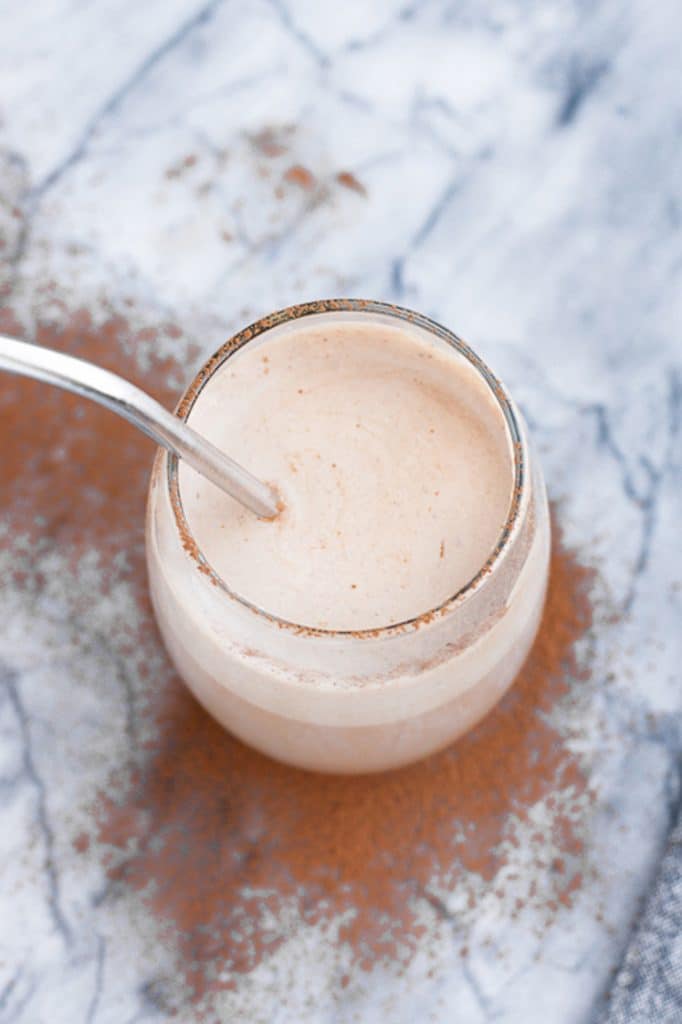 For those with nut allergies or intolerances, this keto mocha smoothie is the PERFECT breakfast! It's completely free of nuts, making it a quick, delicious, and nut-allergy friendly breakfast option.
How to make this smoothie dairy-free and vegan
This keto smoothie recipe can be EASILY made vegan! If you wish to substitute the dairy, simply omit the heavy cream and instead use canned coconut cream. For the perfect consistency, use 1/2 cup (120g) of canned coconut cream.

Keto smoothie recipe FAQs
Can I store leftover keto mocha smoothies? Yes! If you want to batch-make this smoothie, feel free! It can be stored in the refrigerator for up to 2 days. Be sure to use a glass airtight jar or container.
Can I use a different sweetener? Certainly! Feel free to use Swerve, Truvia, or erythritol at a 1:1 ratio. If you'd like to use stevia, be sure to accurately determine the correct measurement to use. Brands typically include conversion charts on their websites.
Can I double this recipe? Sure! This recipe makes one smoothie. If you'd like to double it, feel free! It shouldn't require extra time.
Here's how to make this keto mocha smoothie yourself!
Assemble the ingredients.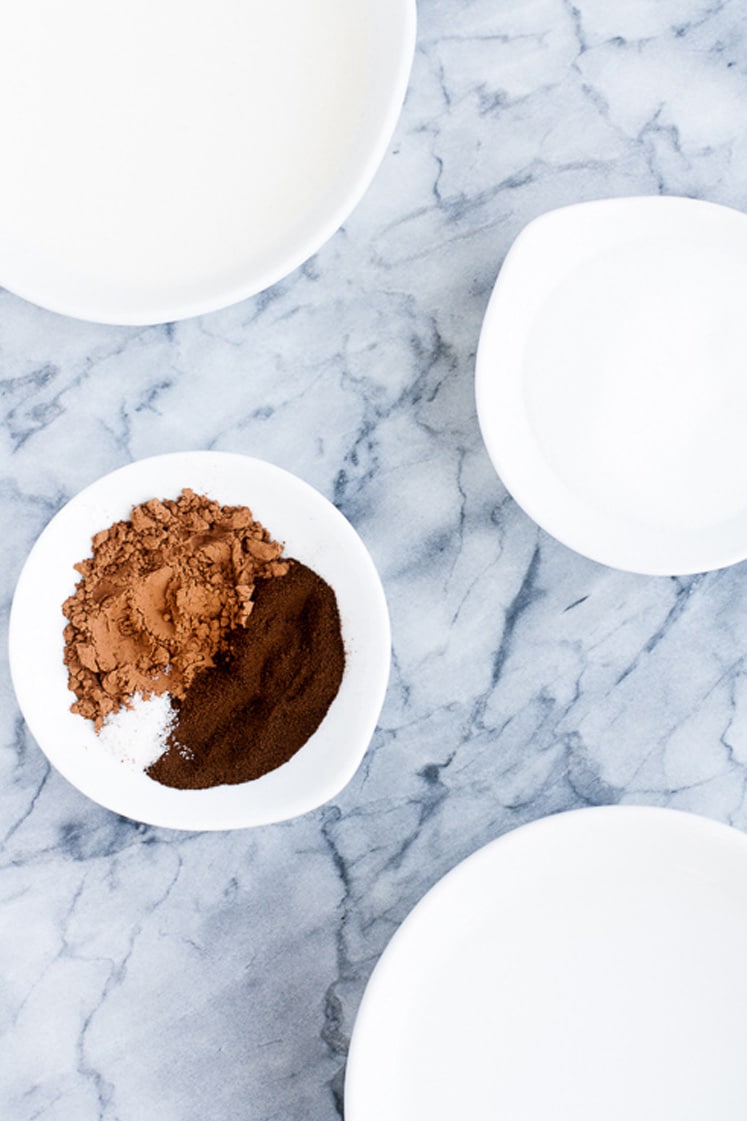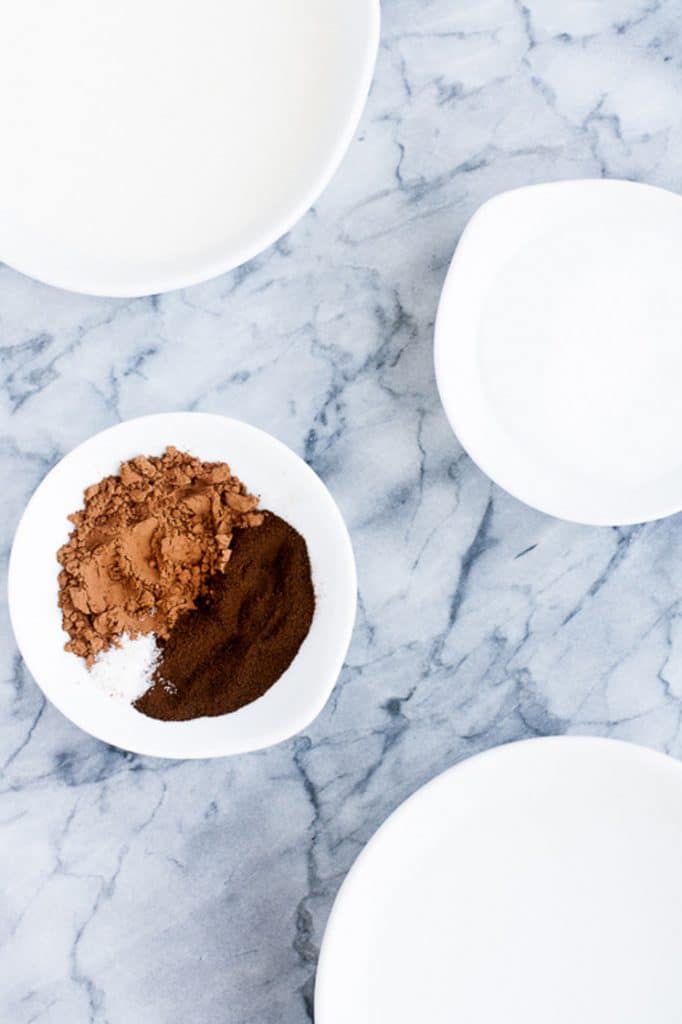 To a high-speed blender, add all ingredients…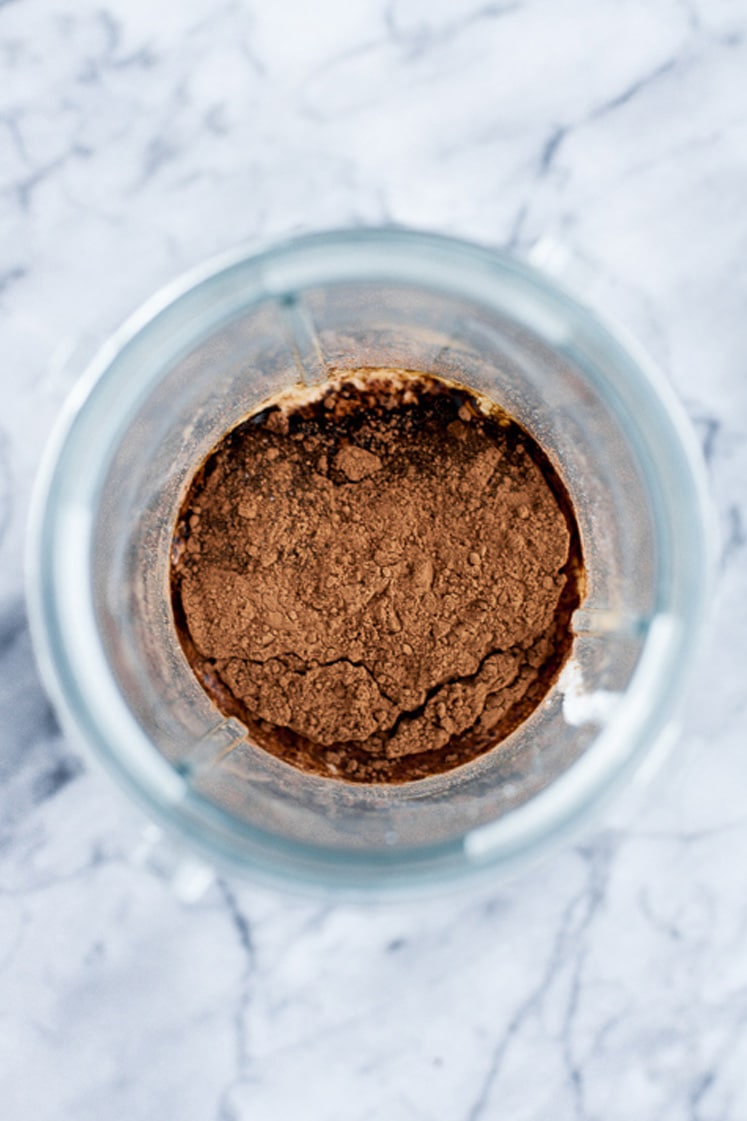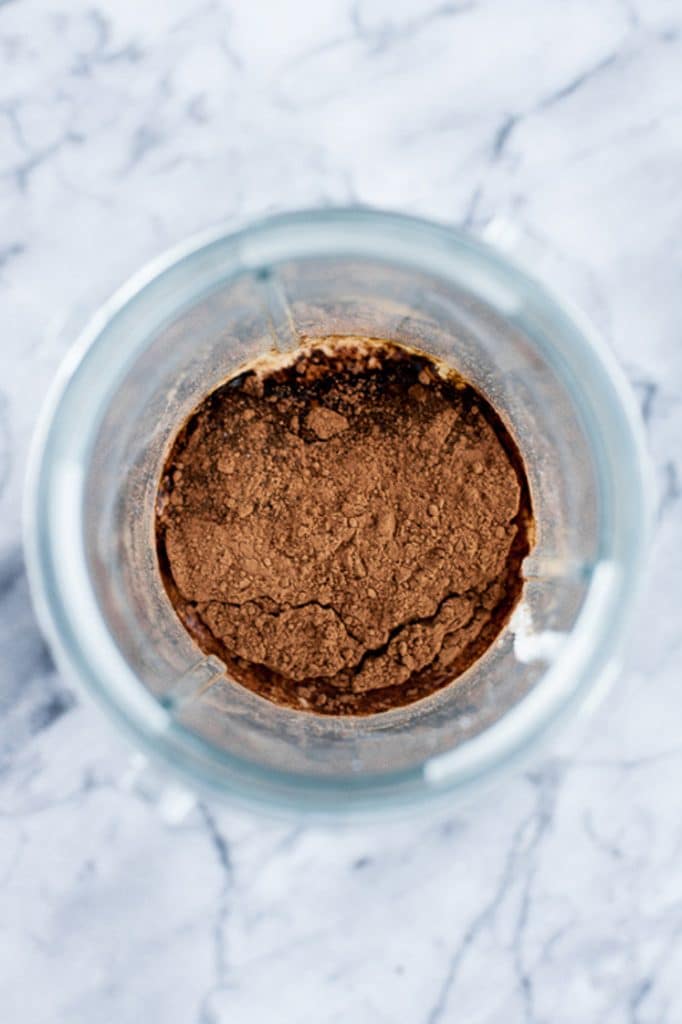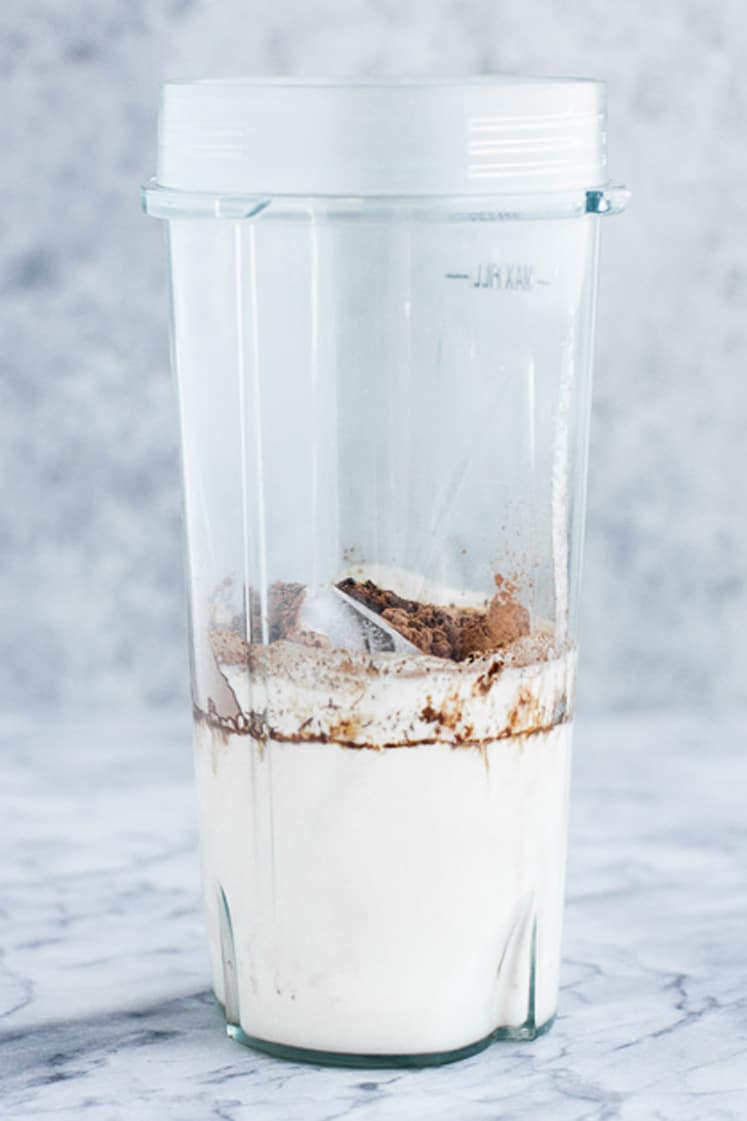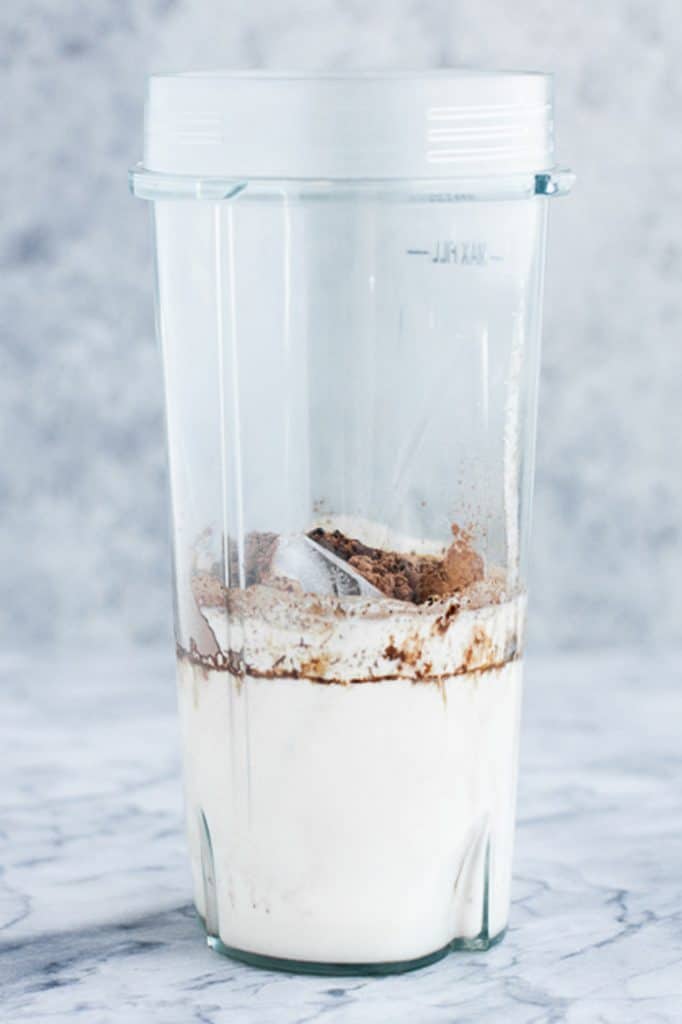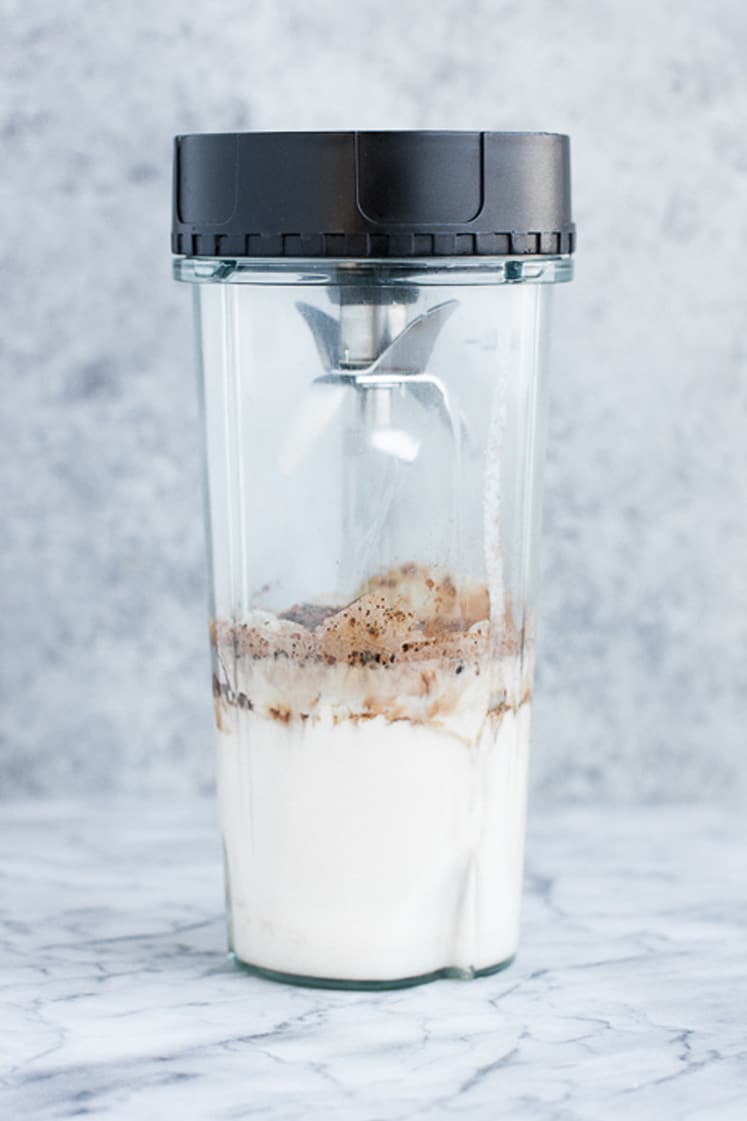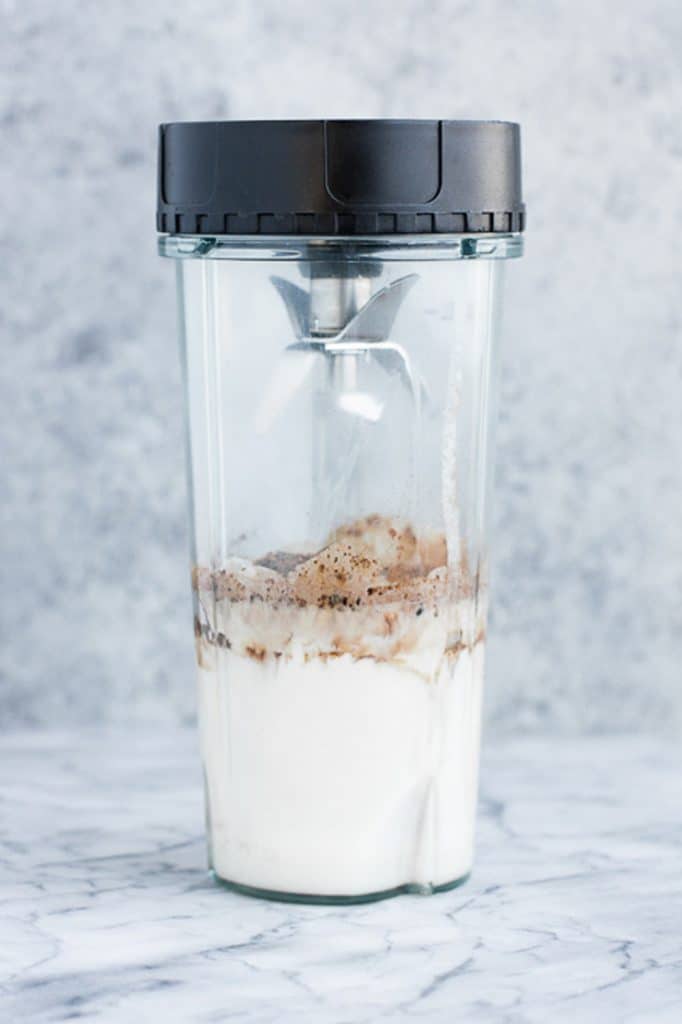 Pulse until just combined, being careful to not over-blend, which can lead to the smoothie being too thin.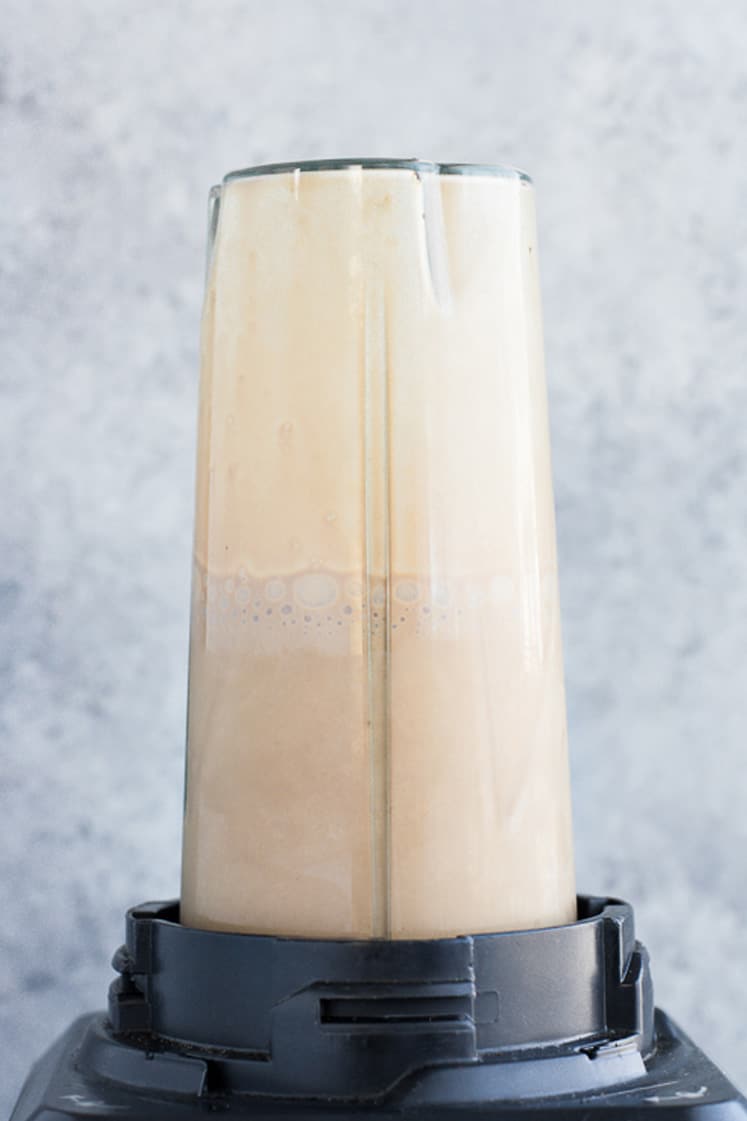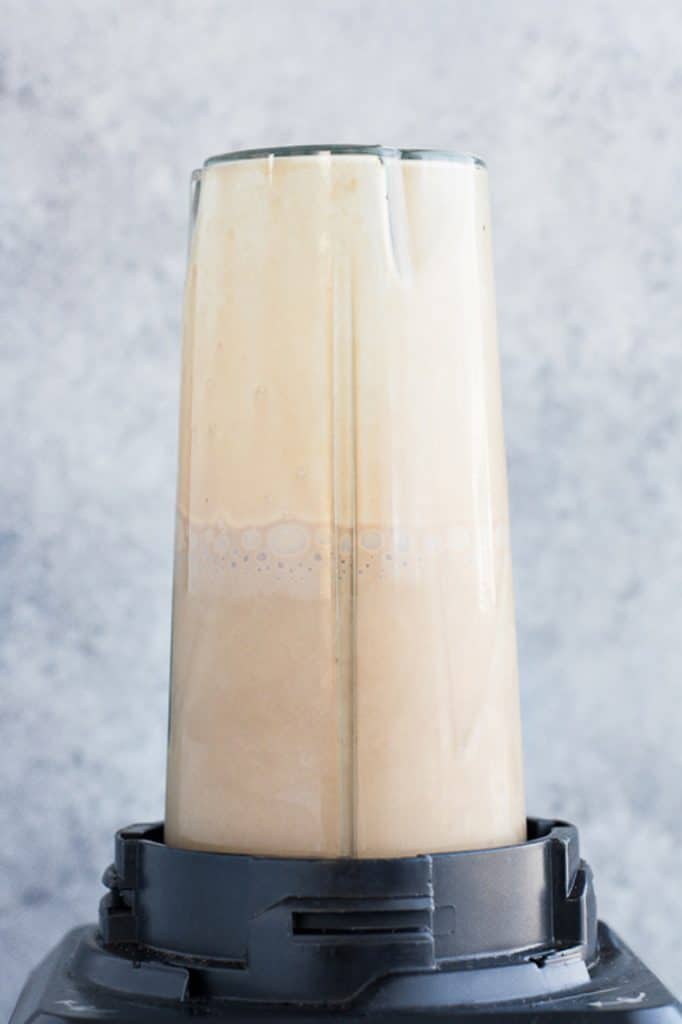 Serve and enjoy!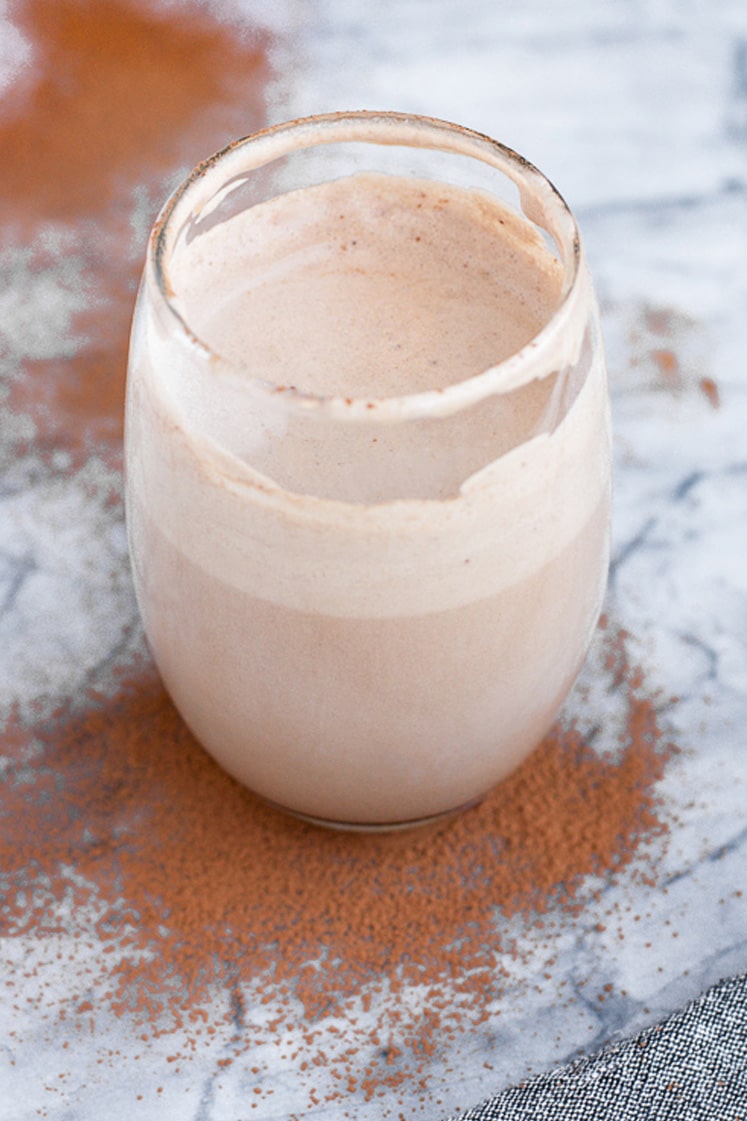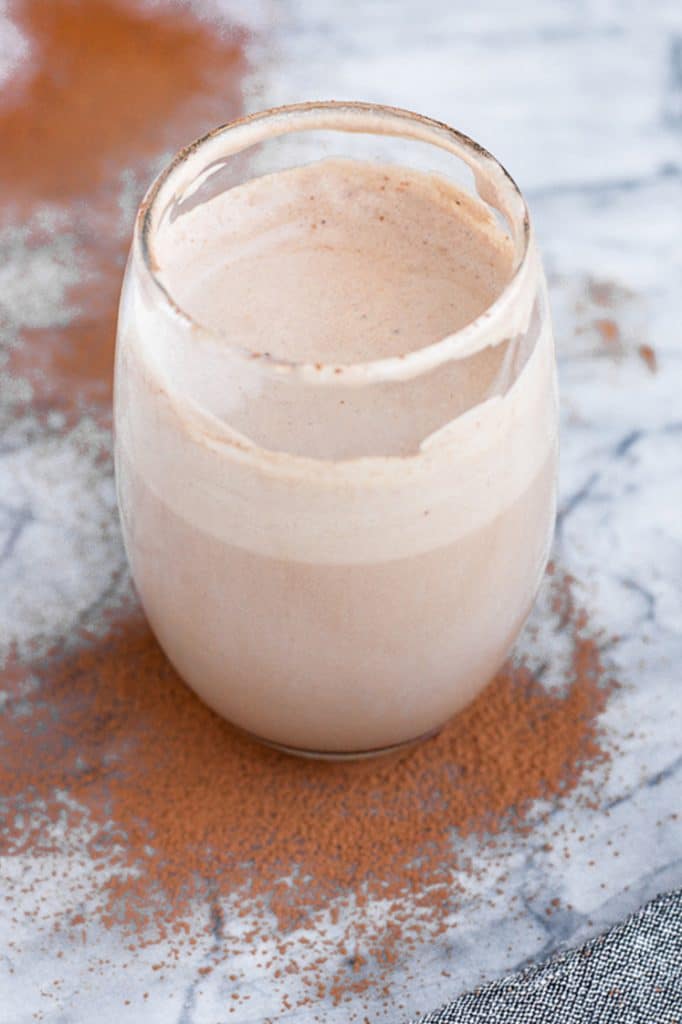 This keto mocha smoothie is great for a variety of diets
Keto and Low-Carb: This healthy smoothie only contains 5 grams of net carbs per serving! It's a FANTASTIC keto-friendly drink option.
Primal: This recipe is paleo compliant.
Gluten-Free: This smoothie is safe for those with Celiac or those with gluten intolerance or allergy.
Grain-Free: Similarly, this recipe is grain free.
Nut-Free: This delicious mocha smoothie is peanut-free and tree nut-free!
Coconut-Free: By simply omitting the optional ingredient of MCT oil powder, which contains coconut, coconut is not included in this recipe, making it safe for those with coconut allergies.
Egg-Free: Eggs are not used to create this incredible smoothie.
Vegetarian: This smoothie is vegetarian-friendly.
Sugar-Free: Refined sugar is not included in this mocha smoothie.
Need some extra Real Balanced smoothie ideas?
You will LOVE these keto smoothie recipes!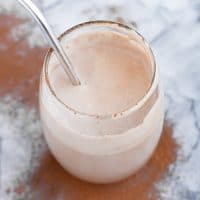 Keto Mocha Smoothie
---
Author: Sara Nelson
Prep Time: 5 minutes
Cook Time: 0 minutes
Total Time: 5 minutes
Yield: 1 serving 1x
Category: Drink
Method: Blend
Cuisine: American
Description
Are you looking for a keto mocha smoothie recipe to feed your sweet cravings without all the unnecessary sugar? Then this is the answer to your mocha smoothie prayers! This recipe is keto-compliant, low-carb, nut-free, AND refined sugar-free. 
---
---
Instructions
To a high-speed blender, add all ingredients and pulse until just combined, being careful to not over-blend, which will lead to the smoothie being too thin.
Recipe Notes:
For A Dairy-Free, Vegetarian, and Vegan Recipe: Substitute canned coconut cream for heavy whipping cream at a 1:1 ratio.
For A Coconut-Free Recipe: If you have a coconut allergy or intolerance, simply omit the optional ingredient of MCT Oil Powder, which contains coconut.
Storage: Store smoothie in an airtight glass jar in the refrigerator and enjoy within 2 days.
Keywords: mocha smoothie, keto mocha smoothie, keto smoothie recipes, perfect keto smoothie
Reader Interactions