Fat Tuesday is coming up real fast, so get your menu lined up with these delicious and easy low carb Mardi Gras recipes! Enjoy your festive favorites with a keto-friendly twist. This roundup has everything from pancakes to waffles, gumbo to jambalaya, and even dirty rice – take your pick.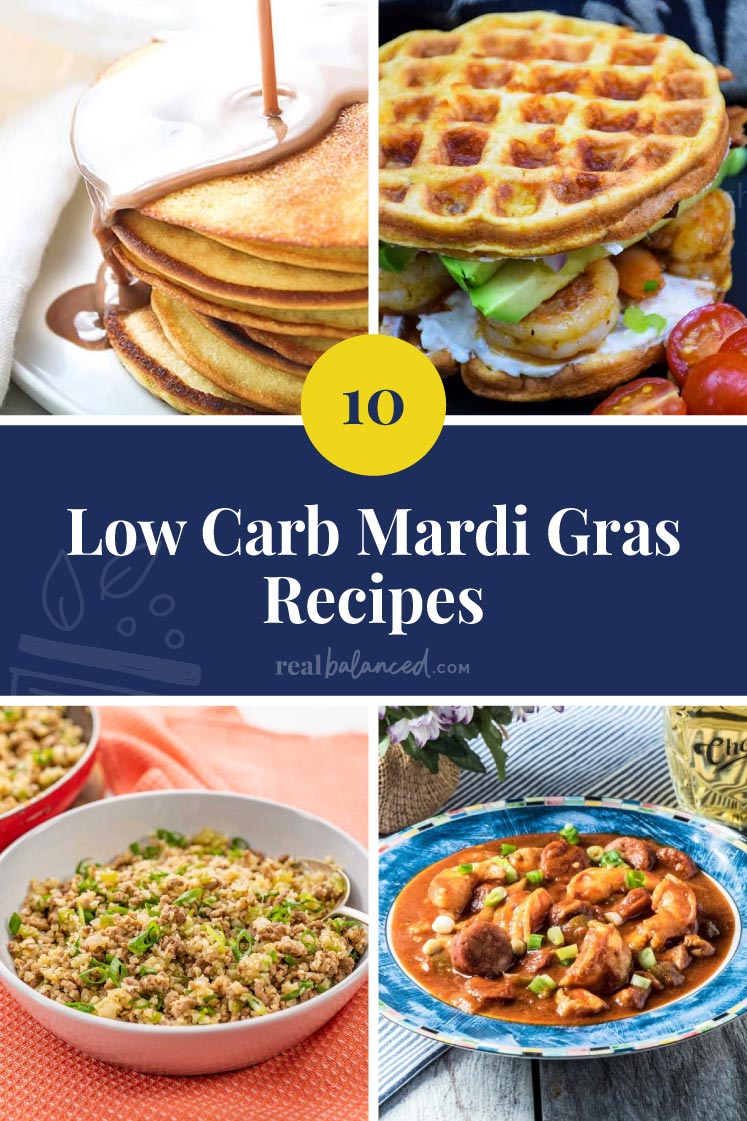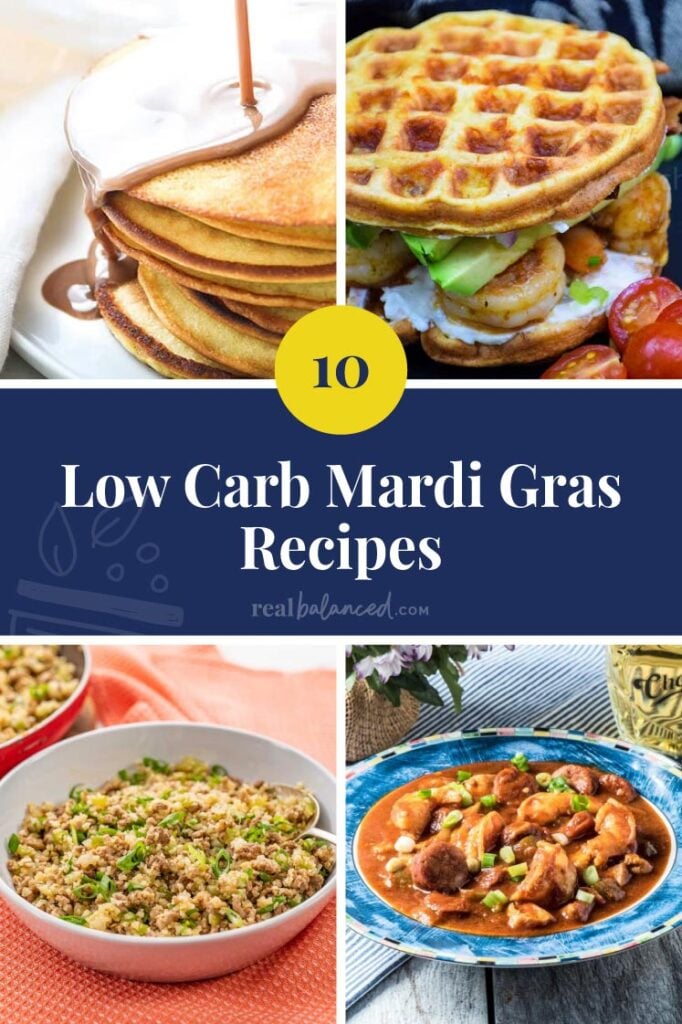 What to eat on Mardi Gras?
New Orleans has a diverse gastronomic history full of rich flavors with creative twists! (Seriously, where else will you find the best gumbo, jambalaya, beignets, and colorful king cakes?)
If you're wondering what you can eat that's keto for this upcoming over-the-top carnival celebration, then you're in luck! Everything on this list is low carb and keto-approved.
Mardi Gras dishes are usually rich, fatty foods that people enjoy just before fasting for the Lenten season. In case you didn't know, Mardi Gras is French for "Fat Tuesday," which as you can imagine is a great selling point for all of us on keto since we need it to stay in ketosis!
Traditional Mardi Gras Food
Whether you call it Mardia Gras, Fat Tuesday, or Carnival, these festive season classics will surely tantalize your tastebuds:
Gumbo – it's a rich stew made with a roux (e.g. flour and butter) and an assortment of ingredients like celery, chicken, okra, sausage, and seafood.
Etouffee – a thick crawfish stew that's also traditionally served over rice. It's quite similar to gumbo except it uses a blonde roux and has a distinct sweetish flavor.
Jambalaya – it's the New Orlean twist to paella! Made by cooking rice with some meat, seafood, or sausages (and sometimes all three!)
Po-Boy – imagine a sandwich that uses French bread with any or a combination of the following: fried catfish, soft-shell crab, oysters, shrimps, or roast beef.
Beignets – pretty much a doughnut without a hole! It's a popular New Orleans treat that can be enjoyed at any time of the day.
King Cakes – usually a blend of coffee cake + cinnamon roll. It has the Mardi Gras colors and has a surprise plastic baby somewhere inside. The king cake is a nod to the Biblical event where the three kings brought a gift to the baby, Jesus.
10 Low Carb Mardi Gras Recipes
So, as you can tell, the traditional Mardi Gras recipes aren't always keto-friendly. Don't worry! We got you covered. Everything on this list is not only packed with flavor but are also nutrient-dense and won't spike your blood sugar.
---
Photo & Recipes Courtesy of Real Balanced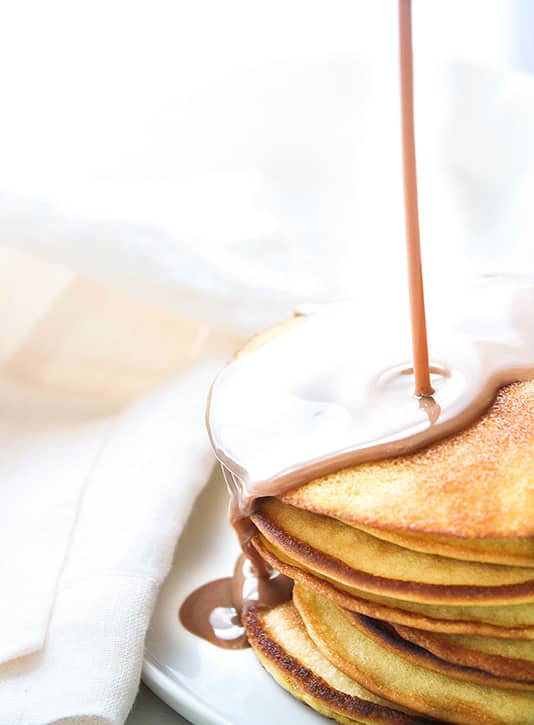 Did you know that pancakes are also a Mardi Gras staple? In some countries, it's tradition to eat pancakes on Shrove Tuesday (yet another name for Mardi Gras, yay! add that to today's trivia).
Abide by those breakfast traditions without getting kicked out of ketosis with these delicious, fluffy, and filling low-carb pancakes!
Net Carbs Per Serving: 1.4g
---
Photo & Recipe Courtesy of Low Carb Maven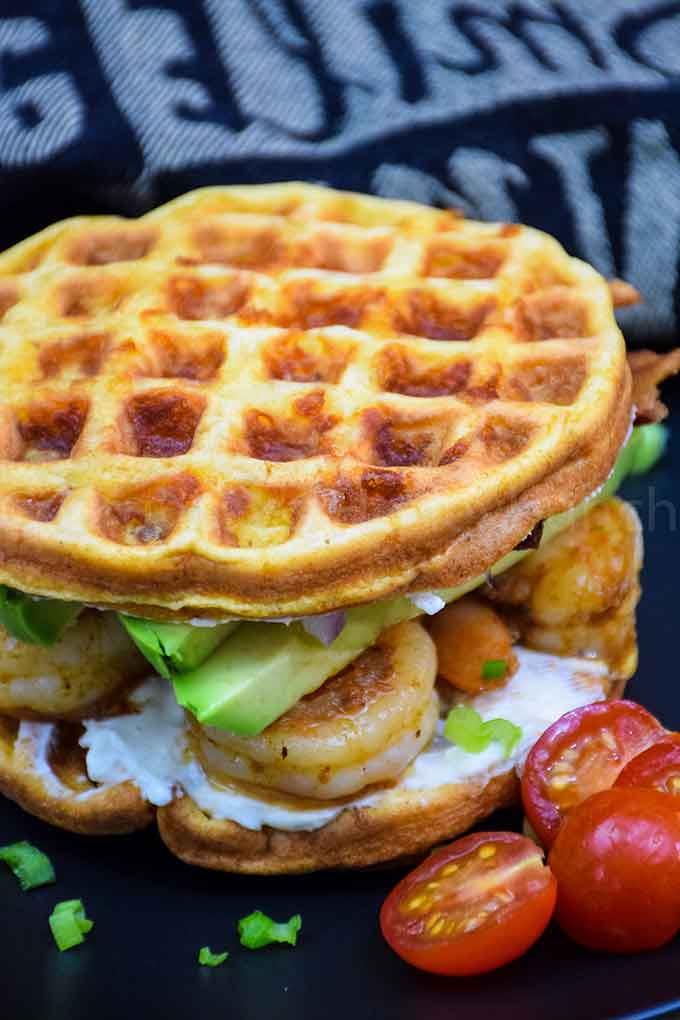 Reminiscent of a Po-Boy, this cajun shrimp and avocado chaffle recipe is a wonderful keto friendly lunch option that you can prep ahead of time. It's loaded with good fats and other nutrients, which is perfect to fuel your midday.
This recipe only takes a total of 25 minutes to make and has a 4-sandwich yield. Want to know the best part? Each serving has about 3.41g of net carbs, 47.59g of protein, and 32.22g of fat!
---
Photo & Recipe Courtesy of This Mom's Menu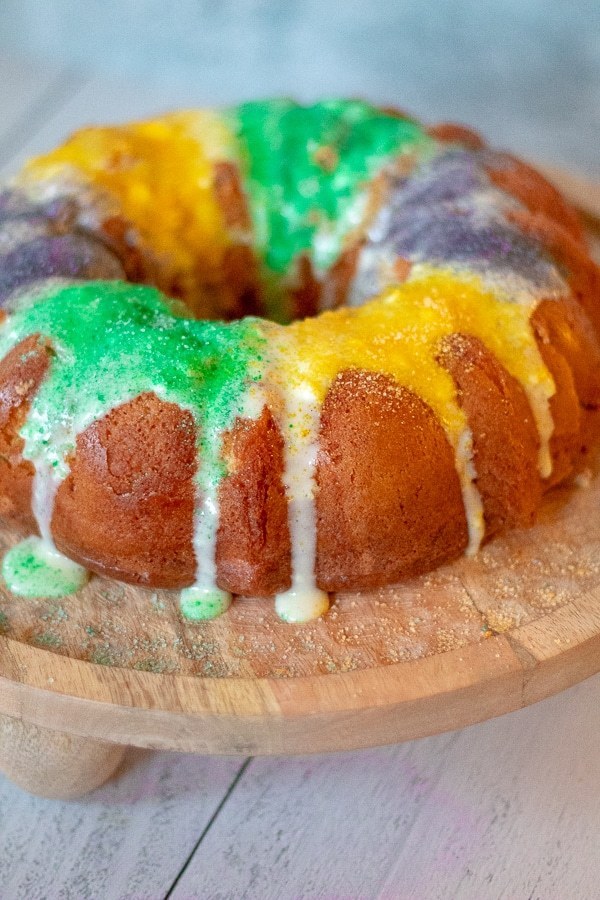 No Mardi Gras party is complete without a low carb king cake! Enjoy a classic Carnival staple without needlessly consuming tons of carbs and sugar.
This recipe takes 30 minutes to prepare and 30 minutes to bake, but is well worth it because of the 12-slice yield! Each slice has about 2g of net carbs and 199 calories.
---
Photo & Recipe Courtesy of My Keto Kitchen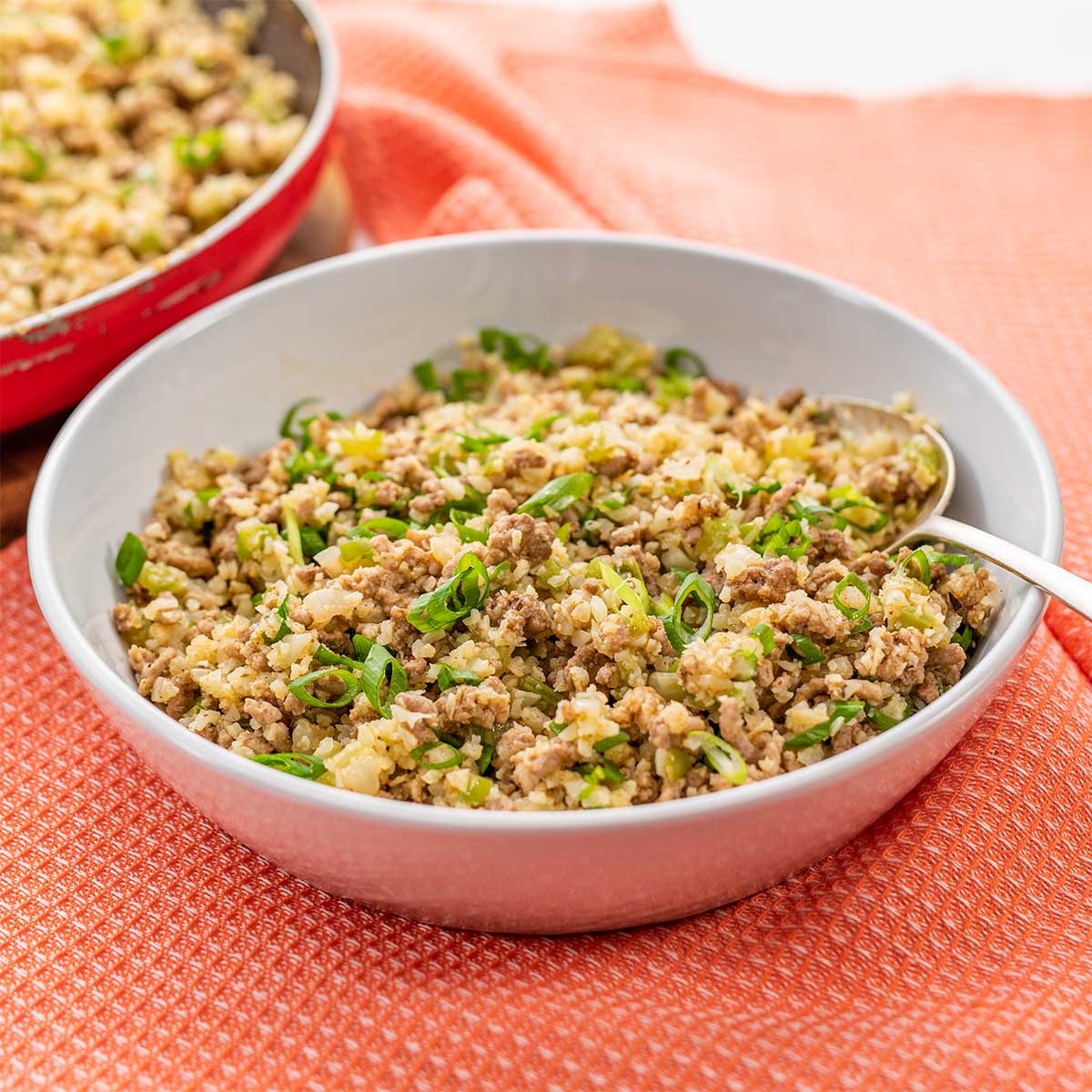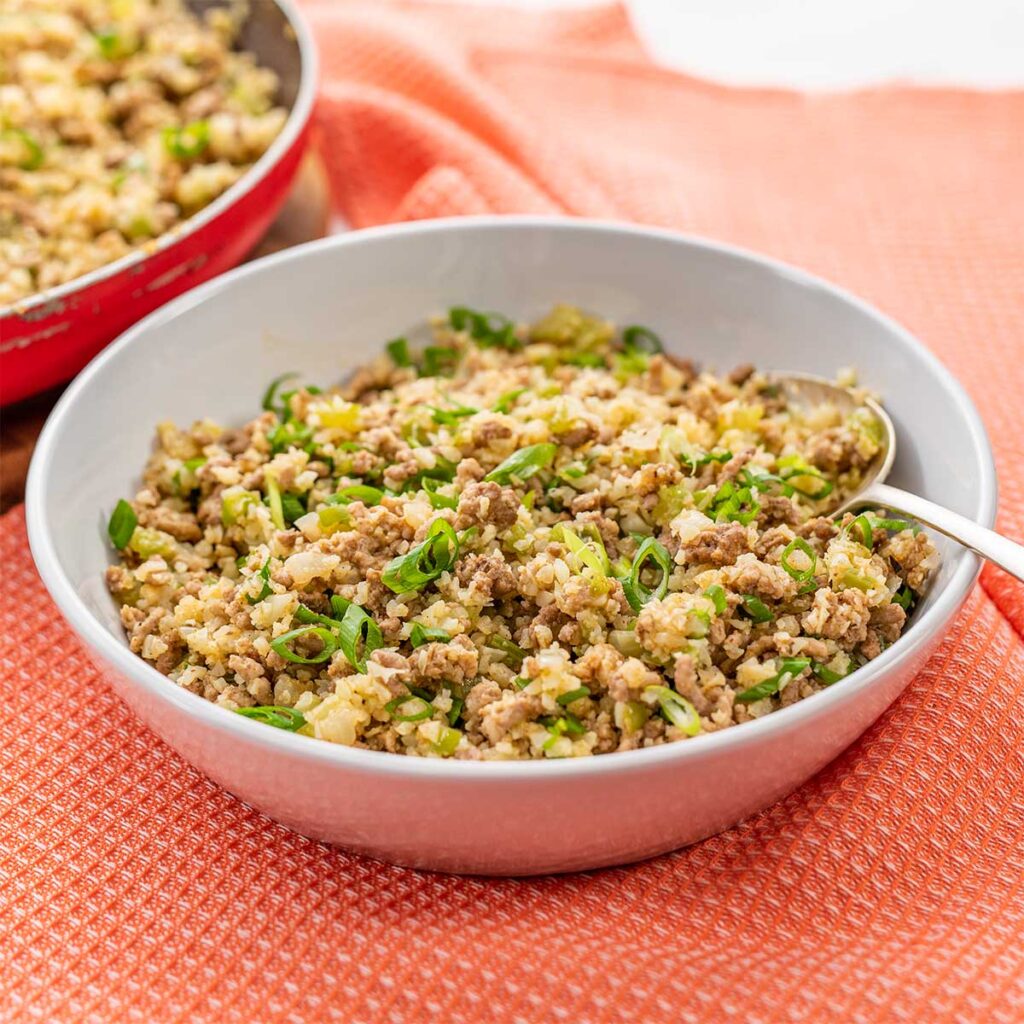 This Southern twist to dirty rice is absolutely mindblowing!
If you're a fan of dishes that brings you equal parts flavor and nutrients, then this one's a sure winner because it provides you with a decent amount of protein, fat, vitamins, AND minerals.
The ingredients are easy to acquire and the steps pretty straightforward too, so you don't need to be a veteran keto dieter to whip this up!
---
Photo & Recipe Courtesy of Dr. Davinah's Eats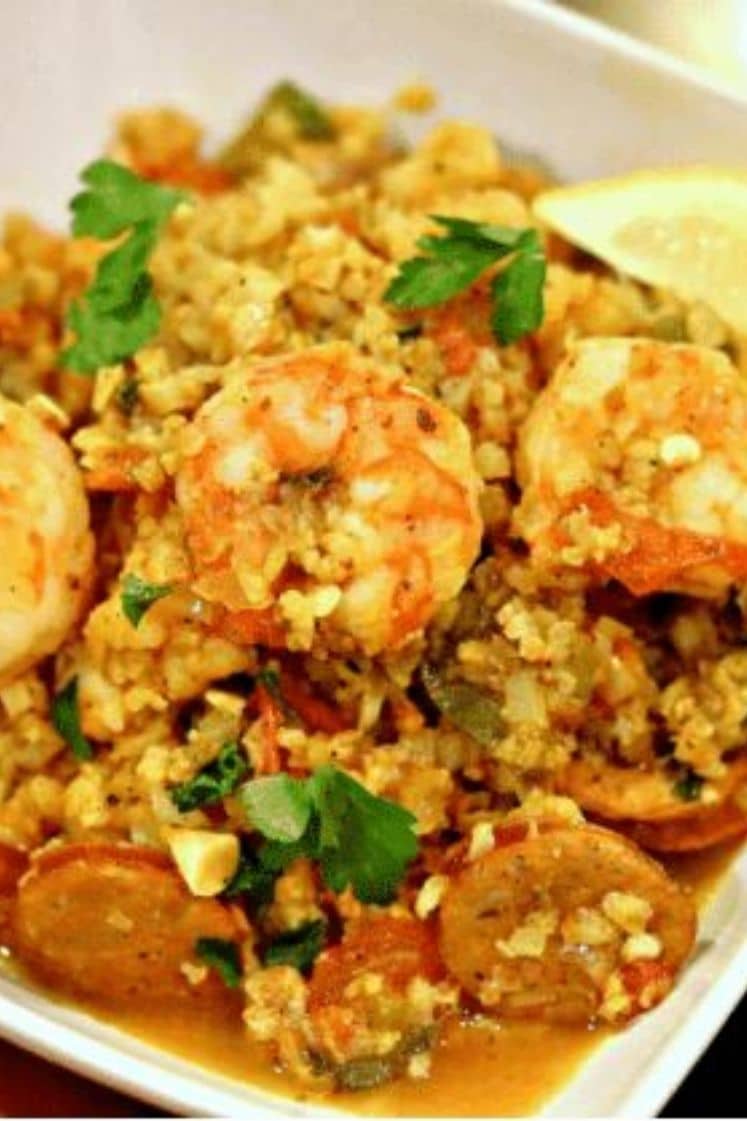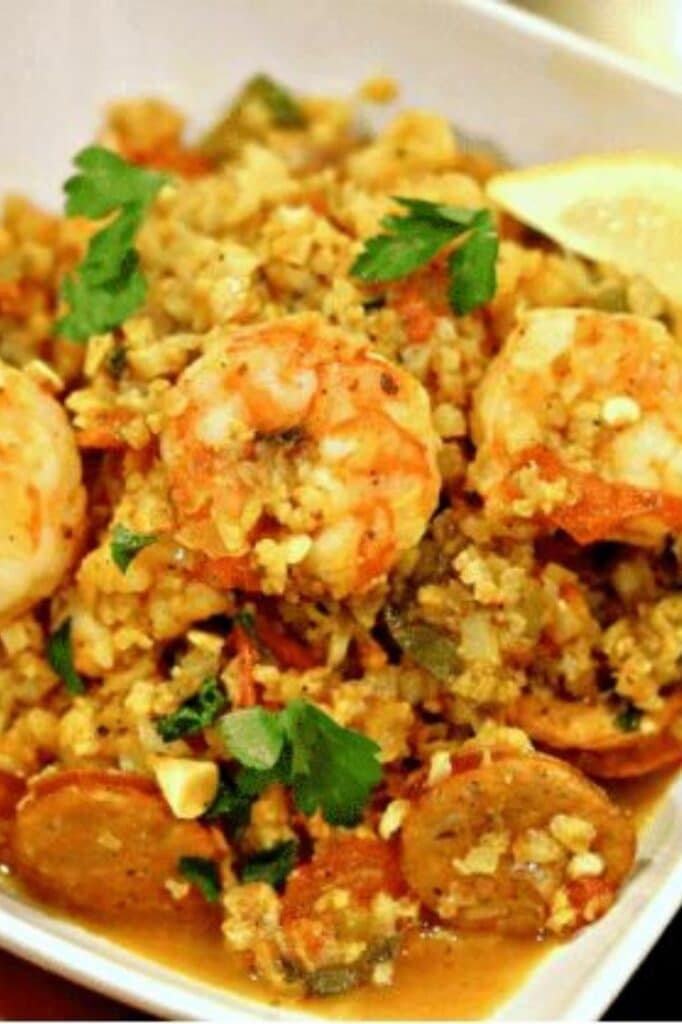 There's nothing quite like a hearty yet low carb keto jambalaya recipe!
You can enjoy this dish two ways: on its own or atop some tasty cauliflower rice. Either way, you're bound to love this keto-friendly twist to a Creole cuisine classic.
Makes 4 servings in just 30 minutes.
---
Photo & Recipe Courtesy of Bon Appeteach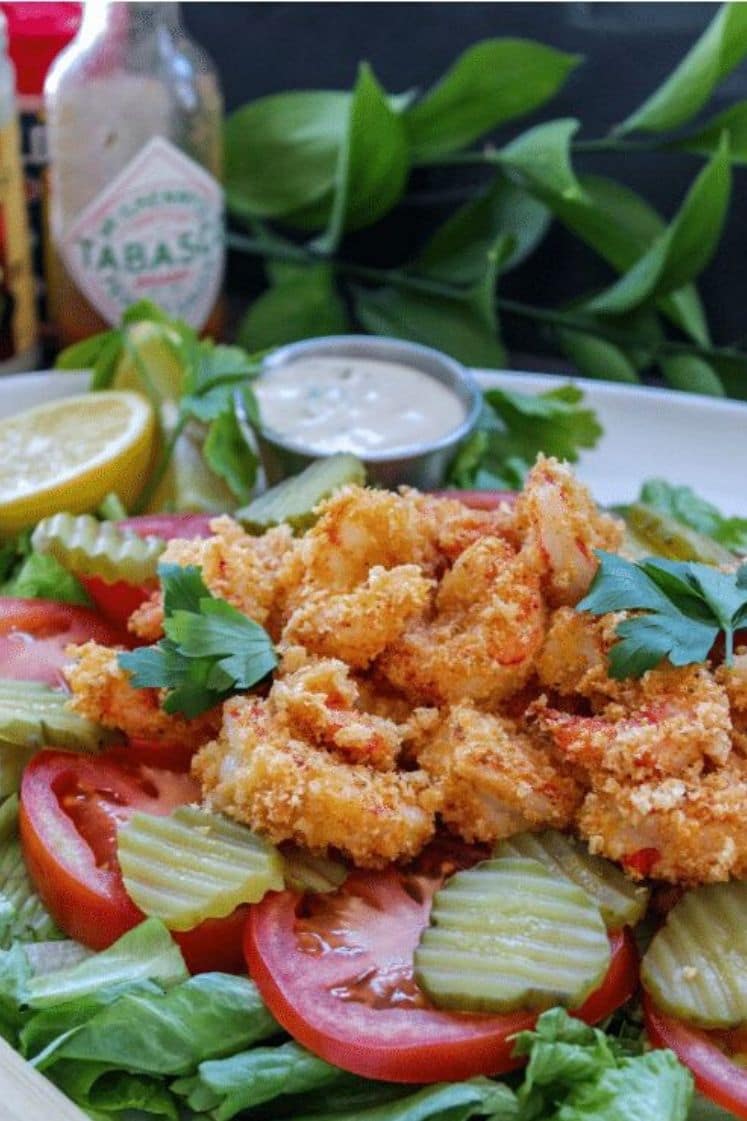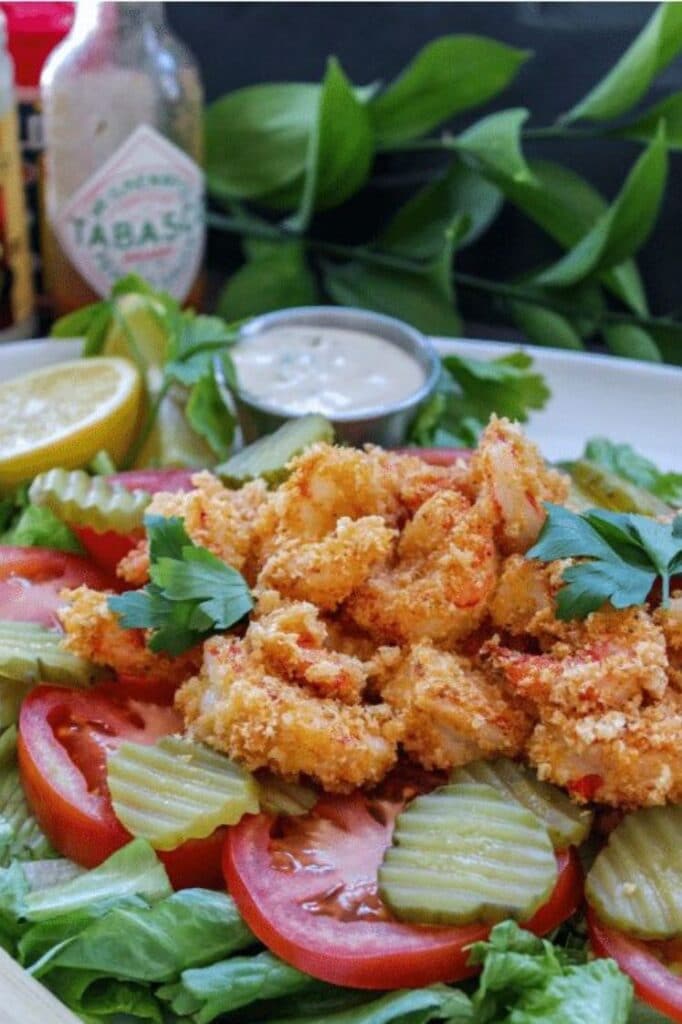 Do you love Po-Boys but want to skip straight to the tasty fillings? This salad is a genius way to enjoy another New Orleans classic without getting kicked out of ketosis.
This dish is perfect if you only have less than 30 minutes to whip up something delicious yet fresh!
---
---
Photo & Recipe Courtesy of Step Away From The Carbs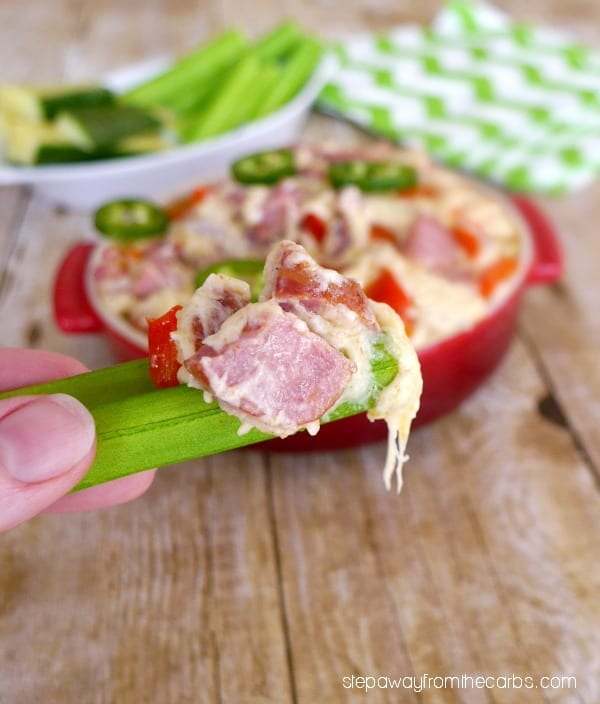 Got yourself hosting a crowd of foodies and not sure what to dip to serve along with your appetizers? This cheese dip is infused with tantalizing Cajun flavors that's going to be the talk of the town!
Takes only 10 ingredients and 20 minutes to make.
Pro Tip: This dip is best served warm!
---
Photo & Recipe Courtesy of My Life Cookbook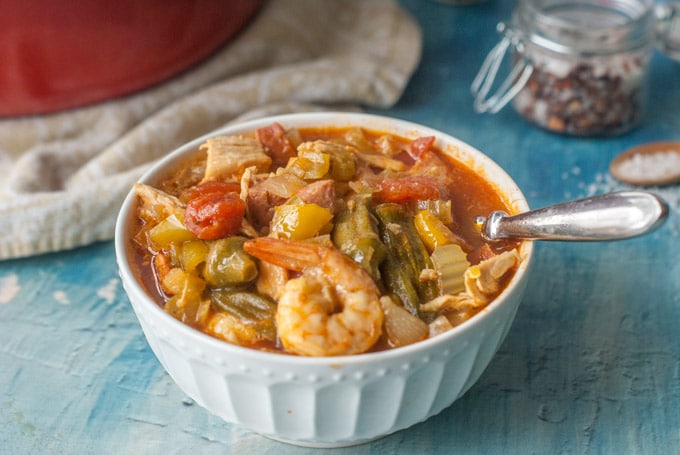 Maybe it's still a little cold outside, maybe it's not… it doesn't matter! This low carb jambalaya soup is too delicious to pass up.
Enjoy this spicy tomato-based dish full of juicy shrimp, chicken, sausage, and veggies at the comfort of your own home in just 30 minutes.
---
Photo & Recipe Courtesy of My Montana Kitchen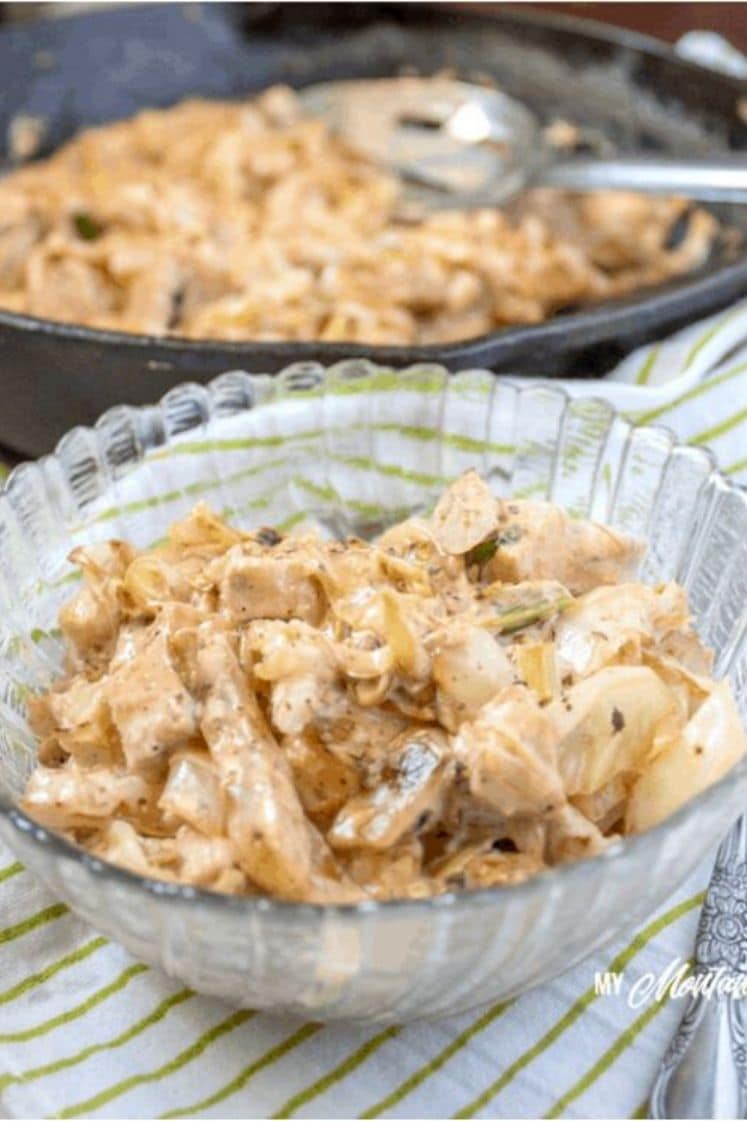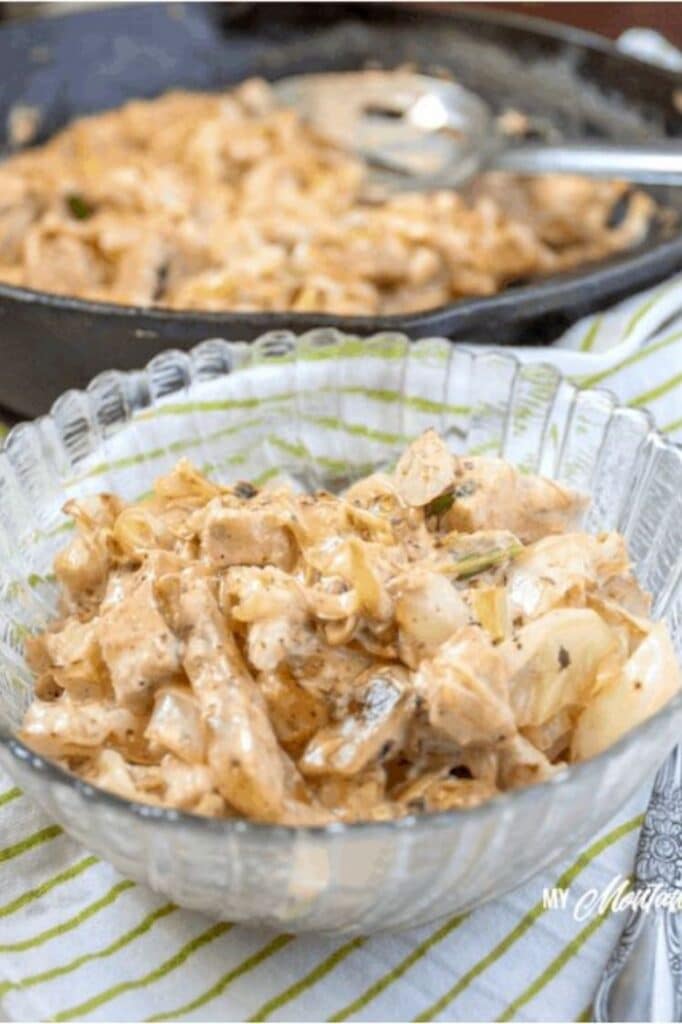 Are you in the mood to serve something rich and creamy for Mardi Gras, but aren't expecting a whole lot of people to come over? Then this easy 2-serving-in-1-skillet dish might just make it to your menu!
Imagine enjoying a chicken and cabbage dish with that Alfredo flair. C'est magnifique!
---
Photo & Recipe Courtesy of Tasty Low Carb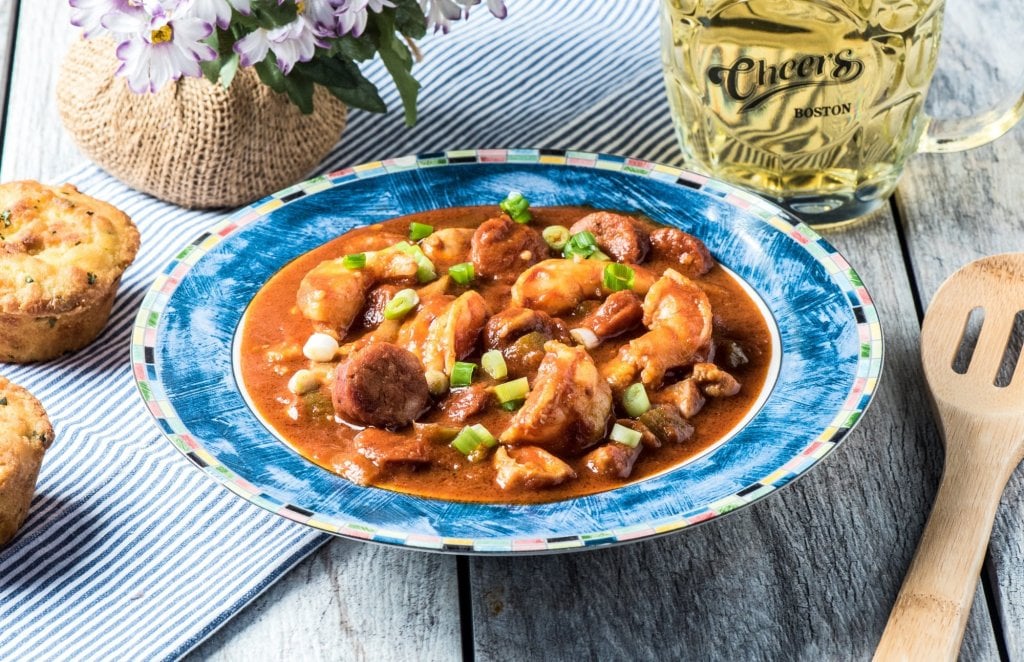 Why do the folks in New Orleans love gumbo? We'll tell you why! It's creative, cozy, hearty, and brings people together. This low-carb version of this Creole cuisine favorite is enough to make people stop on their tracks and wonder where the glorious smell is coming from!
Savor the flavor and share this with your family and friends. There's more than enough to go around for sure.
P.S. This only has 6g of net carbs per serving.
Have you decided which of these Keto Fat Tuesday Recipes you'll serve for Mardi Gras?
Cast your vote! Comment with your favorite Low Carb Mardi Gras Recipes below.
Looking for more low carb keto recipes?
Check these recipe collections next:
Reader Interactions