I think we can all agree that having a wide arsenal of easy yet delicious keto cheesecake recipes can uplevel a weekend or even make special occasions extra special. To help you with your search for ultimate keto desserts, here are 14 of the tastiest, creamiest, and satisfying low carb cheesecake recipes from amazing keto-friendly blogs!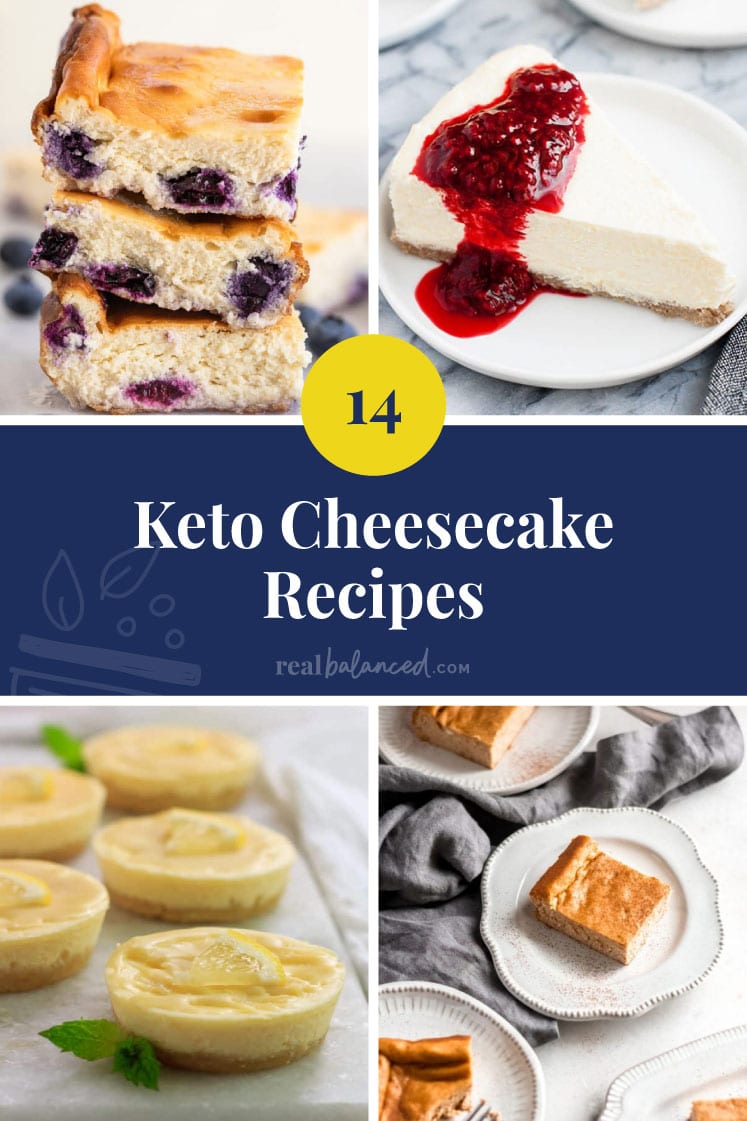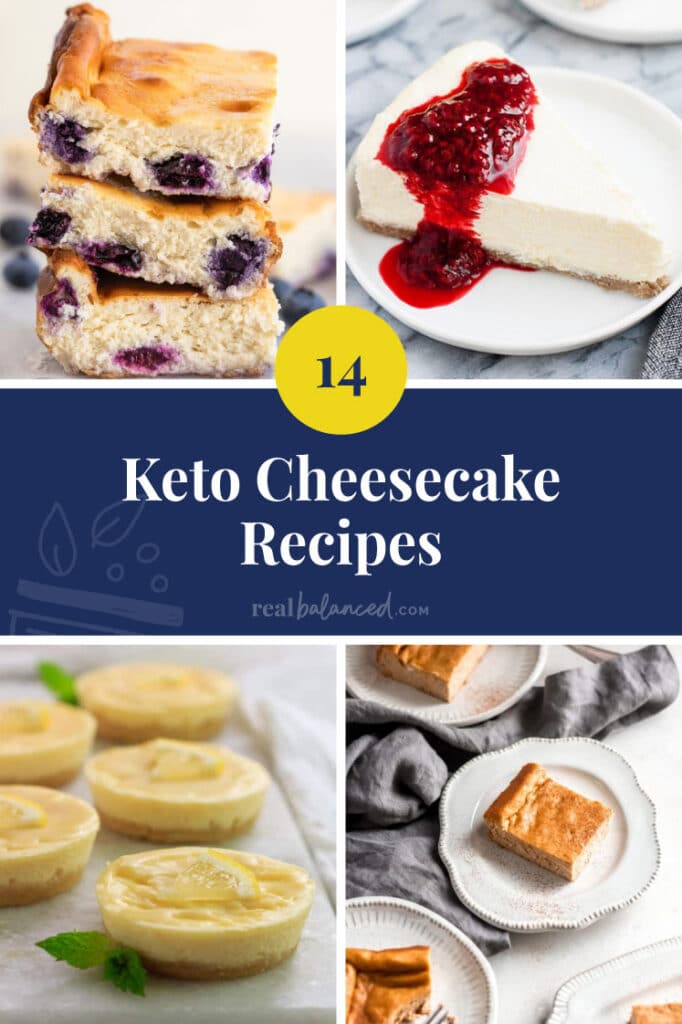 They say, "Cheesecake fixes everything," and I want to believe that the Golden Girls were onto something when they said that. Considering how everything is going right now, maybe sitting down with a slice might make things a tiiiiiny bit better.
is cheesecake bad for keto?
This actually depends on the crust and the sweetener you're mixing in with your cream cheese. As long as you substitute the non-keto ingredients with something that's low carb, then you can get away with making cake AND eating it too!
keto cheesecake ingredients & substitutes
Some of the keto-friendly ingredients you'll find in this recipe roundup are:
---
Photo & Recipe Courtesy of Real Balanced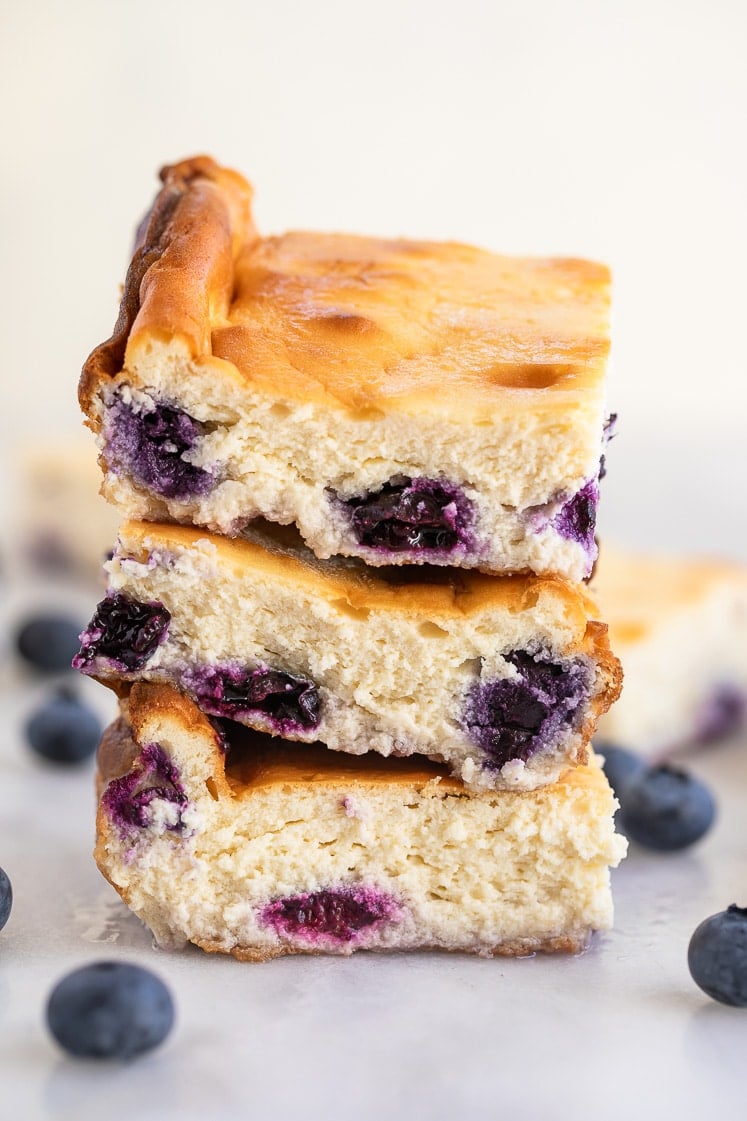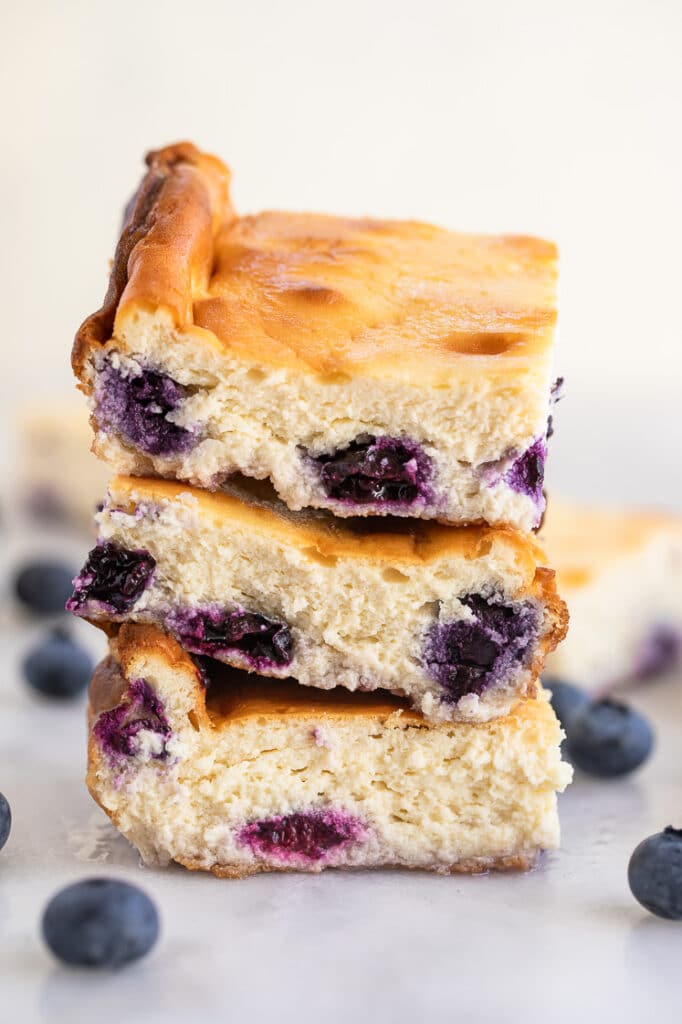 This low carb blueberry cheesecake bars recipe was so fun to make! Aside from it being super creamy and tart, I love how you can easily make a batch and save a whole bunch in the fridge for later snacking.
With just 7 simple ingredients, you can get 12 tasty bars that are not only keto-friendly, but also nut-free!
---
Photo & Recipe Courtesy of Butter Together Kitchen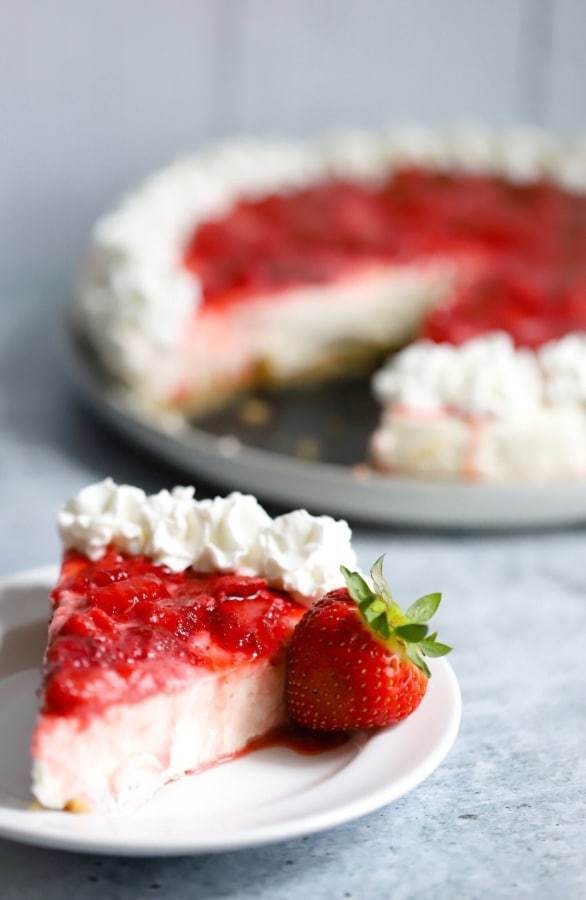 Good things don't have to be overly complicated and this easy no bake keto cheesecake is proof!
It's cold, smooth, and creamy. It makes for a tasty low carb alternative to the ones you get from Cheesecake Factory – dessert without the guilt!
---
Photo & Recipe Courtesy of Divalicious Recipes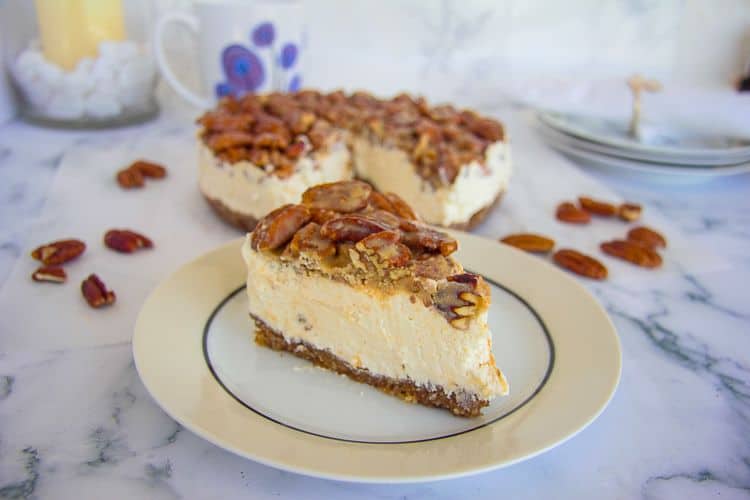 Love nuts? This one's perfect for you! Imagine a butter-pecan base, a light creamy filling, and more pecans BUT with a caramel sauce. Sounds yummy!
This recipe only takes 30 minutes to prep and about 3 hours in the fridge to set. Great for sharing since this makes 10 servings!
---
Photo & Recipe Courtesy of Keto Cooking Christian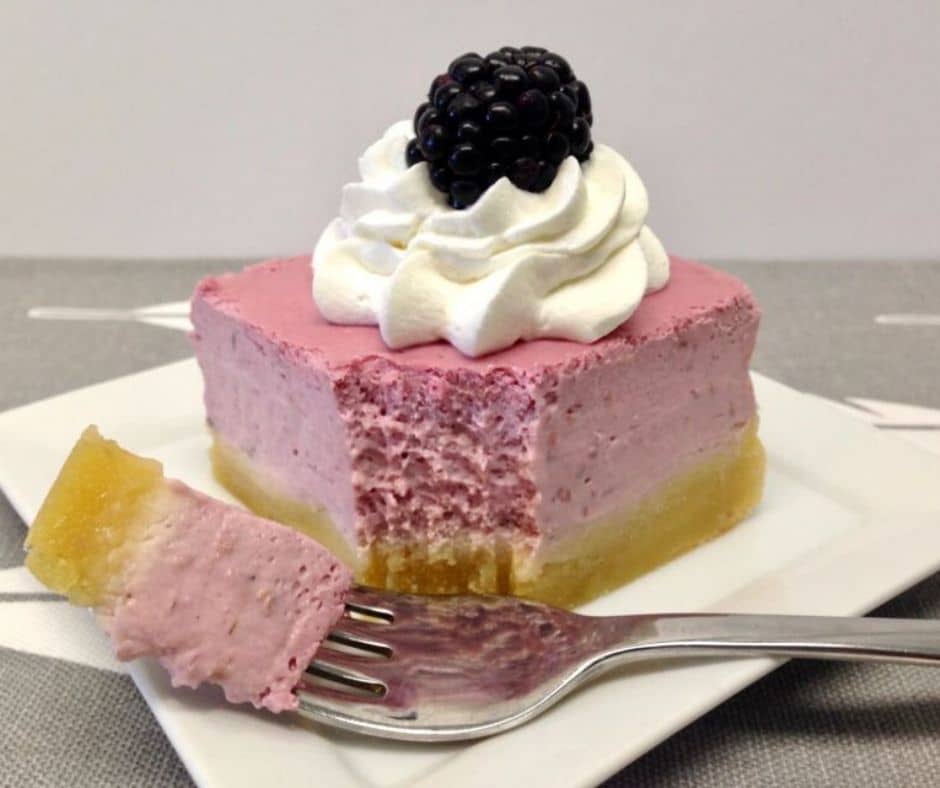 Maybe you like blackberries more than strawberries or blueberries, whatever the case, this version tastes just as decadent as they appear!
The steps are easy to follow, the yield is high (12 servings, anyone?), AND they freeze well enough that you won't have to worry about dessert for days!
---
Photo & Recipe Courtesy of Joy Filled Eats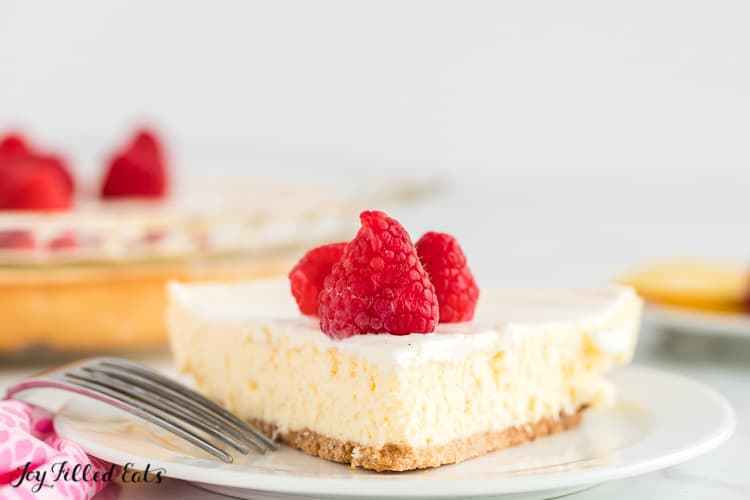 If you prefer your cakes tart, then this is an incredible recipe to try! You can mix and match it with any keto-friendly fruit you have in your kitchen. Blueberries, strawberries, blackberries, or raspberries pair well with the citrus-y filling.
---
Photo & Recipe Courtesy of Real Balanced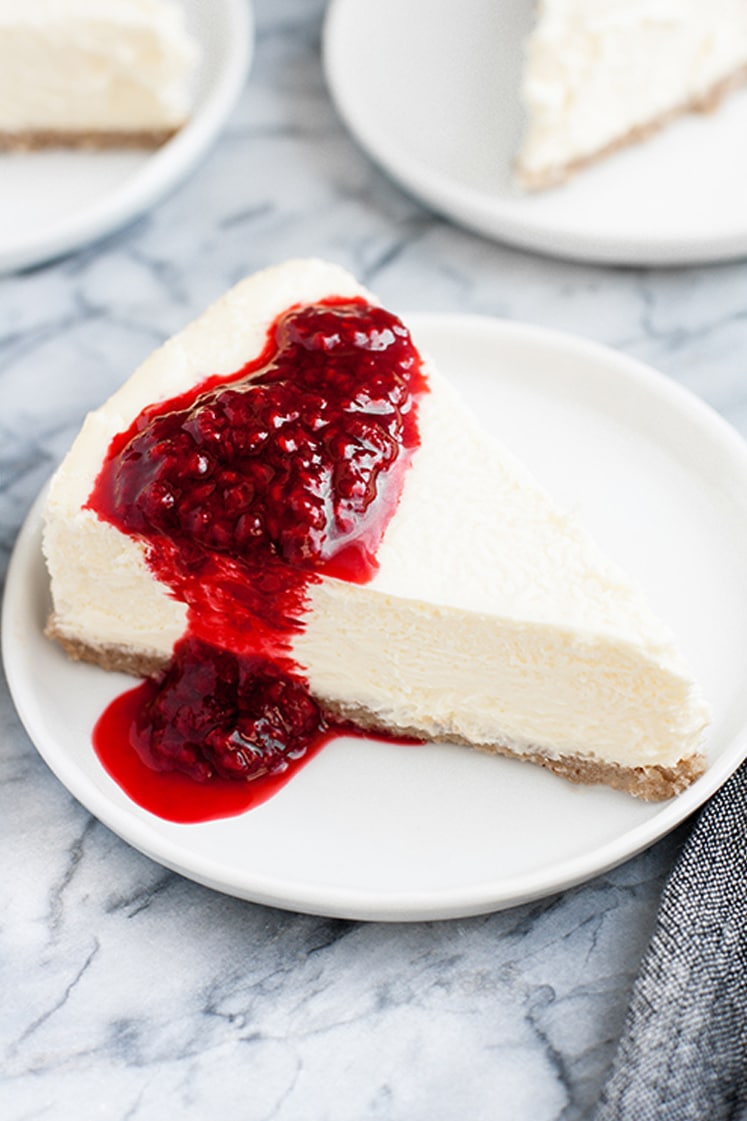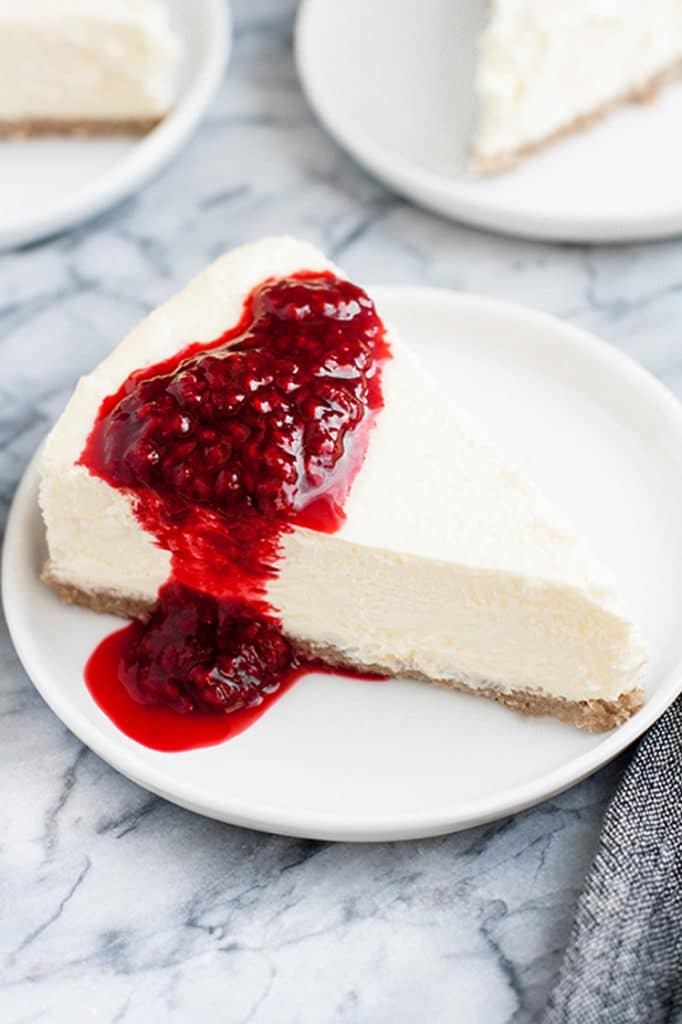 After I got diagnosed with nut allergies, I decided to make more nut-free keto desserts that would help folks like me stick to a diet without missing out on our favorite things.
This keto dessert recipe is versatile in a sense that you can use any low carb topping you can think of. Sugar-free chocolate syrup, fresh fruit slices, or even jam.
---
Photo & Recipe Courtesy of Resolution Eats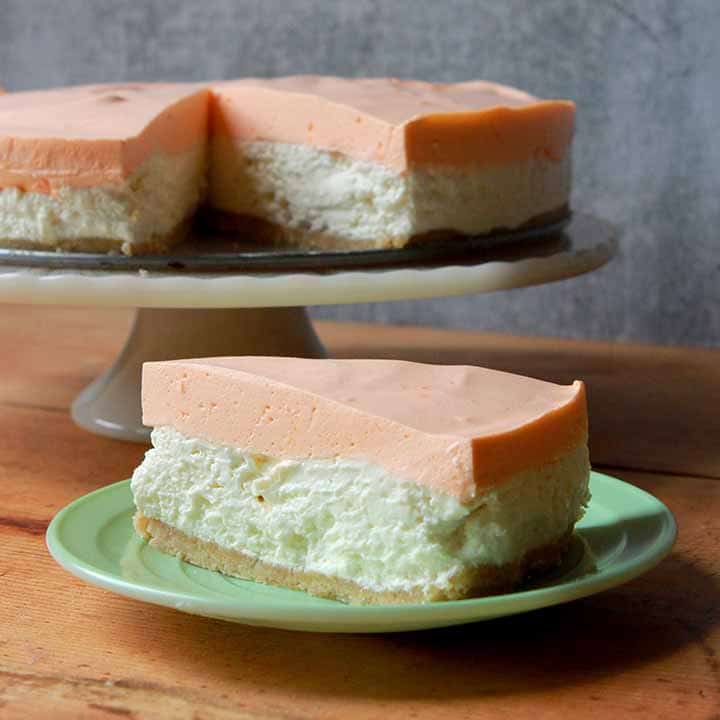 Do you have equal love for orange creamsicles and cheesecake? Today's your lucky day! This 2-layer no-bake keto cheesecake recipe takes two of your favorite things and makes it into one delicious dessert! What's more, each slice only contains 4g of net carbs so you can easily fit this in your daily macro budget.
---
Photo & Recipe Courtesy of Appetite For Energy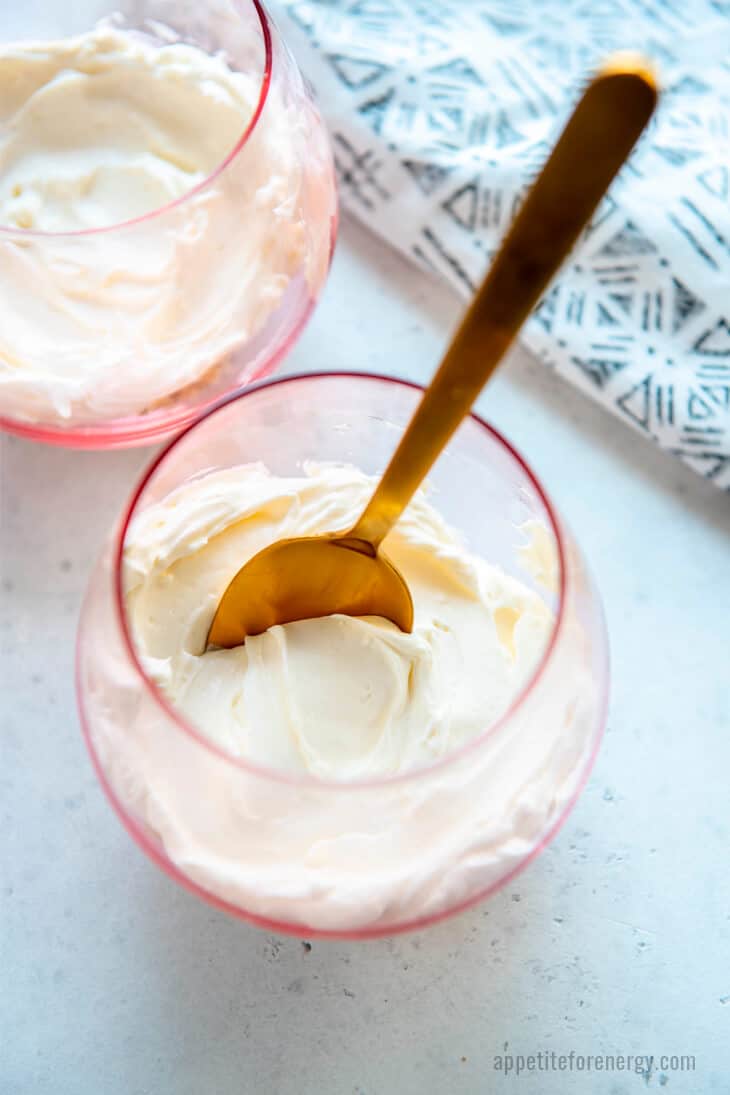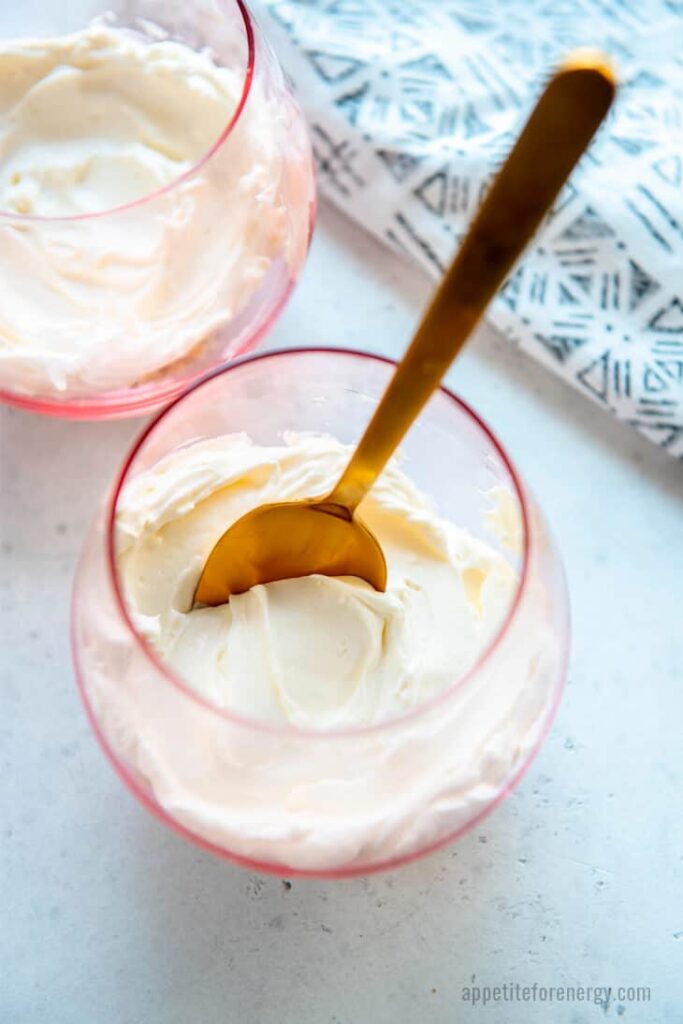 Love cheesecake and want to dive straight into the best part (hint: the filling)? Then get your low-carb cheesecake cravings satisfied with this ultimate no-bake cheesecake pudding!
It only takes 6 ingredients and 15 minutes to make. It's the perfect sweet treat for those days when you just want to reward yourself while also staying in ketosis.
---
Photo & Recipe Courtesy of Low Carb Yum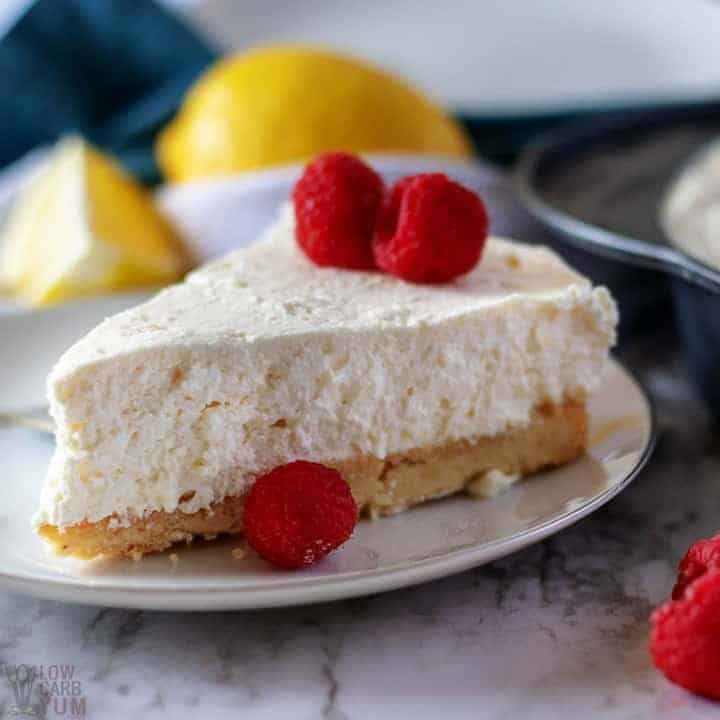 What's the difference between an American cheesecake vs Italian cheesecake? The cheese! The latter uses ricotta instead of cream cheese.
So, let's say you've just had a full dinner, but you still have some room for something sweet and on the lighter side… then, this is the perfect keto cheesecake recipe for you! It's delicate, fluffy, and makes for a great meal ender.
P.S. The yield is equivalent to 16 servings!
---
Photo & Recipe Courtesy of Beauty and the Foodie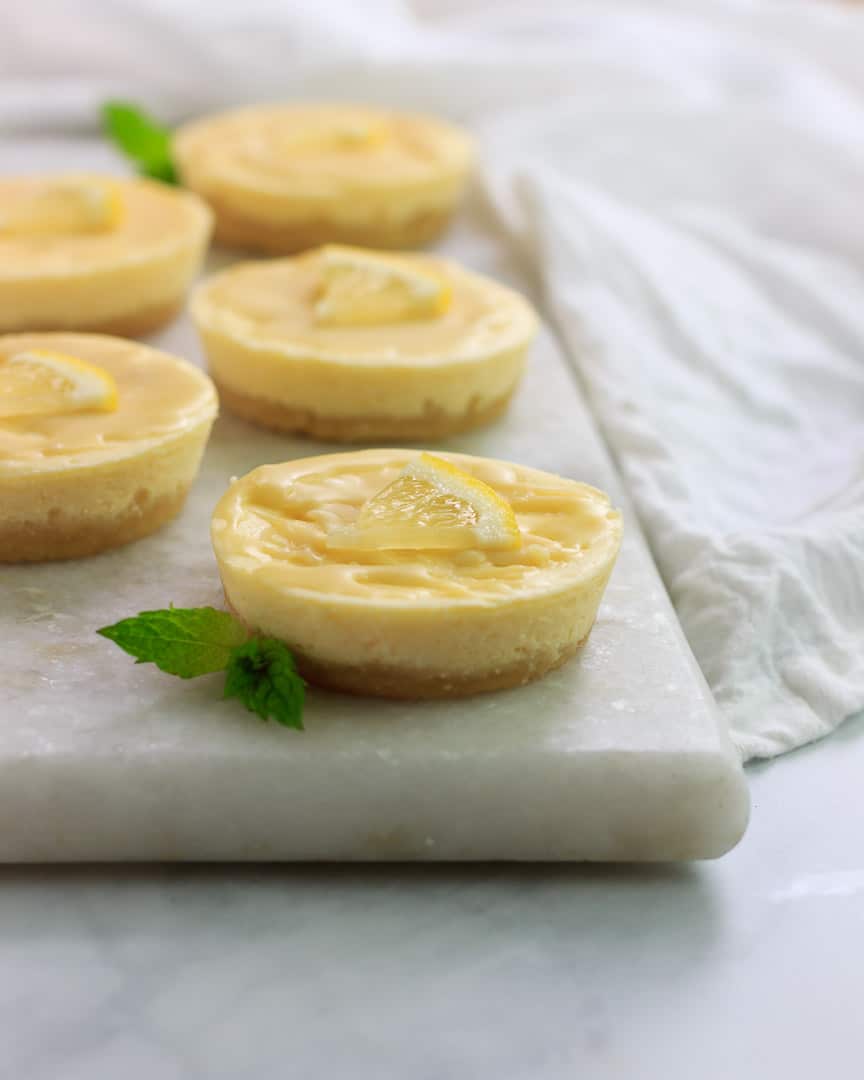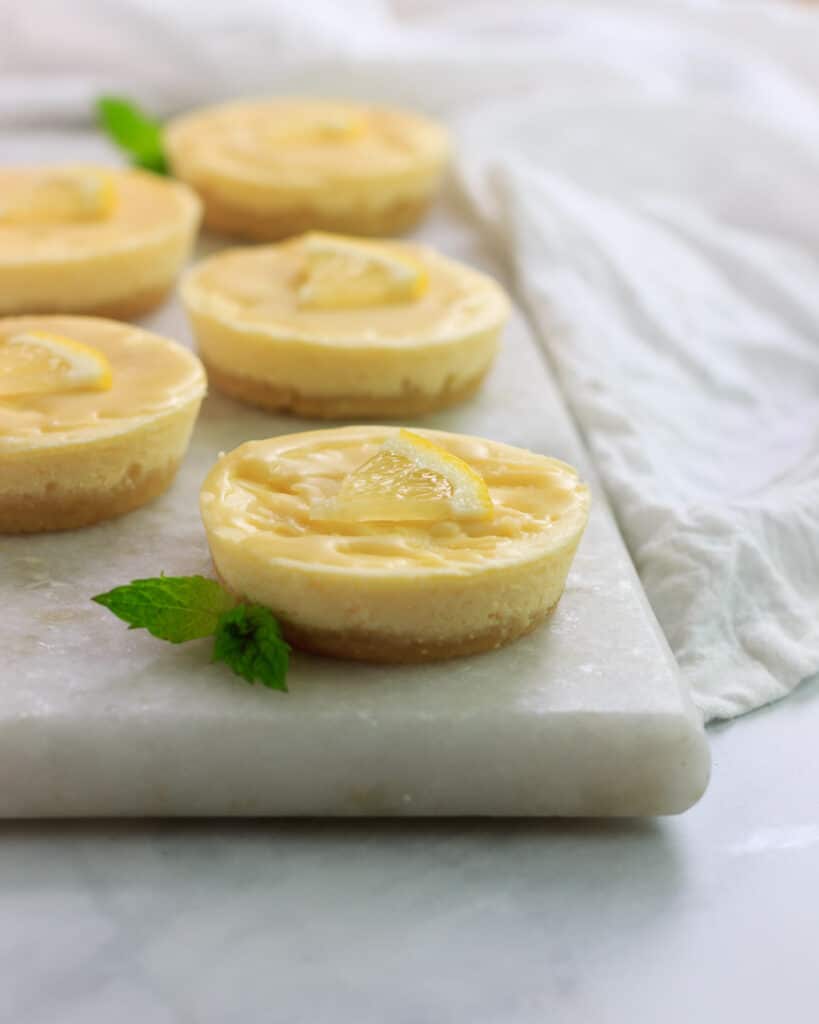 Can we take a moment to appreciate how cute these are?
These keto mini cheesecakes are the stuff of dreams! They're rich and creamy with a bit of tang. I think you'll also like how easy these are to make. In just 35 minutes, that's both prep and bake time, you'll have 9 delicious servings that only has 2g of net carbs each.
---
Photo & Recipe Courtesy of Real Balanced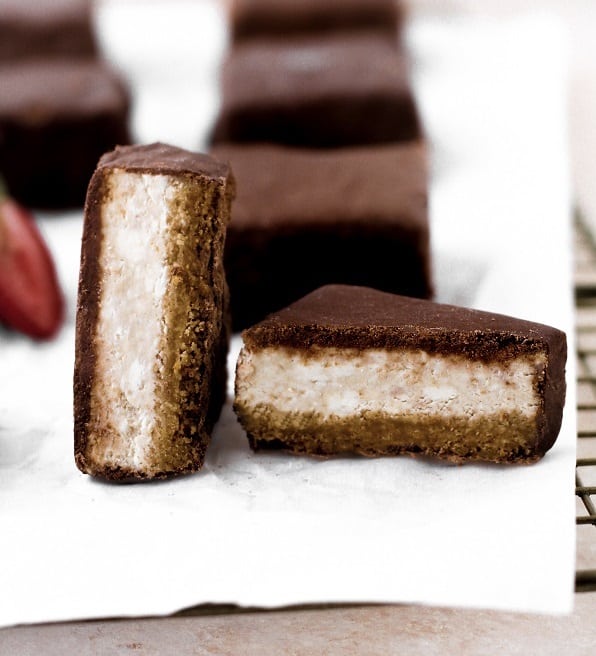 Miss eating a full-sized chocolate bar since starting the keto diet, but also missing strawberry cheesecake? Say no more! These grab-and-go low carb dessert bars make a great snack or dessert – the choice is yours.
This recipe complies with gluten-free, grain-free, keto, low-carb, vegetarian, and refined-sugar-free diets.
---
Photo & Recipe Courtesy of My Life Cookbook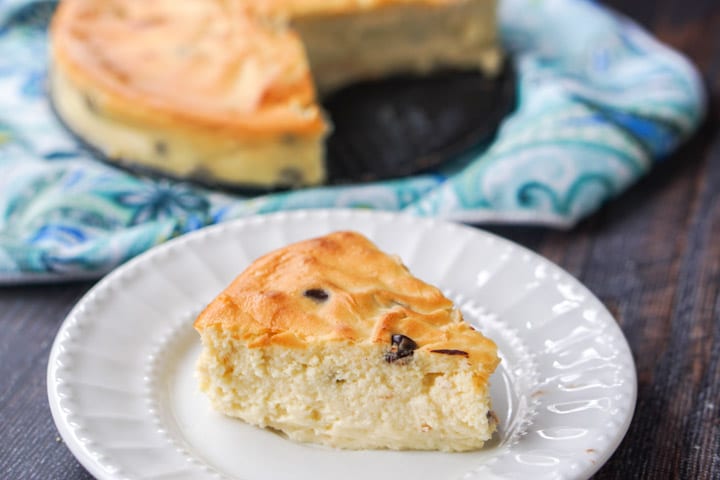 Suffice to say, you can cheesecake-fy most of your favorite desserts. Take this keto chocolate chip cheesecake for example!
This recipe calls for 5 ingredients that you probably already have in your well-stocked keto pantry, 10 minutes of prep work, and 35 minutes in the air fryer. Makes 8 servings. Each serving only has 2.8g net carbs.
---
Photo & Recipe Courtesy of Real Balanced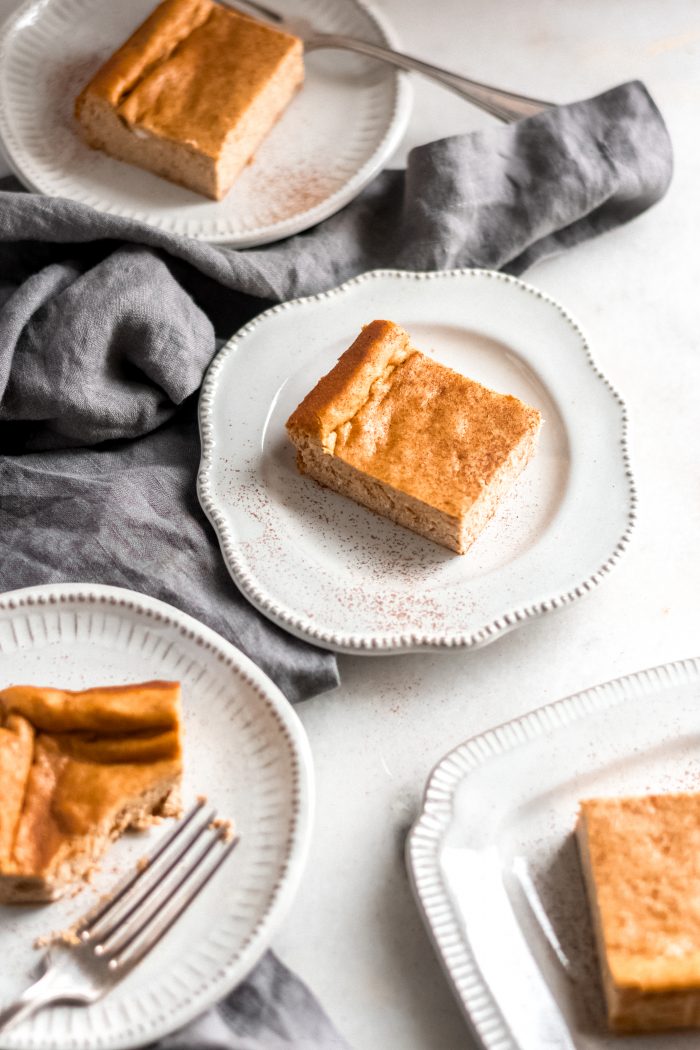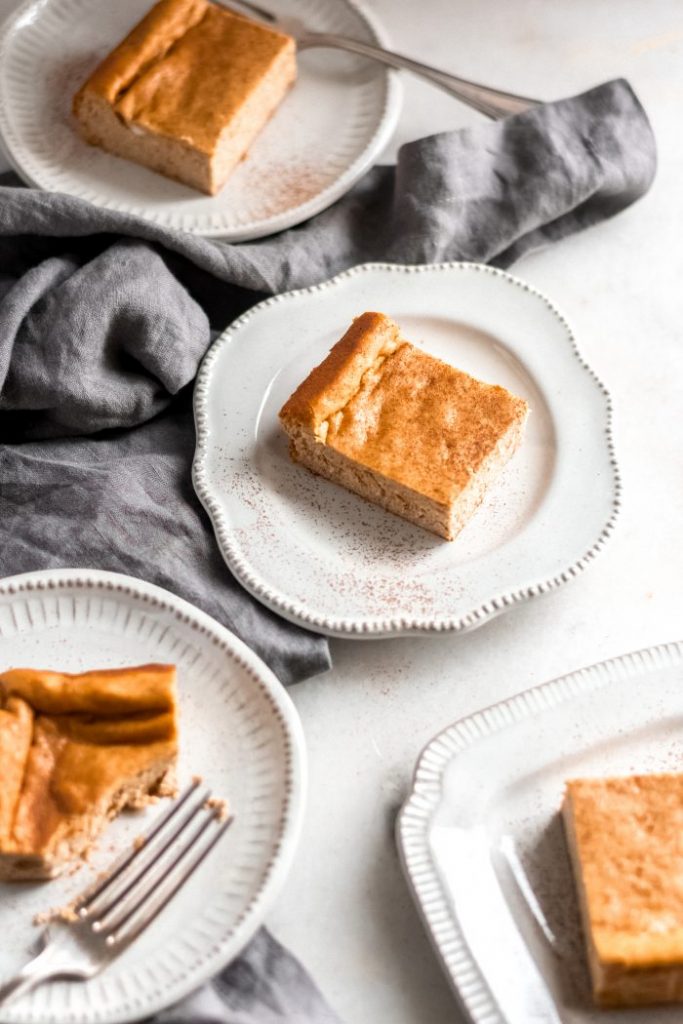 You know, you don't really have to wait for fall to enjoy all things pumpkin! Make this nutrient-dense dessert to compliment what you're having for dinner or maybe pair it with some bulletproof coffee.
Makes 12 bars. Each serving only has 166 calories, 13.7g fat, 5g protein, and ONLY 2.4g net carbs.
---
Photo & Recipe Courtesy of Noshin' & Num Nums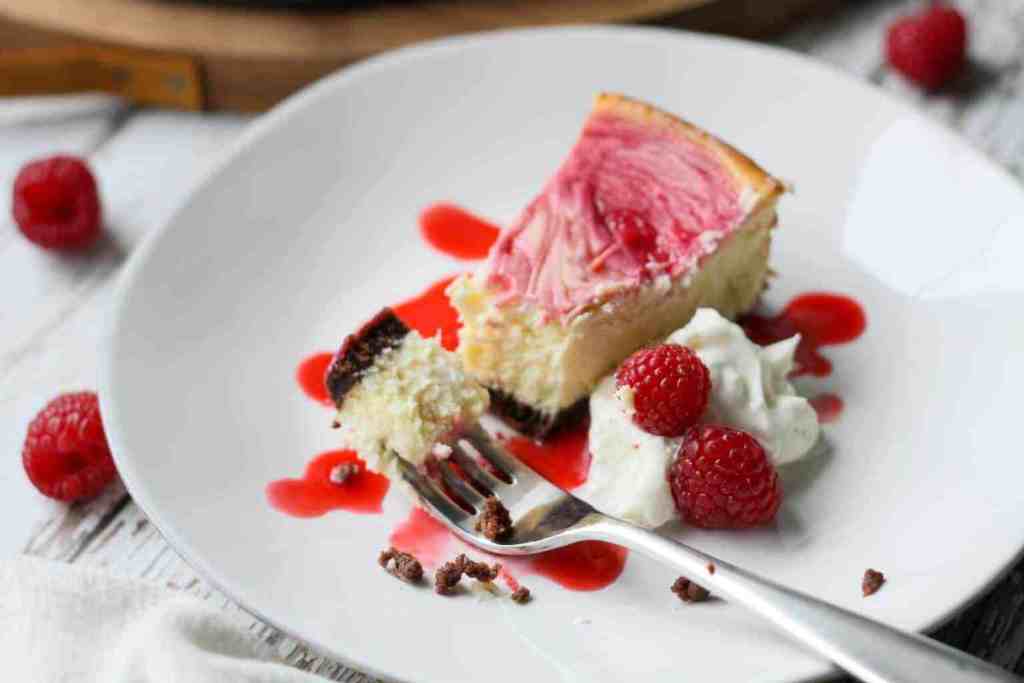 A dark chocolate crust, a white chocolate mascarpone cheesecake, top it off with a tart raspberry sauce … sounds like something you order from a fancy 5-star restaurant. But wait! This one is actually 10x better because you can actually make it yourself at the comfort of your own home AND it's keto-friendly!!!
Prepare to kiss those sweet cravings goodbye, this right here is all you need.
Reader Interactions