Are you hitting a diet stall while on keto? Not only is this totally normal, but there are also ways that can help you break the keto plateau.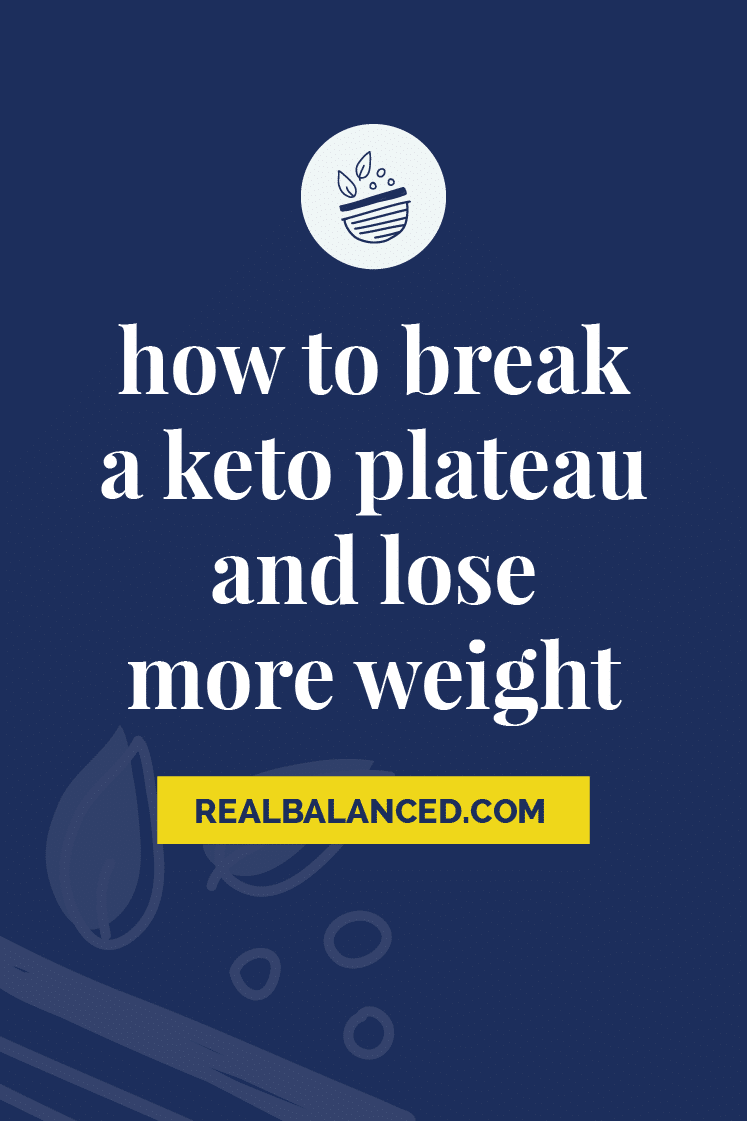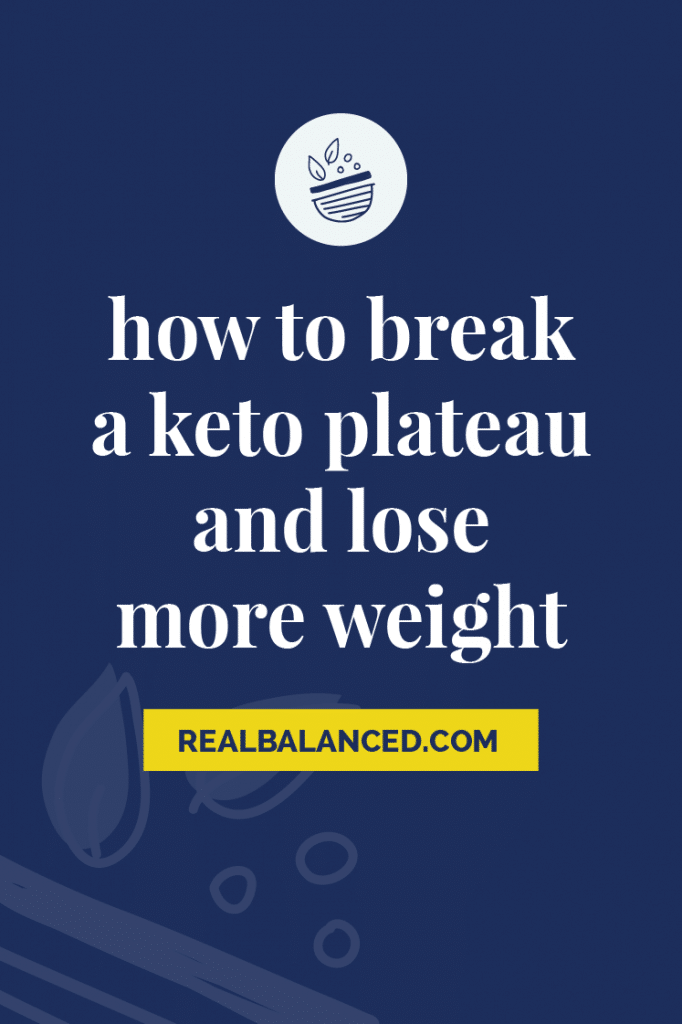 What is a keto plateau?
Before we get into how to break a keto plateau, let's look at what that even is. What is a diet stall on keto and why does it happen?
A "keto plateau" happens when you notice that you aren't losing weight anymore. Maybe the numbers on the scale stopped moving and you just maintain the same weight for a significant period of time.
When your weight tracking chart begins to look like a flat-topped table, you've hit a diet stall.
Why do you stop losing weight on keto?
There are a lot of reasons for your body to stop losing weight even though your food intake and activity levels are the same. Let's look at the main ones.
1. You may be gaining muscle
One very real possibility is that your body is restructuring. Perhaps you are gaining more muscle and have less fat to burn!
Start tracking measurements in other ways besides just weight alone. Use a scale that measures water, muscle, and fat amounts.
You should also use a measuring tape to track the size of your hips, waist, legs, and arms.
2. You May Be Eating Too Many Carbs
The state of ketosis happens when your body burns fat for energy instead of carbohydrates. To achieve this, you have to eat fewer carbs.
And, there are carbs in virtually everything – even heavy cream, which many think is a carb-free option (it's not). So if you stopped losing weight, it might be because your body is still burning carbs for energy.
3. You May Not Be Eating Enough
On the opposite end of the spectrum, you could have slowed down your metabolism due to not taking in enough calories.
When you restrict too many calories, your body will slow down your metabolism and try to retain food.
To increase your metabolism, make sure you are consuming enough calories to stay in ketosis and burn fat.
4. You May Need To Talk To Your Doctor
You can't rule out this next possibility. When you decide to do a keto diet, stay in touch with your doctor regularly. If your body fails to lose weight like it should, there could be an underlying medical issue that needs attention.
A few medical conditions that could make losing weight difficult include:
Thyroid issues
PCOS
Cushing's syndrome
Depression
5. You May Be Eating Too Much Protein
While we all love our high-protein snacks, eating too much protein could prevent weight loss.
According to wellness education specialist Nare Davoodi, RD, "Too much protein can actually kick you out of ketosis through a process called gluconeogenesis, where your body converts extra protein into sugar."
Calculate how much protein you should intake and stick to it.
How much weight should you lose on keto each week?
The answer to this is different for each person. Most healthy weight loss will occur at a rate of about 1-3 pounds per week.
You might lose a bit more than that at the very beginning as you shed water weight from decreasing your calories.
If you start to lose less than a pound each week, then you know you've hit a diet stall or a "plateau."
How to Break a Plateau
Now that you know what it is, let's look at how to bust through a plateau and begin to burn more fat. There are 11 different ways to do this. Find the one – or a combination of multiple – that will work for you.
1. You Can Track Your Calories
You might actually need to eat more calories for a short time to jump-start your metabolism. But if you are already eating too many calories, that could be causing you to maintain instead of losing weight.
To really know which it is, you need to track them using some sort of app (like MyFitnessPal or Carb Manager). Then, add some more calories from healthy fats and high-fiber foods and see how that affects your body.
It might take some experimenting, but you'll find the answer if you try to add more and then restrict more and see what happens.
2. You Can Track Your Daily Macros
In addition to tracking your calories, also keep track of your macros. Macros are the types of nutrition you are consuming. They include carbohydrates, protein, fat, fiber.
Analyze what you are eating and find a way to shake things up. Maybe you need to consume more healthy fats. Or maybe you have lost so much weight that your macro needs have changed.
The simple act of tracking what you are eating will give you the insight you need to discover where to make changes.
Learn more about macros and how to track them.
3. Consider Trying Intermittent Fasting
Third, you could consider trying intermittent fasting – it could give your metabolism a jump start.
What is intermittent fasting? It's where you only eat during certain windows of the day and fast the others. For most people, this means eating within an 8-hour window and fasting the other 16 hours (typically skipping breakfast).
Doing this could cause your body to burn more fat and lose more weight.
4. Consider Exercising More
Next, analyze your activity level. What used to work might need a little more help to burn more fat.
As you experiment and try adding more activity to your life, pay close attention to how your body is handling it. You might need to adjust your macros so you have energy after your workout.
Becoming even slightly more active could increase your metabolism and get you over this hump.
5. Try Eating More Protein
Another thing you'll want to look at is eating even more protein. If you are already eating quite a bit of protein, look at the source of protein. Maybe you need to eat more protein from whole food sources (rather than, for example, protein shakes).
Adjusting your protein intake will help with those hunger pangs and direct your body to burn your stored fat for energy.
Again, tracking your food intake is crucial here. Too much protein and too little protein can cause a plateau when following keto.
6. Try To Get More Sleep
There are lots of studies that link healthy sleeping habits to fat loss while on keto. You really can burn fat while you sleep!
If you have stopped losing weight, try to get a better night's sleep.
Sleep affects weight loss because when you are more tired and groggy, you make worse decisions throughout the day.
But it also comes down to basic fat burning. A study at the University of Chicago found that participants lost more fat when they got adequate sleep vs when they had shorter sleep periods.
7. Enjoy Your Healthy Fats
Don't be afraid of the word "fat" when it comes to food. There are different types of fats. Some are much healthier for your heart than others.
Try to get the following healthy fats into your diet:
Avocados
Salmon
Cheese
Extra virgin olive oil
Whole eggs
Nuts and seeds
8. Test Your Ketone Levels
Another thing that could be causing you to just maintain your weight is that perhaps you aren't even in ketosis anymore or your body isn't producing enough ketones.
You can actually test your ketones three ways:
You can purchase a home ketone testing kit that will tell you where you are and what your ketone levels are.
Read more about testing your ketones.
9. Cut back on the nuts
Some people have a slight sensitivity to nuts without even knowing it. So if you are struggling to lose weight, cut out the nuts and nut butters and see if that helps.
Nuts are known for causing inflammation. Cutting them out might be kind on your gut and give it the reset it needs.
10. De-stress
A bit of peace and deep breathing could actually help you burn more fat! Stress can actually cause you to stop losing weight.
Some things that cause you stress might be out of your control, like bills and family members. So focus on how you react to it instead.
There are lots of ways to destress within your control. Try one of these:
Do yoga
Practice deep breathing
Do more cardio
Practice self-care
Put yourself first instead of last! You'll be amazed at how big a difference it makes.
11. Measure inches, not pounds
Finally, you might be turning fat into muscle. So you could still be burning fat even if the scale isn't showing it.
Measure inches and see if there are any changes happening to your body.
Another fantastic idea is to invest in a scale that measures body fat and water. You'll be able to see the changes your body is experiencing.
Break the Keto Plateau And Lose More Fat
What you think is a diet stall could actually be your body reaching a place where it is healthy. However, it could also signal a health problem or maybe a nutrition issue.
Always stay in contact with your physician while you are doing keto. If you monitor your food intake and stay active, you'll discover a healthier body and fat loss.
Sometimes, the numbers on the scale don't tell you the entire story. So be sure to measure in other ways.
Keto can be a fantastic tool for health and fat burning. Don't give up!
More Keto Tips and Inspiration
Keep focusing on your health. Here are some more keto resources that you'll enjoy reading next.
Reader Interactions