If you miss eating cereal now that you're on keto, we've got you covered! Everything on this list is a keto-friendly cereal option that won't mess with your diet.
So, whether you want to buy some pre-packaged or make your own, let's take a closer look at available cereal alternatives.
I'll also share what to look for when you want to buy cereal that isn't marketed at low-carb or keto but still won't kick you out of ketosis.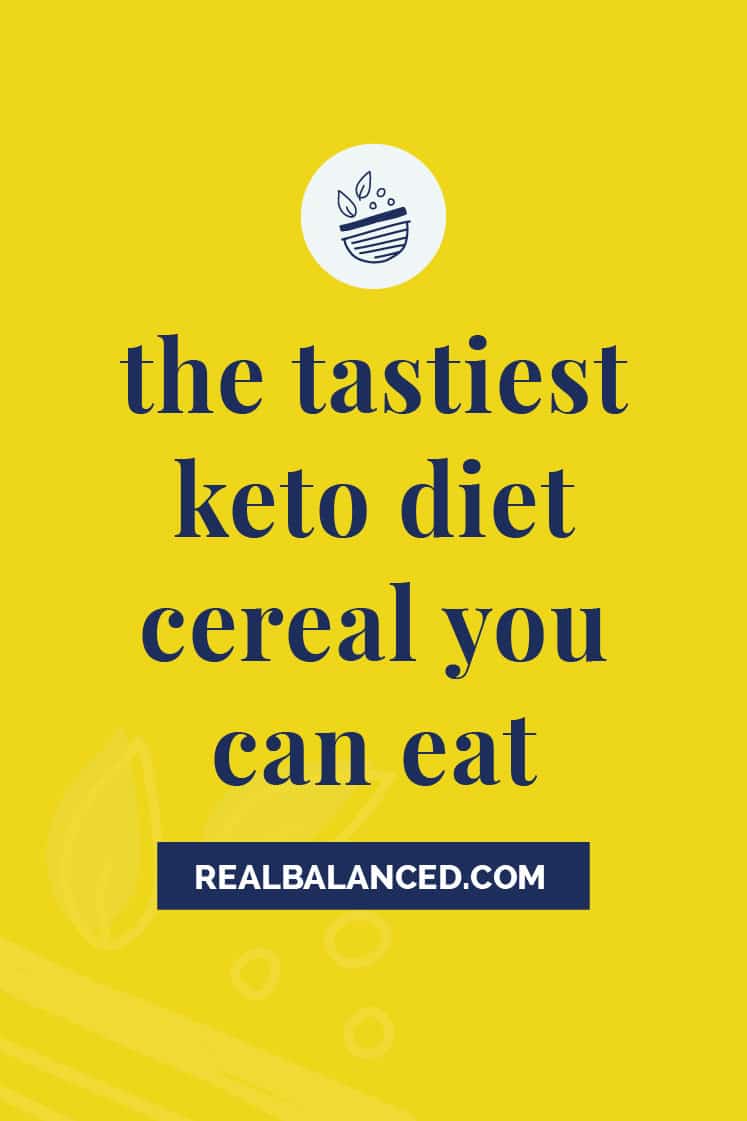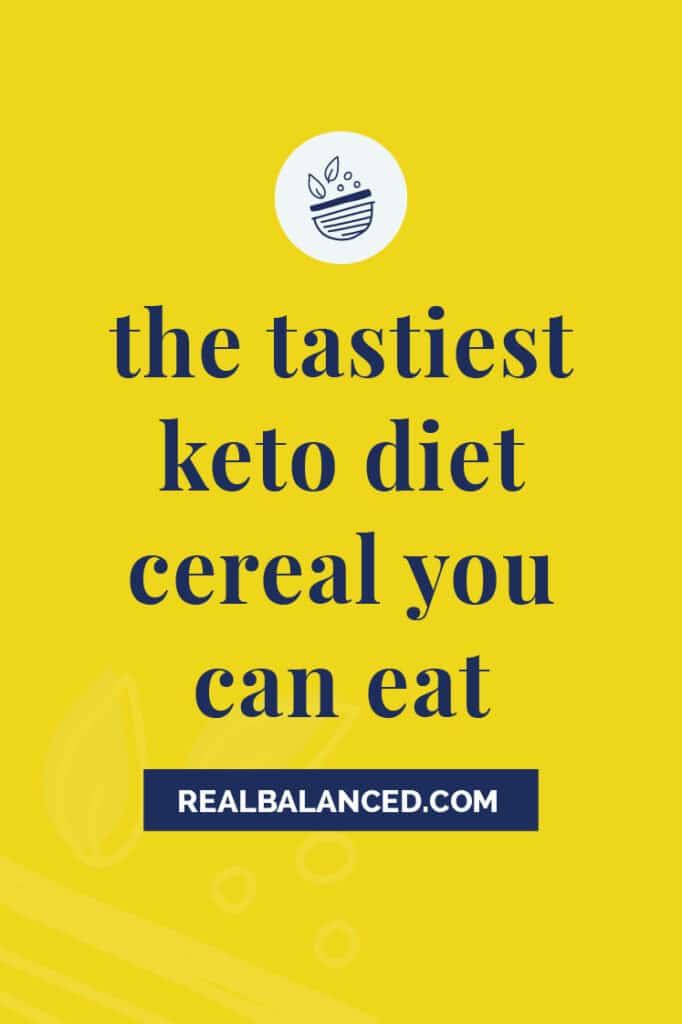 Keto Diet Cereal Does Exist!
The keto diet is getting really popular. More and more people are discovering how much better they feel when they eat keto-compliant food. And then, there's the weight loss which is a happy side-effect for some people too.
With the growing popularity of keto food, companies are noticing the shift and have gone on to create low-carb and sugar-free snacks and other convenience foods.
Which brings us to our featured topic: Keto + Cereal.
Now, I don't know about you, but one of my favorite snacks is a sweet bowl of cereal. I thought I had to give it up when I went keto. And I did give it up for a while, but now there are actual keto diet cereal brands so I don't even feel like I'm missing out on good ol' cereal.
And that's not all! If you want to kick it up a notch, you can even make your own batch too. (Yes, at home… and no, it's not complicated at all.)
But before we get into my favorite keto cereal brands, I want to answer a few questions.
KETO DIET CEREAL FAQS:
What cereals are good for the keto diet?
Typically, you want to look for grain-free granola cereals when you are in ketosis. You'll want to pick ones that are really high in protein and fiber.
There are a few brands such as Wholesome Provisions that make keto cereals that look and taste like their carb-filled counterparts.
What are keto diet cereals made of?
The most keto-friendly cereal will be made primarily out of nuts (like almonds), seeds, and even coconut-based products (e.g. coconut flour, desiccated coconut, etc).
Some types of cereal have a small amount of rice flour and soy flour. While we normally try to avoid rice when in ketosis, just pay close attention to the number of net carbs and your serving size. That small bit of rice flour might not kick you out of ketosis, but it doesn't hurt to be vigilant.
Pro Tip: Don't forget to track your macros and read the nutrition label.
What can I eat for breakfast on the keto diet?
Keto cereal is certainly one popular breakfast option, but you'll want to eat a variety of things for breakfast to make your meals more enjoyable.
Add in some meats, maybe some fat bombs, a hearty soup, or some veggies. It will prevent you from getting bored and cheating while on the keto diet.
Are you looking for more breakfast ideas? Here are some of my favorites!
Is keto-friendly cereal healthy?
It's impossible to say if a cereal is healthy without looking at the ingredients first. To tell if something is good for you, you need to look at what it's made of.
Whole foods are the best for your body. Try to eat food as close to their natural state as possible. That means instead of consuming pre-made granola bars with preservatives and other additives, make your own with almonds, dates, and sesame seeds.
Some cereals are grain-free and still made with whole ingredients. Those are going to be packed with nutrients and fiber and fit the "healthy" bill.
Popular Keto Diet Cereals
Let's look closer at some of the most popular keto diet cereals you can buy right now. I'll show you what's in them, as well as how many carbs they have so you can make a better, more informed decision on whether or not a certain brand fits your diet and lifestyle.
Diabetic Kitchen – Cinnamon Pecan Granola
This tastes so sweet, you'll think it's full of sugar, but it isn't. It's made with almonds, sunflower seeds, pumpkin seeds, pecans, coconut chips, and sweetened with monk fruit extract.
It has 3g net carbs per 1/3 cup serving.
Buy it now on Amazon.
HighKey Keto Instant Hot Cereal
Instead of a crunch, this cereal is more like oatmeal or Cream of Wheat. It's a hot cereal that's perfect for cold days. It's made of hemp seed, almonds, cocoa, and sweetened with erythritol.
It has 6g net carbs per 1/3 cup serving.
Buy it now on Amazon.
Bubba's Fine Foods Ungranola
Dig into something totally different from Bubba's interesting and fun flavors! These are all grain-free and made with almonds, coconuts, and cashews. Some of them are slightly-sweetened with honey, so keep the macro amounts tracked.
There are about 9g net carbs per 1/3 cup serving.
Buy it now on Amazon.
Wholesome Provisions Protein Cereal
Not only is this cereal delicious, but it is already pre-portioned for you. No more guessing or measuring! It looks and tastes like chocolate Cheerios. You will love it!
There are 4g net carbs per packet (30 gram-packet).
Buy it now on Amazon.
Julian Bakery Pro Granola
This granola has the lowest number of net carbs per serving out of all the ones on this list. Mix it in with some Greek yogurt, or soak it in some almond milk – either way, it's tasty and guilt-free!
There are only 2g net carbs per 1/2 cup serving.
Buy it now on Amazon.
How To Make Your Own Keto Diet Cereal
Keto-friendly cereal is pricy. It's much more cost-effective to make your own at home. Thankfully, that's pretty easy to do.
In fact, we have a fantastic nut-free cereal recipe for you. It only has about 4.5g net carbs per 1/2 cup serving and is loaded with nutrients.
It's made with a combination of flax seeds, chia seeds, coconut flour, and monk fruit sweetener, among other ingredients. It's so hearty that one serving will fill you up and knock those sweet cravings out too.
More Keto Resources
Doing keto is an entire lifestyle change. It's tough at first, but I'm here to help you out. Here are some more resources that will encourage you and give you the confidence – and knowledge – you need to be successful.
Keto Cookbooks – I share my favorite keto recipes all in one place.
How to Make Keto Fat Bombs – I break it down so you can start making your own.
Keto and Sleep – Did you know you burn more fat when you are sleeping? I share that and more crazy facts about keto and sleep.
Reader Interactions