Have you tried making fat bombs yet? Real Balanced readers know how much we LOVE keto fat bombs! If you're interested in making keto fat bombs and are unsure of where to start, I have put together a handy checklist of ingredients and products that I regularly use to make fat bombs!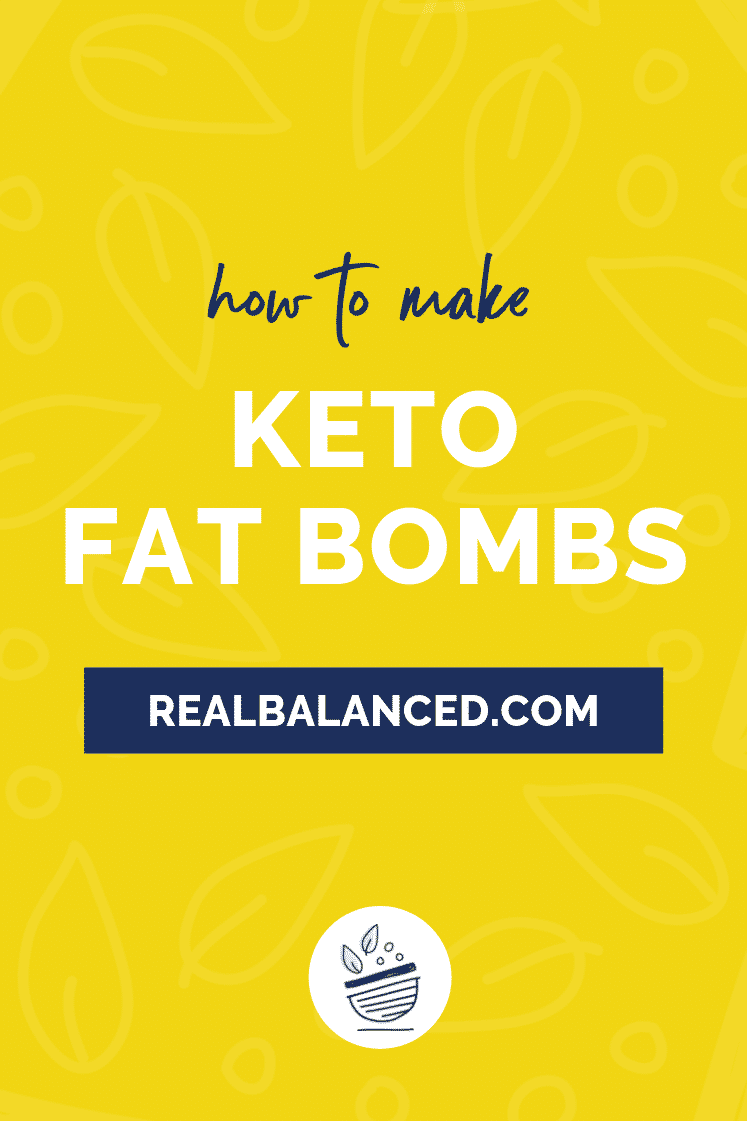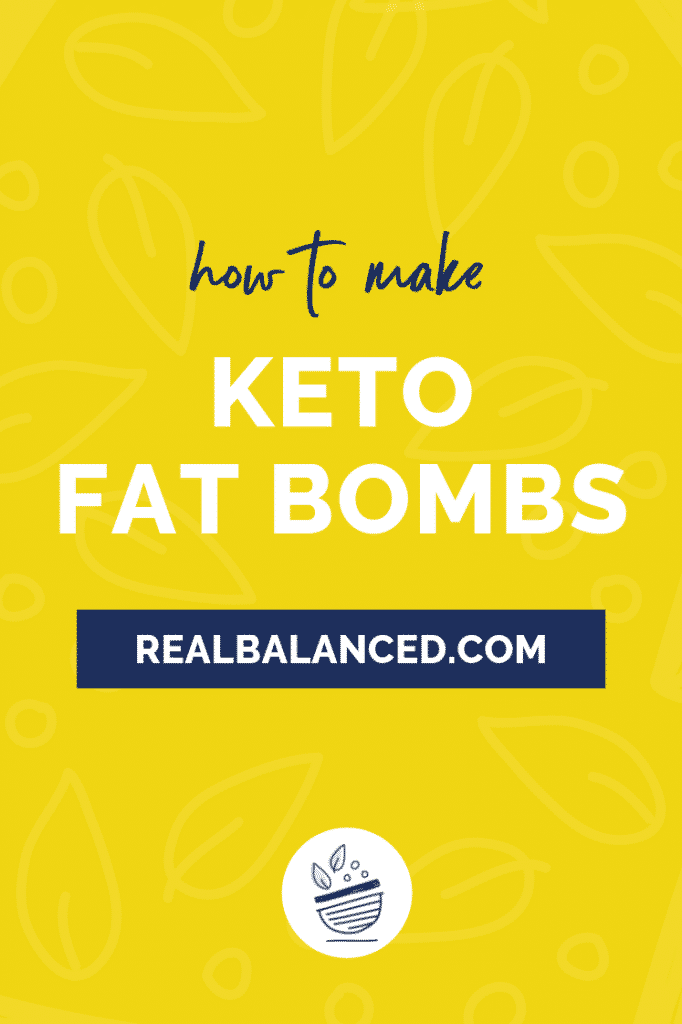 What are Keto Fat Bombs?
Keto fat bombs are treats made from high-fat ingredients that come in a wide variety of flavors. They're often made to serve as "sweet" treats, though they are very low in carbs. Similarly, fat bombs are especially helpful for those that struggle to consume enough fat on the diet.
Fat bombs are wonderful on-the-go fuel sources, perfect for reversing afternoon slumps. The fats in the butter, cream cheese, coconut oil, and coconut butter provide a great boost in energy.
For those of you who need something sweet after dinner, munching on just one of these refined sugar-free fat bombs will curb your craving for sweets without spiking your blood sugar. They're great for before or after exercise, too!
It's important to note that the use of these coconut products means that fat bombs MUST be stored in the refrigerator (or freezer) at all times. You don't want an ooey-gooey mess on your hands!
Long story short, you NEED to add fat bombs to your cooking list… ASAP!
Fat Bomb Ingredients List
Why monk fruit sweetener, you may ask? It matches the flavoring of regular sweeteners, with NO calories. Zero net carbs, zero calories, zero glycemic sweeteners. A total win, win!
Looking for more information on monk fruit sweetener? I wrote a post answering all of your most frequently asked questions… check it out here!
Keto Fat Bomb Materials
Circle silicone mold
Square silicone mold
Bar silicone mold
Mixing bowl
Parchment paper
Electric mixer
Blender
Airtight container
Simple Steps for How to Make Fat Bombs
Combine all ingredients dependent upon which fat bomb you're making (list of recipes are included below!) – typically in a food processor or mixed using an electric mixer for best results.
Transfer to medium-sized bowl and place in freezer for 20-30 minutes until cool. When ready, remove mixture and form into balls.
After the mixture is shaped, place balls in the freezer for 20 minutes to harden. I recommend putting them on a cookie sheet or plate lined with parchment paper to avoid the bottoms sticking.
Once frozen, store the balls in an airtight container in the fridge or freezer (you'll need to let them thaw for a little prior to eating if you choose to freeze them).
Enjoy! 🙂
SHAPING YOUR FAT BOMBS
You may find that the ingredients begin to melt if you shape your fat bombs by hand. If this happens, stick your mixture in the refrigerator for a few minutes to let it harden back up. This may happen a couple of times, but don't be alarmed! This is a normal result of using coconut ingredients.
P.S. Silicone molds will help prevent your fat bombs from melting during the shaping process!
STORING KETO FAT BOMBS
Storing keto fat bombs is crazy simple. Like I mentioned above, you DEFINITELY want to keep them refrigerated to ensure that they don't turn into a coconut puddle on your countertop!
You can totally opt to freeze your fat bombs if you'd like to save some for down the road (just be sure to let them thaw before eating).
Whether you choose to use the fridge or freezer, be sure to store fat bombs in an airtight container. Fat bombs typically last in the fridge for 1-2 weeks, and the freezer for 6 months.
FAT BOMB FAQS
You've got questions, and I've got the answers! Here are Real Balanced readers' most burning fat bomb questions:
How many fat bombs can I eat?
I recommend no more than 2 fat bombs per serving.
Are fat bombs filling?
The short answer is… yes! I find that I'm SO satisfied after just 1 or 2 of these delicious treats! For this reason, fat bombs are one of the best keto snacks.
Are fat bombs healthy?
Whether something is deemed "healthy" is dependent upon the individual and their specific goals! For a low-carb, keto diet, fat bombs are a fantastic source of healthy fats. They're a great snack and provide the body with essential nutrients.
How long do fat bombs last?
I recommended enjoying refrigerated fat bombs within 1 – 2 weeks to ensure peak freshness. If you freeze your fat bombs, be sure to use them within six months.
How long does it take to make fat bombs?
Though the exact number of minutes depends on the type of fat bombs you're making, most do not require a huge time commitment! In fact, many fat bomb recipes only require about 10 minutes or less. Other than that, they just need a bit of refrigeration! Fat bombs are seriously super easy keto recipes.
How many fat bombs does each recipe yield?
Like the question above, this depends on the recipe. However, many recipes yield around 12 fat bombs. Feel free to double or even triple your recipe if you're feeding a crew or would like to save extra!
Do fat bombs work with other diets?
Yes! Many of Real Balanced's fat bomb recipes comply with diets including gluten-free, grain-free, vegetarian, vegan, egg-free, and more. Each recipe lists all of the specific diets that it complies with.
Do I HAVE to have an electric mixer?
I definitely recommend using an electric mixer. Using one ensures that your ingredients will be fully blended in order to achieve optimal results. Plus, it's SO much easier than mixing by hand!
Ready to make your own fat bombs? Check out these easy fat bomb recipes:
Reader Interactions