This Keto BLT Dip is a perfect low-carb dish to bring to family gatherings, work parties, and tailgate events!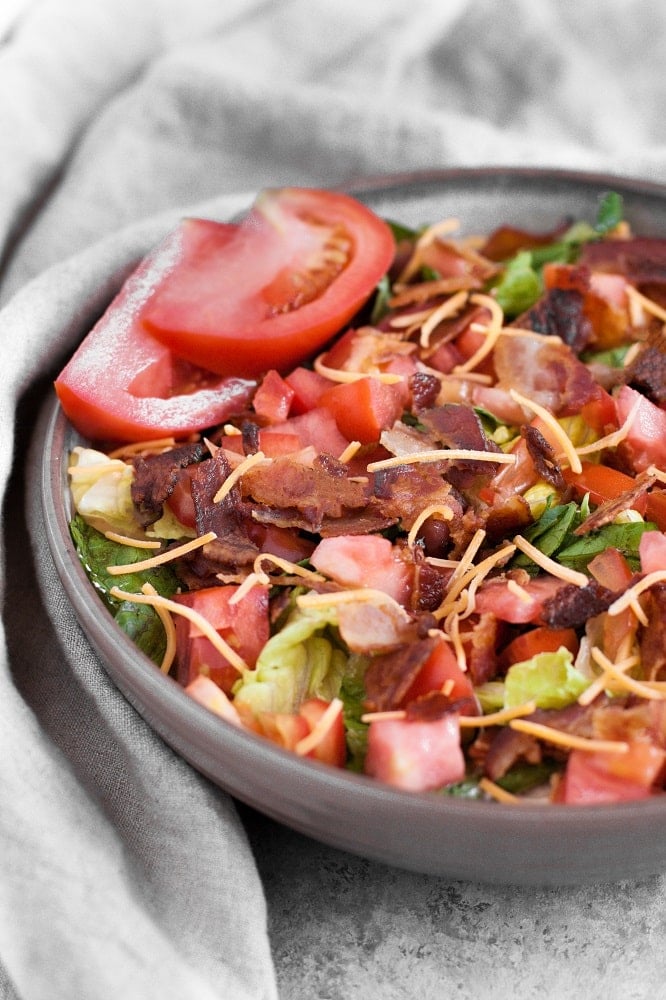 Made with minimal and simple ingredients, this dip will become an instant favorite!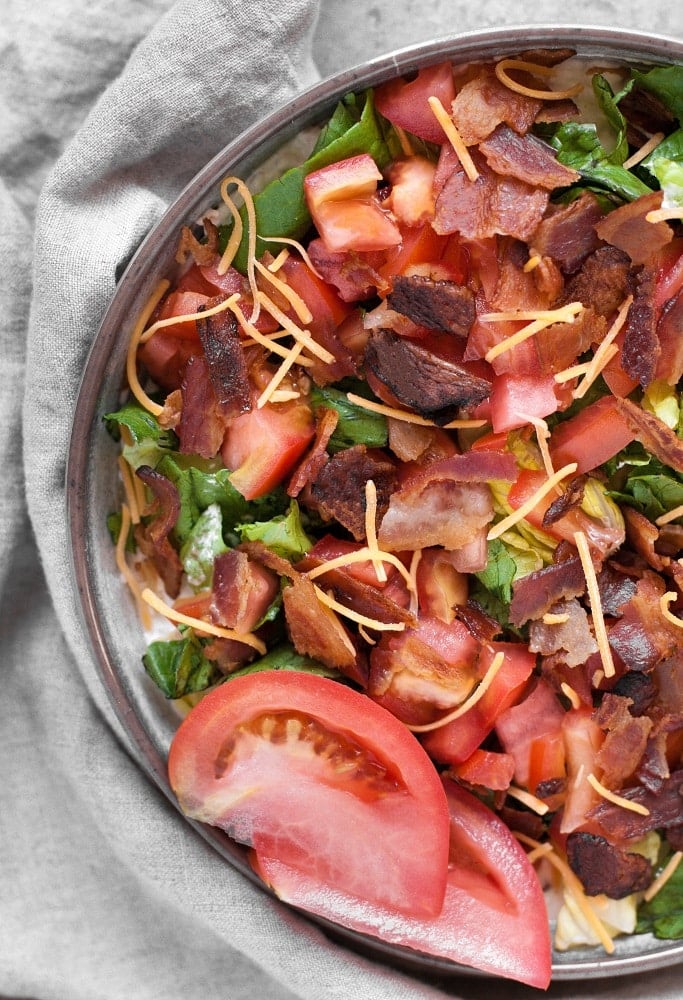 This BLT Dip Is Low-Carb And Keto
No matter the time of the year, there always seems to be multiple events on our calendar scheduled for bridal showers, birthday parties, and sporting events. When we go to a party, I love to prepare a dish-to-pass that involves straightforward ingredients and I know everyone in attendance will enjoy!
Since I began following a ketogenic diet, I have found that it's really important to have at least one low-carb appetizer recipe on-hand for times that I need to bring something to a party. Doing this ensures that there will be at least one food option available that I can confidently eat without being kicked out of ketosis. I highly suggest this practice if you also follow a low-carb diet! When you can control the ingredients, you don't have to wonder what's in the food you're eating!
This dip, in particular, is my favorite choice for a party appetizer because, well helllllooooo, there's bacon involved. And I mean, there are few things better than a BLT, right?!
This Low-Carb Dip Is Best Served With Your Favorite Ketogenic Snacks
This BLT Dip will instantly enhance your favorite ketogenic snacks! Our favorite way to enjoy it is with celery, cucumber slices, pork rinds, Low-Carb Crackers, Nut Free Keto Crackers, and Low-Carb Cheez-Its.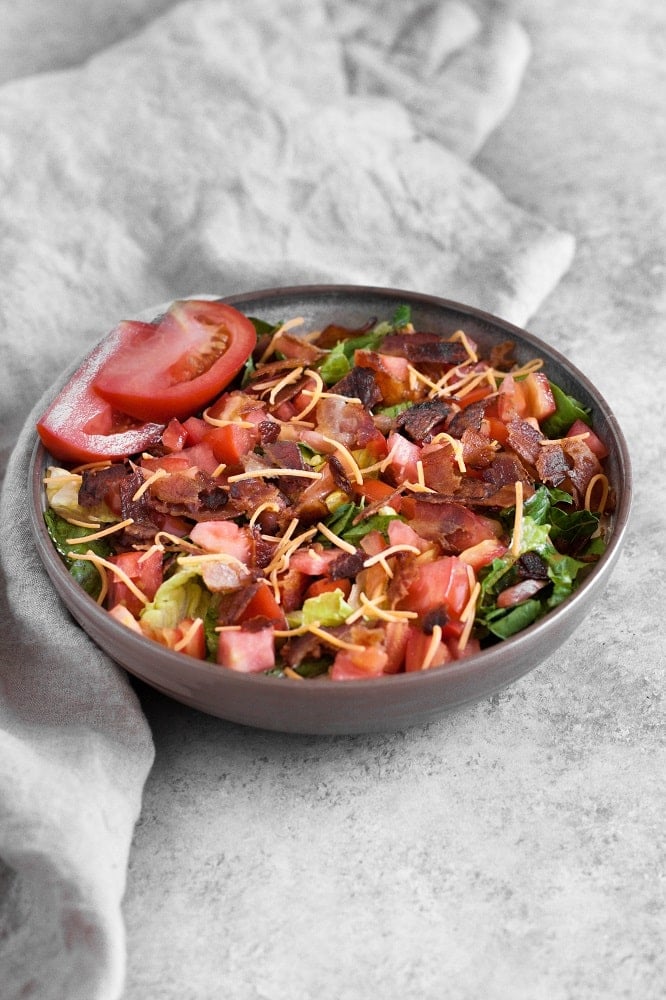 Keto-Friendly, Nut-Free, And Grain-Free BLT Dip
Keto and Low-Carb: This dip is a perfect appetizer choice for those who follow a low-carbohydrate or ketogenic diet.
Nut-Free: This recipe does not contain nuts, making it a perfect option for those who cook for or personally have a nut allergy or nut intolerance.
Gluten-Free and Grain-Free: This recipe does not contain gluten or grains.
Refined-Sugar-Free: This recipe does not involve added sugar.
Net Carbs In This Recipe
This Keto BLT Dip contains 2.6 grams of net carbs per serving. If you would like to minimize the carbohydrate content even further, decrease the amount of chopped tomatoes added to the dish.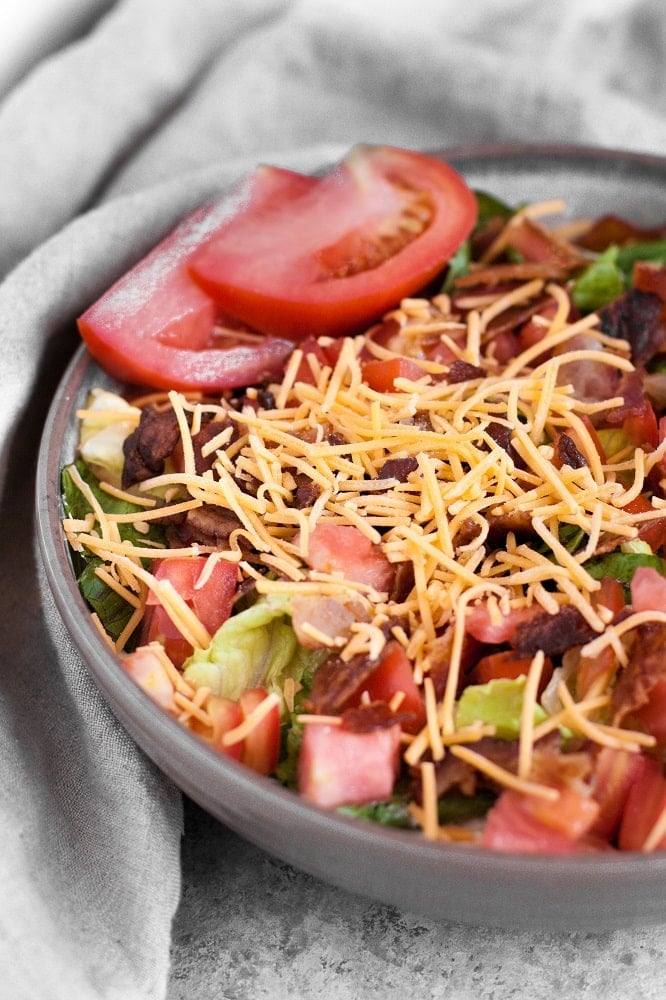 Want more keto-friendly meal ideas?
Browse through keto recipes to find inspirations.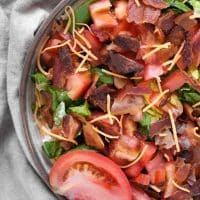 Keto BLT Dip
---
Author: Sara Nelson
Prep Time: 15 minutes
Cook Time: 15 minutes
Total Time: 30 minutes
Yield: Approximately 8 servings 1x
Category: Dip
Cuisine: American
Description
This Keto BLT Dip is the ultimate party and tailgate appetizer! This recipe is keto, low-carb, nut-free, gluten-free, grain-free, refined-sugar-free, and has only 2.6g net carbs per serving!
---
Ingredients
1 lb bacon
8 oz cream cheese
3/4 cup sour cream
1/4 cup mayonnaise
1/8 tsp salt
1/3 cup + 1 tbsp shredded cheddar, divided
2 cups chopped lettuce
2/3 cup (~105g) chopped tomatoes
---
Instructions
Preheat oven to 425 degrees and line baking sheet with foil and baking rack. Lay bacon strips on a baking rack in even layer.
Bake bacon in the oven until crispy, about 15-20 minutes depending on the thickness of the bacon. (Alternatively, bacon can be cooked on the stovetop over medium heat and drained of excess grease on a paper towel-lined plate).
Once the bacon has cooked, allow cooling slightly before crumbling. Set aside.
To a mixing bowl, add cream cheese, sour cream, mayonnaise, and salt. With an electric mixer, mix ingredients until fully incorporated.
To mixing bowl, stir in 1/3 of the crumbled bacon and 1/3 cup shredded cheddar.
Transfer mixture to shallow serving bowl and garnish with lettuce, tomatoes, remaining bacon, and remaining shredded cheddar.
Serve with low-carb vegetables, pork rinds, Low-Carb Crackers, and Low-Carb Cheez-Its.
Keywords: keto dip, keto appetizer, low-carb appetizer, keto blt, low-carb blt
Reader Interactions