Time is FLYING by! We have officially come to the end of my second trimester of pregnancy and have begun the journey into my third trimester. Over 27 weeks down and only 12(ish?!) to go!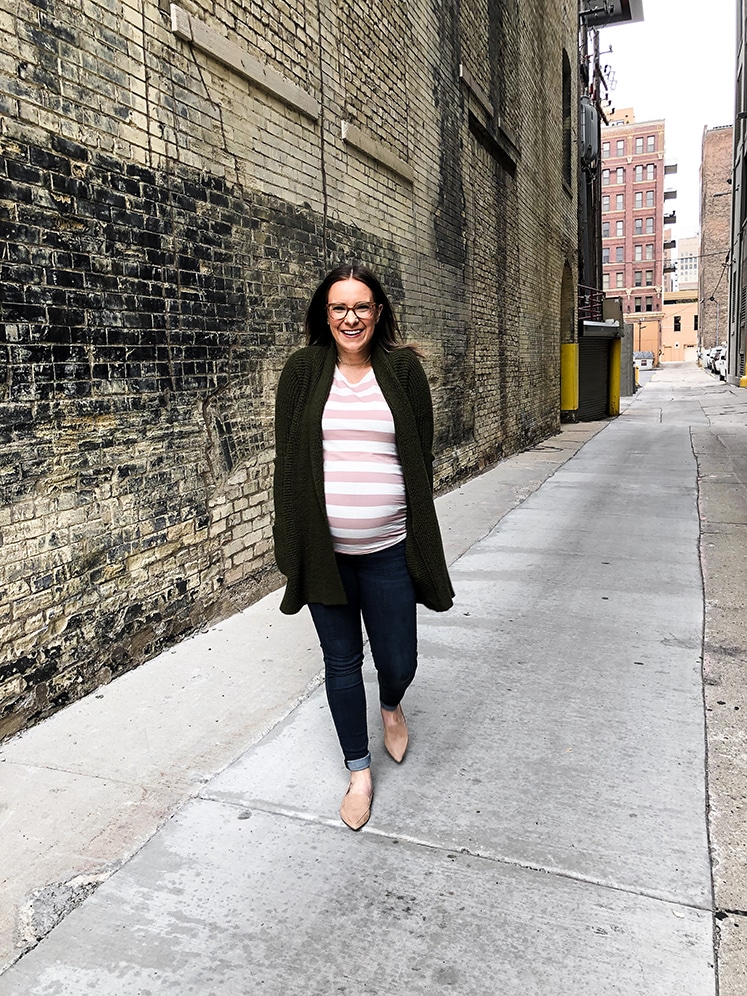 I am so excited to share some second trimester pregnancy updates with you! We are less than 3 months out from baby's due date and throughout my second trimester, we enjoyed a lot of new and fun experiences!
Like my original pregnancy announcement post, this will be another personal post with updates on what we've been up to, how I'm feeling, and all-other-things pre-baby!
---
General updates on pregnancy
Weeks Along: 28+ weeks.
Gender: She's a little girl! ?
Name: We call her by her name all the time now. We will announce her name when she arrives.
Baby's Current Size: An eggplant!
Baby's Movement: She's wiggling a whole bunch and we can regularly see her kicking around from the outside. It's wild! There was a 5-day period in late September where I didn't feel any movement and my nerves and anxiety got the best of me, so we decided to go in for an ultrasound. Baby is perfectly fine, but, wow. That was rough. We were pretty terrified. Lots of tears. Now, everything is going great. She seems to be VERY comfortable directly below my lower rib bones and kicking my ribs often. ?
Bump Size: Very noticeable and growing every single day, it seems!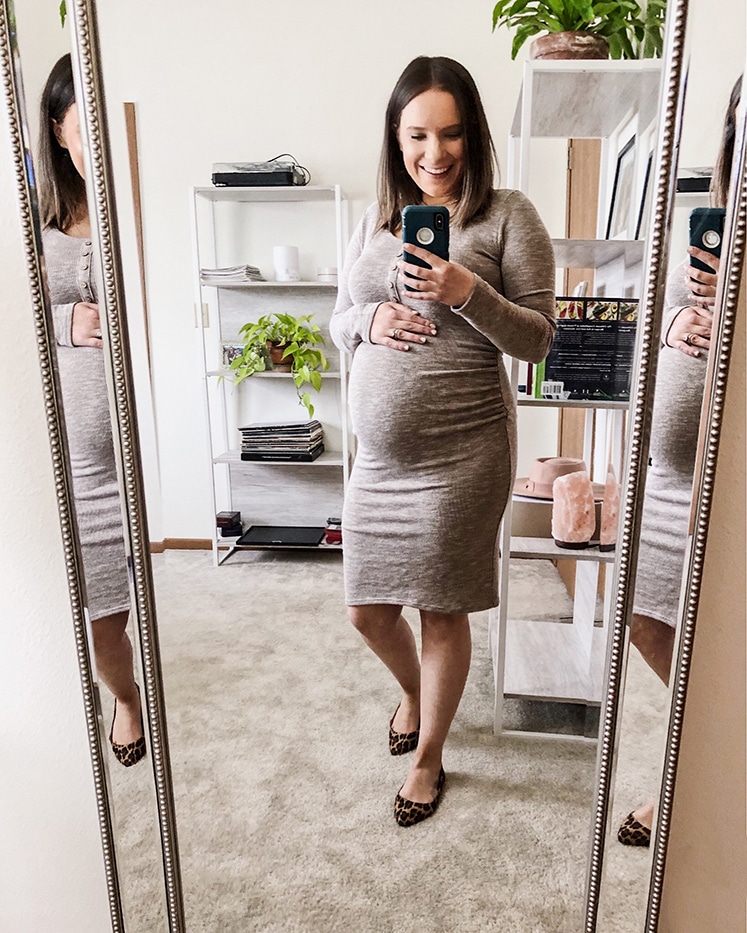 Baby Moon: Spent Labor Day Weekend up north in Boulder Junction, WI at my grandparents' cabin. We relaxed, ate lots of good grilled food, read books, sat by the campfire, and enjoyed each other's company along with Rowsdower.
Ultrasounds: Monthly up until this point. Now, starting in October, they are scheduled for every two weeks. In early December, we will start going every week until she makes an appearance.
Anatomy Scan: Amazing! One full hour of being able to watch her kick, squirm, and move around. She looked great and the doctor was really pleased with how she was measuring.
Baby Shower: Being thrown by my wonderful Mom in early November. You can see everything I'm registering for in this Gift Guide for New Parents!
Birthing Classes: We went to one birth-related class in September, which was immensely beneficial for both of us. We also just started a 4-week birthing class series that is hosted by the hospital I will be delivering at.
Pediatrician: We decided we felt best coming up with a solid plan for once baby arrives, which meant determining who her pediatrician would be. We had a short meet-and-greet with this doctor in early October. She is wonderful!
Financial Planning: We've begun working with a Financial Planner to really dig into our finances and set-up a solid plan for baby for the future. It's been an eye-opening experience and I'm really grateful we decided to start looking into this now so we can fully grasp how much a kid is truly going to cost!
Following A Low-Carb Diet: Most of the time, sort of! It totally depends on how I'm feeling on a particular day, but I'd venture to say that I follow a low-carb diet 70% of the time; the other 30% of the time involves higher-carb foods. Just doing what I feel is best for baby and me!
Exercise: Infrequent, which does actually bum me out. I just haven't made it a priority. I do have a ClassPass membership again and have gone to a couple spin classes at a local studio, but that's about it. Just way too many other things going on!
Things That Are Becoming More Challenging: Bending over to take food photos. Woof! This is a rough task that my back just can't handle anymore. I'm fortunate to have a food photographer who is able to step in and take on more tasks, which has really helped to offset my recipe photography workload! On another note, just taking a deep breath is pretty uncomfortable, along with the discomfort of having to sleep on my side (I'm typically a stomach sleeper).
Current Workload: Busy busy BUSY! I've added in a lot of projects in advance of taking maternity leave; not because I feel I have to, but I've just been full of energy! I am motivated, inspired, and happy to work every single day, so I figure, "why not?!" I've added in an entirely new facet of work into my business through blog coaching and have LOVED this new challenge!
---
My Second Trimester of Pregnancy Summed Up
Mostly really, really amazing!
Weeks 16-23 were AWESOME. Loads of energy, optimistic, and excited! I was feeling my best and was loving every minute of it!
I really hadn't had many complaints until I reached about week 24; that's when the discomfort really set it. Taking deep breaths is hard, my sleep isn't very good, and my moods are a little haywire.
---
Second Trimester of Pregnancy Things That I've Been Doing
Maternity Clothes Shopping:
Not gonna lie… I've been a shopping fiend recently. ?
They are not lying to you when they say that your old clothes WILL NOT fit you. I tried my hardest to get away with wearing regular jeans until week 20 and, yeah, it doesn't work. It is so unbearably uncomfortable and just not worth it.
Lesson learned: buy the maternity jeans.
My favorite maternity clothing purchases so far:
(Click any of the photos to get links to the entire outfit.)
H&M Maternity Jeans: I wear them every. single. day. (See them pictured below in the photo where I'm wearing a sweatshirt and yellow vest.) I have tried a lot of other maternity jeans and these are the only ones that I've truly liked. I love the full panel belly band that these have more than side panel or front panel that other maternity jeans have. I will say, though, that the belly band does stretch out after 1-2 wears, so I have to wash these more often than I normally would with jeans.
Old Navy Crewneck Sweatshirt: Not technically a maternity sweatshirt, but I just love it so much and felt it needed to be mentioned here. I normally wear a size Medium and sized up to a Large to cover the bump!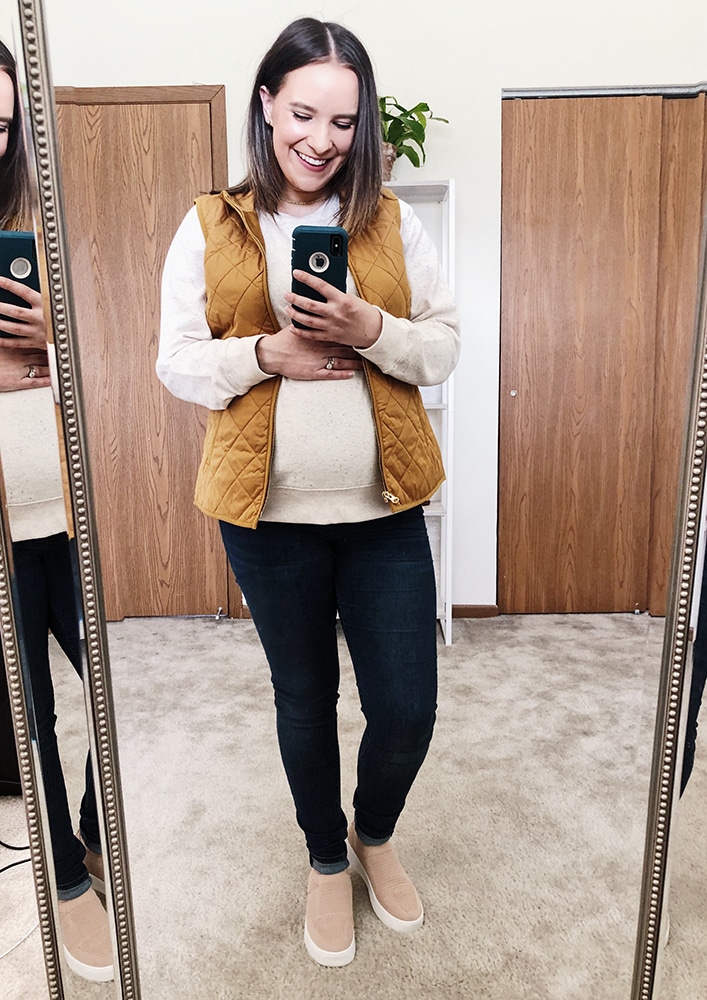 Old Navy Fitted Crew-Neck Maternity Tee: This has been a must-have basic for me. I wear one almost every single day (I purchased it in several colors). Stretchy, soft, and affordable!
Old Navy Maternity Leggings: These have been SO nice to have. They stay up extremely well (I never find myself pulling them up) and they're really, really comfortable. Plus, they're one of the more affordable maternity leggings that I've come across that I actually liked!
PinkBlush Sleeveless Dress: So cute and the material feels expensive and is SO soft. I wore this dress under a t-shirt when I went to a festival recently.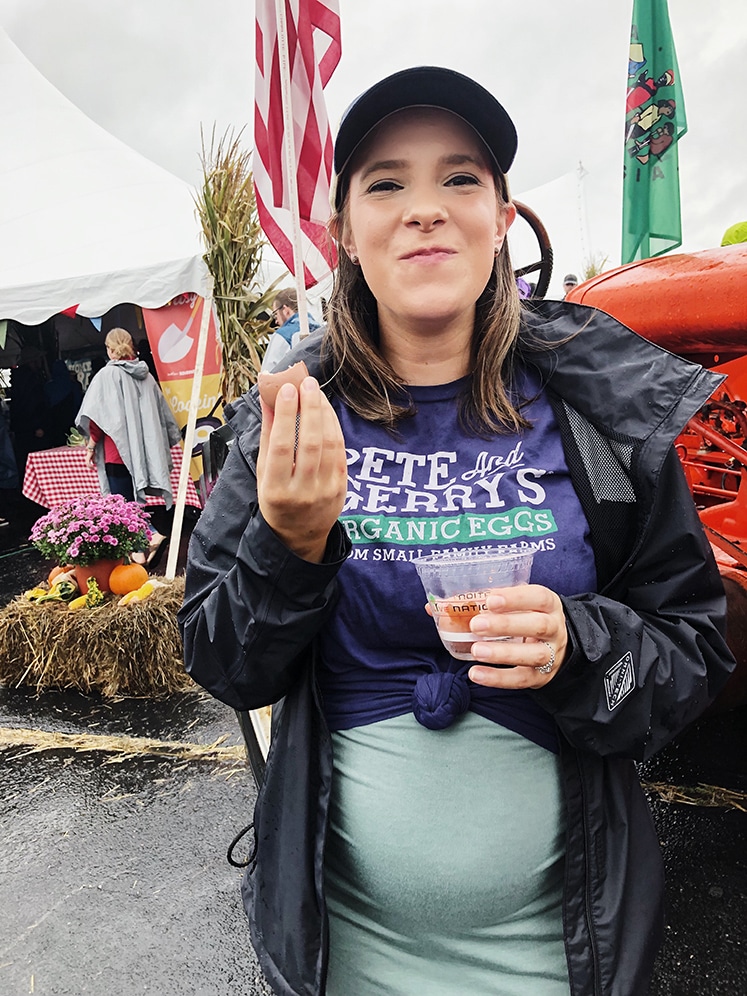 PinkBlush Ribbed Long-Sleeved Dress: I have this dress in 2 colors and it's probably been my favorite maternity dress purchase! So comfortable and can easily be dressed up or down.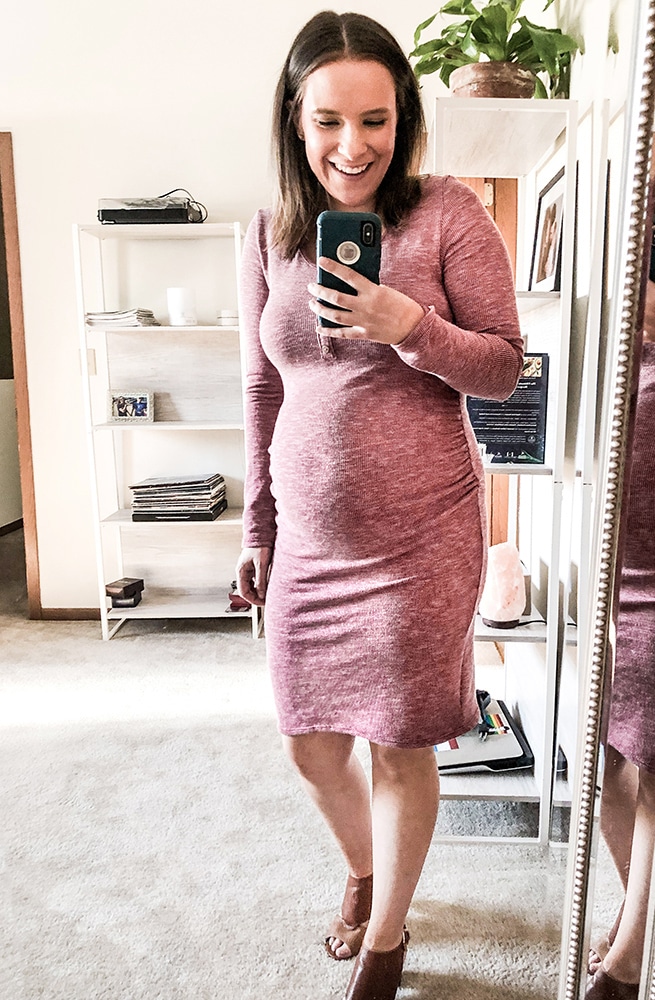 Steve Madden Slip-On Shoes: LOVE. Love love LOVE these. (See them pictured above in the photo where I'm wearing a sweatshirt and yellow vest.) I wear them constantly and they were the only casual shoe I took with me during my weekend trip to San Diego. I got them MAJORLY dirty and, when I returned to Wisconsin, I threw them in the wash and they came out spotless!
Maternity Shapewear: A must for maternity dresses. I can't even say for sure why, but this shapewear just helps to make my bump look a little more normal? I'm not sure, hah! But, I just prefer to always wear this shapewear when wearing a maternity dress.
Maternity Bra: I only have 1 maternity bra, but will likely need more when I begin nursing. This one is affordable and comfortable!
Maternity Winter Coat: I tried to get by wearing my normal winter jacket, but it just didn't fit and not zipping your coat during a Wisconsin winter isn't really an option! This cute coat is really affordable (and often on sale)! I bought my pre-pregnancy size, but would suggest sizing up if you plan to wear a sweatshirt or sweater underneath as the sleeves are a little snug.
Dr. Scholl's Slip-On Shoes: I've gushed about these shoes on Instagram about a bajillion times so, if you follow me over there, you know that I'm genuinely obsessed with these and have convinced everyone that will listen to me to purchase them. So easy to slip on and off (which is necessary as I can't comfortably bend down to tie my shoes anymore) and feel like you are walking on a CLOUD!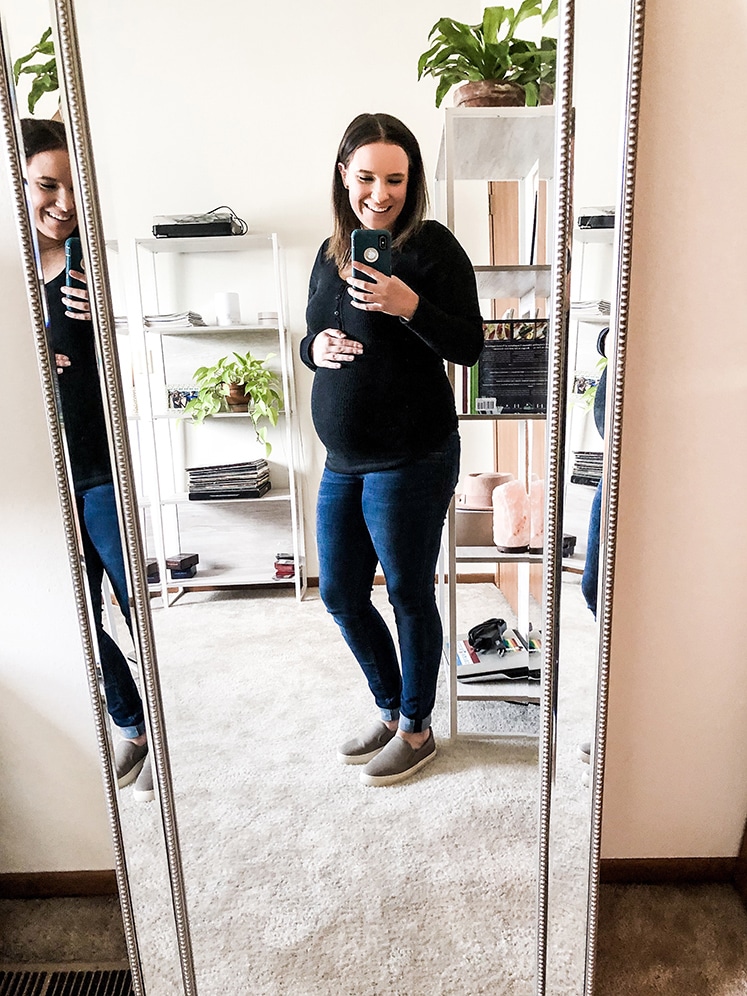 ASOS Maternity Wedding Guest Dress: I have bought A LOT of maternity dresses from ASOS and have been VERY impressed. I was never previously an ASOS customer so I was really pleasantly surprised by how great of a selection they have for maternity wedding guest dresses! I wore this dress for a recent wedding in San Diego. (Pictured with me is my best friend, Megan, who is also pregnant!)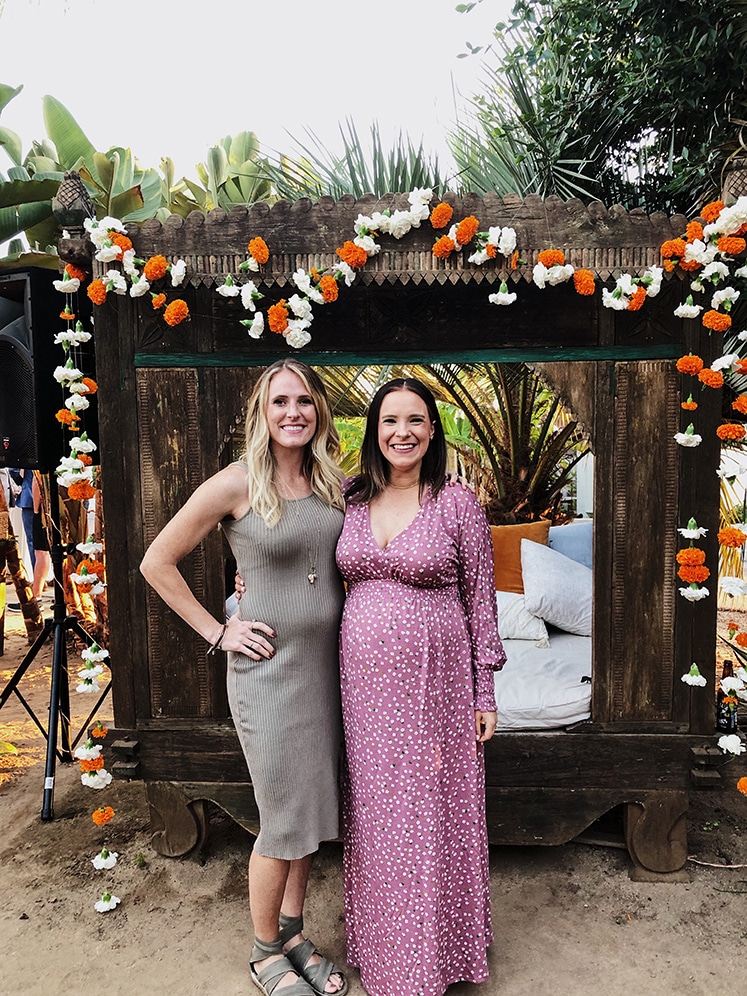 My least favorite maternity clothing purchase:
Old Navy Maternity Jeans: I love Old Navy SO MUCH, so it pains me to say this, but wow. Their maternity jeans are AWFUL. I am not kidding when I say that I bought/exchanged 3 different pairs of jeans 5 (yes, FIVE!!!) times. I normally wear a size 8 and because Old Navy's denim sizing is always a little "off" for me, I had to return the first round for a size 6. Well, after A LOT of back and forth, I went all the way down to a size 2 (a size I haven't fit into since probably middle school) and those were STILL TOO BIG. How is that even possible? Anyways, all of that to say, I would not recommend Old Navy maternity jeans to anyone.
My Must-Have Pregnancy Gear:
As much as I've tried to avoid purchasing too much pregnancy-related "gear," some things have become essential for comfort. The main items that I've loved and would recommend:
Pregnancy Pillow: I bought this early on into my 2nd trimester and, honestly, at first, I HATED it. I never thought I'd use it. I tried to every single night and, after about an hour, would end up taking it off the bed to use my regular pillow. Now, within the last 6 weeks or so, I can't imagine sleeping without this thing!
That's it! Nothing too essential for me at this point, aside from my pregnancy pillow aiding in my sleep.
Non-Essential (But Fun!) Pregnancy Shopping:
These are items we have bought recently that are not at all necessary, but I have enjoyed them!
Gender Reveal Color Bombs: We purchased these for our mini gender reveal and they worked perfectly! We brought one of each color to our gender ultrasound and the tech carefully gave us back the correct one in a box and then gave us the extra one to discard. You can see a video of our gender reveal on my Instagram feed.
LetterBoard: I've been updating this letter board weekly with the baby's progress. I have included how far along I am and the size of baby that particular week.
Baby Gear Shopping and My Baby Registry
We have been doing some baby shopping, but not too much!
We have picked up a few items over the course of a couple months (and have had some generously given to us by family!), but are mostly waiting for Black Friday and Cyber Monday deals to get the bulk of what we need.
In saying all of that though, I enjoyed (SO much!!!) putting together my baby registry.
I know a lot of you who follow me are also expecting and have asked about my registry, so I'm excited to share it with you!
You can see everything we registered for here!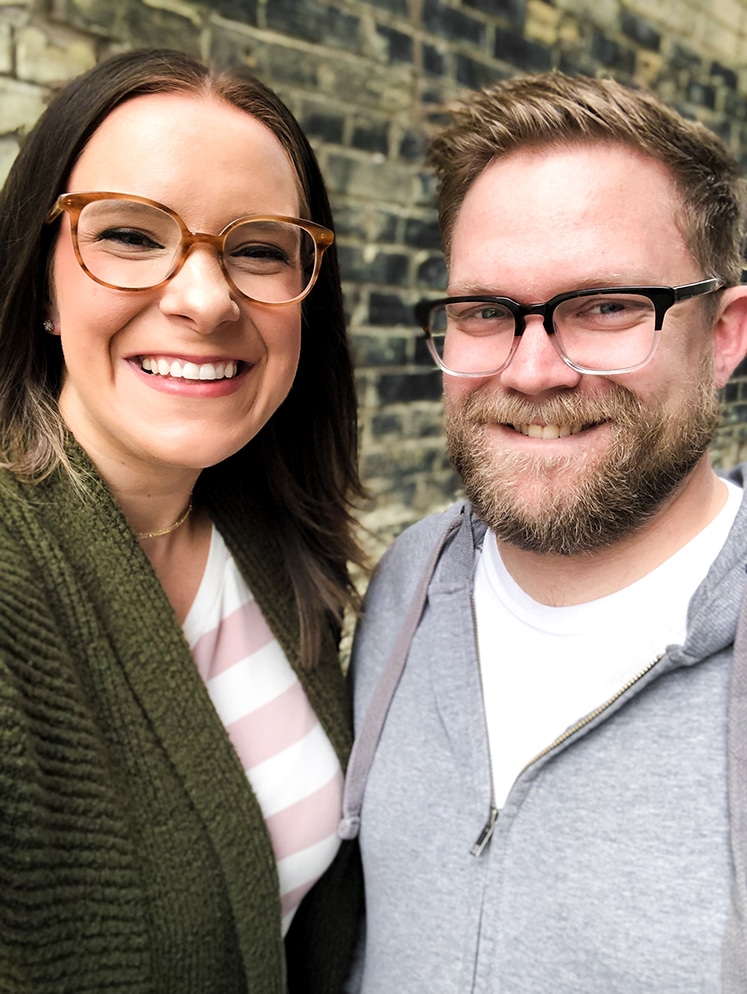 As always, thank you so, so much for all of your love and ongoing support! We are so grateful for each and every one of you!
Reader Interactions