Lucy is over 8 months old already! The past few months have been full of SO MANY developmental changes for her. It has been wild to watch her grow and learn so rapidly.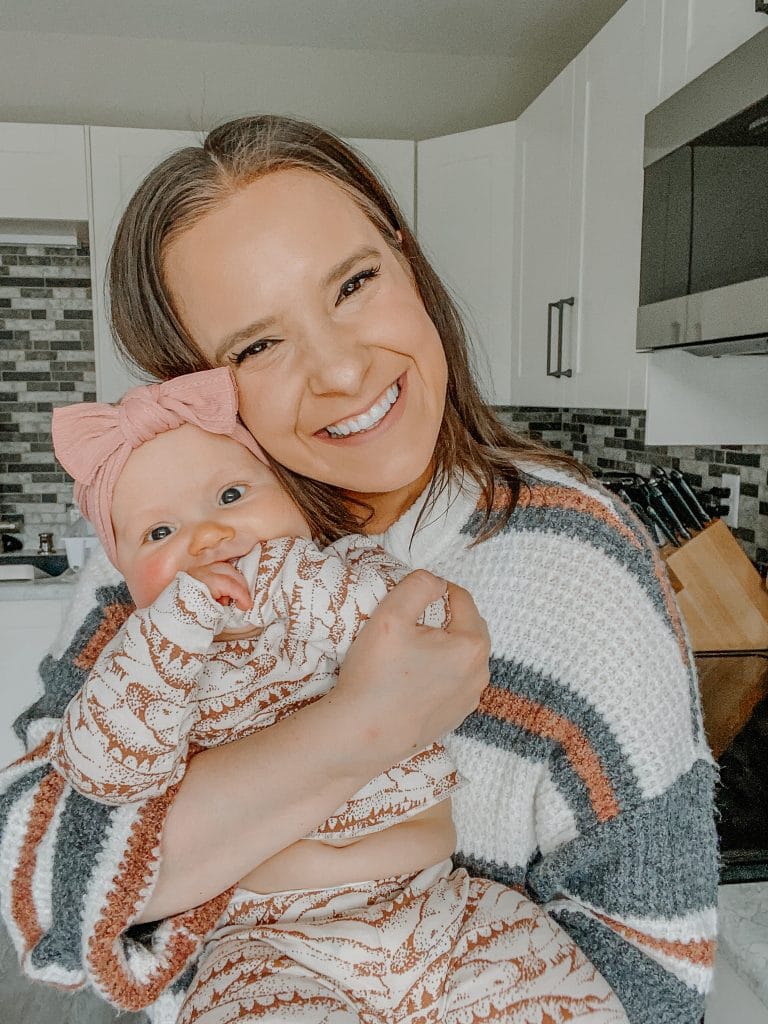 This girl is SO FUN. She's an extremely happy and content baby who plays so well independently and loves to be read books. She's babbling up a storm and is always keeping us busy.
This is how much she's grown from 5 months to 8 months:
Her development
Rolling Over From Stomach To Back: She rolled for the first time from stomach to back and OMG was I excited! She was about a day past turning 6 months old and, during tummy time, I had her focus on me holding up a remote control and she did it! I called my Mom into the room to watch and she rolled again! Then, when Ryan returned home from work, she rolled once more! She went from never doing it to three times in one day! She didn't roll again for a few weeks, but now she's constantly rolling over. Honestly, I try and get her to crawl by putting her on her stomach, but she never stays on her stomach for longer than 10 seconds before she rolls to her back.
Sitting Up Unassisted: She can sit up unassisted for extended periods of time now and this is definitely the way she prefers to play, rather than being on her back or her stomach.
Rolling Over From Back To Stomach: The first time she did this, she was waking up from a nap in her crib. I looked over at the monitor because I had heard her make a noise and noticed she was on her stomach looking up! I was laughing so hard because she had never done that before! Since then, she rolls almost immediately the moment you put her down in her crib. She naps on her stomach almost always (sometimes she naps on her side). Overnight, she was solely falling asleep on her back, but most recently she has begun to roll to her stomach and I can't get her to stay on her back if I roll her. It sends my anxiety through the roof with her sleeping on her stomach! I know I just need to get used to it though because there's really no fighting it anymore – she always rolls back!
Showing Her Understanding Of Words And Phrases: She has come to understand many of the frequently-repeated words and phrases we use. Most specifically, she is VERY aware of what, "Hey Google, play 'Baby Shark'" means! You can see a funny video of her smiling every time I say this here.
Teething: A tooth erupted through the gums right around the time she turned 6 months old. It barely came through (you could just see a small little white spot in her gums) and stayed that way for a month. Then, she turned 8 months old, and another tooth came FAST. It was a tough week. Both of her bottom teeth went from barely being visible to being fully out of her gums. Now, she has a third tooth coming in and it's been a pretty tough time because of it.
Sleeping Overnight In Her Own Room: When we moved into our new house shortly before she turned 7 months old, she began sleeping overnight in her own room. Prior to that, she was napping in her own room and then room-sharing with us overnight. It was a stressful transition for me, but she didn't even notice! I've slowly become more accustomed to it, although I do wake up a few times every night to check the monitor or get up to check on her.
Saying Her First Word: Easily one of the most exciting things ever! She said "Dada" five days after she turned 7 months old. Since then, she says it A LOT. It's SO CUTE. She also recently started to attempt to say "Mama," though the "m" consonant is definitely a struggle; it comes out as "Nana" or "Yaya" most of the time on her first try, and then when I encourage her to try to say it again, she says "Dada" – hah!
Her sleep
At her 6-month doctor's appointment, we were given the "go ahead" to start sleep training. We followed the Ferber method, which actually went REALLY, REALLY well, considering how challenging of a time we were having with putting her down to sleep at night.
Now, we put her down to sleep, she sucks on her pacifier before falling asleep on her own and sleeping 10-12 hours straight.
As for naps, she takes between 2 to 3 a day. I really try and keep her to just 2, but sometimes it's just impossible if she wakes up really early and/or takes short naps. With her teething recently, I'm just "going with the flow" rather than committing to any specific sleep routine.
Introduction to solid foods and to water
Puréed solid foods and finger foods
At 6 months old, we introduced solid foods to Lucy. We started with My Serenity Kids puréed food, along with giving her peanut butter. I wrote in more detail about both of these topics here:
Right around the time she turned 7 months old, we introduced finger foods and that went really well. She loves to feed herself, so we typically just rip up or cut up whatever we're feeding her, put it on her high chair tray table, and let her do her thing. We still do spoon-feed her purées, specifically the Salmon pouch from My Serenity Kids, but, for the most part, she's feeding herself finger foods. Her favorites are scrambled eggs, ground chicken, and, more than any other food, she LOVES avocado; she can eat more avocado in a day than most adults I know.
Drinking water
She started drinking water from a sippy cup and from bottles. She LOVES water. SO MUCH. If you turn the faucet on, she smiles. If you say the word "water," she smiles. You show her a bottle with water in it, she smiles. It's too funny!
Major events
Ryan's Birthday And First Father's Day: Ryan's 33rd birthday and first Father's Day fell on the same day this year! How fun! Even cooler was that Ryan was born on Father's Day in 1987, so it felt really perfect that his first Father's Day as a Dad fell on the calendar like that.
We spent the day swimming at my parents' pool. We ate a lot of good food, hung out, and relaxed before we began preparing for our move.
Moving Out Of Our Townhome: Since Ryan and I have been together, we have only ever rented and have hoped to purchase our own home at some point. But, wow. It was tough.
After soooo much hard work over the last year and with guidance from our fantastic financial advisor, we were able to put away enough money to afford our (extremely-overpriced) monthly rental expenses on top of saving for a down payment for a house.
We put in our notice with the rental company that we would not be extending our lease in April 2020 and started the process of house searching.
Looking for a house is time-consuming. Involve an infant and it felt practically impossible. Oh, and a global pandemic and quarantine. To the say the least, it was very stressful.
The market was ridiculous at this time. For example, we put an offer in for more than the asking price on a house in Milwaukee, WI and never even received a call back.
We started to look outside of the Milwaukee area and landed on a house that we loved. I mean, really, really loved. We put an offer in, negotiated with the sellers, and they ended up accepting our offer. We were over-the-moon excited! Our closing date was set to be 2 weeks after our lease ended, so my parents graciously offered to let us stay with them in the interim. Everything was falling into place and we were truly thrilled!
Then, we had the inspection. Long story short, we rescinded our offer and were back to square one.
At this point, our lease was about to end and we didn't have any set plan on where we were moving and when.
After more house hunting, we put in another offer and ultimately had it accepted. The thing was, the house was in the midst of being remodeled and wouldn't be ready right away.
Thankfully, my parents are the best people alive and let us stay with them between the time our lease ended and we closed on our house.
Never did I image that I'd move back in with my parents, especially with a 6-month old baby!!
The actual process of moving out of our townhome was ridiculously stressful. We were moving out of one place, had a storage unit an hour away where we'd ultimately be moving, and were intermittently living somewhere else, 90 minutes away from that. This was on top of trying to care for a baby, pump so I had breastmilk on-hand while my parents babysat, Ryan was working and had an important event coming up, I had to finish a project, and we had to pack and deep-clean our townhome. Oh, and we had vehicle trouble and had to rent multiple different U-Haul trucks.
Thank goodness my Mom was able to babysit a few times while my Dad came over as often as he could to help us load up.
At one point, Ryan had to deep clean the carpet so it was wet and I needed to clean our kitchen, so I had Lucy on her activity mat on the kitchen floor while I moved as quickly as I feasibly could and she just played and laughed and chilled for over an hour. All by herself. I honestly couldn't dream up a better baby to have in this scenario.
Moving In With My Parents: In the interim between our lease ending and closing on our house, my parents graciously took us all in. We stayed with them in their guest bedroom for 5 weeks. They have a pool, which was AMAZING because it was the middle of summer and it was hot, so Lucy enjoyed some time hanging out on the pool deck during her first summer.
Meeting Her Cousins For The First Time: Lucy was born during the height of the flu season, so we opted to keep her home to ensure she didn't get sick. A couple of months into her life, quarantine began. She was nearing 6 months old before she ever met her 3 cousins. Finally, in June, she was able to meet them all and it was the best!
House Hunting: Stressful. Something I did not enjoy doing, even a little, especially during a pandemic. Thankfully my parents were able to watch Lucy while we looked at houses, but it was just a whole process that I didn't like whatsoever. We walked through, I don't know, maybe 10 houses? Once we landed on the one we live in now and we knew we had an accepted offer, I was THRILLED. Of course I was happy that we were going to move in here, but I also just wanted to stop having appointments to look through houses. Not my type of fun.
Getting Sick: In June 2020, immediately after we moved into my parents' house, we all came down with a bad cold. Woof, this was rough. To have a sick baby is one thing, but it felt 10x harder because both Ryan and I were also sick and SO lethargic. Thankfully, I was sick first and started to feel slightly better before Ryan got sick, so that was at least one mildly positive aspect of the whole thing. It was rough though.
My Birthday: I turned 29 in July. We spent the day hanging out together and just relaxing. It was peaceful and uneventful. A great way to ring in the last year of my 20s!
Moving Into Our New Home: So, so exciting! We bought a house! We moved north of Milwaukee and have our own home! Yeeeeee!!! We're loving it so far!! We have some ideas for projects that we'd like to accomplish down the road, but the house was actually just completely remodeled, so most things are in really great shape!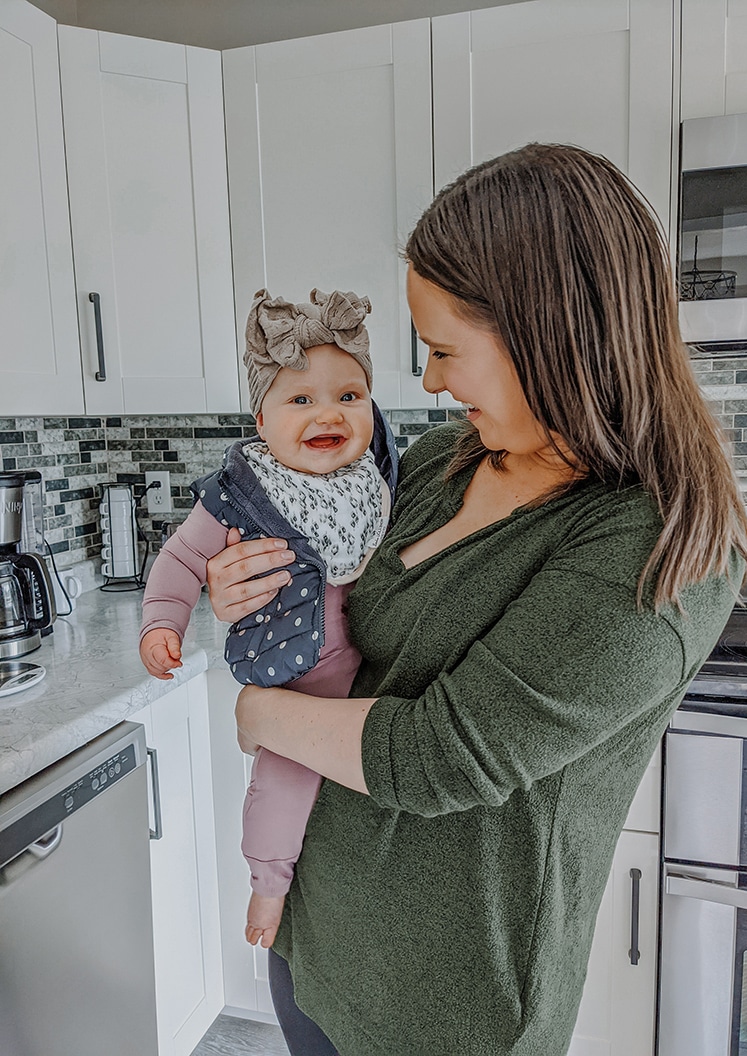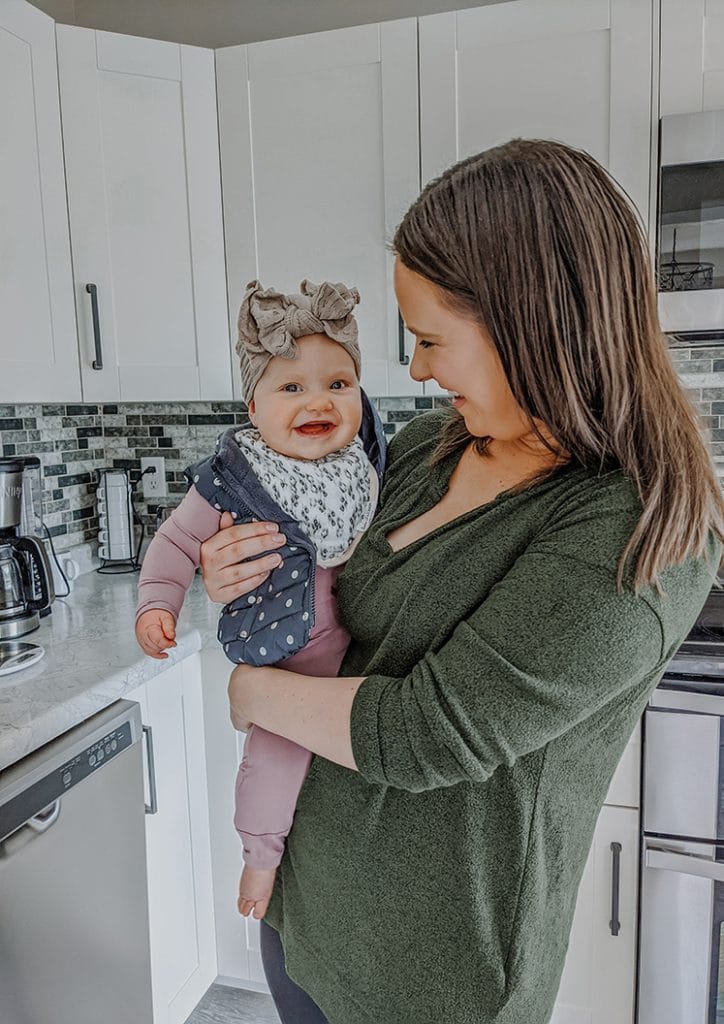 As an Amazon associate, I earn from qualifying purchases.
Her favorite activities
Reading Books: This is by far her favorite thing to do when she's sitting on her play mat. We read A LOT of books throughout the day. This "Colors" book is by far her favorite.
Being Outside: She really enjoys sitting with us on our patio and she especially loves to walk around the backyard while Rowsdower plays. She thinks it's hysterical when he gets the "zoomies" and runs all around.
Car Rides And Walks: We take car rides quite often because it's one thing that really seems to relax her. Same goes for walks. She just seems to be happy in her car seat.
Listening And Dancing To Baby Shark: I mentioned this above, but it bears repeating because of how much she LOVES this song. It's so funny to watch her reaction when she knows the song is about to start!
Thank you for following along with the Nelsons
Thanks so much for following along with how Lucy is doing. As a family, we feel truly lucky to have connected with you all!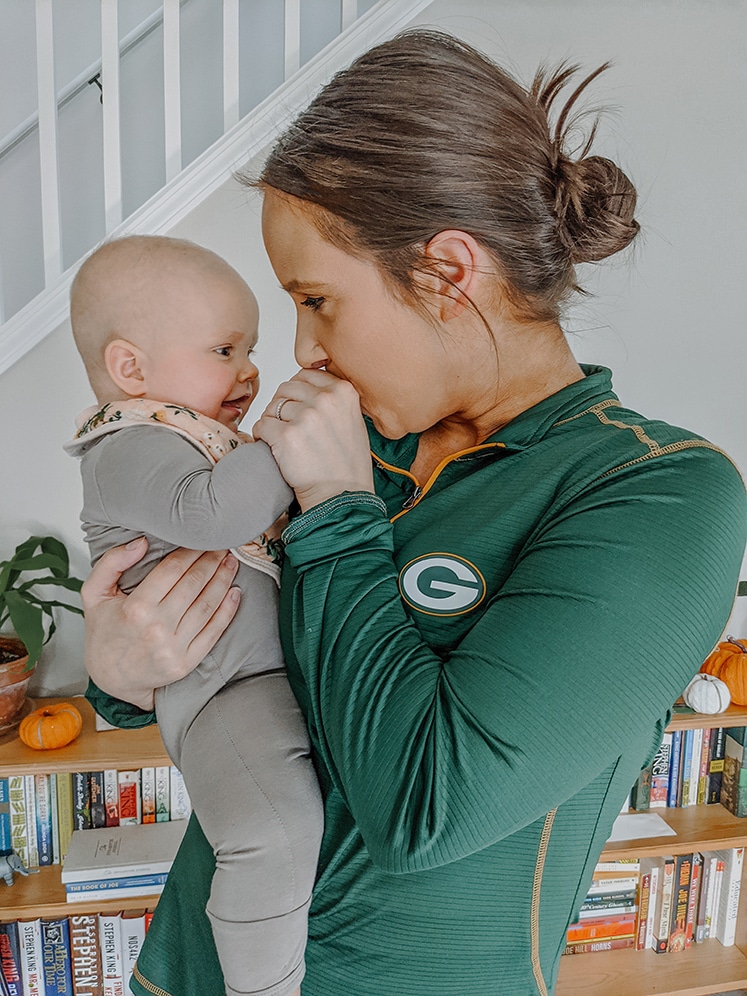 If you want to keep up-to-date on the most recent updates of Lucy and our family, be sure to follow along on Instagram and follow along on TikTok!
Reader Interactions