If you're looking for what a keto Thrive Market order looks like, this post includes all of the products I personally purchase for my family! With so many specialty foods out there, it can make it seem like following a ketogenic diet comes with a hefty price tag, but that doesn't have to be the case. Why? Because Thrive Market exists!
This post was written as an entry for a Thrive Market affiliate sweepstakes. As always, all opinions are my own. I appreciate you supporting both me and the brands that allow me to create quality content for you!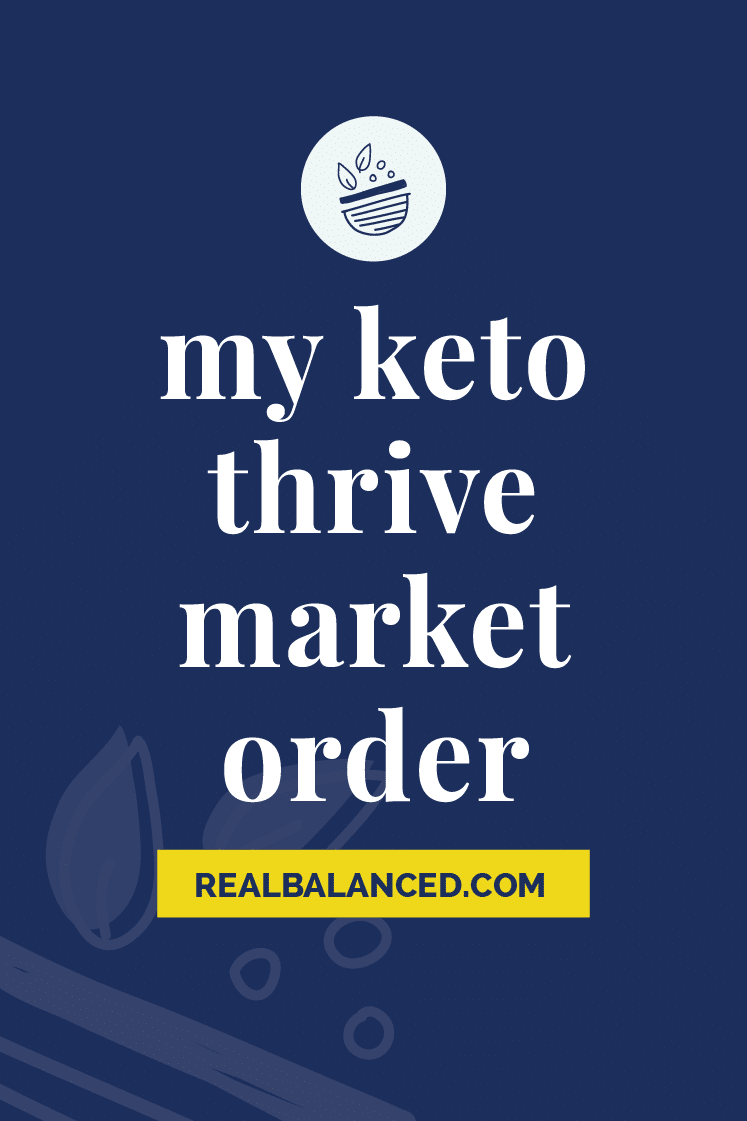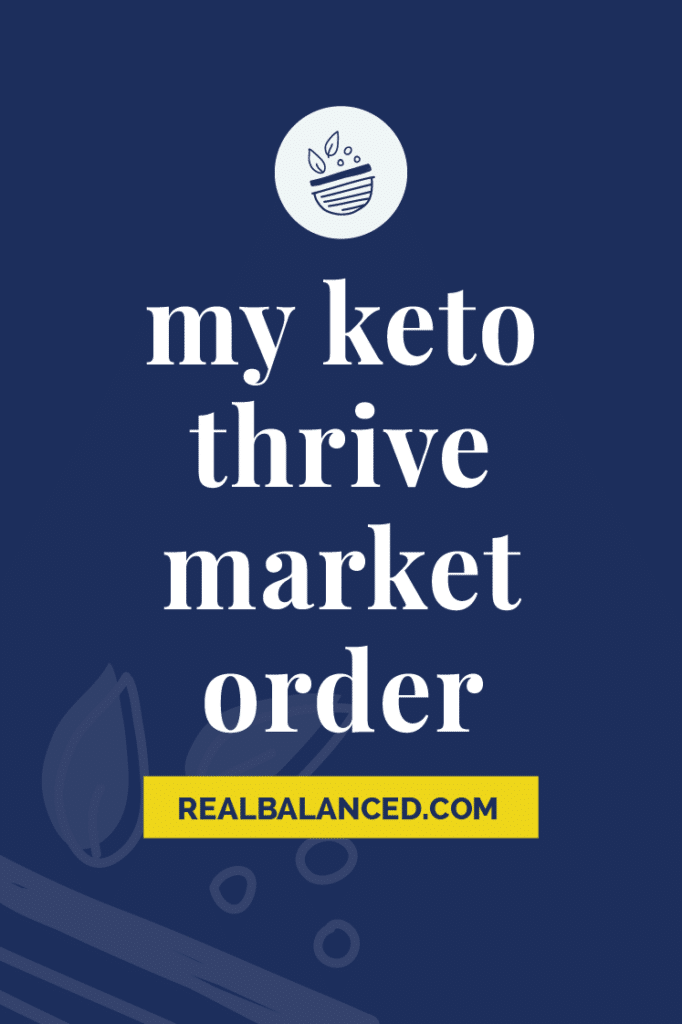 Though grocery stores are starting to carry more and more keto-friendly options, nothing (and I mean NOTHING) compares to the inventory, prices, and quality of Thrive Market products.
How Thrive Market works
Thrive Market is an online retailer specializing in natural and organic products. They use a membership system to supply customers with wholesale prices, meaning you get awesome (and sustainable!) products at a lower price point.
They carry everything from food (fresh AND frozen), household items, and baby gear to pet supplies, beauty items, vitamins, and everything in between.
But, that's not even the best part.
My favorite part about this company is that they make following a keto diet SO easy. With Thrive, you're able to shop by diet preference, allergies, and even lifestyle choices. I'm able to filter inventory to include only keto products so that I can easily select items without having to hunt down ingredient lists.
Why is a membership required?
In order to take advantage of the AMAZING perks that Thrive Market offers, a membership is required. I'll be the first to tell you that the membership is TOTALLY worth it. Working out to only $5 a month, this membership pays for itself tenfold.
With a Thrive Market membership, you have access to:
exclusive low prices that can't be beat anywhere else,
tons of cash back opportunities,
awesome freebies,
free shipping on orders over $49, and
so. much. more.
Plus, your first month as a Thrive Market member is totally free!
My keto Thrive Market order
SunButter is PERFECT for people with allergies. Made from roasted sunflower seeds, SunButter is completely free of the top 8 food allergens. This means it's made withOUT peanuts, tree nuts, soy, milk, eggs, wheat, fish, or shellfish!
I love to use it as a spread or in recipes like my Chocolate Bar Fat Bombs and 3-Ingredient Fat Bombs. It's even great as the main part of a dish, such as in my Pumpkin SunButter Soup!
If you're a fan of peanut butter or almond butter, you'll love SunButter.
These noodles are quite literally a miracle because they don't contain calories OR net carbs!
Wait, WHAT?!
Seriously. They are net carb-free and are a fantastic keto pasta option that is available for purchase from Thrive Market.
This is hands down my favorite tomato sauce. It's packed with delicious (and REAL) ingredients. Plus, it's all-natural and totally low in carbs so that you can satisfy your Italian dish craving keto-style.
This one is actually from Thrive's own brand, and its flavor is delicious! A total staple in our home, this yummy French roast is a dark blend that's absolutely overflowing with flavor.
There's nothing more comforting than a morning cuppa'!
Thrive Market sells a bunch of avocado oil options, but my favorite kind is their from their self-labeled brand! It's another kitchen staple that I use pretty much every day.
Their avocado oil spray is perfect for any type of cooking, whether you're baking, sautéing, or roasting! If it can use a bit of oil, this is what you need.
Ohhh, my gosh. This chocolate is what dreams are made of. It's all-natural, gluten-free, non-GMO, and totally tasty. It ALWAYS quenches my sweet tooth and I love to use it in chocolatey recipes!
Thrive carries a handful of Lily's flavors, and I definitely recommend getting your hands on all of them, but the Salted Caramel variety is definitely my favorite.
Oh, and don't worry about the chocolate melting during shipment, either. Thrive Market is fantastic with shipping refrigerated goods!
If you're in the mood for some chocolate chip cookies, you MUST use these chips! They're perfect for making keto chocolate chip cookies, as well as just chocolate-snacking.
I love these Flackers!
These flax crackers are SOOO yummy and come in a wide variety of flavors. Perfect to eat with cheese slices, cream cheese, and low-carb dips, like this Jalapeño Spinach Artichoke Dip!
Most table and cooking salts that we use today are totally void of the minerals that actually make them salts!
This is a topic for another time, but for now, know that Redmond Real Salt is 100% the way to go! I always include their delicious sea salt in my Thrive order.
This is another one that's part of the self-labeled Thrive Market product lineup. I really love their flour because it's delicious and works perfectly in so many of my recipes. It's gluten-free and of course, low in net carbs.

Wild Planet is one of my all-time favorite canned fish brands, and I LOVE that Thrive Market carries it!
This particular sardine product is the best because for starters, it's ethically sourced. Wild Planet is a sustainable brand that does its part to maintain eco-conscious practices, which I love!
Primal Kitchen Mayonnaise is an avocado-oil based mayonnaise that is totally free from preservatives! It's all-natural and made with wholesome ingredients such as organic eggs and vinegar.
It's made without added sugar and is the perfect low-carb option for all of your keto dishes!
My favorite nontoxic cleaning and beauty products from Thrive Market
Your health shouldn't stop in the kitchen. I wholeheartedly believe in cleaning up your household products right along with cleaning up your diet.
These are the cleaning and beauty products that I constantly purchase from Thrive Market:
Mrs. Meyers is one of my favorite brands for household supplies. Their products are all-natural and made from plants, scented with essential oils for safe breathing. I love their hand soap!
Similarly, Mrs. Meyer's Dish Soap is another one of my favorites that I'm always sure to include in my Thrive Market order.
These dryer balls are an amazing alternative to liquid fabric softener! They're made from sheep wool (and ethically sourced) and work for up to 1,000 loads of laundry. Plus, they help garments dry faster, reducing the cycle by up to 30%!
If you're a liquid foundation wearer like myself, you know what it means to have a BAD feeling foundation. The wrong brand and blend can leave your skin feeling heavy, sticky, and just all around gross.
Enter: Mineral Fusion Liquid Foundation.
I LOVE this stuff! It goes on super light and leaves the skin feeling airy and fresh. It isn't made with any harsh chemicals or parabens, instead, nourishing the skin with green tea, Vitamin C, and more. It's got a dose of UV protection mixed in, too!
The fact that Thrive Market carries beauty products like this is a super convenient way for me to stock up on products that I otherwise would've had to make a special trip for!
So… is Thrive Market worth it?
The short answer: 100% YES!
Thrive Market has made my life SO much easier. It's saved me time, money, and allowed me the convenience of shopping for keto items all in one place.
Interested in trying Thrive Market out?
I hope you've enjoyed my Thrive Market review! Check out this page to access more Real Balanced discounts and codes.
Reader Interactions