These Cheesy Chicken Fritters are a deliciously flavorful and keto-friendly meal or appetizer!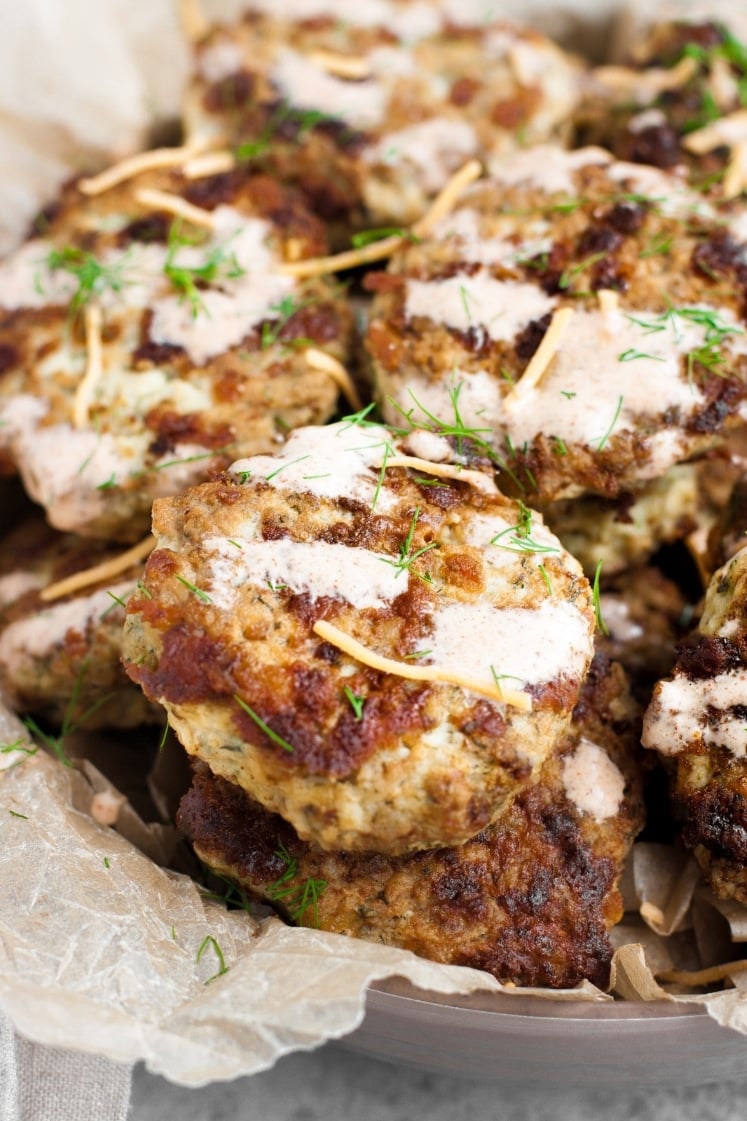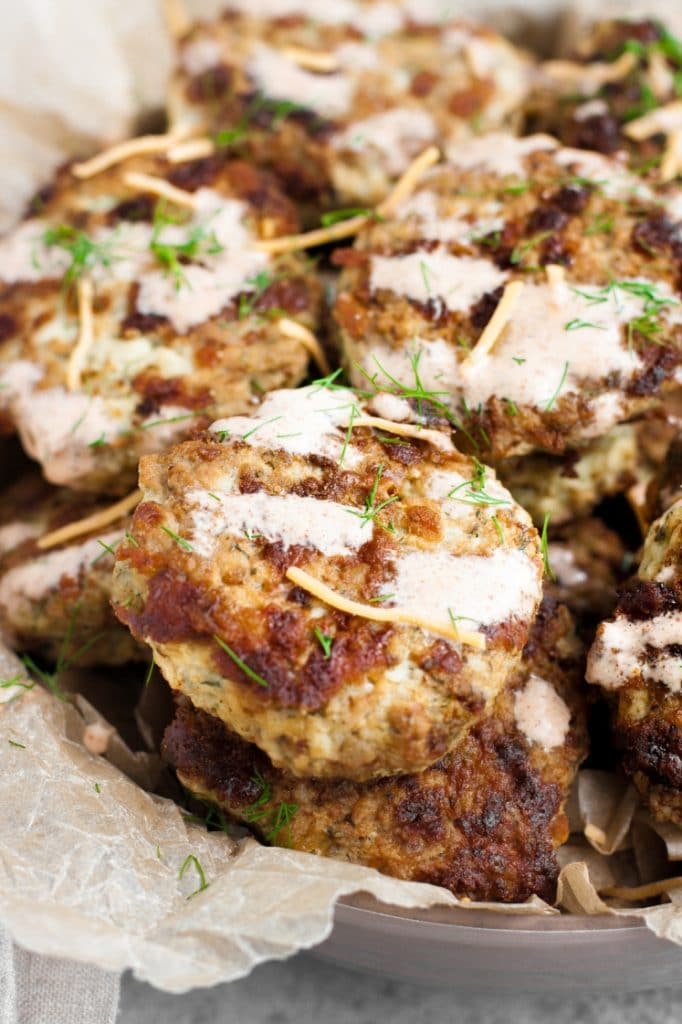 This recipe is low in carbs, super simple to make, and a great make-ahead option as the fritters and Spicy Lemon Aioli store perfectly in the refrigerator all week!
Keto And Diet-Friendly Meal Or Appetizer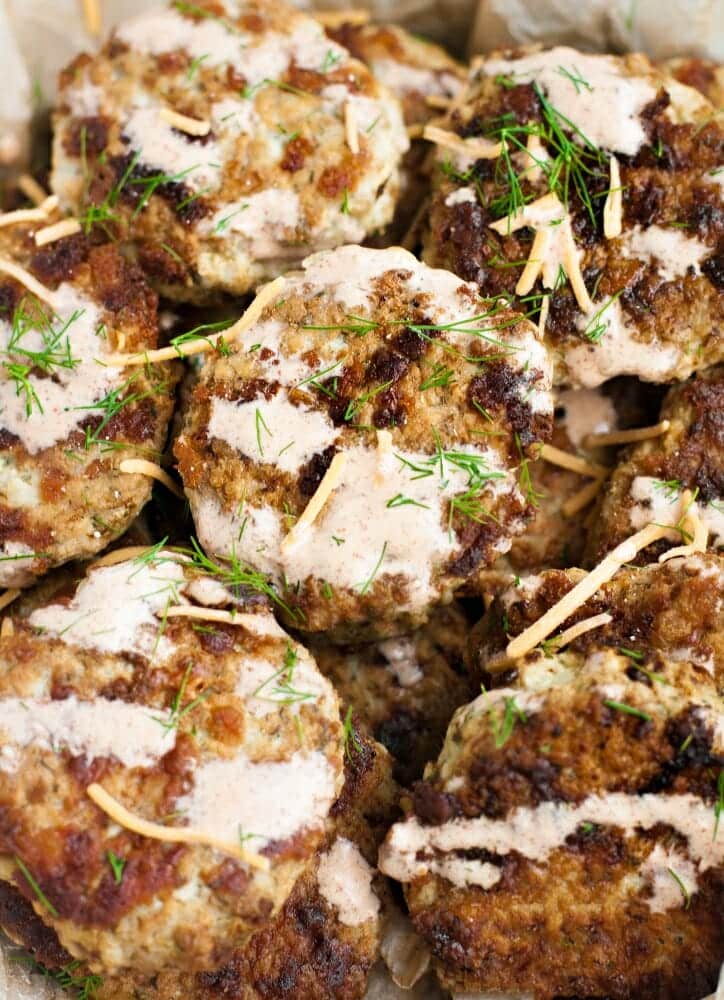 Like that of my Chicken Bacon Ranch Poppers, Spicy Salmon Poppers, and 10-Minute Spicy Tuna Rolls, these Cheesy Chicken Fritters are great for holiday parties or family gatherings as they are easy to serve and are perfectly bite-sized!

Serve these Cheesy Chicken Fritters with Spicy Lemon Aioli
To further elevate these fritters, serve them with a Spicy Lemon Aioli. This will add an extra layer of zing to each bite!
We love to pair aiolis with bite-sized appetizers like this one for an extra burst of flavor and an added taste-component! If you are unfamiliar, aiolis are just simple mixtures of mayonnaise, garlic, and any additional ingredients you think would pair well with your main dish. Aiolis are excellent as dips, sauces, or salad dressings!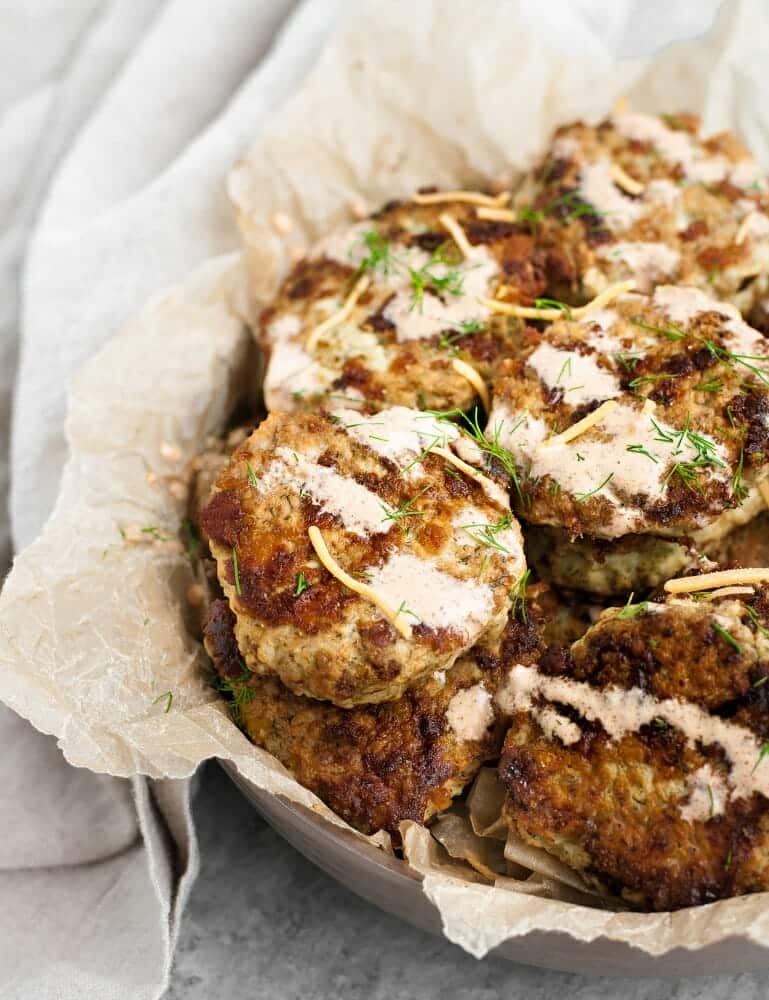 Aside from adding more flavor, aoili has minimal carbohydrates and provides a dose of essential healthy fats!

Diet and Allergy-Friendly Cheesy Chicken Fritters Recipe
This dish-to-pass will delight most guests who have diet- or allergy-restrictions!
Keto and Low-Carb: This is ultra low-carb and keto-friendly! One fritter served with aioli contains only 1 gram of net carbs!
Nut-Free: This recipe is completely nut-free. These chicken fritters are safe to consume for those with nut allergies or nut intolerances.
Coconut-Free: There are no ingredients in this recipe that contain coconut.
Gluten-Free and Grain-Free: This recipe is gluten-free, grain-free, and Celiac-friendly.
Sugar-Free: This recipe does not contain any added sugar.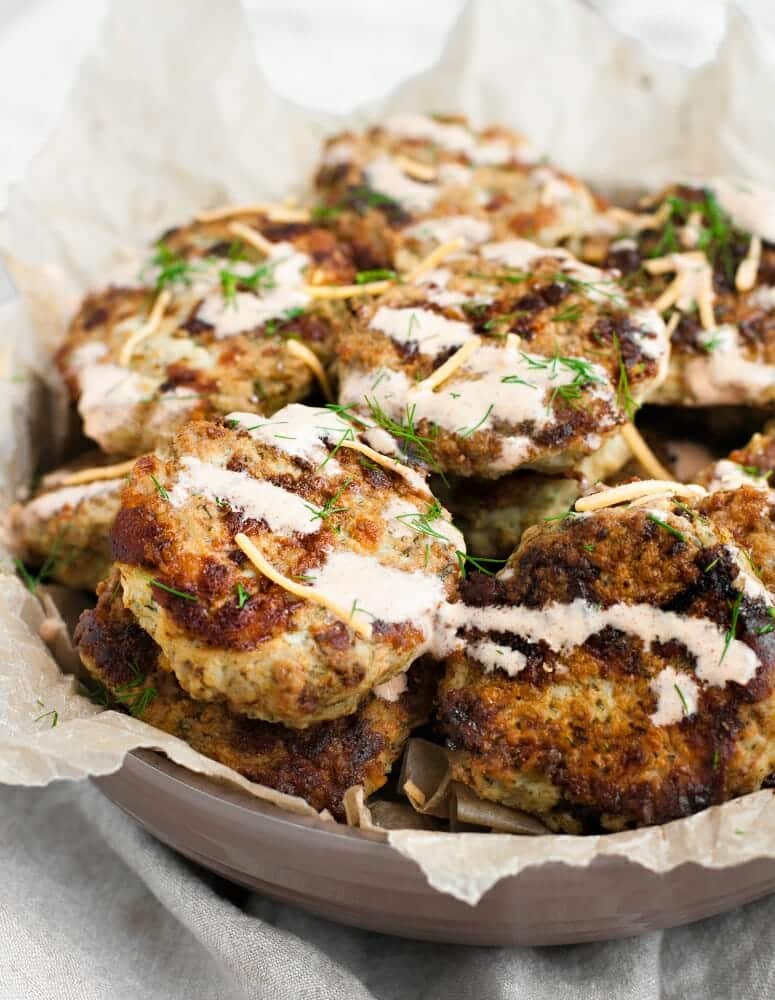 Net Carbs In Cheesy Chicken Fritters
These Chicken Fritters served with Spicy Lemon Aioli contain only 1 gram of net carbs per serving! The recipe yields 18 fritters.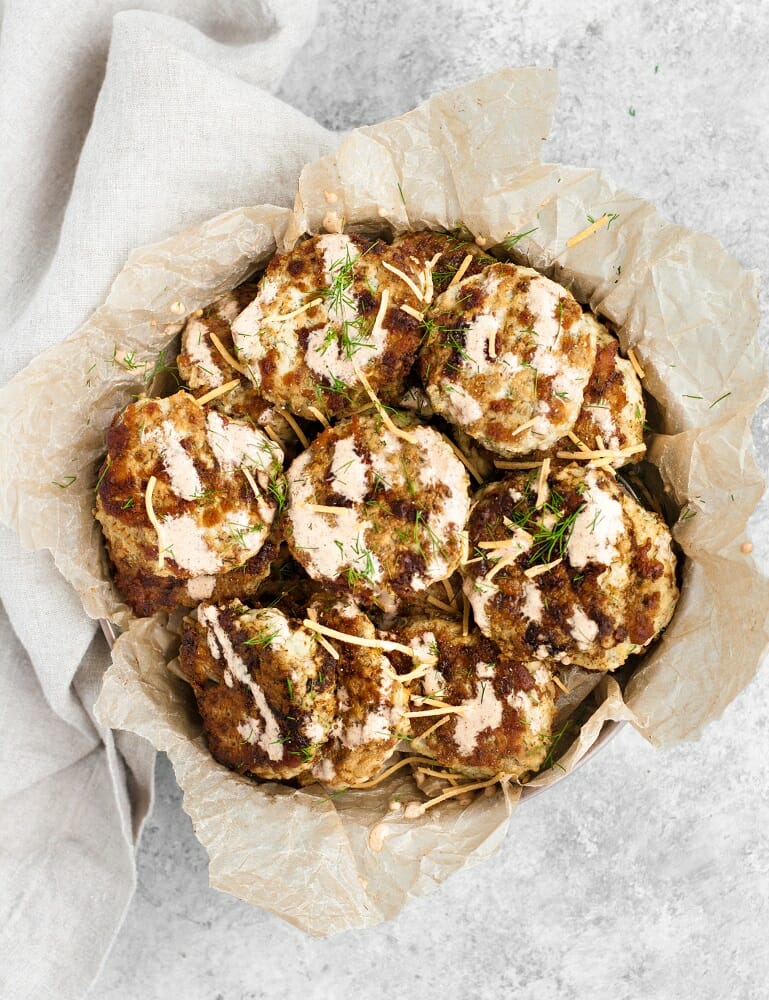 Looking for more cheesy and keto-friendly recipes?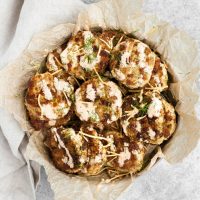 Cheesy Chicken Fritters
---
Author: Sara Nelson
Prep Time: 10 minutes
Cook Time: 35 minutes
Total Time: 45 minutes
Yield: 18 fritters 1x
Category: Appetizer
Method: Fry
Cuisine: American
Description
These Cheesy Chicken Fritters are a delicious keto-friendly party appetizer! They are full of flavor, low in carbs, and super simple to prepare! This recipe is keto, low-carb, nut-free, coconut-free, gluten-free, grain-free, sugar-free, and contains only 1 gram of net carbs per serving!
---
Ingredients
Fritters
Spicy Lemon Aioli
Optional garnishes
Shredded cheddar
Fresh dill, roughly chopped
---
Instructions
Chicken Fritters: To large mixing bowl, add ground chicken, eggs, pork rinds, mayonnaise, mozzarella, cheddar, and spices and mix until well-combined (an electric or stand mixer works well for this).
Over medium heat in a large pan, heat avocado oil. Scoop out 1-2 tbsp of cheesy chicken mixture, place in heated pan, and lightly press down with back of spatula. Cook fritters for 4 minutes on one side, flip, and cook for 3-4 minutes on opposite side. Transfer cooked fritters to paper towel-lined plate and allow to cool.
Spicy Lemon Aioli: Add all ingredients to small bowl and whisk until fully combined. Serve atop fritters or as a side dipping sauce and add optional garnishes as desired.
Recipe Notes:
Store fritters and aioli in separate airtight containers in the refrigerator for up to 5 days.
Keywords: keto appetizer, low-carb appetizer, cheesy chicken, keto chicken recipe, keto dinner, low-carb dinner, keto party, keto tailgate
Reader Interactions