There are essential food blog plugins that you should consider installing on your site to improve user experience, save time, increase your site speed, and more. Let these plugins do the work so you can spend more time focusing on the enjoyable parts of managing a food blog.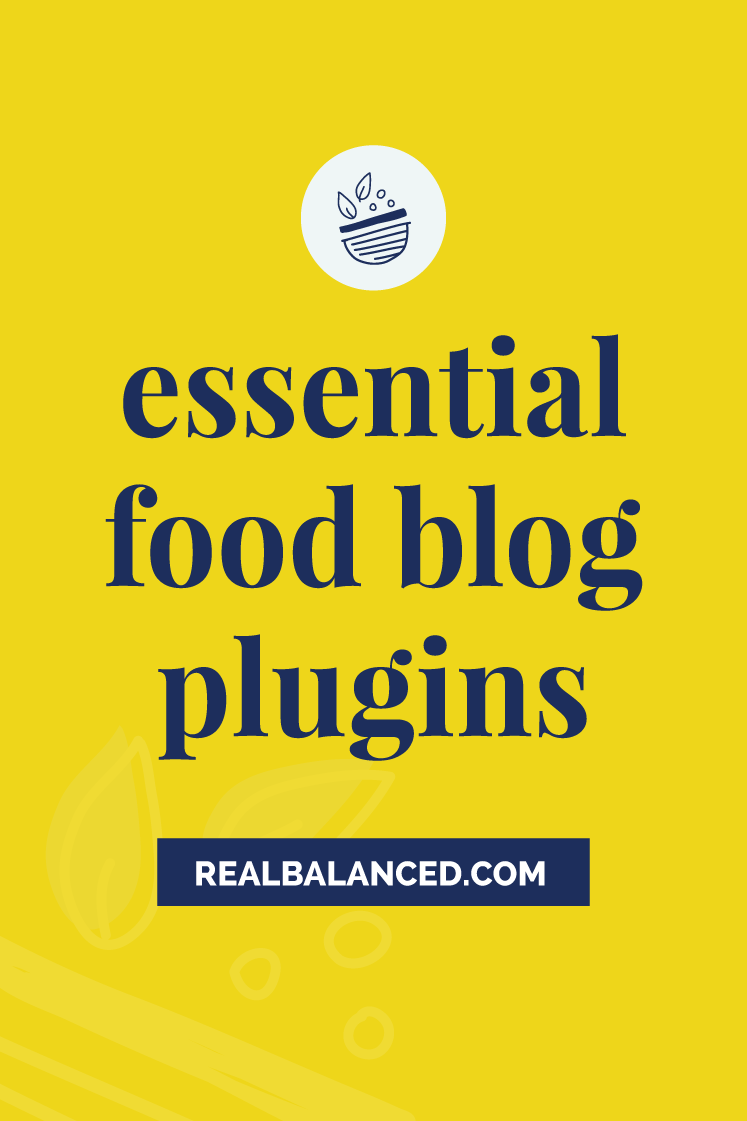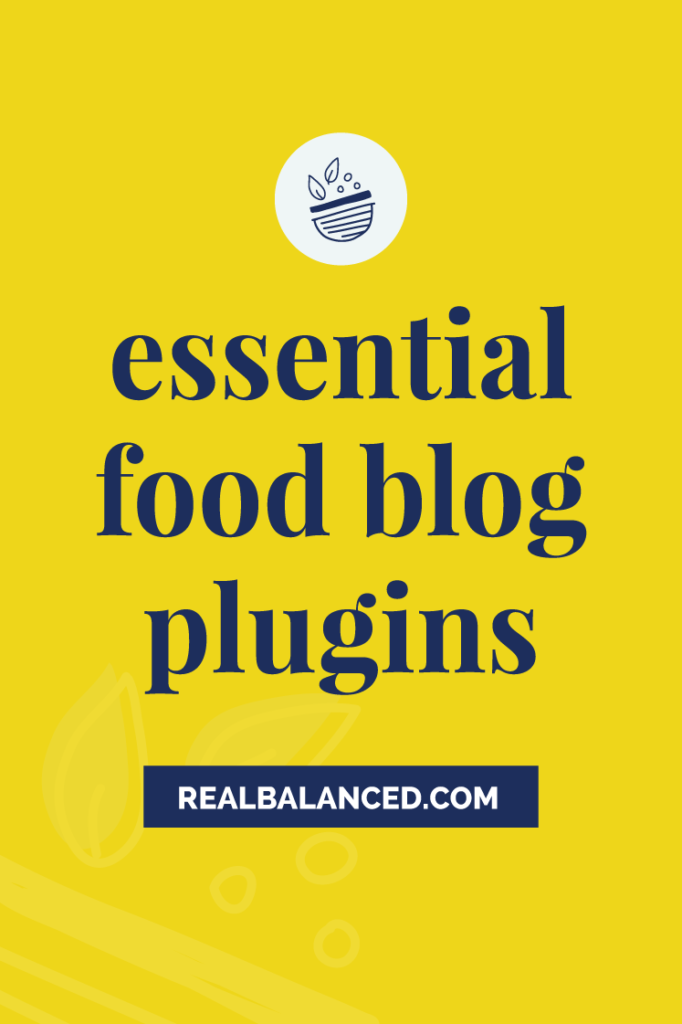 As a food blogger, there are often a lot of tasks that we have to do outside the realm of what we normally consider "fun" and "creative," like working on the tech of our site. Fortunately, there are WordPress plugins for your food blog that can handle a lot of the "less fun" work to keep our site's up and running.
If you are new to food blogging, this list covers what essential plugins that help to run my site efficiently and effectively. If you've ever wondered, "what plugins do I need for a WordPress food blog?," be sure to bookmark this post!
These are the top 10 essential plugins that I'd recommend to any food blogger:
1. Tasty Recipes
As a food blogger, a recipe card plugin is absolutely essential to your site.
If you're a frequent Real Balanced reader, you've probably noticed the recipe cards that sit at the bottom of each of my recipe posts. These recipe cards are created and customized with a plugin from WP Tasty, called Tasty Recipes.
This plugin allows food bloggers to include all of the required information needed to make a recipe successfully, like ingredients, measurements, and instructions, along with notes. I especially love that Tasty Recipes integrates well with my nutrition label (another required tool you need as a food blogger), which is created through a program called Nutrifox.
The recipe cards offer a printable option, which is quite convenient for readers who prefer hard copies of recipes. There is also an option for a reader to pin the recipe built right into the recipe card.
The recipe cards are customizable, meaning you can edit and tweak them to fit your brand's style. Personally, I kept the customization quite simple and solely choose one of the templates Tasty Recipes offers and then added my brand color to it. Took me all of 2 minutes to do and it looks really professional and impressive!
As for search engine optimization of recipes, Tasty Recipes is really fantastic for ensuring your recipes are entered the way Google prefers. This is done through including different areas to enter prep time, cook time, total time, cuisine, method of cooking, the meal category, and keywords associated with that recipe.
For just a one-time fee of $79.00, the Tasty Recipes plugin is more than worth it.
Flat price: $79.00
---
2. Tasty Links
The Tasty Links plugin allows you to enter specific keywords and will automatically link those keywords with a link that you published within the plugin.
So, let's say you enter, for example, the keyword, "keto sweetener ingredient," into Tasty Links and then include an affiliate link for your favorite keto sweetener. Every time you enter that exact phrase ("keto sweetener ingredient"), your affiliate link will automatically be linked within the post.
This plugin also comes with additional options such as adding "nofollow" code to that specific link every time it's entered, ensuring that link will "open in a new window," and the ability to "append disclosure." All of these options can be set in each individual link, which is important since each link may need to be treated differently.
Why is this helpful? Because if you don't have a tool like this and you've been manually adding links one by one as you type them, you know how inefficient that task is.
Tasty Links takes the time of having to find links and manually add them to your posts.
Tasty Links saves A LOT of time and guarantees you'll never forget to link anything!
Flat price: $49.00
---
3. Social Pug
Social Pug is a plugin created for social sharing. It allows you to fully customize your blog's sharing buttons so that they integrate smoothly, blend to your style guide, and fit within your brand theme.
You can customize the social sharing buttons in a number of ways including style and look, location, float (the buttons will float down as a user scrolls), share counts, label text, and more.
I previously used a different social sharing plugin and I also used a totally separate plugin for Pinterest sharing. Now, I have dropped both of those plugins and solely use Social Pug.
The main reason why I really love and recommend Social Pug is because of the ability to include all social sharing platforms in one plugin, rather than having to have two different plugins.
With the premium version of the Social Pug plugin, which is what I have, you can even trigger pop-ups, add follow widgets, and create shareable quotes.
Flat price: $34.00
---
4. Yoast
Even if you're rather new to blogging, you've likely heard about the importance of optimizing your posts for search engines, which is commonly referred to as "SEO."
Yoast is one of the best SEO plugins for food blogging and is one of the most essential food blog plugins that you should have on your site.
This plugin is great for the technical optimization of blog posts. It determines whether your website page or blog post is up to SEO standards by gauging your content and providing a score (out of 100). If your content isn't up to par, the plugin clearly outlines what needs to be improved.
The Yoast SEO plugin updates in real-time as changes are made to provide an accurate SEO success measurement and help you fully optimize your content!
Features include keyword optimization, Google previews, readability scores, breadcrumb control, duplicate content indicator, algorithm updates, and SO much more.
General: Free
Premium: $89.00
---
5. UpdraftPlus
UpdraftPlus is one of the best plugins for WordPress food blogs because it allows you to easily backup your files and database by storing your data in the cloud.
You can backup your content to the server of your choice, including Dropbox, Google Drive, Amazon S3, and more (I personally purchased Updraft Vault to save my backups to). You can schedule and plan backups whenever convenient.
In the event that your website crashes, you experience a hack, install a bad plugin, or any other related event, you're able to restore your website and related content with UpdraftPlus. With just one click, you can easily restore your website to its previous version with your latest saved backup.
Obviously this is extremely important because, at some point, you may accidentally delete something or install something that interferes with your site running properly and you'll want to restore the latest version of your site.
If you're wondering why you'd need UpdraftPlus if your hosting company offers daily backups, here's why this plugin is still essential:
UpdraftPlus offers an easier way to restore than with server-level backups with your hosting company.
UpdraftPlus is handy to use as a one-off backup before you make changes like installing a theme or WordPress core update.
It's much easier to restore a previous version of your site with UpdraftPlus than with what your hosting company can offer.
UpdraftPlus is able to restore to just before you made the updates, rather than the morning/night before, which is what your hosting company likely offers.
The UpdraftPlus WordPress free version works, but the premium version boasts additional features like site migrations, non-WP backups, database encryption, and more.
General: Free
Premium for Business: $97.00 now, $57.00 annually; Allows for up to ten sites.
---
6. WP Rocket
If you're looking to speed up your WordPress website, WP Rocket is the plugin for you. Through optimizing different areas of your site, WP Rocket can increase your site speed, thereby increasing traffic to your site.
Why? Because Google likes sites that load quickly.
WP Rocket settings can be enabled to preload your site, to help to reduce your site files, and to only load images as visitors scroll down the page. All of these features included in the WP Rocket browser caching program make your site's load time much quicker.

A faster website increases user-experience and, as already mentioned, site speed is extremely important to your site performing well on search engines.
Single: $49.00; 1 website
Plus: $99.00; 3 websites
Infinite: $249.00; unlimited websites
All tiers come with 1 year of support and updates.
---
7. Imagify
Imagify is an image optimizer that lowers image file sizes without compromising their quality. This plugin is beneficial because, like WP Rocket, your site speed can increase.
Imagify will also save you a lot of time because, with it, you no longer have to resize your images one-by-one. In fact, Imagify batch-sizes your images with their Bulk Optimizer, making the process incredibly fast. It also automatically optimizes everything as you upload it.
If you resize something and decide you want to revert the image to its previous version, that's OK! The Imagify WordPress plugin includes that feature.
Monthly plans range from $4.99 to $179.99 depending on the amount of data required.
---
8. GDPR Cookie Consent
With the GDPR Cookie Consent plugin, stating your GDPR compliance status is extremely easy.
(And, if you don't know anything about GDPR and the requirement to include a cookie consent, you'll want to read more about GDPR and cookies.)
This plugin allows you to set various features so that your cookies are stored in compliance with visitors' preferences. From the backend, you can access your list of cookies in your cookie policy page.
With the GDPR Cookie Consent WordPress plugin, a notification regarding your cookie policy is displayed on your website for proper disclaiming and can be designed to fit your brand and style guide.
You can set various settings in regard to the display, linking, location, and more.
Single site: $49.00
5 sites: $99.00
Up to 25 sites:$199.00
---
9. Anti-Spam
To keep your website safe and secure from spam, Anti-spam is another tool that I consider one of my essential food blog plugins. This plugin automatically filters spam-like content in your comment section without requiring users to validate their identity via captcha.
We recently changed from Akismet to Anti-spam. While Akismet is a great plugin, Anti-spam is able to rival Akismet's features while still being lightweight and unobtrusive.
General: Free
Regular License: $26.00 per month, per site

---
10. Contact Form
If you have a blog, at some point, someone will want to be in touch with you. Including a Contact Form plugin on your food blog will allow users and brands to easily message you through your site.
When they message you, so long as you set the plugin up properly, you will receive an email in your inbox with their message.
Having this plugin will alleviate users and brands from having to track down your email address, leave your site, then email you. With a Contact Form plugin, they can message you all from one place, which will enhance user experience.
Though there are many Contact Form plugins out there, I personally use and like the Contact Form from WPForms Lite. This Contact Form is a free food blog plugin for WordPress.
This program features a drag and drop interface that makes customizing super simple. It's great for any type of forms including order forms, registration forms, purchase forms, and more.
Plus, it's integrated with popular WordPress favorites like Active Campaign, PayPal, and Stripe to make all of your business processes a bit simpler.
Regular: Free
Apprentice: $35.00/year
Master: $95.00/year
Hero: $195.00/year
---
These essential food blog plugins will make running your WordPress site a lot easier
These 10 essential WordPress plugins for your food blog are what I find to be the best food blog plugins for WordPress.
So, if you are wanting to know my #1 recommended WordPress plugins for a food blog, these are it! I recommend considering each and every one of these as valuable additions to your food blog.
For more tips on starting a food blog, check out my helpful blogging for business posts:
Reader Interactions