On my site, I've talked a lot about how to start a food blog. We've gone over whether to choose Squarespace or WordPress, how and why to use Pinterest, and what to know before you launch your site. But, you still may be wondering "how do blogs make money?" For me, a major source of my food blogging income comes from Mediavine ads.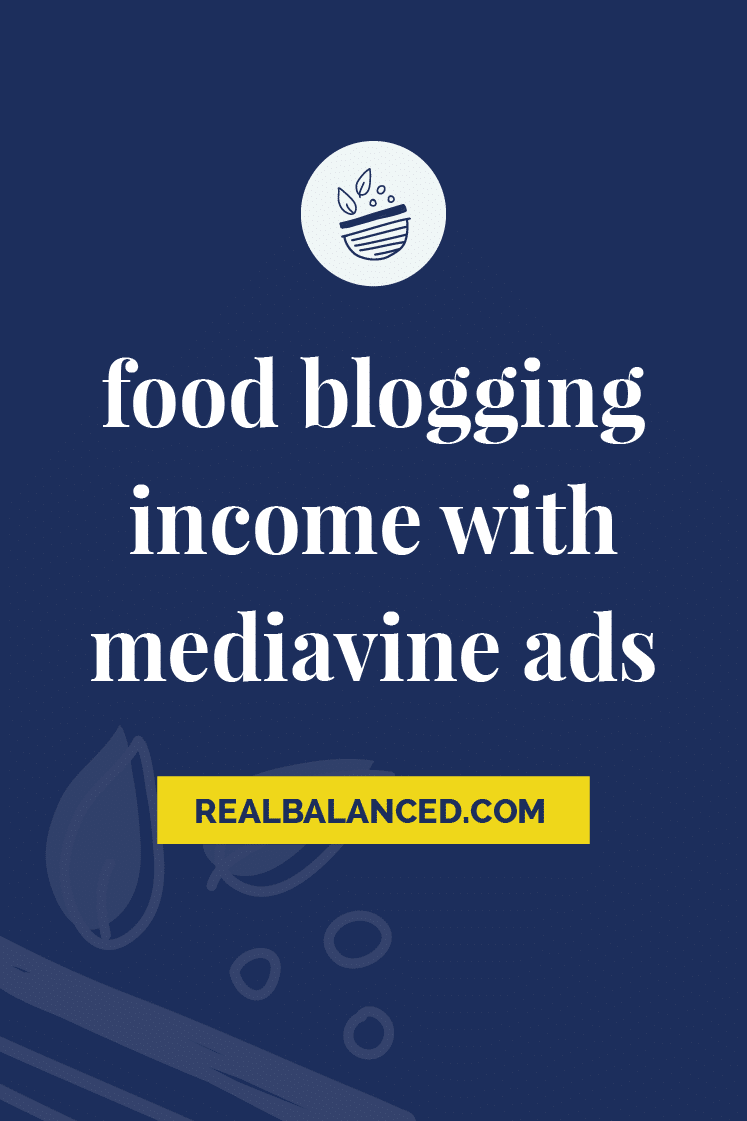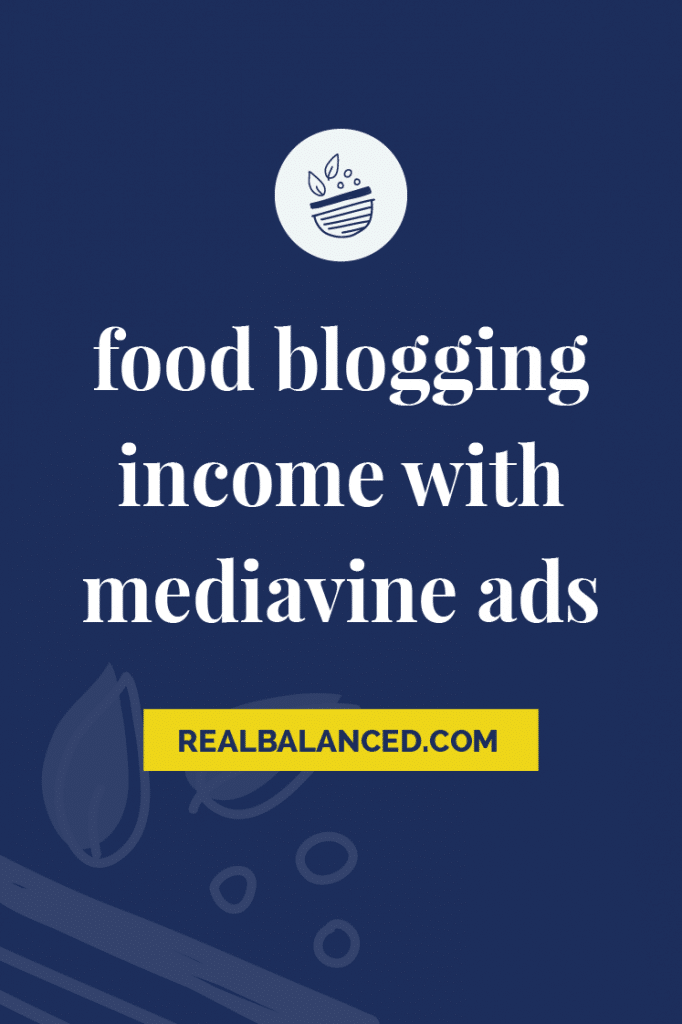 Blogging is an awesome way to get creative and have fun, but, to be totally transparent, the driving force behind Real Balanced has always been to be a profitable business. In this post I'm diving into how to generate revenue with the help of one of my favorite companies, Mediavine.
Why put ads on your site?
Running a food blog is expensive! It requires time, energy, tons of effort, and… SO MUCH MONEY!
Think about it. Dreaming up recipes is one thing… creating them is something else! In order to create new, original, and SUCCESSFUL recipes, you go through a LOT of ingredients. Cooking, especially with nut-free and low-carb ingredients like I use, can be a lot of trial-and-error, which leads to testing and re-testing recipes multiple times to ensure every possible question a reader could have about the process is thoroughly explained.
More than just ingredients though, there are A LOT of technical costs involved with food blogging too, such as website hosting, plugins, email service providers, task management tools, SEO tools, and contract workers.
All that said, you can see that food blogging can get very pricey very quickly.
To help offset some of those costs, I run ads on my site! I definitely recommend you doing so as well, as it's a great and easy way to monetize all of the hard work you do on your blog.
Switching from Google Ads to Mediavine
When I first started advertising on my site, I was using Google AdSense. Google Ads were fine for the time being, but the daily revenue was minimal. Plus, I found the ads to be intrusive and, as someone who isn't techy, I had trouble figuring out how to make the ads "play nice" with how my site theme was structured.
Once I came across Mediavine and learned about their company, I impatiently awaited meeting the criteria to apply. Mediavine provides a very hands-off experience for the blogger and they essentially do all of the work for content creators. Since I started working with Mediavine, I've been able to sit back and they've done the heavy lifting.
The revenue with Mediavine is much higher than what I ever saw with Google Ads, too! As someone whose goal was to be a full-time blogger (which I am now), being approved to work with Mediavine allowed me to quit my day job and work on Real Balanced as my sole job.
A done-for-you ad auction for your blog
Mediavine works like an auction, essentially selling your ad placements to the highest bidders! As long as your blog consistently meets the standards of Mediavine (great, original, high quality content and sustainable traffic), you're pretty much guaranteed ad placements.
Confused about this? Don't worry. Mediavine can answer any and all questions you may have about how ads on your site will work.
Applying to Mediavine
To get started with Mediavine, there is an application process that all bloggers must complete. Mediavine requirements help to ensure that they only bring on bloggers that they can successfully serve.
To start, Mediavine requires applicants to have at least 25,000 sessions per month, which comes to about 30,000 page views. This traffic must consist of engaged, organic viewers. This check helps ensure that placed ads will receive as many hits as possible. When users engage with your ads, the advertisers come back!
Next, you will be required to submit your website analytics, which can be found by setting up Google Analytics within your site. When you submit this report, Mediavine takes a look at your traffic, popular pages, etc. They monitor the user behavior and look at how your stats match up to other sites.
Oh, and PS: You must be in good standing with Google AdSense.
Do you meet these standards and are ready to apply? Head to Mediavine's homepage and click the "Apply Now" button.
Prepping your website for Mediavine
Once you've applied, been approved, and are ready to get started with Mediavine (woohoo!), their team will go through your site to ensure that it's set up properly.
They'll look at your sidebar (it must be wide enough), script wrapper, and other technical details. If anything needs to be changed, they handle it all for you!
On your end, keep pushing out great, high quality content and keep it as SEO-optimized as possible. Mediavine will do the rest!
Exclusivity with Mediavine
When you work with Mediavine, they require total exclusivity. The reason being, they take care of absolutely everything for you. They're pitching your site to advertisers and ensuring that you receive placements. If you're running outside ads, their methods aren't effective.
As long as you consistently produce great content and maintain your traffic, you're in good shape.
Mediavine reviews speak for themselves. Bloggers like myself LOVE that they handle all of the ad work and essentially provide an extra stream of passive income. After signing on with them, you won't WANT to work with anyone else!
All of the reasons I LOVE generating food blogging income with Mediavine ads
Customer service: First and foremost, their customer service is unmatched. From the time I was approved, Mediavine has always been available and eager to answer any and all of my questions. When I first began working with them, they walked me through the entire onboarding process from start to finish and, since then, are always extremely communicative and responsive. It's no wonder they have so many raving fans!
They're responsive: Whenever I need help with something or have a quick question, they get back to me. They respond quickly and never close a ticket until the issue is resolved.
Easy to read dashboard: The dashboard provides easy to read and understand insight into ad results from previous days and clearly shows how everything is performing.
Easily monitor earnings: The dashboard also updates my Mediavine income report each day! I'm able to see how much money I made on the previous day, what my next payout will be, daily RPM, etc.
Fantastic community: Mediavine's Facebook group is full of helpful resources and information from other bloggers of all niches! If I want opinions or suggestions, I know that I can always ask the awesome Mediavine community and receive the insightful answers that I'm looking for.
Questions about applying for Mediavine?
Leave them in the comments below!
Reader Interactions