Are you interested in making money from food blogging? This post covers how I have turned my recipe blog into a profitable business.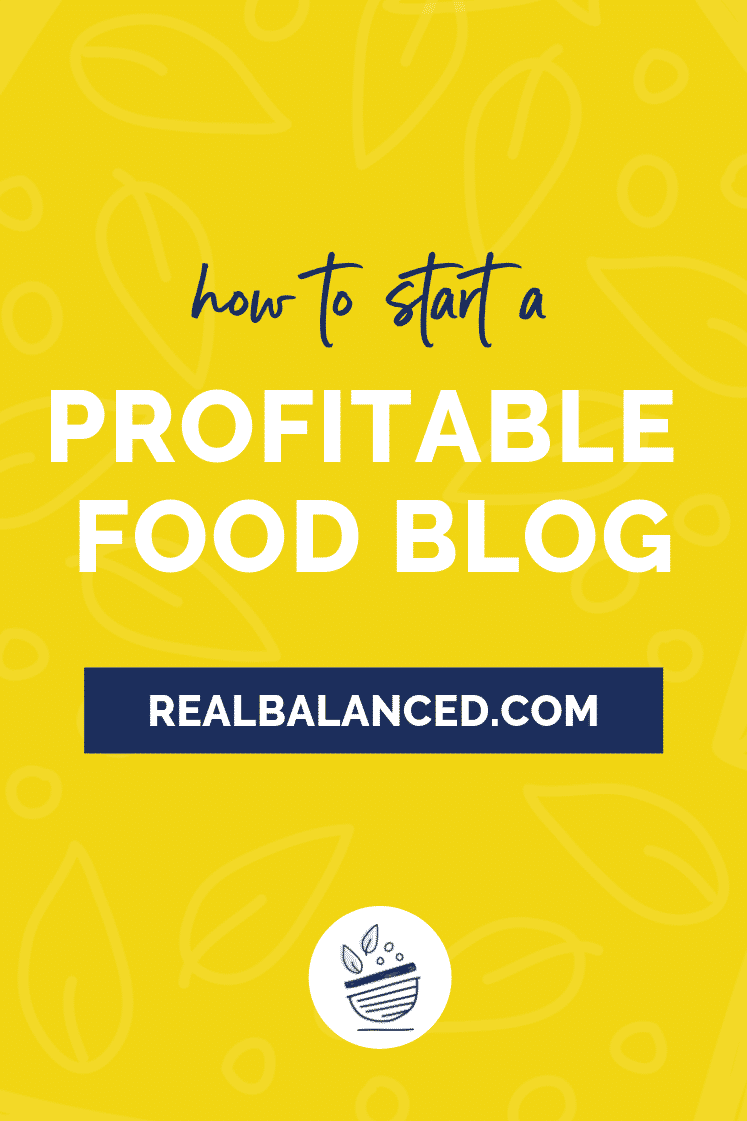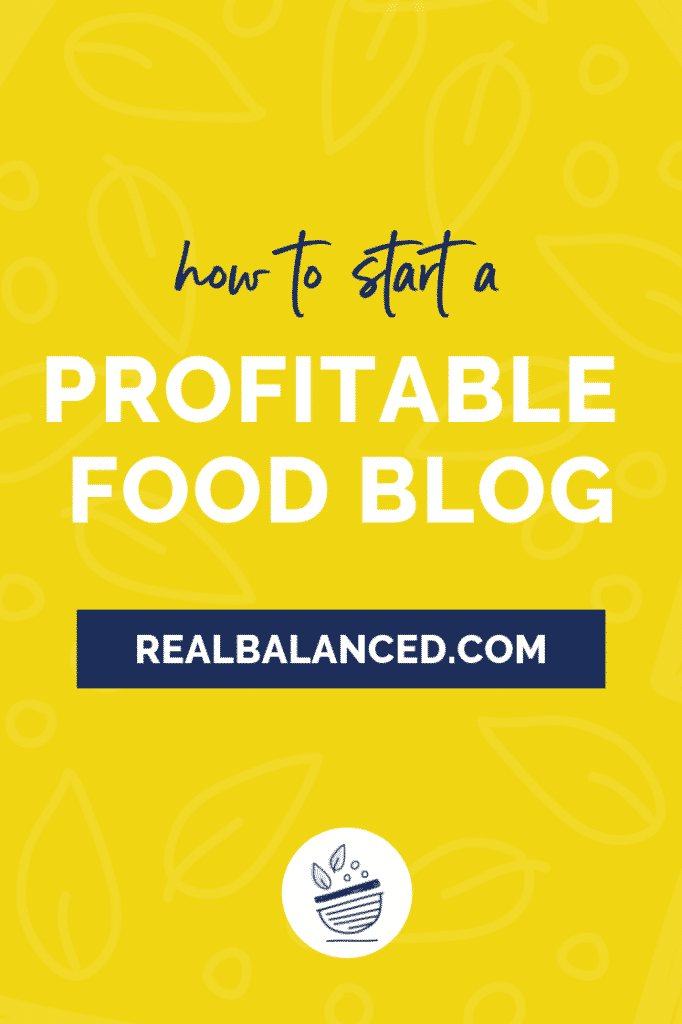 Beginning Real Balanced is one of the best things I have ever done. I feel so lucky that I get to call this job my full time career! When I first began in late 2016, there were SO many things to learn that it was hard to determine where to even start! Since then, my blog has seen extreme growth, and people often ask me how I got started and how I have been able to monetize a food blog.
There are a few key things that really helped me when I first decided to start Real Balanced. Whether you are in the starting stages of your blog or have yet to begin, these tips will be super helpful in teaching you how to start a food blog and make money.
Niche Down
When you first begin a blog, the easiest way to create food blog earnings is to have a niche. Many people think that they should cover everything in order to attract as many readers as possible, but that is not the case. If your blog doesn't have a strict focus, it will be REALLY challenging to compete with the thousands of other food blogs that already have a large following.
One of my best pieces of advice I have for new and prospective bloggers is to niche down! In doing this, you not only tell readers what you are about, but you also tell brands and potential sponsors.
If a food company wants to sponsor a blog post, they are more likely to go with the blogger that focuses on a specific type of diet, allergy, or food topic than they are on the blogger who publishes whatever comes to mind. In sponsoring the niche blogger, the brand knows that everyone who comes to that page is specifically interested in that type of recipe.
So, for me, my niche has changed over the years. I originally posted solely sugar-free recipes, then strict paleo recipes, which has all now morphed into keto and low-carb recipes that tend to follow a variety of other diets (nut-free, vegetarian, etc.). So, when I pitch a brand or if they reach out to me, I have very concise parameters as to what recipe I will develop for a post. From the start, in general, they know what to expect from the recipe I pitch them.
The question you should be asking yourself:
When people hear (MYBLOG NAME), what do I want them to think of?
For me, they think of nut-free keto recipes. Often desserts. That's my niche because I share a lot of nut-free keto dessert recipes.
Once you get established, you can absolutely expand the topics you cover! Starting out, however, I definitely recommend finding your niche and sticking with it.
Technical Aspects
There are a few necessary technical aspects to consider when you are starting a food blog.
Domain Name: Choosing your domain name is a pretty important decision. I recommend sticking to something that is easy to remember, "short and sweet," and conveys your brand. I purchase my domains from NameCheap.
Social Media: I 100% recommend setting up social media accounts that match your domain name as closely as possible. All are important, especially Instagram, Facebook, and Pinterest! By using these platforms, you are able to further spread the message of your brand. Sometimes, brands may pay you for sponsored social media posts!
WordPress: There are many website platforms out there, but I HIGHLY SUGGEST going with WordPress. (I started my site on Squarespace and, while the templates on Squarespace are beautiful, they are not built for sharing recipes.) With WordPress, you have two options for your website: .org and .com. If you go with .com, WordPress hosts your site, but you are pretty much confined to their platform, templates, etc. By choosing .org, your site can be completely customized, complete with plugins, custom themes, and more. Basically, .org allows you to build your site from the ground up. If you choose this option (I would definitely recommend it), you will need to find a hosting company.
Hosting: When choosing your website host, be sure to go with a company that will offer the type of support that you need. Personally, I utilize Agathon. They're an AMAZING company that helps me with my website and provides support whenever I need it! You can get $15 off your first month with Agathon by using this link. When just starting out and if you're on a budget, I'd suggest using SiteGround, which is perfect (and cheaper) for a small, new blog.
Recipe Plugins: For recipe blogs, a recipe card plugin is necessary. When you view one of my recipes, there is a recipe card at the bottom of the page that lists all of the ingredients, provides instructions, and contains other important information. It is a useful tool for readers AND is necessary for Google to easily know what the recipe is about. I use and recommend Tasty Recipes from WP Tasty, which I use in conjuction with Nutrifox for my nutrition labels.
Pinterest
Pinterest is a FANTASTIC tool for building your blog because it is a great way to drive traffic to your website. To learn all about Pinterest and how to leverage it for success, I recommend checking out Melyssa Griffin's Pinfinite Growth course. I took this course before I launched my food blog and the investment I made to pay for the course has paid off tenfold. HIGHLY recommend.
Another great tool to use with Pinterest is Tailwind! Tailwind is a scheduler that allows you to plan out and schedule Pinterest posts. In scheduling your posts ahead of time, you are able to batch the work and do everything at once, rather than getting online to post content multiple times per day. It is a true lifesaver and makes optimizing Pinterest SO much easier.
Email List Building
Email lists are SO IMPORTANT to building a successful food blog. The people on your email list are the people that are going to be notified about new posts, exciting news, affiliate sales, and more! Your email list subscribers, unlike your social media followers, are something YOU own, not Mark Zuckerburg. I cannot stress enough how important it is to create and serve your email list. Doing this has made all of the difference in my business.
To store your contacts and send out your emails, a great place to start is with MailChimp! MailChimp makes it really easy to set everything up and send out newsletters and other content. The best part, it is FREE up to 2,000 subscribers! It is a great tool to begin with, especially when you are first starting out with your blog and don't have the funds to invest in an email service provider.
As time goes on and your list of subscribers begins to grow, you may decide to upgrade to a more robust software. I use and love ConvertKit. When you use this company, you are able to embed email sign up options directly into your website, and ConvertKit does all of the work!
SEO
Search Engine Optimization (SEO) is an extremely important factor in growing your blog, because this determines if your content will reach your target audience.
When someone performs a Google Search, Google scans your content for relevant phrases, keywords, and other information in order to determine whether it is relevant to that user's search. If it is, Google will present your content as one of the search results.
For this reason, it is important to carefully select certain content in order to optimize your blog as effectively as possible. Some of the important pieces to the SEO puzzle include keywords, headings, meta descriptions, slugs, and more. A great tool for determining the success of your SEO for each blog post is the Yoast SEO plugin. This plugin gives you an overview of ways to improve your content to up the SEO.
The better your SEO practices, the better your content will score with search engines, and the more frequently your website will be seen by your target audience.
Monetize
Once you get your content up and running, there are some great ways to truly begin monetizing your food blog and bringing in that revenue.
Affiliate Marketing: When participating in affiliate marketing, you are paid to promote a brand's products. When someone comes to your website and purchases something using one of your links and/or discount codes, you receive a percentage of that sale. My advice: Only work with companies you LOVE! It keeps everything sincere, and makes promoting the product a breeze.
Advertising: Placing ads on your website can be a great way to bring in revenue. The perfect place to start? Google AdSense. Ad spots are paid for by companies, and relevant ads will be placed on your website. After you garner more traffic, you can apply for ad agencies that will net you more income (I use Mediavine).
Sponsored Content: If you have an idea for a recipe or post that uses a certain food or product, reach out to that brand. Pitch your idea, and see what happens! If they are interested in sponsoring a post, they will pay you to highlight their product. You can also apply for agencies who work as the "middle man" between the brand and the blogger. I typically do campaigns like this through Sway.
eBooks: Do you have a series of recipes or some sort of idea that could provide value to your audience? If so, think about creating and selling an eBook! eBooks are awesome ways to beautifully and easily present your content. Note that eBooks take A LOT of time, so create your eBooks on topics that you are passionate about and willing to give several months of your time and energy towards!
Contract Work: Is there a website or company that you really love? If so, consider pitching them to do work for them on their website. One idea is to write a blog post! Though it takes place outside of your website, this type of work can be quite lucrative. My advice: Think of a topic that you could write about where referencing your own blog would be beneficial. For example, you could create a recipe round-up for them that features one of your own recipes!
It IS possible to monetize a food blog
Trust me, you can do it! Through putting in the work and learning the ins and outs of running a successful blog, you hold the power to make it happen! To help you out in your journey, I created a free resource for you!
Download my cheat sheet! With this cheat sheet, I help walk you through the various ways to start a profitable food blog and monetize your work!
Reader Interactions