These Keto Thin Mints are going to be your new Girl Scout Cookies are basically the most delicious cookies on earth, ESPECIALLY the Thin Mints.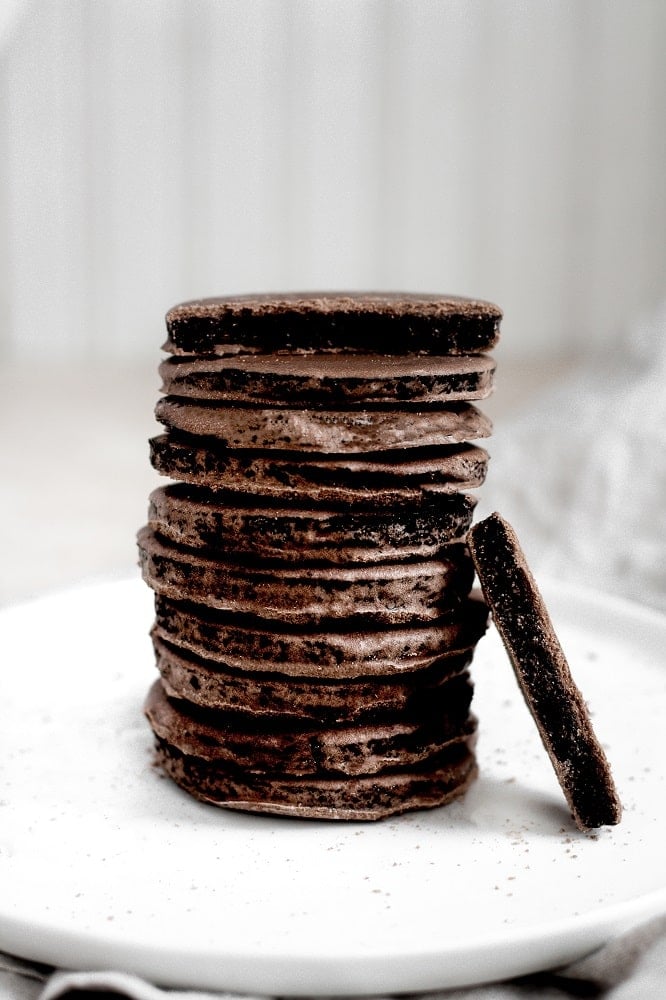 Chocolate and mint is my favorite flavor combo, which probably explains why I think these cookies are just SO GOOD.
However, each year, I have to (forcefully) stop myself from diving face-first into a box of Girl Scout Thin Mints because of the not-so-great ingredients, the high carb content, and because they are far from allergy-friendly.
With that in mind, I knew I needed to come up with a keto- and allergy-friendly alternative!

Allergy-Friendly Thin Mints Recipe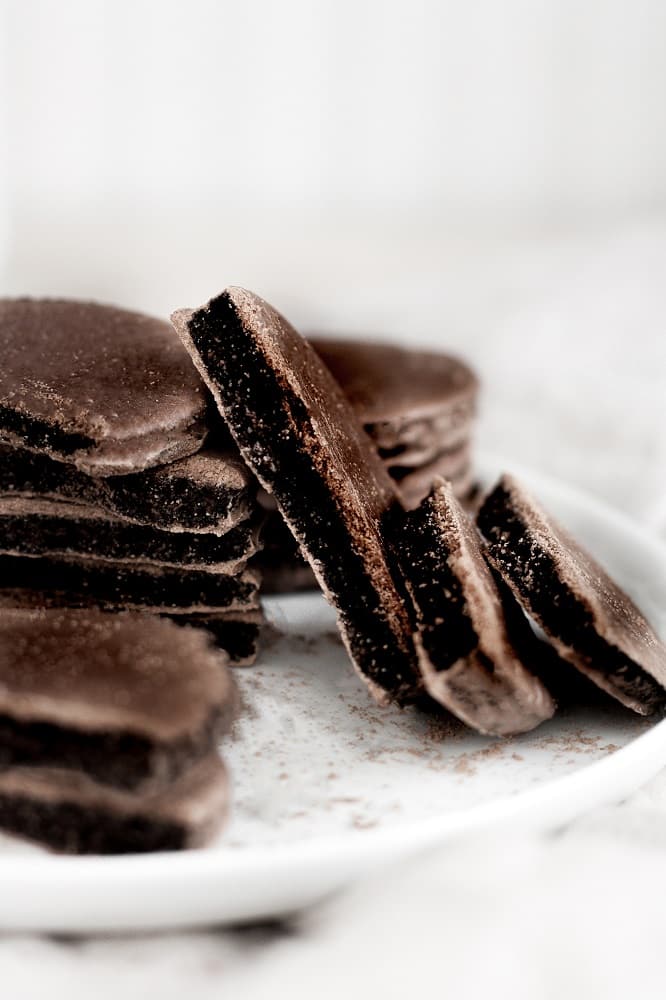 Low-Carb/Keto: Only 1.5 grams of net carbs per cookie versus over 5 grams of carbs in the commercial version of the cookie.
Paleo: These Thin Mints are free from grains, gluten, soy, and dairy.
Dairy-Free: This recipe calls for coconut milk instead of cream, milk, and butter.
Egg-Free: This recipe can be made egg-free. Just swap eggs with ground flax seeds, a fiber-rich, vegan alternative to eggs!
Gluten-Free/Grain-Free: This recipe uses almond flour, a grain- and gluten-free baking ingredient.
Vegetarian/Vegan: In addition to these cookies being low-carb and paleo-compliant, they are also vegetarian/vegan as they are free from animal products.
Refined Sugar-Free: This recipe uses Lakanto monk fruit sweetener, and does not contain traditional sugar or high glycemic sweeteners.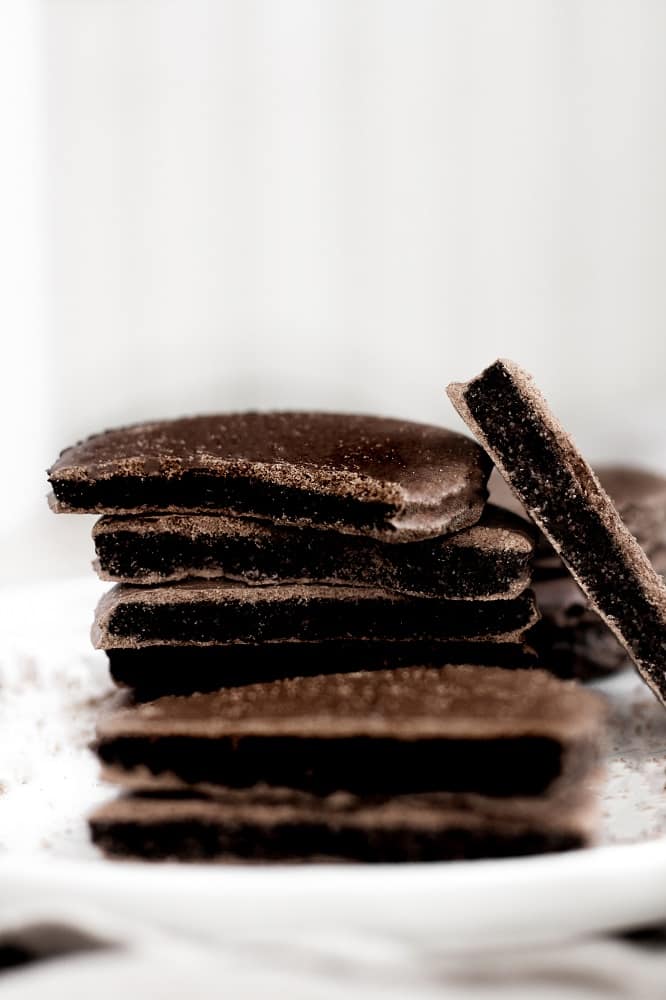 Net Carbs In This Recipe
With only 1.5g net carbs per serving, these are a perfect keto- and allergy-friendly dessert that everyone can enjoy!
Diets This Keto Thin Mints Recipe Is Compliant With
This recipe is keto, low-carb, paleo, dairy-free, egg-free, gluten-free, grain-free, vegetarian, vegan, and refined sugar-free.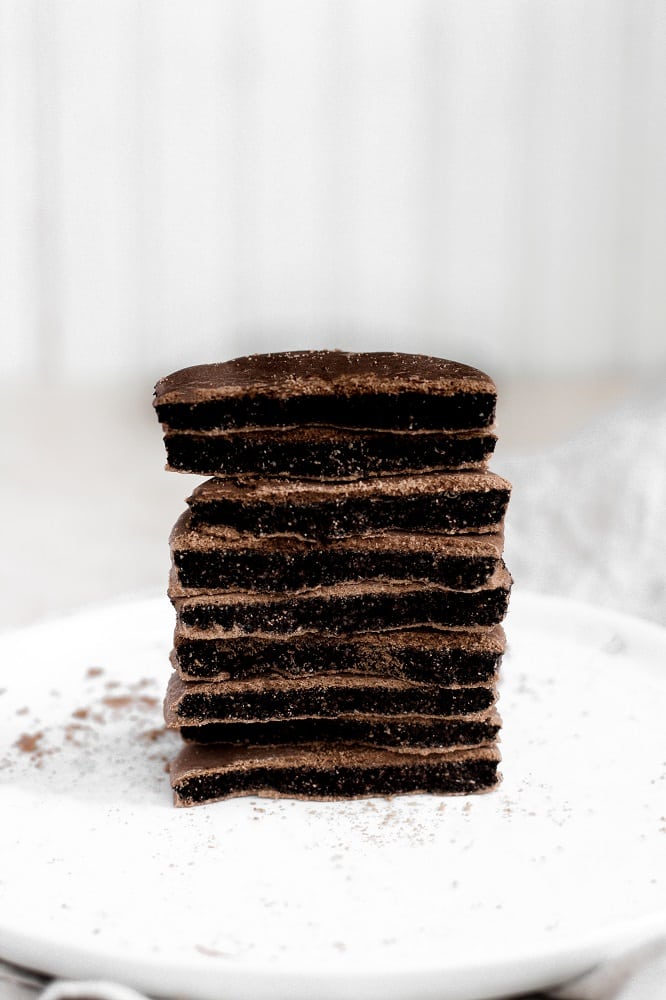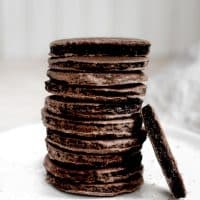 Keto Thin Mints
---
Author: Sara Nelson
Prep Time: 25 minutes
Cook Time: 50 minutes
Total Time: 1 hour, 45 minutes
Yield: 18 cookies 1x
Category: Dessert
Method: Bake
Cuisine: American
Description
These Keto Thin Mints are a perfect way to curb your craving for a chocolate baked good! These cookies are keto, low-carb, paleo, dairy-free, egg-free, gluten-free, grain-free, vegetarian, vegan, refined-sugar-free, and only 1.5g net carbs per serving!
---
Ingredients
Cookie
Chocolate Coating
---
Instructions
For the cookies:
Preheat oven to 325 degrees and line two baking sheets with parchment paper.
(For egg-free/vegan) To a small bowl, add flax seeds and water. Whisk together until fully incorporated. Set aside to set for at least 5 minutes.
To a mixing bowl, add dry ingredients and whisk together.
Melt coconut oil in the microwave until liquid, about 30 seconds.
To dry ingredients, add melted coconut oil, flax mixture OR egg, peppermint extract, and vanilla extract. Mix together until well-combined.
Roll dough into a ball and transfer bowl of dough to the refrigerator to chill for 10 minutes.
Between two pieces of parchment paper, place ball of chilled dough. Using a rolling pin, roll the dough until it is an even layer.
Using a cookie cutter or mason jar lid, cut cookies out of dough and place on prepared baking sheets. Continue to re-roll the dough and cut cookies out until all dough has been used up.
Bake cookies one baking sheet at a time for 25 minutes.
For the chocolate coating:
Line a plate or baking sheet with parchment or wax paper.
Using double boiler method on a stovetop, melt chocolate ingredients over medium-low heat. Stirring occasionally until ingredients are fully combined.
Transfer chocolate to a shallow bowl.
Using a fork, dip cookies into melted chocolate, flipping as necessary so as to evenly coat both sides of the cookie.
Transfer chocolate-coated cookie to the prepared plate.
Refrigerate cookies until chocolate hardens, about 30 minutes, or freeze for 10 minutes.
Keywords: keto thin mints, low-carb thin mints, thin mints recipe
Reader Interactions