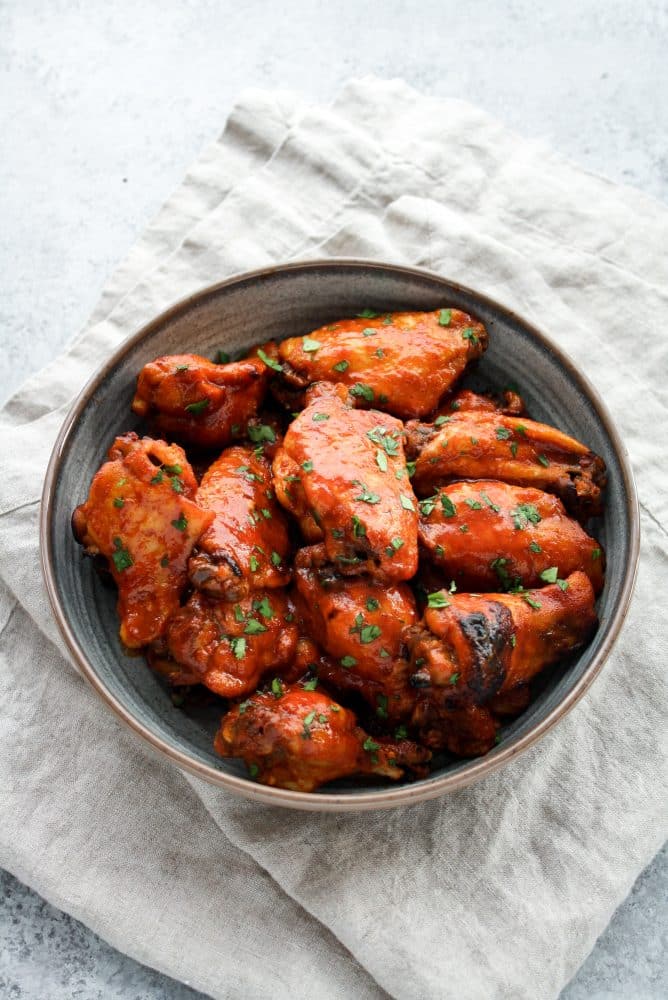 Chicken wings top the chart on my Could-Eat-For-Every-Meal-Every-Day List. I honestly NEVER get bored with them.
With the Instant Pot as the primary kitchen appliance in our household, wings are cooked and ready to be served in less than an hour, with practically 0% effort. That's my kinda weeknight meal!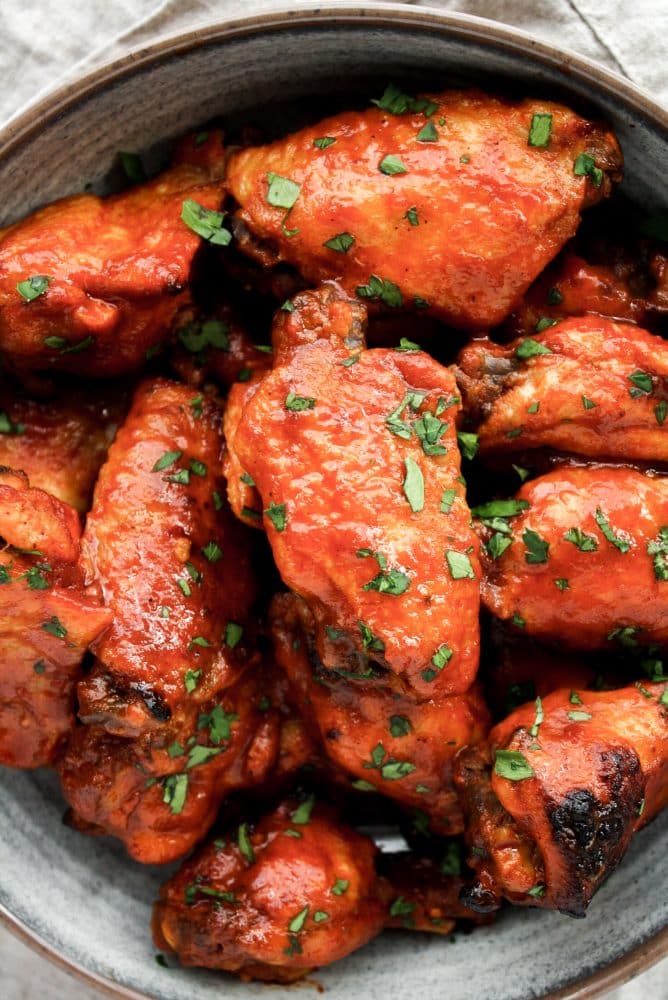 Low-Carb Barbecue Sauce For Chicken Wings
Traditional barbecue sauce is sweetened with sugar, molasses, honey, etc., which are all not an option when following a low-carb, ketogenic diet lifestyle. Because of this, I've loved experimenting with low-carb alternatives to develop a barbecue sauce that not only mimics the kind you'd find bottled at the grocery store, but that surpasses all flavor expectations!
This Sweet & Spicy Barbecue Sauce does JUST THAT. Sweetened with cinnamon and my favorite low-carb- and paleo-friendly sweetener, Lakanto Golden Monk Fruit Sweetener, and spiced up with cayenne, ground chipotle chile, crushed red pepper flakes, and hot sauce! My mouth is watering just talking about it…
This sauce is completely customizable based on your preferences. Not a fan of spicy? Omit the hot sauce and cayenne! Want it a little sweeter? Add an extra teaspoon of monk fruit sweetener! Taste the sauce along the way and have fun with it!
I've made this sauce so many times and still find new depths of flavor with each batch!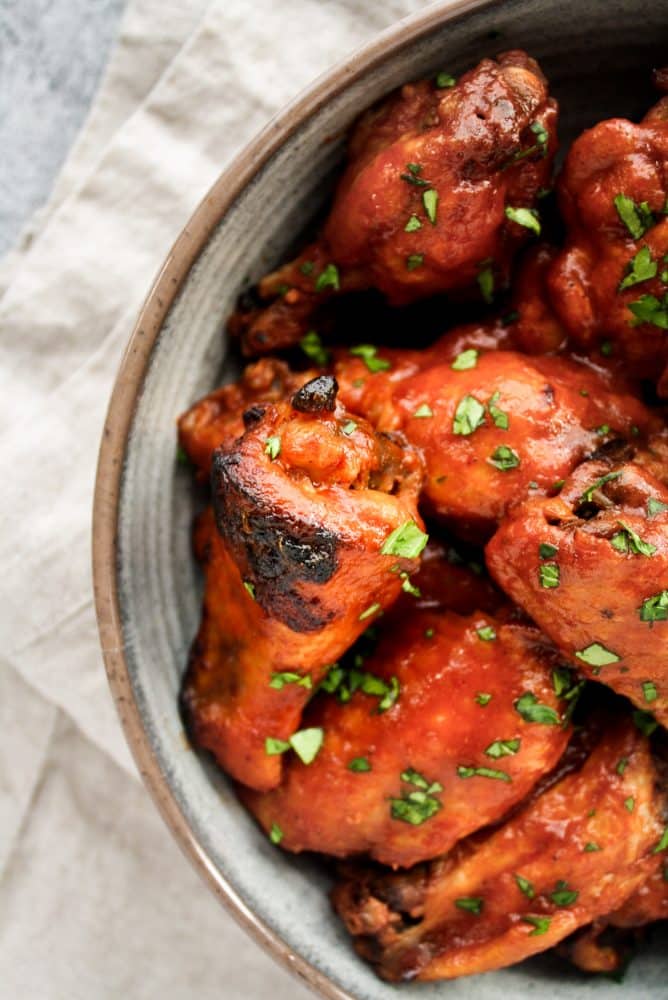 These Chicken Wings Are Quick And Easy To Prepare Party Appetizer!
When we host people at our house or when we are invited to a party, I always bring a dish-to-pass that both tastes delicious and that I know I personally will be able to eat.
This recipe is the perfect choice as it takes less than an hour to prepare, I always have the ingredients on hand, it's low-carb, and tastes SO GOOD. I have made this recipe multiple times and people never even know it's low-carb, paleo-friendly, and refined-sugar-free!
Net Carbs In Instant Pot Low-Carb Sweet And Spicy Barbecue Chicken Wings
With only 1.6 grams of net carbs per serving, you can enjoy these Instant Pot Low-Carb Sweet & Spicy Barbecue Chicken Wings and remain in ketosis!
Diets This Sweet And Spicy Barbeque Chicken Wings Recipe Is Compliant With
This recipe is low-carb, keto, paleo, dairy-free, gluten-free, grain-free, and refined-sugar-free.
An Awesome Freezer Meal
One of my favorite parts about this dish is that it is perfect to prep as a freezer meal. I love to throw all of the ingredients together and store it away until a busy night rolls around! Once that night comes, I simply thaw the bag and then throw the ingredients into a slow cooker or Instant Pot. It saves me a TON of time. There is no meal prepping AND no clean up!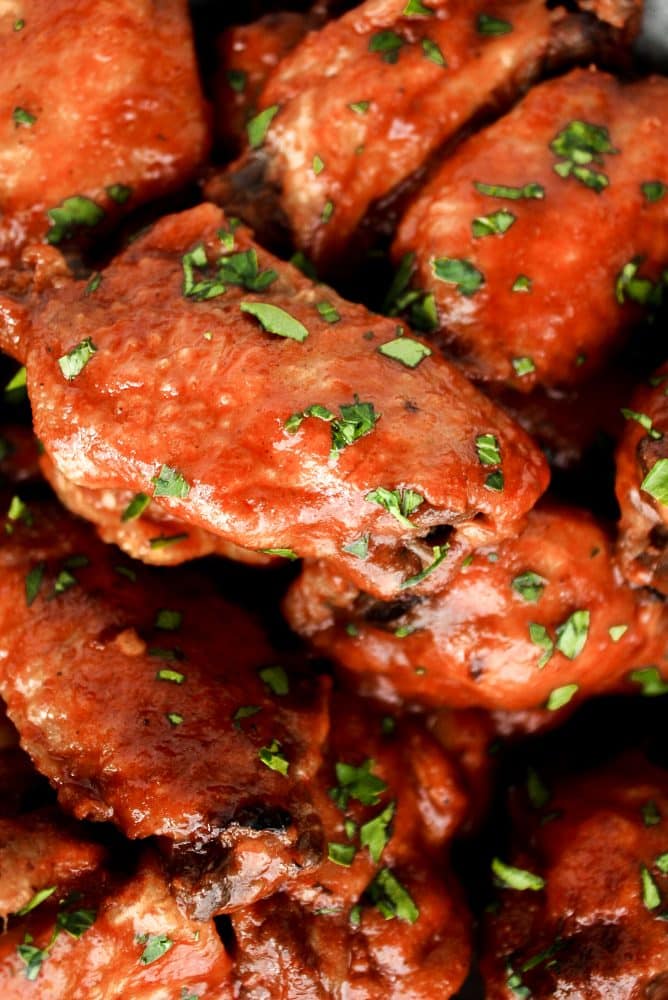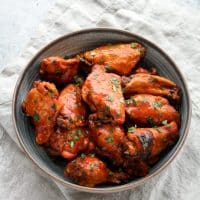 Instant Pot Low-Carb Sweet and Spicy Barbecue Chicken Wings
---
Author: Sara Nelson
Prep Time: 5 minutes
Cook Time: 30 minutes
Total Time: 35 minutes
Yield: 6 servings 1x
Category: Main Dish
Method: Instant Pot
Cuisine: American
Description
These Instant Pot Low-Carb Sweet & Spicy Barbecue Chicken Wings are the ultimate keto-friendly appetizer! This recipe is low-carb, keto, paleo, dairy-free, gluten-free, grain-free, refined-sugar-free, and has only 1.6g net carbs per serving!
---
Ingredients
Sweet & Spicy Barbecue Sauce
Chicken Wings
Miscellaneous
Materials
---
Instructions
Add all barbecue sauce ingredients to a small pot. Over medium-high heat, bring sauce to a slight boil. Reduce heat to medium-low and allow sauce to simmer for 10 minutes.
To a medium bowl, add chicken wings and coarse salt. Stir until wings are coated in salt.
Add salted wings to the Instant Pot insert. Pour sauce over top of wings.
Seal the Instant Pot lid and set to Manual setting for 10 minutes.
After the timer goes off, using the quick release method, depressurize the Instant Pot.
Turn on oven broiler and move oven rack to second from the top. Line a baking tray with aluminium foil and set a baking rack on top of lined tray. Spray baking rack with avocado oil cooking spray.
Using a tongs, transfer wings from the Instant Pot insert to baking rack.
Using a basting brush, brush barbecue sauce from the Instant Pot insert onto both sides of the chicken wings.
Broil wings for 8-10 minutes, flipping halfway. Be sure to watch the wings to ensure they only slightly char and do not burn.
Keywords: instant pot wings, keto wings, keto instant pot, keto chicken wings
Reader Interactions